The Birman cat is a very old breed, that has been known for many centuries. Originally the Birman cat was known only in Burma, and it was only when, in 1920, an American millionaire, who was travelling in Indochina, was charmed by local cats living at temples. He decided to buy a few cats from the monarchs, and then brought them to the US.  In 1925 the Birman cat became widely popular in the US, and from there the breed found its way abroad. Only a few cats, who were living in Europe, survived WW2, and it was a severe blow to thepopulation. Soon breeders managed not only to reconstruct the breed, but also significantly improve it. 
Birman cat – colours and look
Birman cats are not the biggest representative of the cat family. An adult cat weighs a maximum of 6-7 kg, while the female is only 4-5kg. The head of a Birman cat is round and slightly rounded. Their ears are medium length, and placed wide. The legs of a Birman cat are strong and medium length. Once you buy a kitten, pay heed to the colour of their legs, as a kitten should have a white glove on their forelegs, and it is fully healthy when the gloves are symmetrical. The hind legs of Birman kittens should be fully covered by "boots".  Such a look says a lot about their high pedigree and all exhibitions will be open to your pet.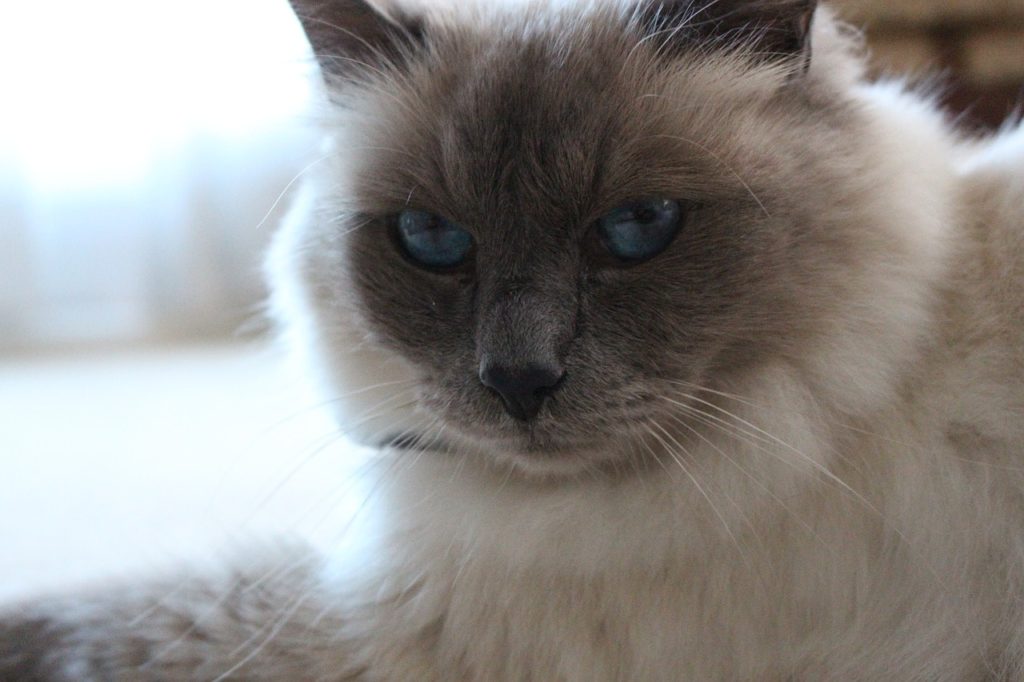 Birman cat – fun facts
The eyes of Birman cats can only be blue in colour. There are a few different colours of Birman cats: tortoiseshell, lilac, chocolate, blue, brown, creamy and red. However, kittens are born white, and after 6 months they gain their colour.
Birman cats – personality
Birman kittens are very curious, active and playful, and they need many different toys to develop and grow in the right way.  With age their activity begins decreasing,  and Birman cats become calm and prefer peaceful games.  By nature they are not creatures of conflict and can get on with other animals. Birman cats are friendly and often come out to welcome guests. However, in noisy situations, a cat is more likely to hide, than poke about.
Birman cats are very clever creatures and can be easily taught simple tricks. Although they demonstrate their attachment to you, they are able to tolerate long separation. So if you plan business or private trips, there is no need to worry.  Unobtrusiveness is yet another positive feature of Birman cats. If their owner is in a bad mood, the Birman cat will certainly feel that, and will not meow, but will wait for the right moment.
If you shout at a Birman cat, it will not seek revenge, as many other cats do. While playing, Birman cats always remember to control themselves and will not scratch an owner.
Birman cats – care
Caring for the fur of Birman cats is really easy.  You can comb out underfur every two weeks. However, if you decide to bath your pet, you should be patient, as Birman cats do not like baths. If you want bathing to go smoothly you should accustom the Birman cat since the tender age.
Birman cats – health
Having good health is typical for Birman cats, who rarely suffer from genetic or inherited illnesses. You pet will be healthy and active, if you take care and get them regular check ups at the veterinarian,  and get their planned vaccinations.  However, in rare cases Birman cats can suffer from apical hypertrophic cardiomyopathy, and symptoms of the disease usually present at a young age. The lifespan of Birman cats is typically 12-14 years but there was one that lived until 35. These animals are also notable for being fertile, and a mother cat might have 10 kittens and the world record for cats birthed to one kitten is 19.
Birman cats are classical pets, who cannot adapt to life outside at all, particularly during cold periods. They don't tolerate drafts, rain and low temperature.
Birman cat – food
Birman cats are healthy eaters who like eating delicious meals and it is not quantity but quality they prefer.  From all of the food that they will eat, they prefer natural meats such as beef, turkey or chicken. Any fat meat and meals, that include salt are off the table as it might affect the condition of their kidneys and liver.  You can give ready-made foods, but Premium class is recommended. Cheaply prepared food might affect the condition of their skin, fur and digestive tract.
Although Birman cats like to eat a lot, an owner shouldn't worry about obesity: due to their energy, and perfect metabolism, they will not be overweight either at a young age or in adult life. 


Recommendations from Caroline Lamb (the Registered Birman Breeder):
The list of recommendations for their care could be enormous. Anyone purchasing a kitten from me is given a full printed sheets of information which is both general kitten and cat care and emphasising the fact that a Birman is a house cat. These are expensive and rare pedigrees and they need to be protected from theft, going missing, poisoned and killed on the road and worse. Everything a Birman needs can be within a household providing the people have got it right.
I find that many different types of people want to live with a Birman. I try to avoid families with small children and other pets in the house. The Birman is a very loving and sociable cat, perfect for couples, young and older alike and single people, especially men.
Contact:
01659 67379
carolinelamb@ymail.com
http://www.beatrixboardingcattery.co.uk/