We have been inspired to write an article on essential oils for cats by Lisa Powers, who is the organiser of a course in her Facebook group. In this article we will be talking about essential oils by Doterra, although we are doing our research on the best essential oils for cats and diffusers, and the blog post will be published soon. So stay tuned!

Cats and doTERRA essential oils
Pets metabolise essential oils differently than humans, so if you decide to use this gift of nature in your apartment, for yourself, your family, or for your furry friend, you should be sure that the essential oils are of the best quality. It means the essential oils cannot be synthetic, diluted with chemicals, and not tested at all.
If you wish to know more on how to check whether a product you are going to buy is a 100% pure essential oil, and is really the best quality, we recommend watching a Free Aromatherapy Using Essential Oils Introductory Course by Mark Perren-Jones on Udemy. From the course you will also find out about blending basics, notes on blending, blending tips, and more.
doTERRA was launched 10 years ago, and today it is the world's leading essential oil company, and they are known for their passion for a higher standard. As the company says on their official website their mission is to share therapeutic-grade essential oils with the world.

Frankincense oil for cats by doTERRA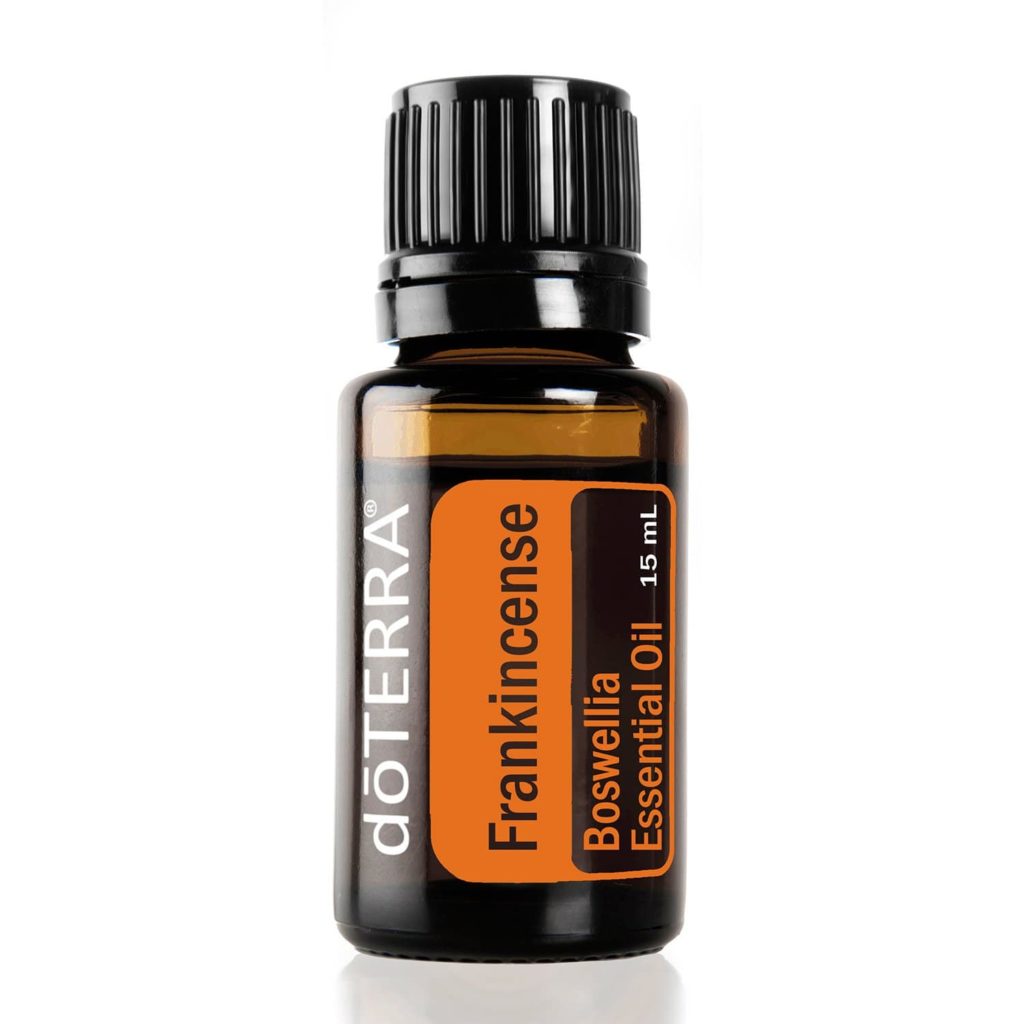 Historically this oil is used as a holy oil, and it is applied topically, internally, or aromatically for cats. When you use the oil for the first time, remember to observe your cat's behavior for the first 15-20 minutes, and leave your room door open so your pet can move freely. When you introduce new oil to your pet, do it SLOWLY, start from a smaller amount, and use guidelines as though for an infant. Before using any essential oils for your pets, you should consult with a vet, know your kitty's health history, and use only Therapeutic Grade Essential oils.
Frankincense oil has been used widely on animals, has a wide margin of safety, and can even be applied on newborn kittens. It can be used for small and big cats, and can be applied topically, aromatically, or internally. The oil plays the role of an enhancer, and can be combined with other essential oils such as Myrrh or Lavender.
Frankincense oil is helpful:
for post-surgery recovery;
for relaxation, to help with negative feelings;
to promote a healthy nervous system;
to maintain healthy skin;
Topical application, recipe by Lisa Powers:
1 tsp. carrier oil to 1 drop of Essential Oil for cats under 20 pounds
Apply 1-2 drops 2-4 times daily

MYRRH by doTERRA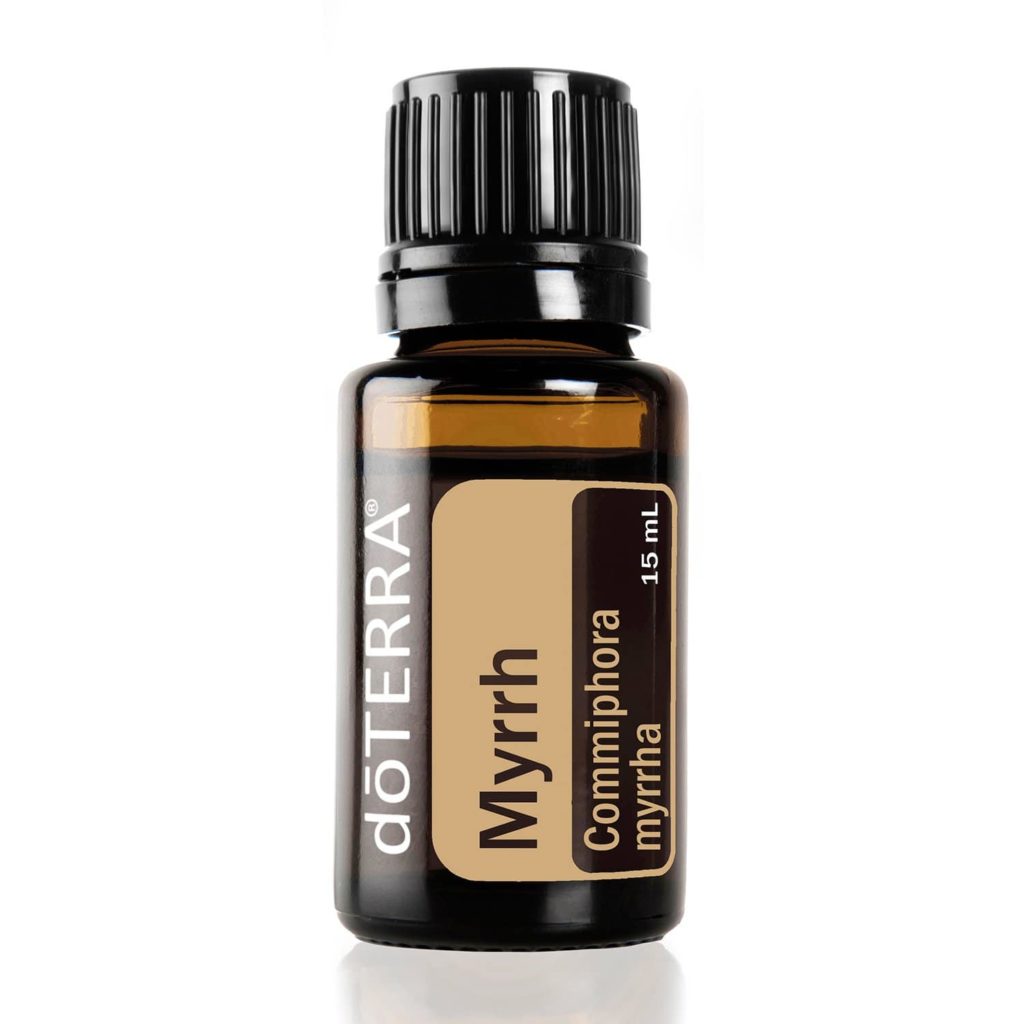 MYRRH Essential Oil has been used for centuries and is known for its positive effect on immune and nervous systems, and skin. It is very helpful when you are dealing with discomfort in your cat and emotional issues such as the feeling of being abandoned or neglected. The oil can also be used to help with skin conditions.
Benefits of MYRRH:
calms the nervous system, and balance emotions;
supports general well-being;
effective for skin conditions, and stimulates appetite;
reduces negative emotions.
Aromatic application
Diffuse and apply as needed
Recipe by Lisa for cat's acne
2 drops of MYRRH Essential Oil, 15 ml of alcohol –free witch hazel
Apply to the chin with a cotton ball, 2 times daily


On Guard by doTERRA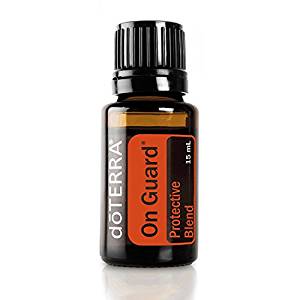 This oil is one of the most natural alternatives to keep your cat healthy, and boost their immune system. On Guard essential oil can be used daily, and aromatically.
The benefits of On Guard essential oil:
positive effects on the immune system;
protects against environmental threads;
supports healthy respiratory function;
cleans the air, and is a great alternative to toxic all-purpose cleaning.
Aromatic application, the recipe by Lisa Powers:
Diffuse 2-3 hours as needed
Topical application, recipe by Liza Powers:
2 tbsp. carrier oil to 1 drop of Essential oil for cats under 20 pounds
Apply 1 -2 drops 2-4 times daily

Lavender Essential oil by doTERRA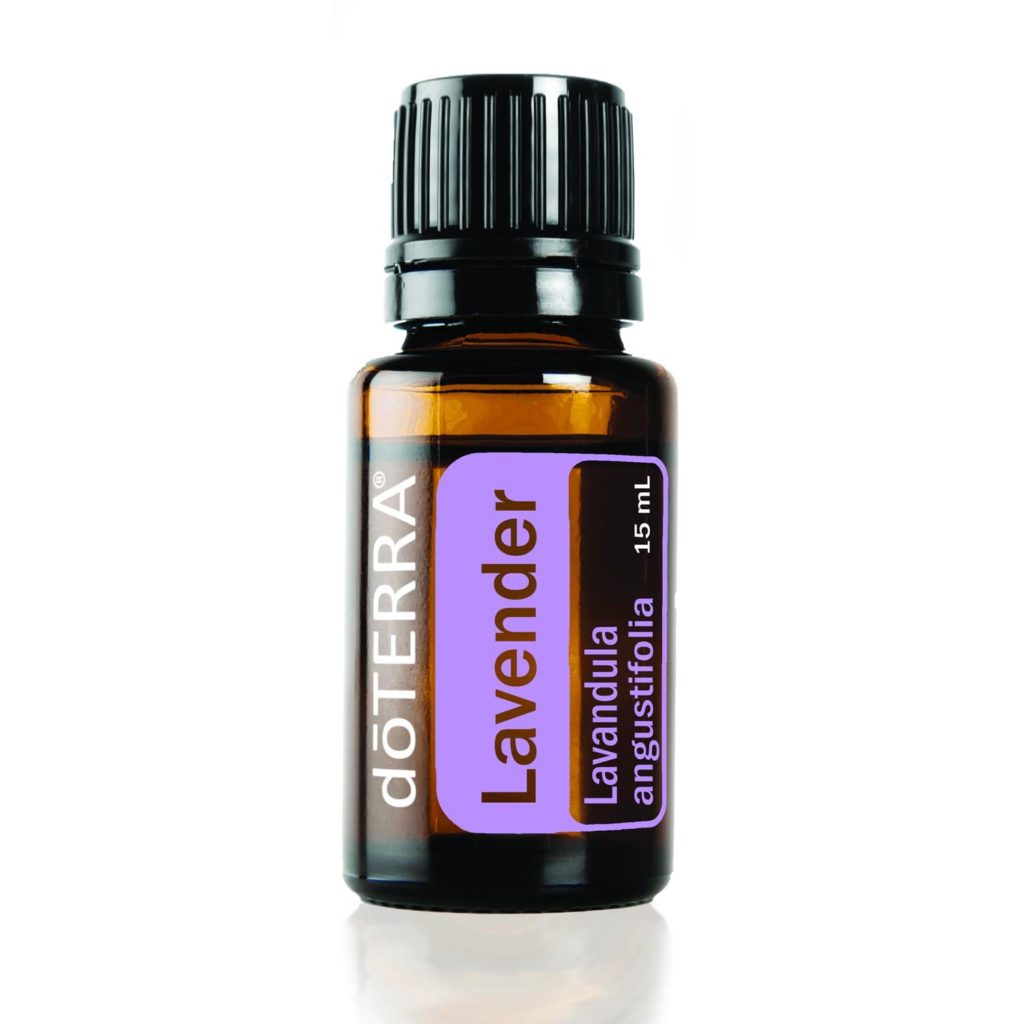 Lavender Essential Oil has been used for centuries, and is often considered a must-have oil in every household because of its relaxing and calming properties. Lavender Essential oil is widely studied, and demonstrated as being safe for cats. It can be used topically, aromatically, and internally. If you have a small cat (under 15 pounds), it is recommended that you use a diluted mixture.
Lavender Essential helps your cat relax (separation, anxious feelings, thunderstorms, stressful environment, etc);

Copaiba Essential Oil by doTERRA

This oil supports the health of the immune, digestive, urinary, respiratory, and nervous systems of cats. It can be applied topically and aromatically. Diluted oil can also be used for mild cuts.
Benefits of Copaiba Essential Oil:
Decreases negative emotions, and helps with stress and anxiety;
Relaxes sore joints;
Promotes lymphatic flow;
Supports the upper and lower respiratory tract;
Promotes general wellbeing.
Aromatic application
Diffuse as needed, the preferred method
Topical application, recipe by Lisa Powers
Carrier oil 80-100 drops, one drop of Copaiba Essential Oil
Apply one drop of diluted mixture on the area of interest

Terrashield Essential Oil by doTERRA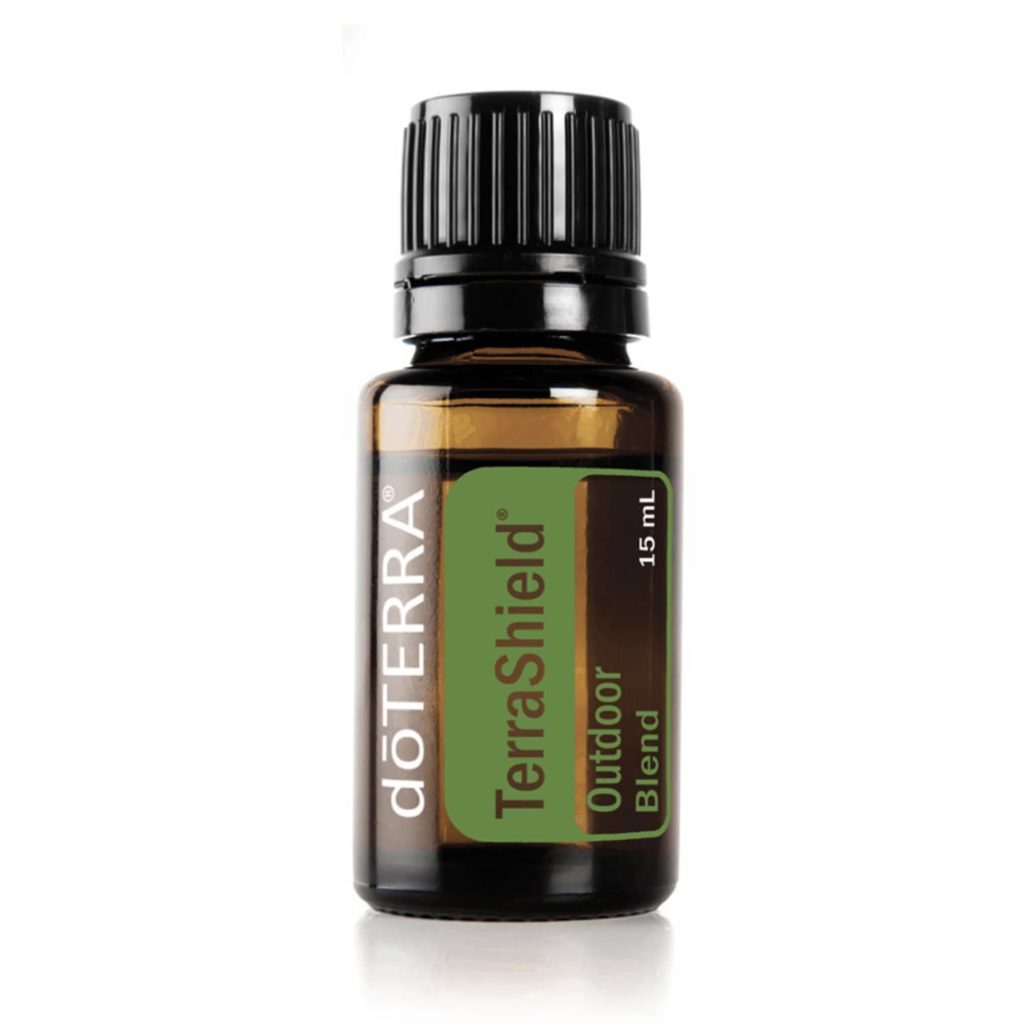 This oil is highly effective, safe and can help ward off insects. The undiluted form can be used topically, and protects against insects for up to 6 hours. The oil is a great alternative to similar products that contain toxic chemicals.
Recipe by Lisa Powers
Use 1-2 drops on your cat's collar before going outside
When you complete the kit of essential oils for your furry friend, you can try blending them for you diffuser. Here are a few more recipes by Lisa:
De – stress Blending Recipe (a great formula during thunderstorms and fireworks)
Lavender Essential Oil, 2 drops
Copaiba Essential Oil, 2 drops
Frankincense Essential Oil, 1 drop
Calming Blending Recipe
Frankincense Essential Oil, 2 drops
Lavender Essential Oil, 2 drops
Roman Chamomile Essential Oil, 2 drops
Breathing Easy Blending Recipe
Frankincense Essential Oil, 2 drops
On Guard Essential Oil, 2 drops
Breathe, 2 drops
Respiratory Support for Cats, recipe by Dr. Janet Roark
Cardamom Essential Oil, 5 drops
Arborvitae Essential Oil, 5 drops
Use a 1-2 oz spray bottle, mix the oils with distilled water or carrier oil (preferred). Shake well before each use, spray 2-4 times daily to promote healthy breathing
For more information visit Lisa Powers site: lisapowers.co
Is On Guard safe for cats?
Cats are very individual, and safe usage of On Guard also depends on many factors such as your kitty's health, age, grooming habits, etc. Speak to your vet if you want to use On Guard for your cat.
Are doTERRA oils safe for cats?
On their website Pet Poison Helpline informs pet owners to be cautious if they want to use essential oils, never use the concentrated form, and do not buy cheap oils. In a pdf manual published on isvma.org,  Doug Knueven has mentioned doTERRA as one of the safe options that you can apply to pets.
Is Copaiba safe for cats?
Safe application depends on many factors, as well as the way  cat owners will be using Copaiba oils. Before applying the essential oil, educate yourself to know how to use Copaiba in the right way.
Is Frankincense safe for cats?
Some vets consider doTERRA to be one of the safest essential oils for cats. However, as Dr Peacock noted, in many cases inappropriate usage and doses are the reasons why cats do not tolerate them.
What essential oils are safe to diffuse around cats?
Safe applying of essential oils for cats depends on many factors such as the kitty's health (e.g. if they are disabled or have a chronic illness), pet's age (senior cats, kittens), habits, etc. If you want to diffuse essential oils around your fluffy friends, you should buy only the best quality essential oils. Educate yourself to know more about active and passive types of diffusers, and toxic essential oils you should never use around your kitty. Get started by using diluted essential oils in places that your kitty cannot reach (or can leave freely) or lie immediately next to or under the diffuser. Cats are obsessed with how they feel and will be trying to remove any oil sensations in order to stay clean.
Are cats allergic to essential oils?
Some essential oils are toxic for cats, such as ones that contain Tea Tree, thyme, or cinnamon and should never be used in any forms.  More than that, cat owners should never buy cheap essential oils. Get started by using diluted oils, and if you observe any symptoms that concern you such as watery eyes, breathing difficulties, allergic response, low body temperature, aggression, stop applying the oils and contact your vet. Your kitty might even be allergic to the carrier oils, thus before applying essential oils you should consult an experienced medical practitioner.
What essential oils are good for cats?
Essential oils are potentially toxic to cats. Pet owners should know not only what oils are safe, but what brands they can start with, the dose and how to use active or passive diffusers.
Will Frankincense hurt my cat?
It's not only the oil (Frankincense) that is important, but also the way in which your kitty will be exposed to the oil, the dose, and other factors that are crucial so that you know how to avoid causing any harm to your pet.
Is Myrrh safe for cats?
doTERRA is considered to be one of the safest oils, however, speak to your vet before exposing your pet to the essential oils.
What are the best essential oils for cats?
No essential oil or combination of them are magical and each pet is individual. Before getting started, take a course, read books and meet a practitioner to eliminate the risk of poisoning your 4-legged friend. There is an easy way to avoid cat problems caused by essential oils, set a pet-free zone where you can use oils of your choice.
DISCLAIMER: this article has been provided only for informational purposes.