Every cat parent who loves cats and wants their furry friends to live longer and healthier should remember that not all human foods are good for cats. Every cat owner should know the list of foods that their cat should never eat.

Why are human foods bad for cats?
Proteins
Cats have been living next to humans for thousands of years and are considered to be one of the first domesticated animals, but they remain predators. Therefore, their need for proteins is very high – almost 4 times higher than in humans.
Carbohydrates
A feline friend does not need such a high amount of carbohydrates in their diet as a human. For this reason, a diet that includes too much cereal can damage the cat's health and lead to metabolic disorder.

Amino acids and vitamins
The processes of synthesis of the nutrients in cats and humans differ significantly. For example, vitamin D is not generated in animals under exposure to sunlight, as it is in humans. Technologists strictly keep the amount of vitamin D in ready cat food, but human foods do not contain the necessary vitamins and minerals in the right amount.

Is milk bad for a cat?
Vets recommend not to give milk to animals. The fact is that a kitten's organism can digest lactose, but most adult cats do not possess the significant amount of the enzyme that participates in lactose breakdown. Some furry friends may suffer from lactose intolerance, so when a cat drinks milk, the milk sugar is not absorbed, and as a result the cat can suffer from diarrhea.

Harmful foods for cats – eggs and meat
Cats, like humans, can become infected with salmonella and E. coli after eating uncooked eggs. In addition, if a cat eats egg whites, then the absorption of vitamin B might become harder. And this, in turn, adversely affects the cat's fur and skin.

Bones and fatty meat can lead to digestive problems such as a stomach upset, vomiting and diarrhea. A pet can swallow a small bone, and this is dangerous because the cat might choke on the bone as the airway is blocked by an object. Additionally a bone or its fragments can slash the organs of the digestive system.

Foods cats cannot eat – chocolate and sweets
Chocolate is very toxic to cats, and its consumption can lead to irreversible consequences. Chocolate contains dangerous ingredients (methylxanthines) that adversely affect feline health. Of these, caffeine can also lead to a cat getting super excited and muscle tremors, as well as theobromine, which is fatal for cats.
A cat owner should also be aware that sweets are also bad for cats because of their dental health. (You might be interested in Cat dental health) The enamel of cat's teeth is about 10 times thinner than of human ones. The bacteria of a cat's mouth, which are actively stimulated by sugars, can damage tooth enamels seriously, and your furry friend can suffer from caries, periodontitis, and other dental diseases.
A cat should never eat sweets and chocolate as these products are high in calories causing the cat to put on weight, and this might lead to it having health complications in the future.
Finally, cats simply do not understand the pleasure that a human gets, when he eats sweets or chocolate as our 4-legged friends do not have receptors to be able to experience sweet taste.

Although cats may show interests in some confectionery products such as ice cream or condensed milk, our feline friends like these products by reason of their high fat content, and not their sweetness.

Toxic foods for cats – onions and garlic
Onions contain substances that damage red blood cells, causing severe consequences for cats that even include hemolytic anemia. Garlic can cause indigestion in cats, and it also damages red blood cells. Moreover, not only raw, but fried, boiled and baked garlic and onions are toxic for cats. So you should remember not to feed your feline friends food from your table and be sure to exclude onion and garlic from your cat's diet.

Are grapes and raisins toxic for cats?
The fact that grapes and raisins are a real poison for all domestic animals has already been proven. Studies show that these products are harmful for cats and can cause problems with their kidneys and cause vomiting. However, it is still unknown which substances cause this reaction. So, if want to know whether your cat can eat raisins, the answer is "No".
It is also not recommended to give cats food such as:
nuts, as they might lead to pancreatitis;
alcohol as it damages the nervous system of cats;
salt and salty foods such as salted popcorn or chips . A cat can get poisoned and, as a result the animal might have tremors and vomiting, and can even die.
Pets whose diet is free from toxic and unhealthy cat foods, are very active, live longer and healthier.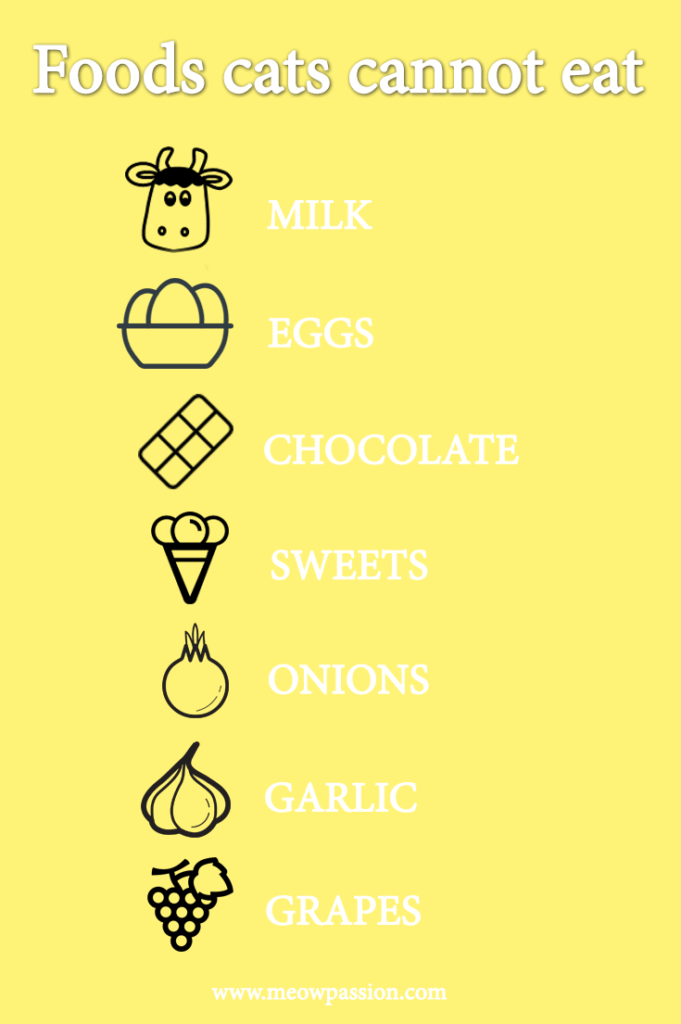 HANDPICKED RELATED CONTENT
Please note: this article has been provided only for informational purposes. If your cat is showing any signs of a disease, please contact your vet immediately.Photo
: Peter Heeling