Choosing the right bowl for your cat is crucial. With numerous bowls ranging from ceramic, plastic and stainless steel , and hundreds of online and physical stores, the choice has never been harder. You might think a bowl is just a bowl, and I can always buy a new one. So why should you spend more money than necessary when you can buy it only once and not let it bother you anymore.
Do your research and select a bowl that will suit your cat's needs, as well as yours. In this article, we prepared a few bowls that might suit your needs.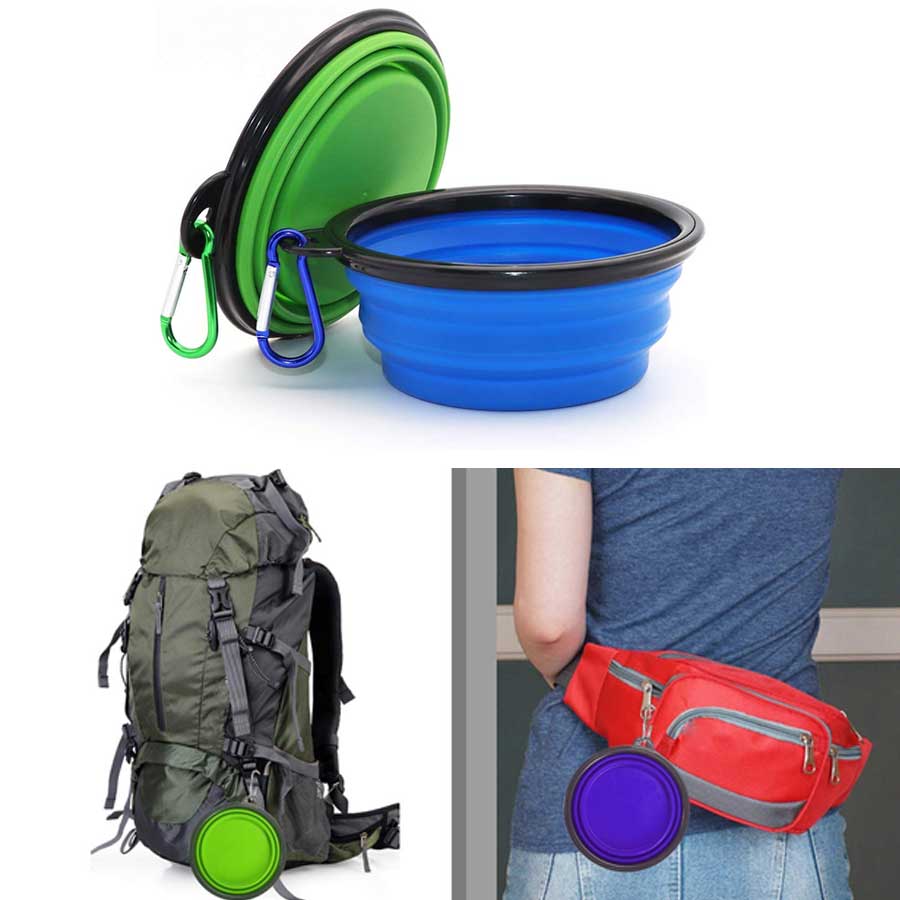 A portable, convenient and collapsible cat bowl by COMSUN . Perfect for longer or shorter trips with your little adventurer. COMSUM bowls are made from high quality silicone and can be wiped or rinsed clean after each use.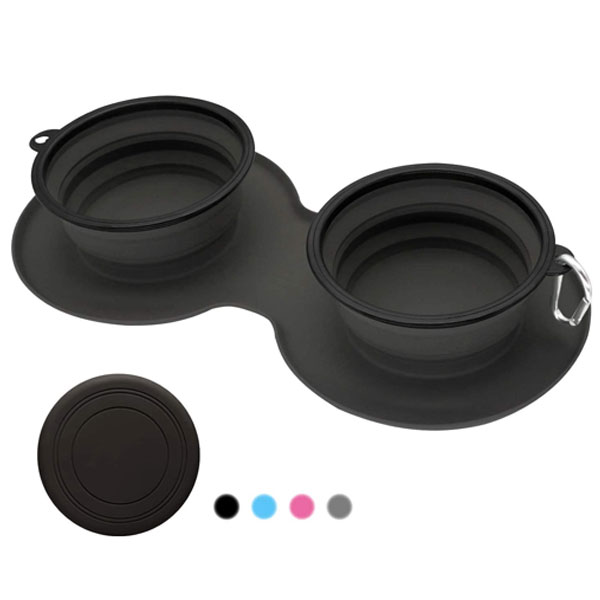 Another collapsible cat bowl. If you don't like carrying two separate bowls in your backpack, WINSEE has another solution for you. These two bowls are connected by a no-spill silicone mat and made from flexible food-grade, safe silicone. The product can be folded in half, and it doesn't take a lot of space.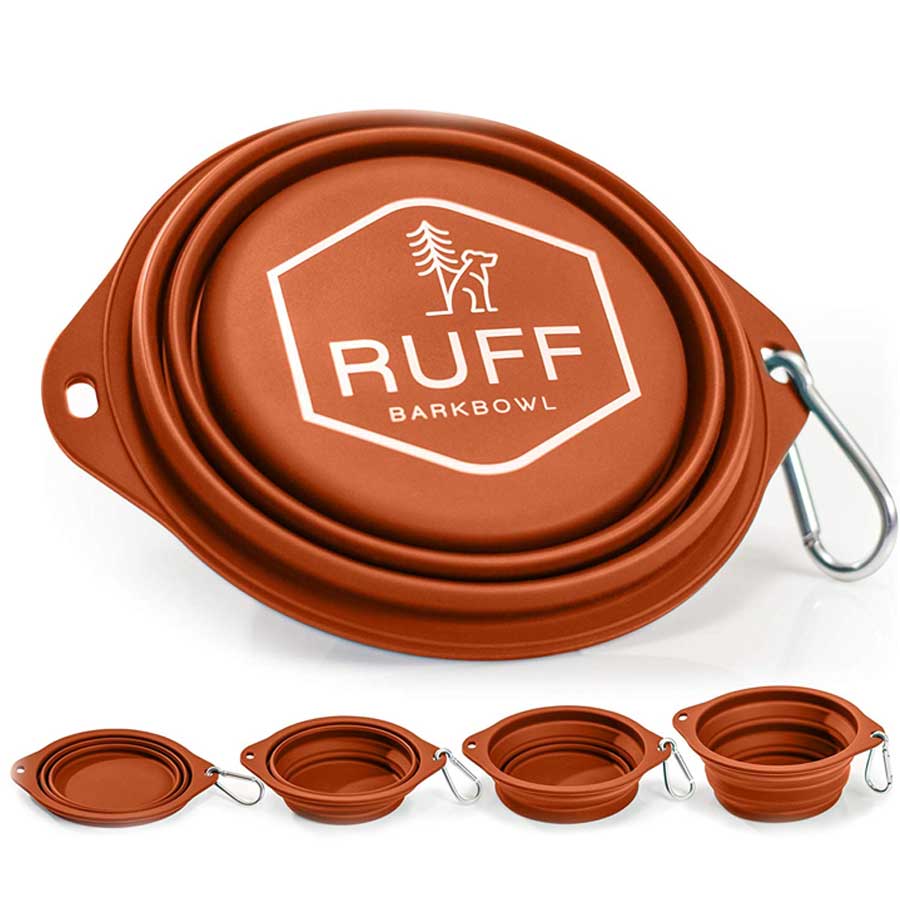 A durable, tear resistant, microwave and freezer safe and perfect for any kind of food or water cat bowl. The heavy-duty clip allows you to snap it onto your purse or hiking gear, so you don't have to worry about leaving it at home or losing it in your backpack. It's sturdy, and the size is perfect for any cat, no matter if they are big or small.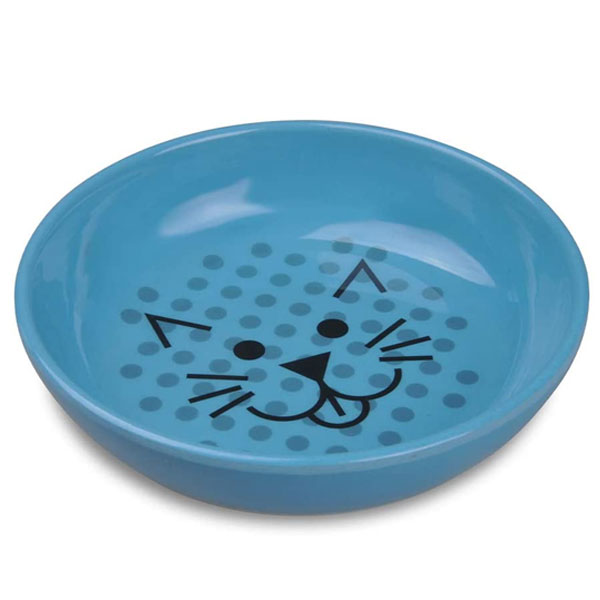 Van Ness's durable and easy to clean dish is perfect for water and both wet and dry food. It includes a cute cat design that both an owner and their cat will definitely appreciate. Their cat bowl is designed to prevent whisker fatigue, and allows your cat to eat more easily and stress free.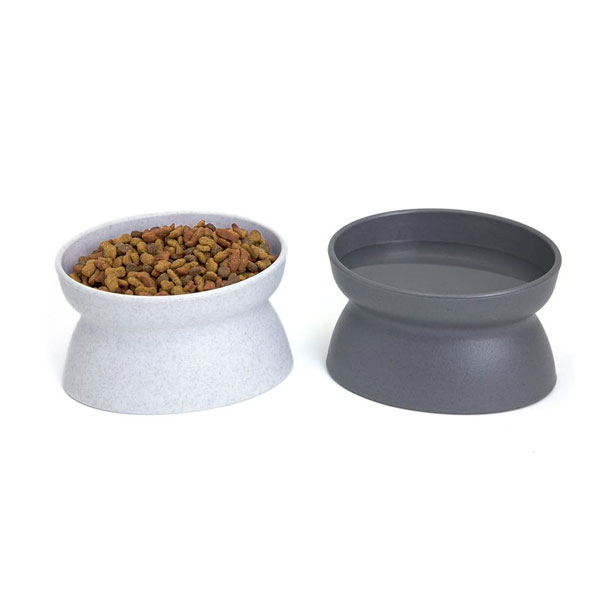 Kitty City's bowl design helps prevent whisker fatigue and promotes a natural and healthy eating posture. They offer two colour sets – pastel pink and blue, white and dark grey.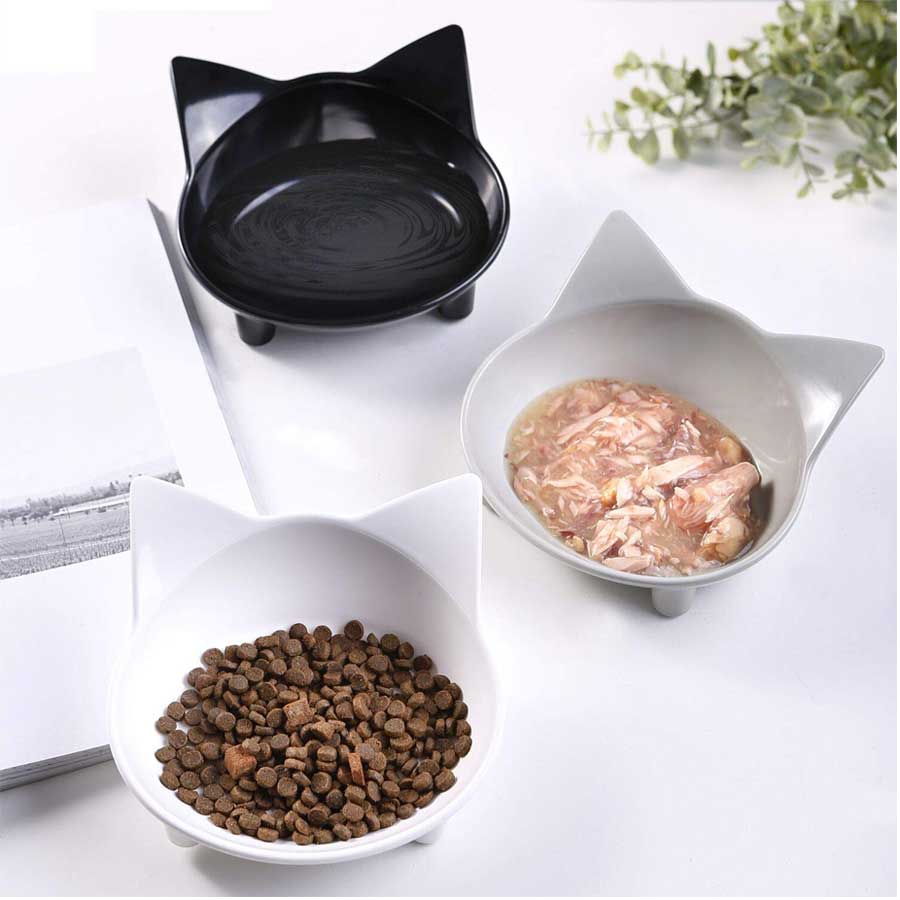 Cat-shaped cat bowls for any type of food and water. The shallow design prevents whisker fatigue, and special pads at the bottom of the bowl eliminate annoying noise, and 250ml (8oz) worth of food helps with overfeeding. They are non-toxic, light, easy to clean and dishwasher safe.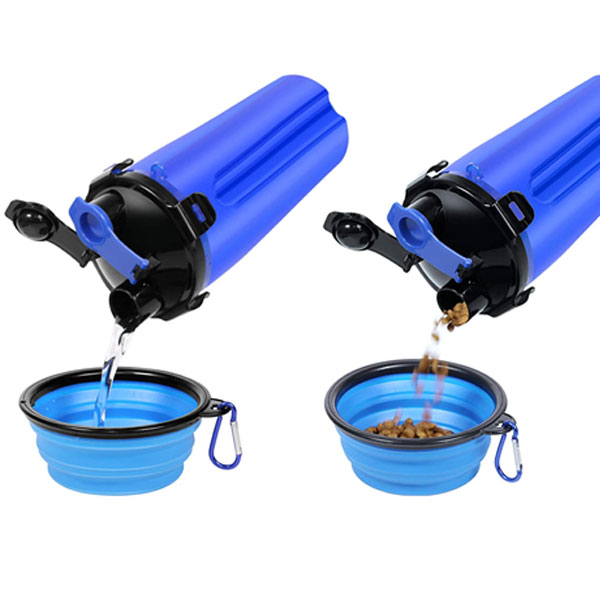 A portable bottle designed by UPSKY with two chambers for both food and water, equipped with two collapsible, silicone bowls and two carabiner clips. Made from safe materials and BPA-free. It's easy to dismantle and clean, and will make travelling with your cat much easier. 
A dining table with two (or three, although you can buy a single and a replaceable bowl) bowls made for kings and queens. It comes in three, different options – stainless steel, liftable and ceramic. The bowls are easy to clean and replace, and the bamboo stand prevents food from spilling and making a mess on the floor. The design also helps your cat develop a healthy eating posture.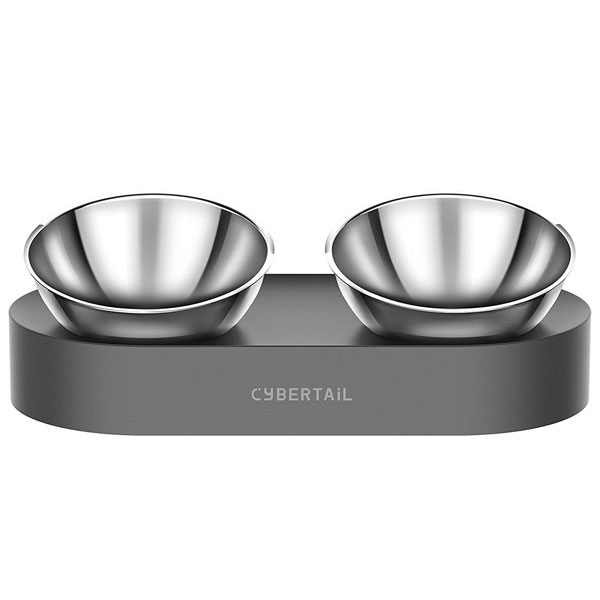 Raised stainless steel bowls for cats by PetKit prevent food spilling, are safe and comfortable for pets. Cat owners can choose what position (flat or angle) is comfortable for their animal. Some pet owners noticed their cats stopped vomiting, and they like the bowls' non porous surface that is the most hygienic.  For those cat parents who love aesthetics, the sophisticated designs of these cat bowls will be a huge plus.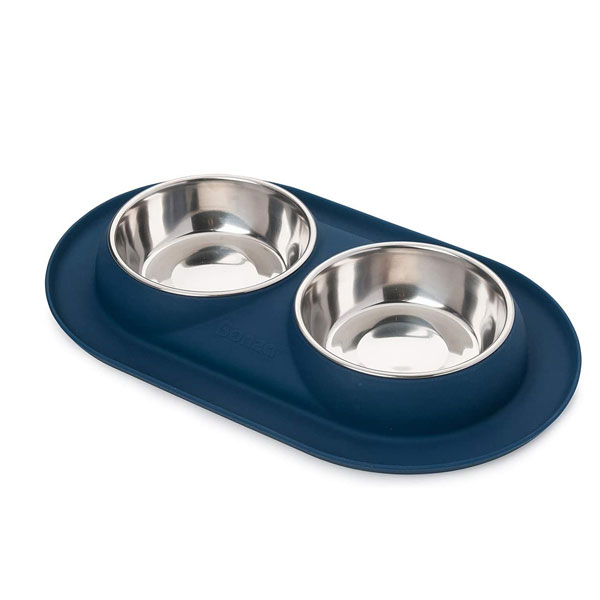 The full dinner set by Bonza consists of stainless steel bowls of Premium class and a non spill silicone base that does not scratch the floor. The feeding station is safe and easy to clean or wash in a dishwasher.  The set is 100% BPA free and safe for the environment. Cat owners say it prevents mess, keeps the floor clean, and takes up minimal space.
Elevated  ceramic bowls by Fukumaru promote the right heating habits and helps reduce the pressure on the neck while a pet is eating. The bowls are of attractive design, easy to clean and a perfect decoration in any apartment or house. It has a rounded shape, very comfortable angle of eating, and the proper size – these features will help you have a healthy and happy kitty.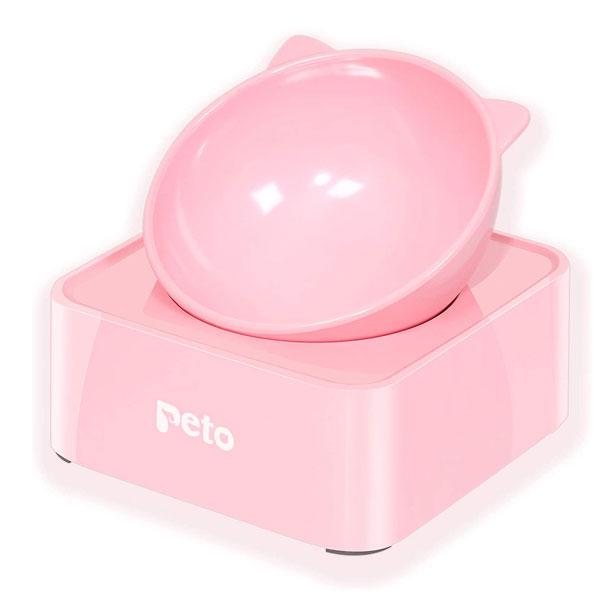 Thanks to the unique magnet design (3 angles), raised cat bowls by UPSKY can be adjusted perfectly to the needs of your cat. The cat bowls come in various colours and are easy to remove and clean. The bowls reduce the pressure in a cat's neck, joints and stomach, are safe and BPA free. The bowls are suitable for small and big cats, prevent mess on the floor, and cats can easily access their food.
This ceramic cat bowl on an anti-slip bamboo stand by Olsa is safe and hygienic for pets. Available in 4 colours it might be deep for smaller cats. Pet owners like the bowl's cute design, and also use it for water.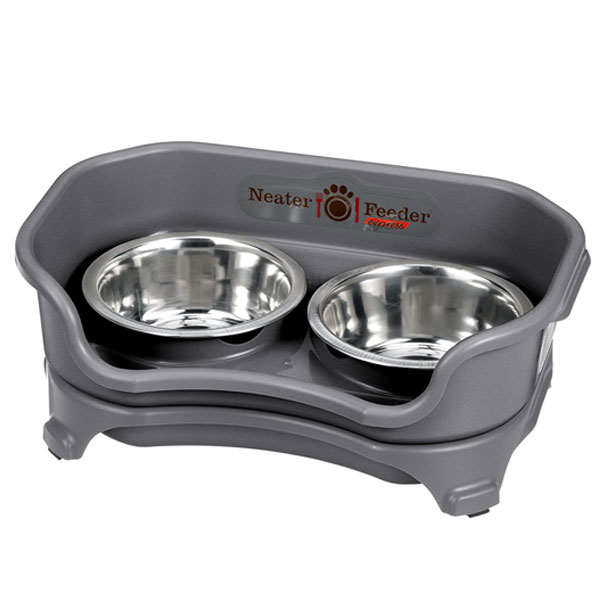 Elevated stainless steel bowls for cats who like mess (and for cat owners who are tired of cleaning). Spilled water drains to the lower container and the feeder catches the food at the top. It also allows cats to eat in a comfortable and healthy position, and keeps the feeding area clean and aesthetic. Most cat owners are happy with how the set works, although some cat parents have complained about the bowl's size.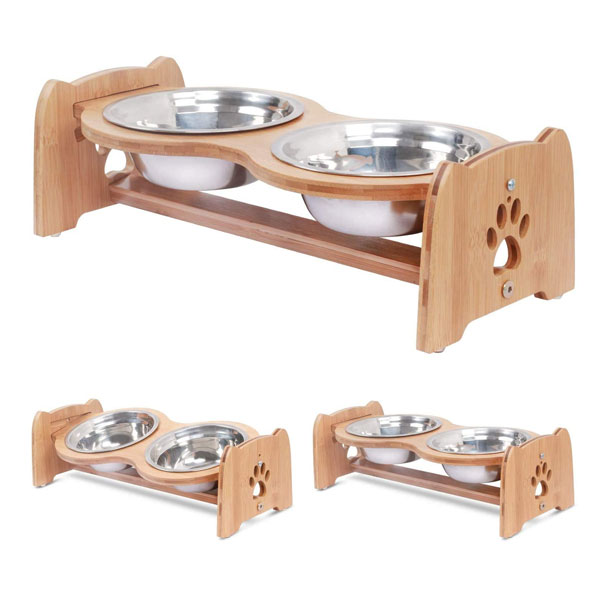 Raised cat bowls by X-Zone Pet shop can be accessed easily by cats and reduce bloating. The stand is made from natural materials of high quality (bamboo), are stable and do not slide easily. Stainless steel bowls are easy to clean and are durable. Many cats are excited when they eat from bowls by X-Zone, and cat owners say everything fits together really well.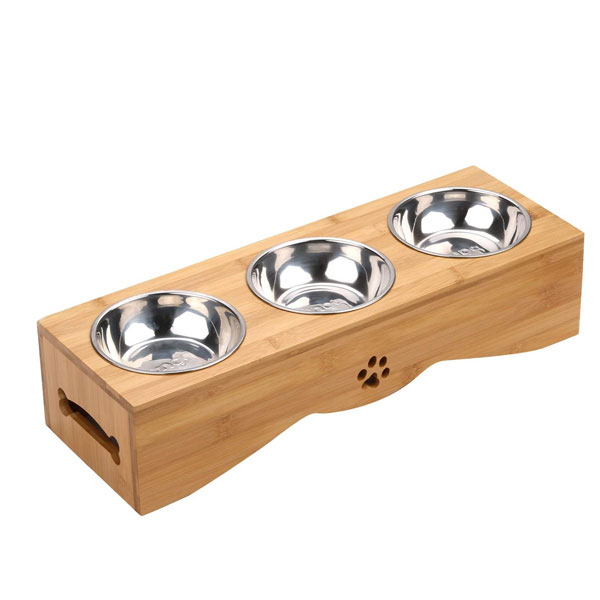 The set including 3 stainless steel bowls by Legendog is the perfect option for water, dry and wet food. The set is stable so that it's difficult for pets to move it. The bowls are durable, easy to clean, and save cats straining their neck.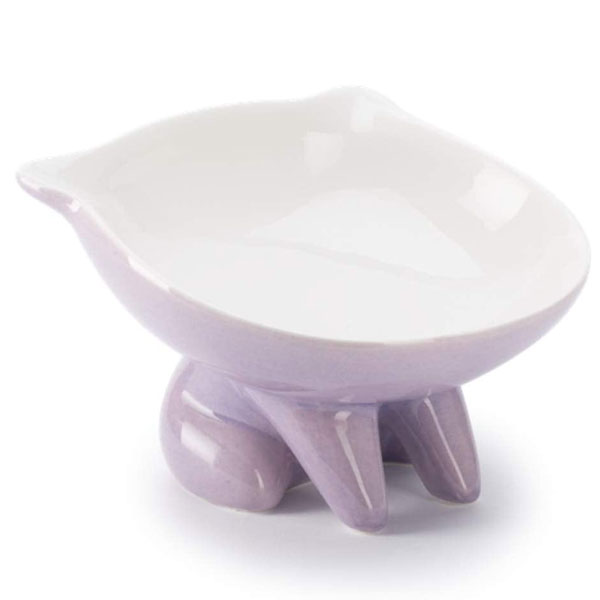 Raised ceramic cat bowls by ViviPet Store are of a modern design, safe and promote healthy eating. The bowl is made from eco-materials with love, are certified, and easy to clean. The bowls are a perfect solution for cat owners who wish to have a cute piece of décor that their 4-legged friend will also love.
YOU MIGHT BE INTERESTED IN


Disclosure: This page contains affiliate links. If you make a purchase after clicking on the links, Meowpassion will get a small commission. We are dedicated to finding the coolest products for cats, cat lovers and owners and we never recommend products that do not love or do not trust.