If you've ever wanted a playful, adventure-seeking companion for life, but instead ended up with a sleepy, fluffy ball that demands food at 5 AM, you might have wondered 'can this loaf of fluff that's currently laying on my keyboard and distracting me from my work, enjoy the outside sky, the warm sun, the freshly cut grass, and happily hop into a pile of leaves?'. Maybe everything won't be as you imagined, but there are some cats that do enjoy being outside, and even walking on a leash. Here's everything you need to know about your friend's future outdoor adventures.

How do I know my cat will enjoy being outside?
You will never know for sure, but there are some tell-tale signs you can look out for. If you have a cat who isn't afraid of new challenges or changes who is very playful and active around the house, who looks out the window (although keep in mind that cats like watching birds outside, aka their 'cat television) longingly, or scratches at the glass door leading to your garden, you might have a cat who will enjoy outside adventures.
A lot of cats will enjoy discovering and smelling new, outside-only things, such as trees, grass, flowers, sometimes even other outdoor-friends (who are obviously beneath them in the hierarchy of animals).
Not all cats will enjoy being outside! And that's okay. If your cat is afraid of the harness, if they freeze when you put the leash on, don't force them. You will only discourage them from ever stepping their paw outside their comfortable and safe apartment.
There are some breeds that may enjoy the outside world more than others.
Abyssinian cats are daring, active and affectionate towards people
Bengals are an energetic breed; they need a lot of exercise. They love learning new and exciting things
Siamese cats are social, playful (even when they are older) and intelligent; they often enjoy a game of fetch

Do I have to do something in order to prepare my cat for going outside?
There are a couple of things a cat owner needs to do first. You can't grab a random, old leash hanging from a coat rack in your hallway.
Walking a cat isn't like walking a dog. If you decide to take your cat outside, you aren't actually the one in charge. Walking a cat is more about letting them wonder around, and explore, while you accompany your 4-legged friend and make sure they are safe.
But, let's start from the beginning.
First, you need to measure your cat. If they are still a kitten and are constantly growing, make sure to purchase a harness you can easily adjust. There are two places you need to measure – the first is around the neck, and the other is behind the front legs. With your cat standing, use your flexible tape measure and put it gently around their girth area (just behind their front legs). Do the same for their neck area. Harnesses shouldn't be too tight; you should be able to slide one finger between the harness and your cat.
If your cat is not fond of getting a professional, properly fitted cat suit for walks, you can attract them with a treat or a small can of wet food.
Remember to follow the instructions provided by the manufacturer. Some harnesses may require adding a couple of inches/centimetres to your measurements.

Cat harness – important steps
It's crucial to start training indoors. After you have purchased the right harness, leave it around for your cat to smell and play with, so they aren't afraid of it. Next, strap your cat into the harness, making sure it's properly fitted, and not too tight, so your cat can easily breathe; and not too loose, so they can't slip out of the harness and escape. Let your cat wear it around the house, even with the leash dragging behind them.
After each step, reward your cat with treats and praise.
Remember, at this point your cat should be comfortable in a harness and on a leash. If, at any point, your cat starts panicking, feeling uncomfortable or scared, it's best to stop the training.
If you are that lucky person who has a little patch of grass behind their house, let your cat safely explore the yard on a leash. Open the door, let them sniff around and choose the direction they want to go towards. If, however, you live in a big and bustling city, put your cat in a crate and choose a quiet, remote place where there are no cars, loud sounds, masses of people or dogs freely running around. If you do spot a curious dog or hear a loud car, you can pick your cat up until the dangerous object is gone.
Some cats may attempt to escape once they know where the door is and what the outside looks like. Make sure your cat knows that the only time when they can go out is when they have a harness on, and you are accompanying them.
You will also want to make sure your cat is vaccinated properly. Contact your veterinarian and talk about how you can protect your cat from diseases transmitted by other cats or bugs.
After each walk remember to carefully examine your cat's fur for any insects, tics, fleas, mosquitoes or injury. You can go the extra mile and ask your veterinarian for pet-safe repellent spray or wipes.
With a cat, you probably won't engage in a four-hour long nature hike. Your cat will check out a few exciting things around your neighbourhood (some bushes and small bugs), before they are ready to go back home.
Exploring the outside world with a leash isn't the only available option – you can also try alternative options such as a cat stroller or a cat backpack.

What should I consider when purchasing a harness?
The cat harness you will choose should be made out of high quality, durable materials, that won't snap, fall apart or tear easily at the slightest jump or tug from your cat. Carefully inspect the stitches, individual clasps, and all plastic or metal elements of the harness.
There are two styles of cat harness: the "H" shape (a lead) or a vest style (also known as walking jackets or holsters). A "H" style harness has two straps: one goes around the neck, and the other around the stomach area. It's more adjustable than the vest, comes in more colours and even fancy styles.
The vest style harness is more escape-proof, for the true Houdinis who have managed to get out of the classic harness. It's usually made out of some kind of breathable material and clips at the chest or back. It provides more coverage and distribution.
The fit is one of the most important aspects of choosing the best harness for your cat. You want the harness to fit snugly to ensure your cat doesn't easily escape, but you also don't want it to be too tight. One of the ways to check if the harness is too loose or too tight, is to slide one finger between your cat and the harness. If you are able to slide in more than one finger, the harness is too loose. If you aren't able to fit one finger, it's too tight.
Some harnesses come with extra features, such as a leash, reflective tape or a small bell. Make sure your harness has a place where you can attach the leash.
Here are a couple cat harnesses we recommend.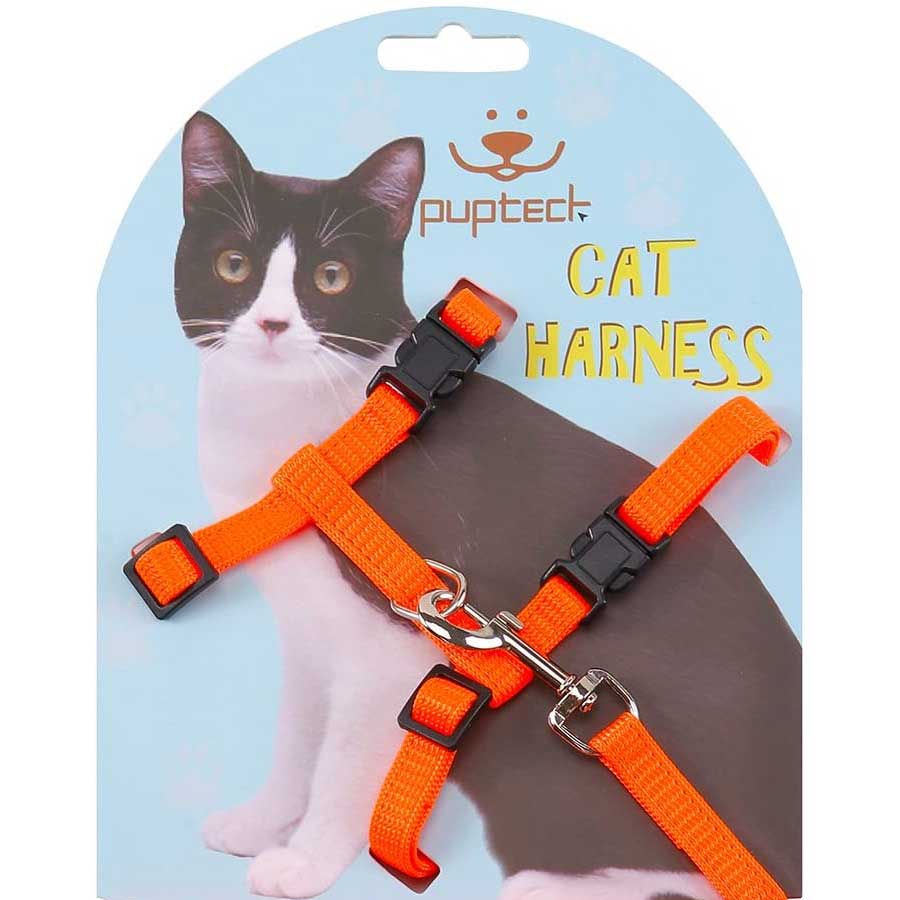 If you're looking for a harness with a solid and sturdy construction, look no further than PUPTECK's vibrant and colourful options. Made with durable, fully adjustable nylon that prevents your cat from easily slipping out.
SEE ON AMAZON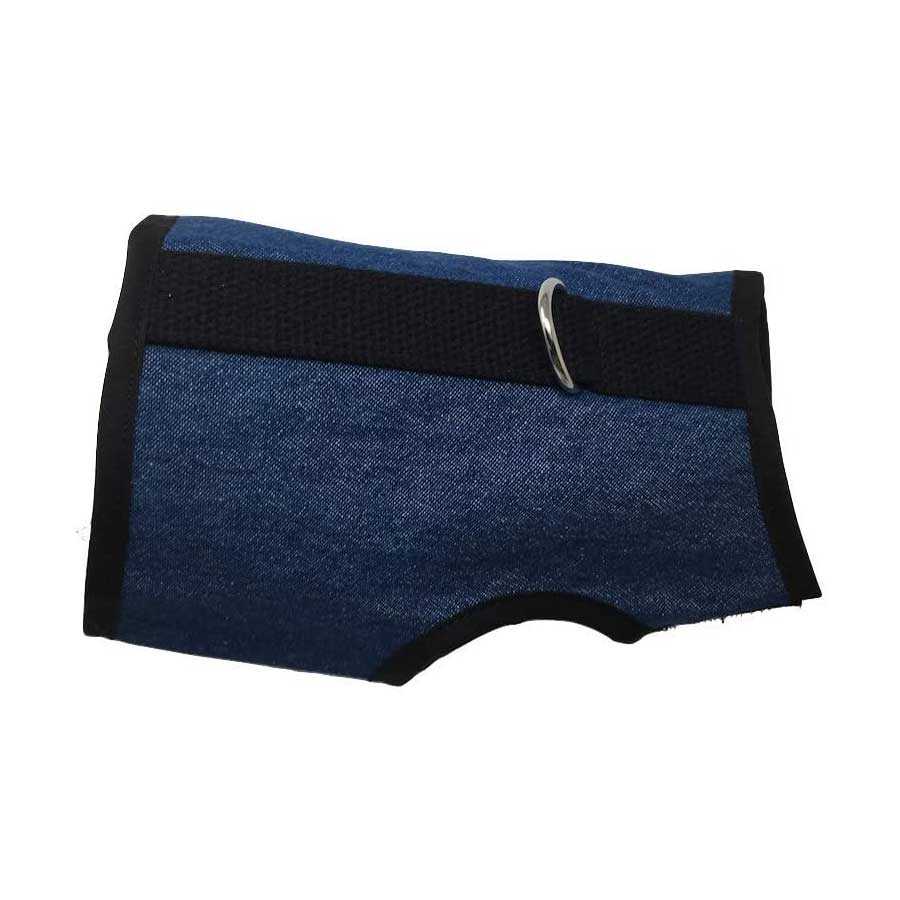 Kitty Holster has been known for a while to be the best cat harness for even the biggest and most talented escape artists. Made from comfortable, ultra-lightweight material, they are lined with soft cotton for your cat's delicate and precious fur. Comes in a variety of colours and patterns, which will make your cat the star of the neighbourhood.
SEE ON AMAZON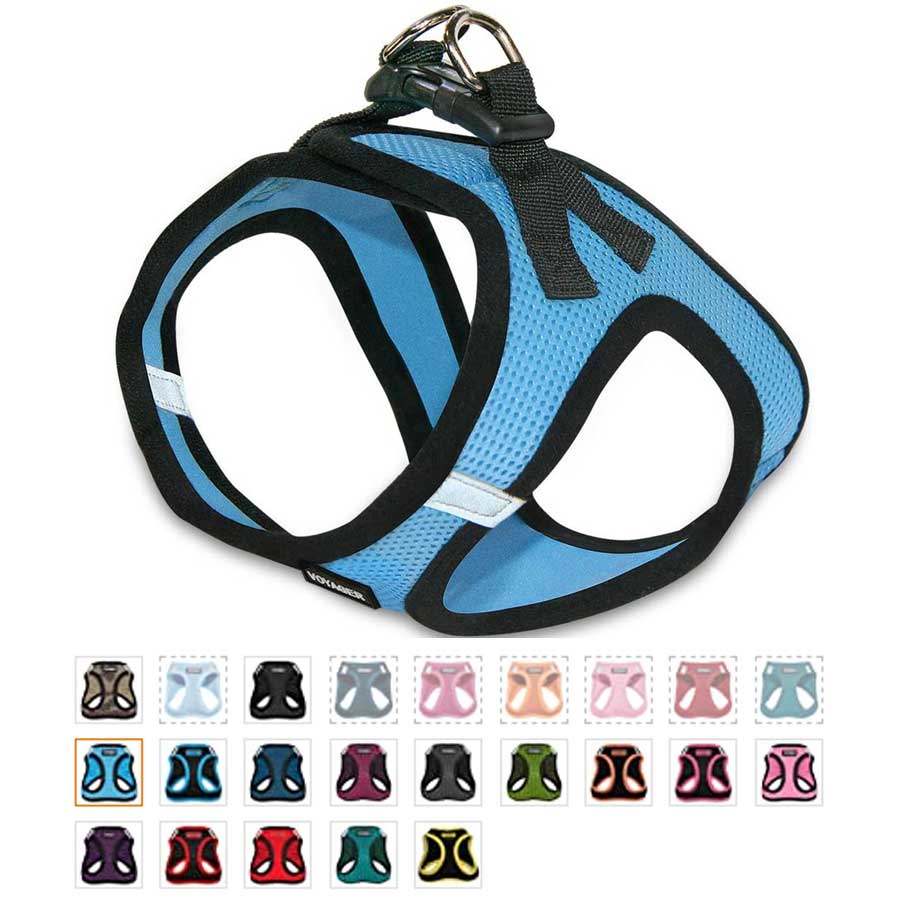 Voyager's harness is both for the kings and queens of the world, as well as for those who enjoy chasing their own tail and snoring on the pillow. Made from a soft, breathable material that is perfect for walks all year round. Two reflective straps on the side of the harness further protect your pet, making them more visible for everyone around. The size ranges from XXXS to XL, so you will definitely find the right fit for your soon to be former couch potato.
SEE ON AMAZON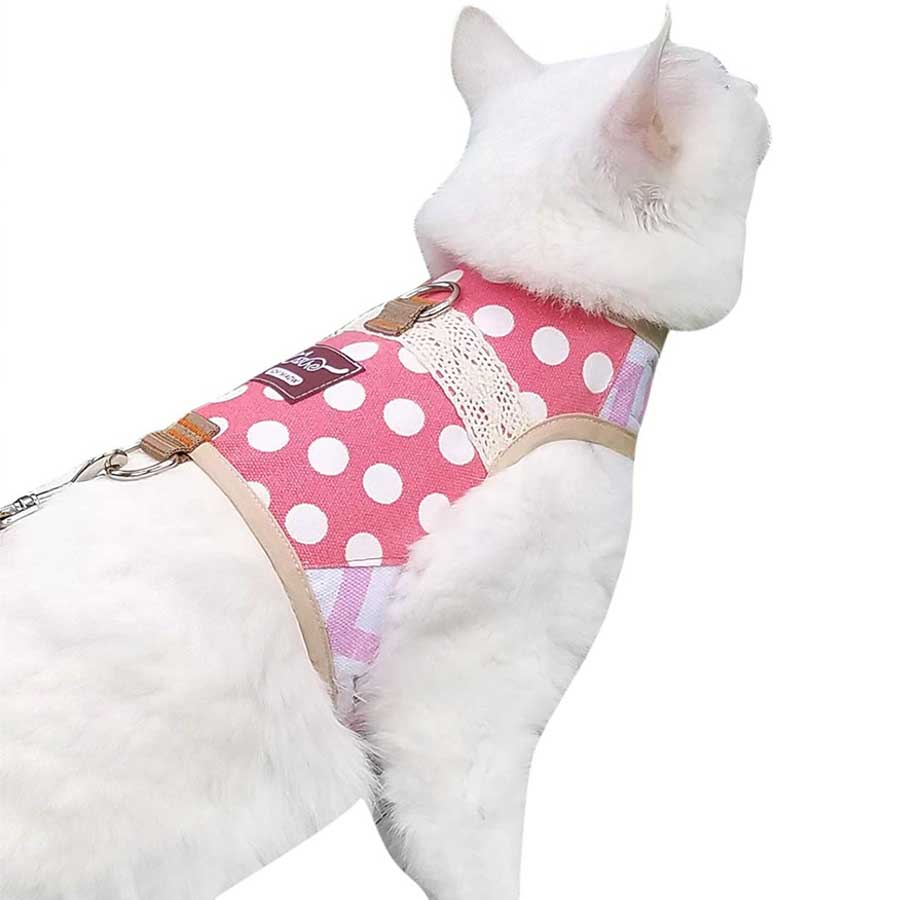 The most stylish escape proof cat harness on Amazon! Yizhi Miaow's product is cute (harnesses with a white lace or sailor suits), safe and available for the smallest, as well as the biggest adventurers. The sturdy, secure vest comes with two "D" leash rings (one in the middle of the harness and the other at the bottom). The straps are soft and easily adjustable.
SEE ON AMAZON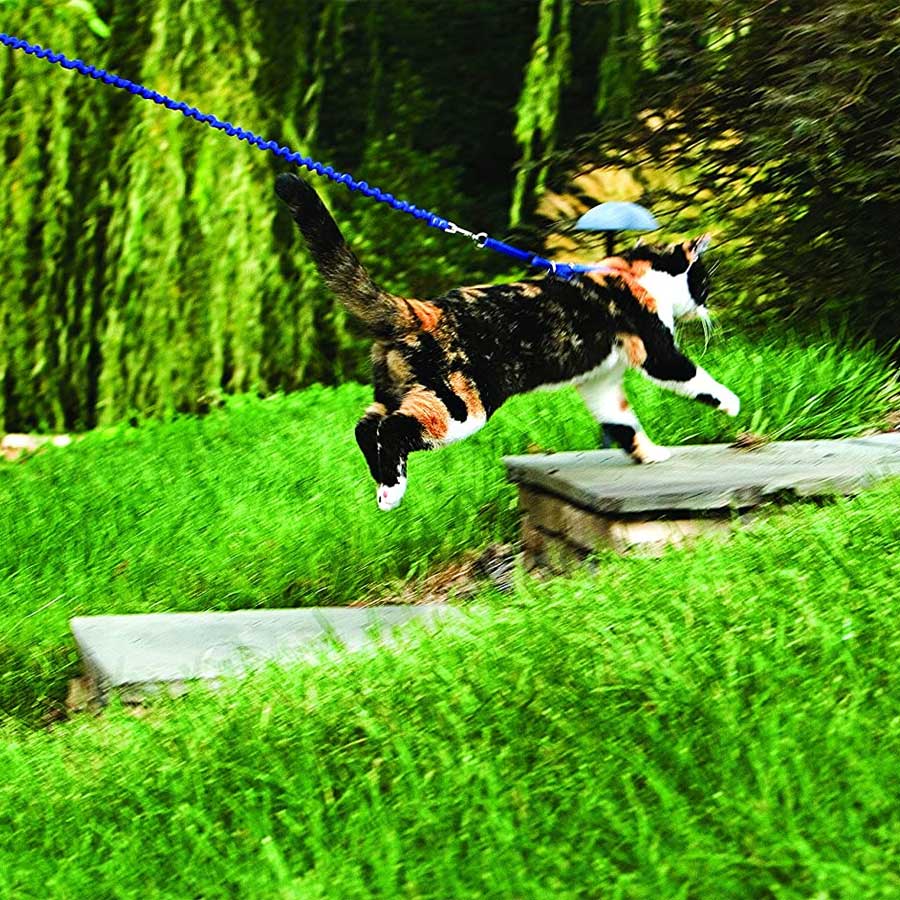 PetSafe's cat harness has a unique, elastic bungee leash that helps soften the effect of your cat reaching the end of the leash or suddenly tugging in the opposite direction. Specifically designed for kittens, the harness focuses on applying gentle pressure to the shoulders rather than the neck. The harness is easily adjustable, and the shoulder straps include two "D" rings on the back.
SEE ON AMAZON


Harnesses For Cats – Sources
PUPTECK Adjustable Cat Harness
Kitty Holster Cat Harness
Voyager Step-In Air Pet Harness
Escape Proof Cat Harness with Leash by Yizhi Miaow
PetSafe Come with Me Kitty Harness
You Might Be Interested In
Best Way To Put Harness On A Cat (H-Style Harness)
How to Teach a Kitten to Walk On a Leash
DIY Tutorial How to Make Cat Harness
You Might Be Interested In
A Backpack For Cats: The Easy Way To Travel With Your Friend
82 Addictive YouTube DIY Videos for Cat Owners



*FTC Disclosure: This page contains Amazon Associate links. If you make a purchase after clicking on the links, Meowpassion will get a small commission at no extra cost to you. We are dedicated to finding the coolest products for cats, cat owners and lovers, and we never recommend anything that we don't love or trust.