Being a natural born hunter, cats like chasing and capturing things. Physical activity is very important for a pet's health, stimulates them mentally and keeps them fit. Regular playing time plays a crucial role for a cat, in particular when fluffy balls do not have other playmates and their owner is the only companion.
Playing with a laser pointer, an interactive and affordable cat toy, has many benefits as cats are not bored, the pointer provides a lot of fun and challenges your pets mentally. Some cats will likely ignore the toy after a few minutes, which is a natural reaction. To avoid this, a pet owner needs to rotate toys, so a cat enjoys new entertainment.
In general, laser pointers are a safe toy for cats, but owners should keep in mind:
Do not use a laser pointer that is not made for pets.
Do not point the beam of light at the cat's eyes.
Cats usually understand how to play with this toy, however, some cats might need a lesson on how to play.
Avoid playing with your pet in an area where they can hurt themselves.
To avoid frustration with your fluffy friend, pet owners need to finish playing by pointing at a physical toy or using a wand so that a cat can feel the hunt was a success.
If you want to challenge your 4-legged friend, read our review of the most popular models of laser pointers available on Amazon.

Cat laser pointer by FOBSERD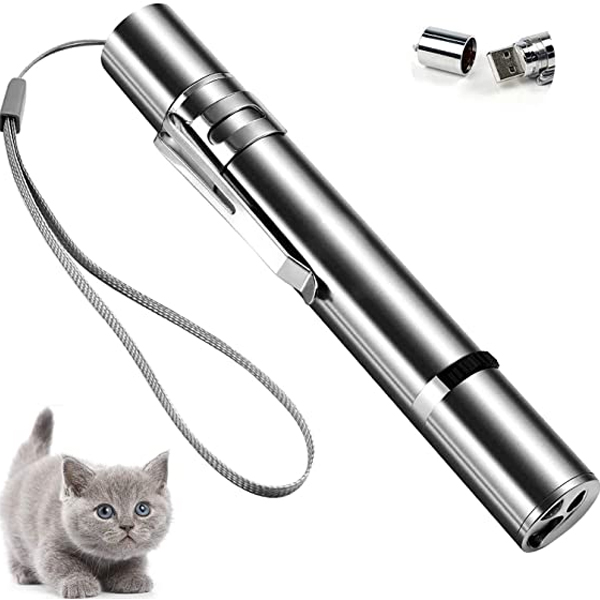 This durable, stainless steel pointer lasts approximately 3 hours. Depending on the mode, the laser colours are  red, black, and flash. Pet owners who purchased this laser pointer for cats have been satisfied with the quality, variety of lights, and comfort of using the toy. But most importantly, cats like the Fobserd laser, too. 

Laser pointer by DOLOEDY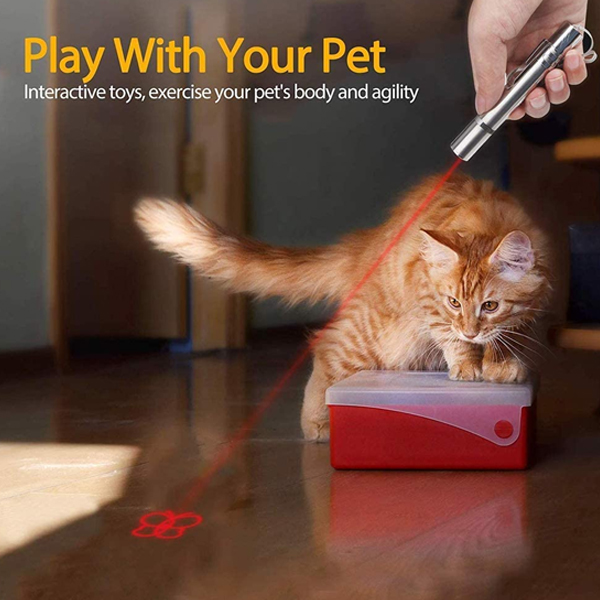 This high-quality and durable, stainless steel laser pointer is ideal for indoor and outdoor activity. The toy is very comfortable to use so that pet owners will have quality time with their kitty even sitting on the chair. Cat owners love the variety of colours (3 modes) and patterns (5).  The pointer is light, lasts for a long time, and reaches a pretty good distance, so a cat can enjoy chasing little red dots.

Laser pointer by Trunple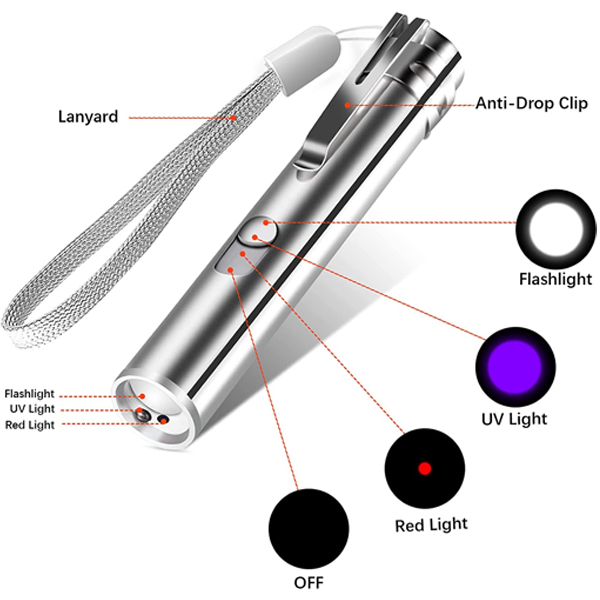 Their cat laser pointer is a No.1 Best Seller on Amazon, and no wonder. The toy, which is easy to carry and control, promotes cat's physical activity and consumes their energy. Cats enjoy chasing red dots, and pet owners can also use ultraviolet light to detect any skin issues in their pets. Some pet owners even report that their fluffy balls climb the wall chasing laser butterflies or dots shined by the laser pointer.  Rechargeable.

Laser pointers for cats – final remark
Physical activity and mental stimulation is very important for kittens and cats as they stay in good physical form. By having regular playing time, a cat avoids being bored and enjoys their hunting instincts. 
Cat laser toys are an affordable alternative to other cat toys, keep cats occupied and consume their energy. Using the toy in a multi-cat household is an extra bonus for many cat owners.

FAQs
Can laser pointers hurt cats' eyes?
Laser pointers are considered a safe toy for cats. However, a cat owner should keep in mind simple rules such as
● You can use only lasers that are designed for pets
● You are not allowed to point a beam of light at a cat's or person's eyes.

*FTC Disclosure: This page contains Amazon and Etsy Associate links. If you make a purchase after clicking on the links, Meowpassion will get a small commission at no extra cost to you. We are dedicated to finding the coolest products for cats, cat owners and lovers, and we never recommend anything that we don't love or trust.