A few weeks back, we visited our furry friends from a friendly shelter. Asking about their needs we were told that this time the shelter needed food for cats with a sensitive stomach. Wishing to provide accurate information, we reached out to one of the best sources of professional information – dr. Uri Burstyn (Arbutus West Animal Clinic and YouTube Helpful Vancouver Vet channel), whom we would like to credit for his recommendations.
Royal Canin Gastro Intestinal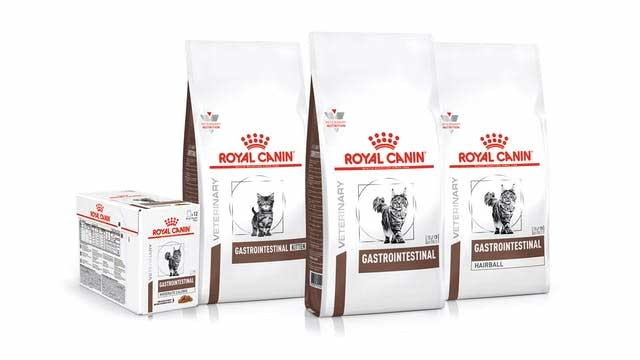 It is a well-known fact that cats are champions when it comes to hiding their health-related issues. But every cat parent can easily find clues in the litter box.
Tailored dietetic food for cats with sensitive tummies is made to balance flora and support digestive health. Cats with gastro-related issues often suffer from weight or appetite loss. Royal Canin Gastro Intestinal offers a high energy density and meets the needs of cats. So pets need smaller portions, their digestive system is not stressed, and cats feel comfortable and enjoy the food.
The diet has a few formulas (wet and dry), and also treats that, as cat owners have reviewed, are adored by felines. Being one of the best cat foods for a sensitive stomach, Gastro Intestinal contains meat, vegetables, omega-3 acids, EPA and DHA, and a blend of dietary fibres, prebiotics, vitamins (B6, B1 and B12, D3, A,C, and E) and minerals (iron, iodine, copper, manganese, and zinc).
The Royal Canin declares 95% efficacy and many cat owners who bought this cat food for sensitive stomachs have mentioned that dietetic food worked out for cats who:
had issues with hairballs or vomited,
had diarrhea or stomach issues related to senior age or after surgery,
were experiencing IBS or urinary tract problems.
Hill's Prescription Diet i/d Digestive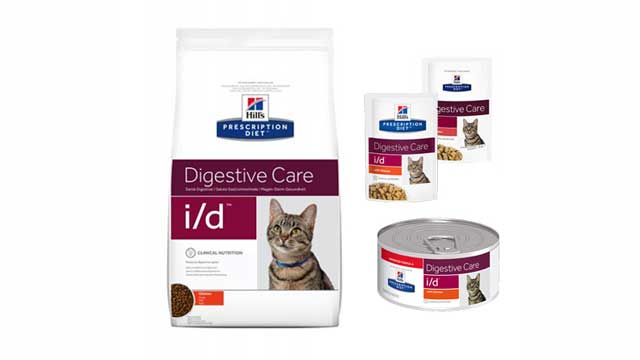 Hill's Prescription Diet Feline i/d Digestive Care, a great alternative to Royal Canin Gastro Intestinal, is designed for cats with sensitive stomachs, acute and chronic gastrointestinal disorders and conditions such as (e.g. diarrhea, constipation) Pancreatitis, and aims to help the digestive system work well. The food limits vomiting, restores flora, and helps to recover the digestive tract. Hill's i/d is also recommended for cats after gastrointestinal or minor surgical procedures.
The food contains meat, oils and fat, vegetables and seeds, a natural balance of fibres, vitamins (B12, C, E, and D3), minerals (iron, iodine, copper, calcium, and others), prebiotics, electrolytes and antioxidants. This high-quality food by Hill's i/d also improves the immune system and is recommended by veterinarians.
Pet parents who bought Hill's i/d food for cats with gastrointestinal problems mentioned that:
Hill's i/d worked out for cats who were having stress-related digestive problems,
cats liked the food and gained weight;
kitties who suffered from IBD issues have improved their health,
Hill's i/d helped felines who vomited, had loose stools or food intolerances.
Hill's Prescription Diet i/d Digestive Care is available in dry and wet versions, and cats usually like the taste.
RELATED ARTICLES
Credit: royalcanin.com and vetsend.co.uk
Please note: this article has been provided only for informational purposes. If your cat is showing any signs of a disease, please contact your vet immediately.