If you frequently browse and buy the newest, fanciest toys online for your favorite couch scratching and water splashing friend, at a certain point, you must have seen (or heard of) cat litter mats. They are this new thing cat owners are excited about and willing to try out.
Keeping the general area around the litter box neat and tidy, and cleaning the mess after cats are done with their private business can be exhausting, especially with some kittens who love to play, sit, or even hide their toys in the personal sandbox.
Here's where litter mats come to the rescue, like a buff superhero in a red cape or a knight in shining armor. In simplest terms, these mats trap small pieces of gray litter, preventing them from spreading on your bare floor.
The best one should be easy to clean, comfortable for your cat to walk on, and big enough in relation to your cat's litter box. That's why we've read countless reviews and created this list to help cat owners pick the best litter mat for you (and of course, for its primary user).

Pieviev cat litter mat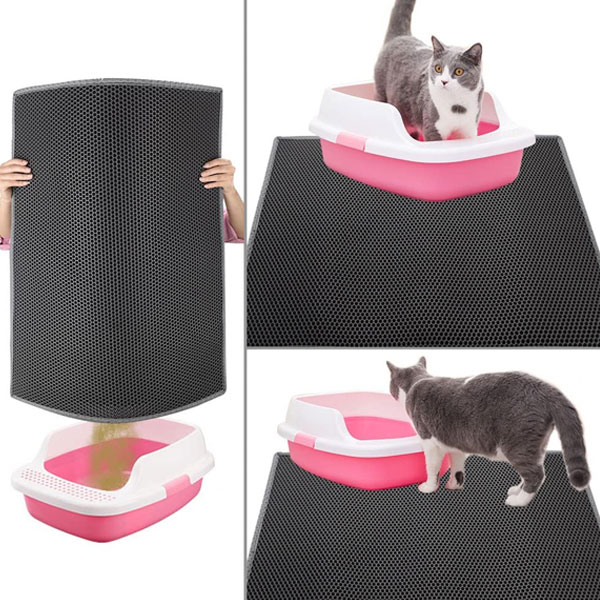 Besides being a cat litter mat, Pieviev's product doubles as a comfortable bed. This, bigger than anticipated at 76 x 61 cm (30 x 24 inches), mat can trap all sorts of dirt, decreasing the amount of litter scattered on your bare floor. Cleaning the mat is easy too… One could say it's easier than building IKEA furniture. All you have to do is lift it up and let the litter fall through the honeycomb design, back into your cat's litter box.
GREAT FEATURES

Water and urine proof
Easy to clean
Made from a soft, durable material
Free from harmful, toxic chemicals

PetFusion X large laterproof litter mat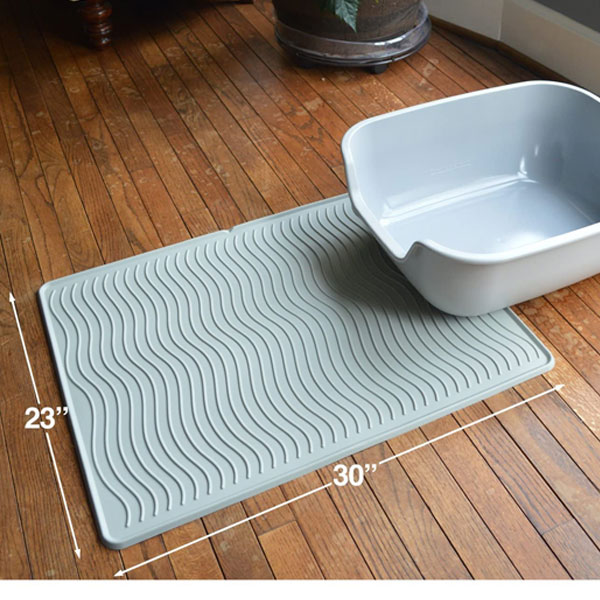 Long-time cat servants, who've suffered the horrors and soul-crushing defeats of cleaning every imaginable and smelly cat mess, will appreciate this waterproof cat litter mat. The litter is easy to vacuum, and any fluid spills are contained in one place. It is also easy on the delicate, yet fierce when needed, cat paws.
GREAT FEATURES
Comes with anti-slip traction to prevent the mat from sliding
Made from anti-bacterial and water/stain-resistant silicone
Easy to clean with a broom, vacuum, or a sponge

Large cat litter mat with urine/waterproof layer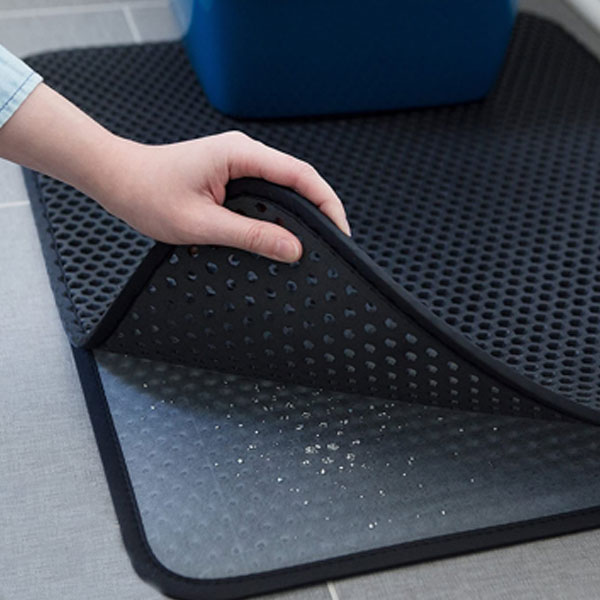 The sound of clattering litter across the bathroom tiles and the lovely mess waiting for you in the morning will no longer be a problem. Smooth, honeycomb-shaped holes can collect most of the annoying grey litter, and the multi-layered bottom is lined with plastic, urine repelling film. For extra protection, cat parents can add a puppy pad, perfect for older cats.
GREAT FEATURES
Easy to lift and shake out
Lightweight, smooth rubber
Effectively traps litter

Gorilla Grip Original premium cat litter mat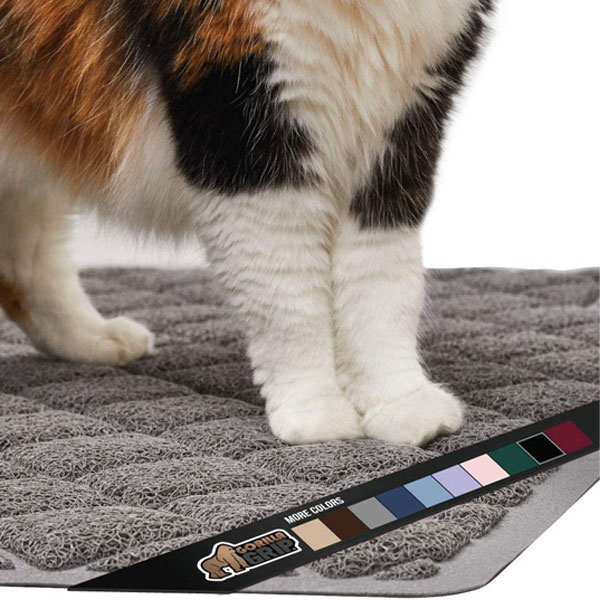 If you hate stepping on stray cat litter, this cat litter mat is for you. The slip-resistant backing keeps it from sliding around on the floor, so litter stays right under your cat's delicate paws. Speaking of delicate paws, the soft and comfortable material is gentle and doesn't hurt when stepped on. Deep grooves and mesh featured in the design help catch loose litter. Available in five different sizes, perfect for cats of different shapes and sizes.
GREAT FEATURES
Soft and gentle material perfect for an afternoon snooze
Tough, durable design with slip-resistant backing
Easy to clean

WePet Cat litter mat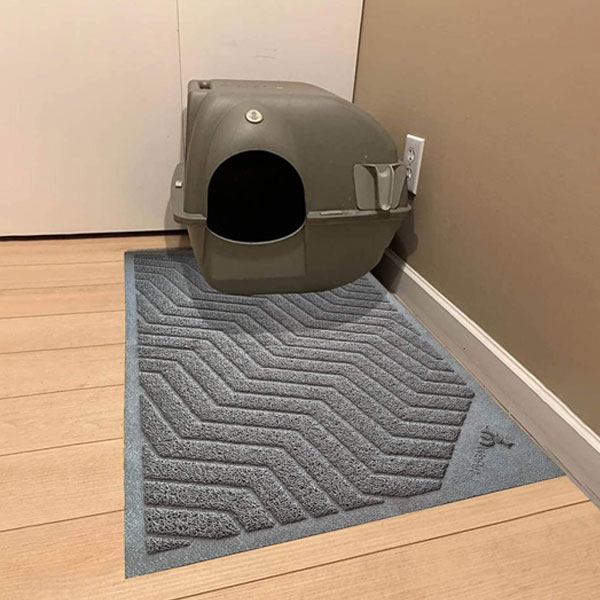 Even though no one can ask cats what they really think of these litter mats, many owners have reported their cats being happy with the purchase, and even laying on them. It has a slip-proof backing and waterproof casting. The mesh material keeps litter in place. Sadly, they've replaced the 'Cattitude' message informing everyone who's the boss of the house, with a zigzag pattern.
GREAT FEATURES
Made from a phthalate- and BPA-free vinyl material
Water and urine resistant
Soft for paws
Easy to clean

CleanHouse cat litter mat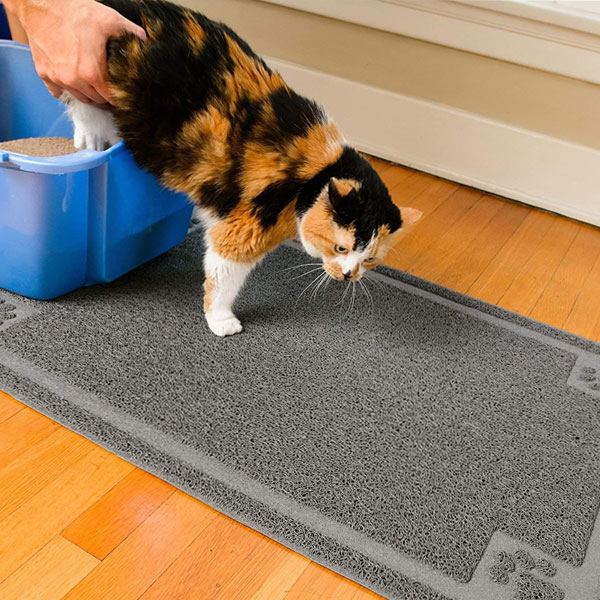 The litter trapping, mesh mat is here to solve all of your morning surprise problems. A large size (92 x 61 cm or 36 x 24 inches) and non-slip backing will prevent cats from moving the mat around. And if any accidents happen, the cleanup process is fast and easy. Available in grey or beige.
GREAT FEATURES
Easy to clean mesh design
Large, non-slip backing
BPA free and non-toxic
Soft on paws
Water-resistant

Iris cat litter box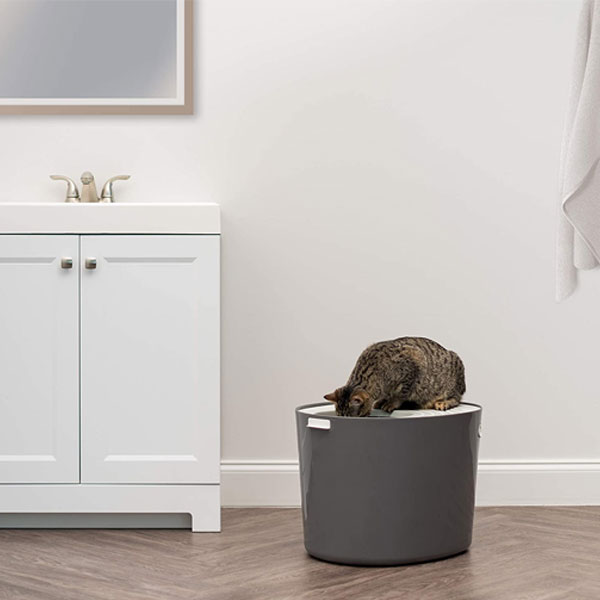 It's definitely an original cat litter mat since, well, it's not technically a mat. It does however reduce the amount of litter on the floor. The grooved lid on top of the litter box helps remove stubborn little particles from your cat's paws as they leave their bathroom. Includes a litter scoop, you can hook anywhere around the lid.
GREAT FEATURES
Classy and sleek design
Prevents litter scatter
Effectively contains spraying

PetLike cat litter mat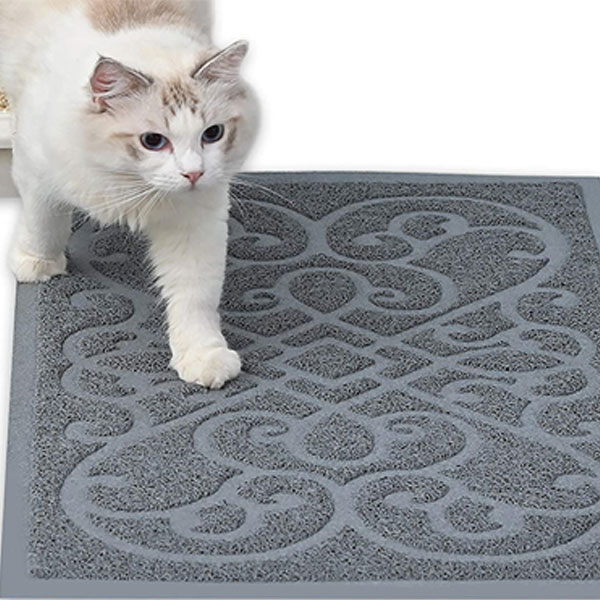 This rug-looking mat with a flower pattern doesn't come in so many different colours just to make your floor look pretty, it's also there to help keep it clean and shiny. The ultra-lightweight plastic is easy to shake off, vacuum, or soap up and rinse down.
GREAT FEATURES
Phthalate and BPA free, non-toxic
Waterproof
Easy to clean
Slip-resistant back
3 different sizes and 11 different colours to choose from

PamperedPetCo personalized cat litter mat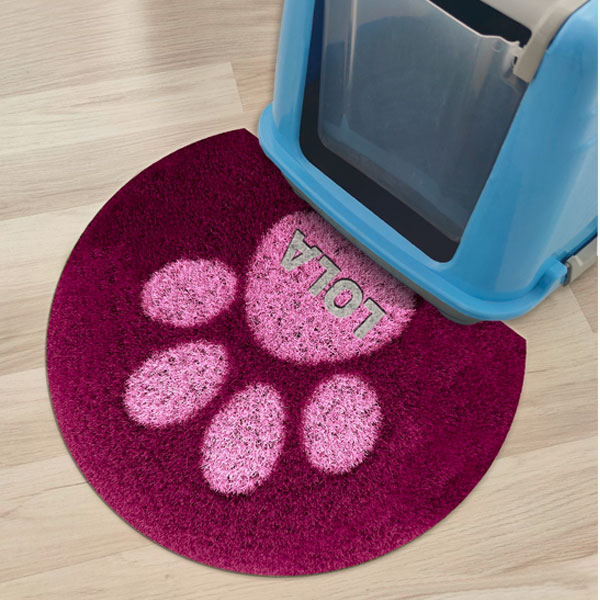 What's better than a soft, fluffy, and colorful cat litter mat? A mat everyone will know whom to blame for the messiest of messes. The cute paw design with a personalised name is a cute, original combination.
GREAT FEATURES
Washable
Anti-slip vinyl backing
3 different sizes and 6 different styles

MapleRaccoon cat litter mat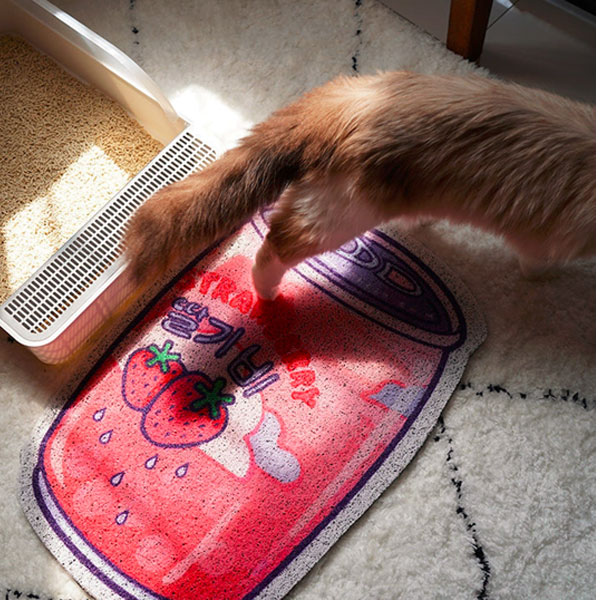 These cute litter mats might not look great in every house, but I think it's a sacrifice worth making. Probably the most original design available on the market, it will magically help transform even the grumpiest cat into a majestic, magical kitten with soft, fluffy hair. The double-layered design prevents litter from flying out of the box like party confetti.
GREAT FEATURES
Adorable design
6 designs to choose from
Durable material
Waterproof
Anti-slip backing

FreshKitty foam litter mat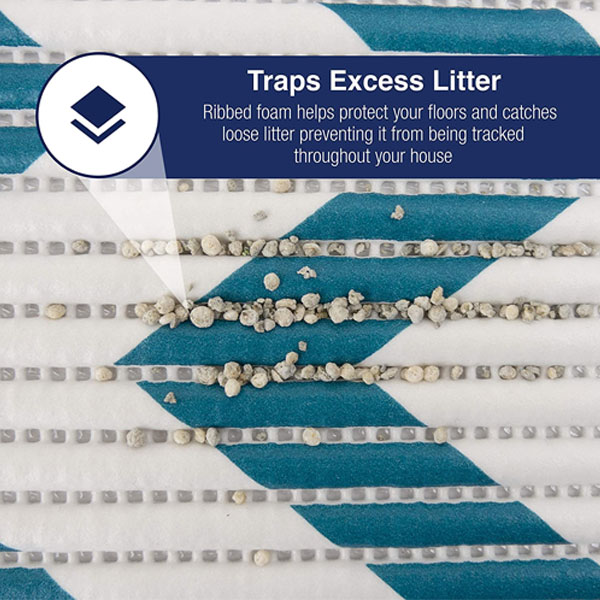 It might look like a cheap bathroom mat for all your bubble bath needs, but this one is wrapped in a little cat head-shaped bow. The lightweight, ribbed foam helps protect your floor, traps excess litter, and prevents it from being tracked all over your house.
GREAT FEATURES
BPA and phthalate-free
Non-slip bottom
Can also be used for messy birds or guinea pigs
Extra-large at 102 x 63 cm (40 x 25 inches)

FAQ
How can I clean my cat's litter mat?
Cleaning a cat litter mat might be tedious and the last thing you want to do, but it's not as complicated as you might think. Additionally, it's important to give it a good scrub to prevent germs from spreading.

To remove loose litter, run a vacuum over the dirty litter mat or give it a good shake into a garbage can. Once the bigger chunks are gone, run your dirty mat under a bathtub tap or a hose. Wash it thoroughly with unscented soap and warm water.

Cat owners should be cleaning your cat's litter box and mat every week.
How do I keep my cat from getting litter everywhere?
Let's think outside the box. One of the easiest ways (and the one we have described here) is to purchase a special litter mat. They are perfect, especially if the area around your cat's litter box is always dirty and covered in grey granules, and you have to constantly vacuum that specific part of the house.

While looking for a litter mat, take note of what you're specifically looking for, such as size, color, absorbency, etc. A mat should be larger than the size of your cat's litter box. The larger it is, the more efficiently it works. Some cats can also be allergic to certain mat textures, so it's important to read the fine print and make sure beforehand that the mats are not made out of toxic materials for your cat.

Using a top entry litter box (one of which we have included in this article) could also prevent your cat from kicking litter everywhere. Crafting such a box yourself is possible, but there are two problems with that. It doesn't matter how much sweat and tears you put into your project, it's never going to be as sturdy and safe as a store-bought product. Speaking of safety, self-cut plastic will always have sharp, dangerous corners. There's always a possibility your cat will accidentally cut themselves on one of those corners.
Store-bought boxes force your cat to enter and exit through the top opening. By jumping up and down, any loose litter that is stuck to their paws will have a chance to fall off.

Covered litter boxes and storage bench litter boxes both have their advantages and disadvantages. While they have doors, trapping most of the litter and smelly messes inside, once your cat steps outside they would most likely track litter all over the floor.
The type of litter you're currently using could also be a factor. But you won't know the answer to that question, only your cat knows the truth. Clay litter is the most popular cat litter, as it is economical, easy to use, and, unfortunately, the easiest to track. Before you invest in a (sometimes very expensive) litter mat, consider trying a different brand of litter and changing a few things, for example, the weight and size of the granules. Consider switching to recycled paper litter, or other all-natural cat litters, such as pine, corn, or wheat. However, it's not a practical solution if the litter is not the issue, and you could spend a lot of money by just experimenting.

Companies have also come up with the idea of a non-tracking litter. Some premium litters have many reviews raving about its benefits and life-changing results.

Shape and size matter. Your cat might not feel comfortable in their current litter box, and one of the most practical solutions could be upgrading their current bathroom spot to a bigger, taller one.

The location could also make a big difference to your cat. Some cats prefer absolute privacy, some might want to share the joys of three in the morning bathroom trips. The location of the box itself will have an impact on how litter gets tracked around your house. By putting it as far away from your bedroom as possible, you are decreasing the chance of loose litter getting on your pillows and sheets.

Even though stepping on a loose piece of litter with your bare feet hurts just as much as stubbing your toe or stepping on a red piece of Lego, remember to never blame your cat. Cat parenting is hard, but also very rewarding. Understanding each other and knowing when you've overstepped boundaries, can greatly improve your relationship.
Do cat litter mats work?
In the simplest of terms, they capture tiny granules your cat happens to kick outside of their litter box or track with their little paws. A good litter mat will catch most of the granules and keep the area clean, or at least cleaner. Litter mats aren't perfect, so don't be disappointed if you still have to bring out your broom and dustpan. It's definitely better to have one than to leave your floor bare.

*FTC Disclosure: This page contains Amazon and Etsy Associate links. If you make a purchase after clicking on the links, Meowpassion will get a small commission at no extra cost to you. We are dedicated to finding the coolest products for cats, cat owners and lovers, and we never recommend anything that we don't love or trust.