Cats have been living alongside humans since ancient times, and their fickle, contradictory, and mysterious natures and habits continue to fascinate us. Cat tattoos featuring these playful and affectionate animals often carry the symbolic meanings of:
grace and beauty;
magic;
evil and deceit;
love of freedom;
wildness and willfulness;
peace.
Dating back to ancient Egypt, cats were revered as godlike creatures associated with fertility, fun, and joy. Cat imagery seamlessly blended into architectural designs and represented feminine beauty, grace, and allure.
Cat persons with cat tattoos often demonstrate character traits such as independence, mystery, intelligence, and the ability to stand up for their beliefs.
The feline world contains a vast array of symbolic meaning. A black panther represents success, strength, grace, and beauty. Large cats like panthers are generally associated with passion, power, leadership, and a commanding presence. Smaller cats tend to emblemize independence, intellect, curiosity, and mysticism. The diverse cat family conveys an extensive range of attributes through tattoo art.
In general, you don't need to be a cat lover or owner to have an amazing feline tattoo. Tattoos of big and small cats are a wonderful way to express your personality to the world.
Below you'll discover cat tattoos from some of the best tattoo artists across the globe, mainly shared on Instagram. With so many skilled artists to inspire your next piece, there's no reason to wait long before getting inked with a feline tattoo that celebrates your passion for these regal, mysterious creatures.

1

London Inkaholics ® Tattoo Shop
Instagram: londoninkaholics
Black and white designs inked in a London-based professional studio, whose owner is a senior artist with an impressive nearly 20 years of tattooing experience.
Feline friends who are considering a wild cat tattoo should definitely check out their website or Instagram for more cat tattoo ideas and inspiration.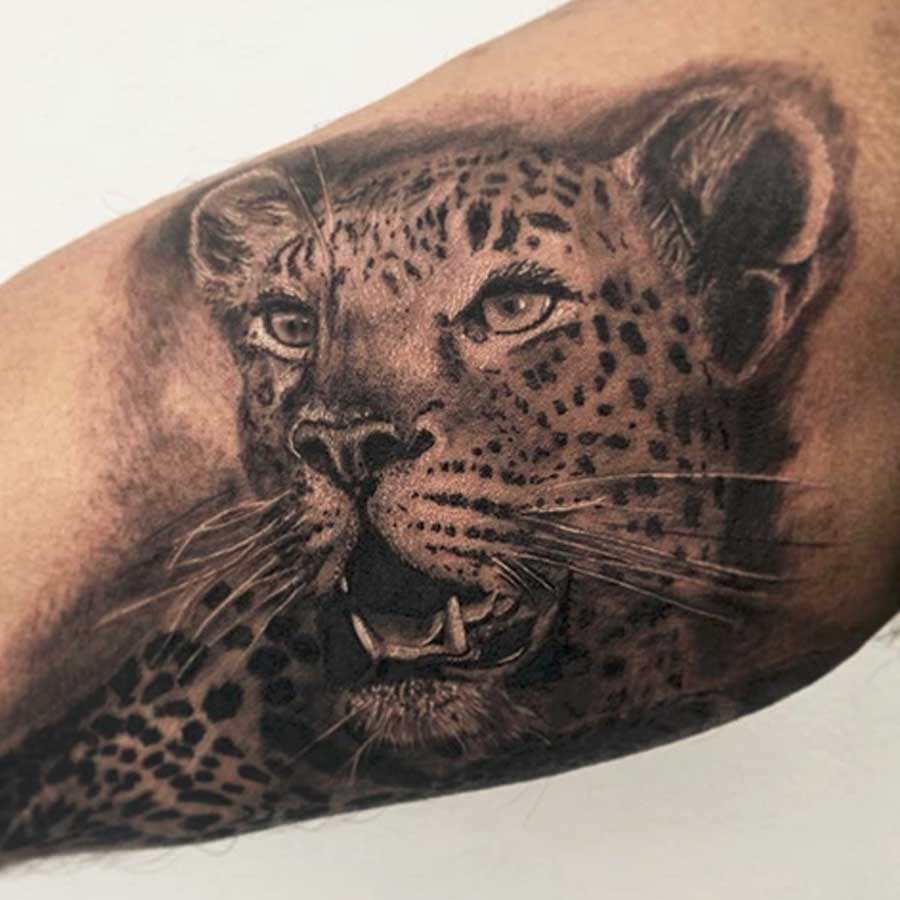 Credit: London Inkaholics
What are the most popular cat breeds you tattoo?
Jopsy Daisy (Inkaholocs): I would say the most popular breed of cat would be large cats such as lions, tigers and leopards, but for domesticated cats it's a large variety ranging from the fluffiest kitten to soft spynx cats.
For cat portraits the most popular style is photorealism, especially in black and grey, but I would say that is mostly because of what we focus on in the shop. Personally I love doing any style and I have recently finished a sleeve with 10 semi realistic colour portraits of various cats, something I soon will put in my portfolio.
2

Alex Alvarado
Instagram: alexalvarado_tattoos
London-based tattoo artist who primarily creates black and white, watercolor, or gray tattoos in a realistic style. However, he also enjoys blending styles to create one-of-a-kind designs.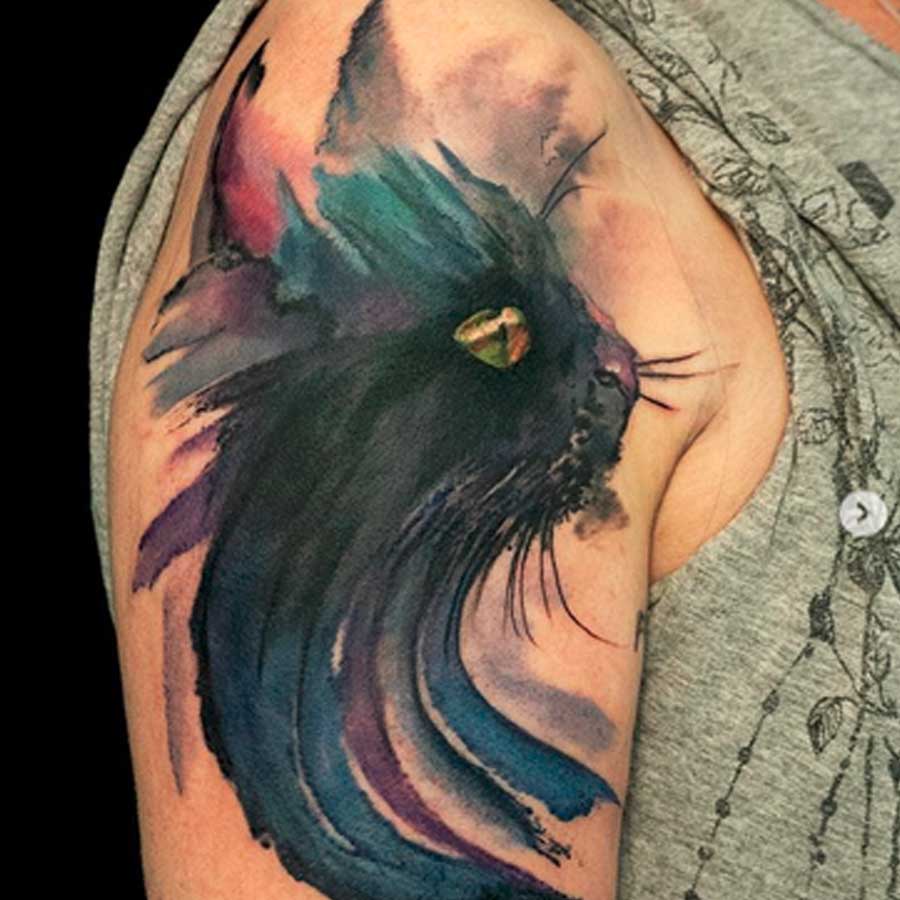 Credit: alexalvarado_tattoos
Alex Alvarado: "I've done a bit of everything really, but I guess stand outs would be Siamese, British Shorthair, Angora and Himalayan. The styles also range quite a bit but the usual ones would be watercolour and realism."
3
𝐊𝐞𝐞𝐥𝐲 𝐆𝐥𝐢𝐭𝐭𝐞𝐫𝐬 𝐓𝐚𝐭𝐭𝐨𝐨𝐬
Instagram: keelyglitters
A tattoo artist with backgrounds in fashion and art design who blends traditional and glitter work with a feminine style. As she says, she can't do a tattoo nowadays without adding something glittery. She works in London, and most of her designs are cute cat tattoo.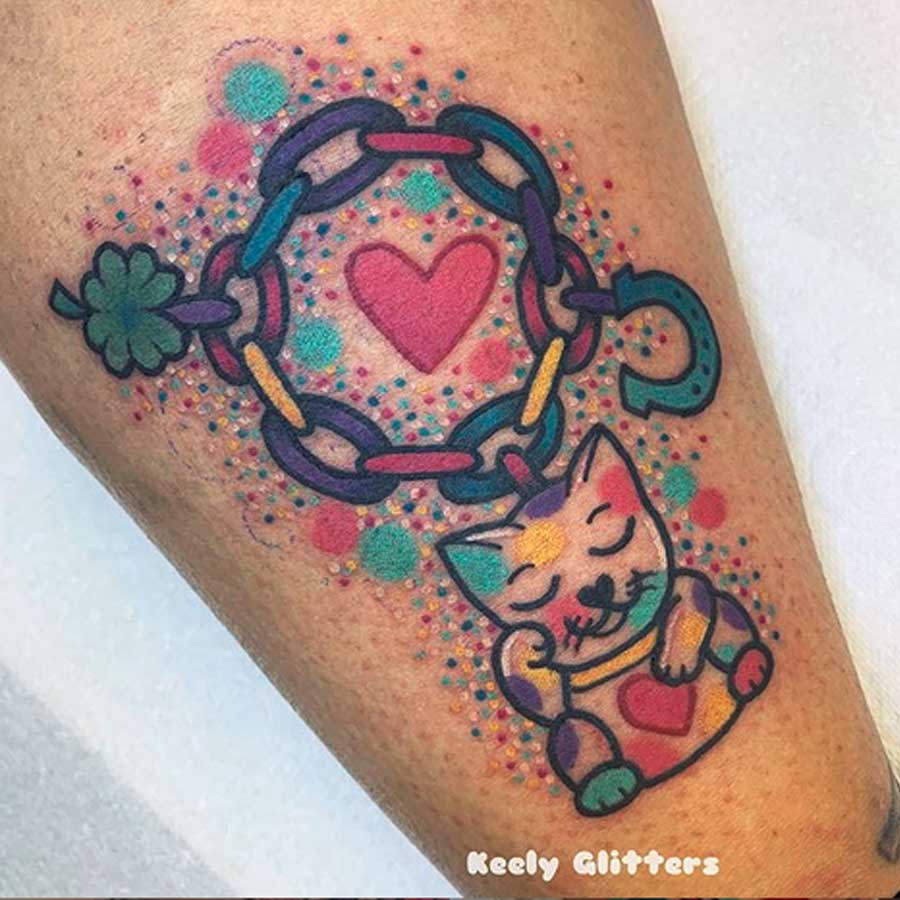 Credit: keelyglitters
What are the most popular cat breeds you tattoo?
Mostly domestic cats, peoples beloved pets. I absolutely love cats, it's amazing being able to create gorgeous cats faces into tattoos for the client to wear them forever.
What are the most popular styles in cat tattoo?
I would think traditional. The classic tiger head tattoo has always been a popular classic, the same as a panther. I use the same traditional style when tattooing cat portraits.
4
Dani Queipo
Instagram: daniqueipo
London-based tattoo artist who got his first tattoo at age 15. Simplicity and color, primarily red, blue, and black, are hallmarks of his designs.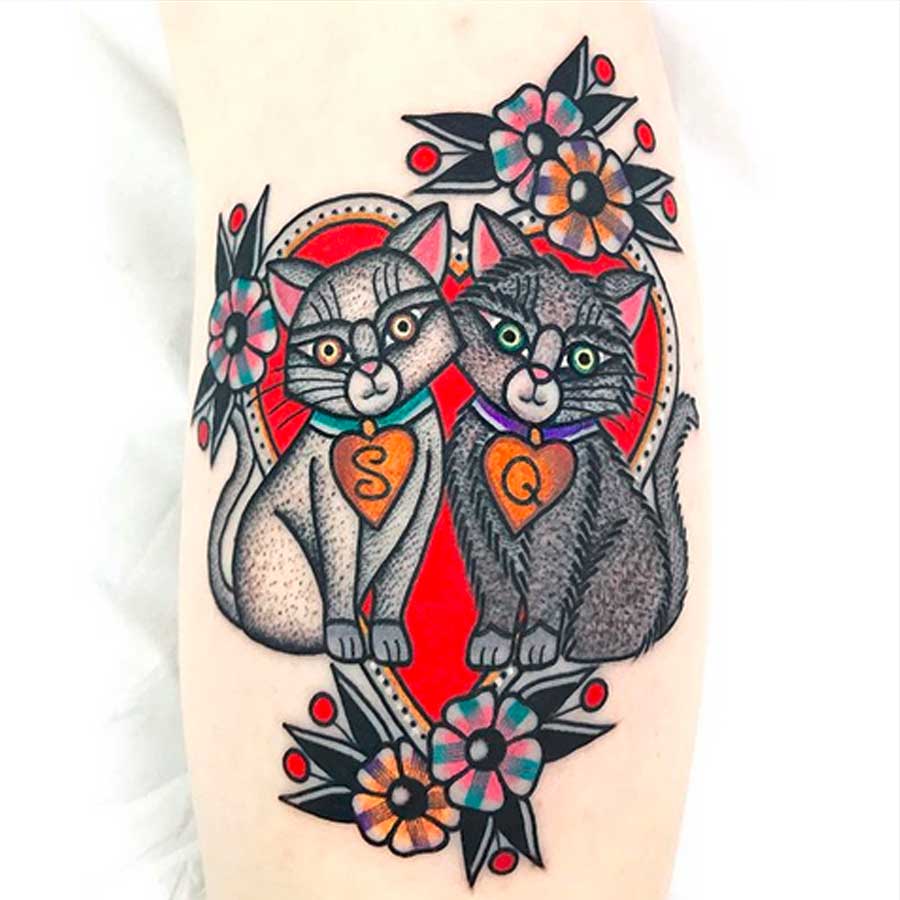 Credit: daniqueipo
5
Ricktattoo and studio The Team
Instagram: ricktattoo
These artists specialize in black and gray tattoos, but have a passion for fresh, innovative ideas.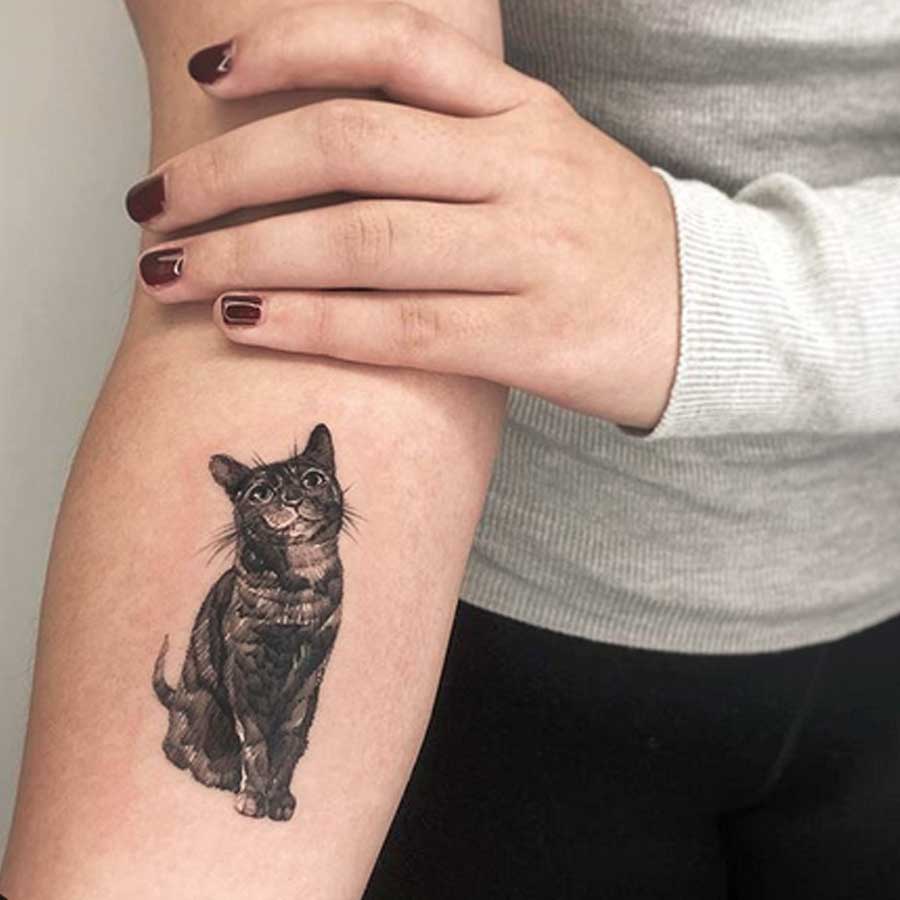 Credit: ricktattoo
6
Brian Povak
Instagram: brian_povak
A Berlin-based new school artist who is among the top tattooists in Germany. His animal art pops with vivid colors and personality, and are perfect for cat lovers looking for meaningful designs.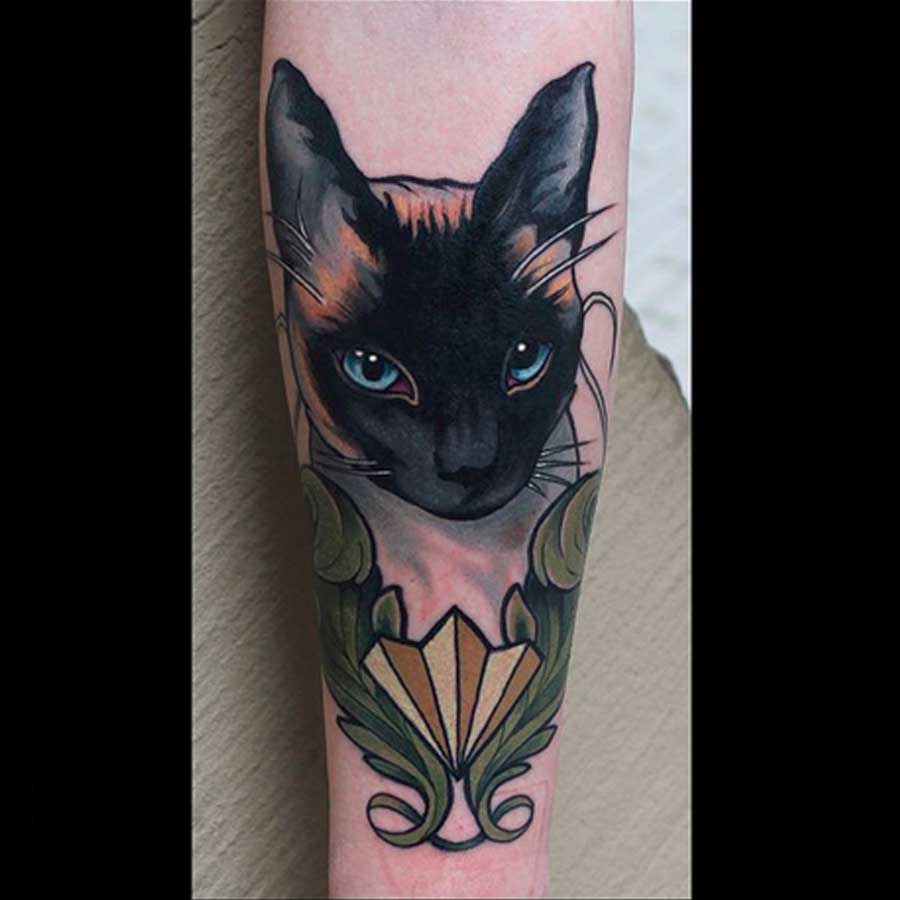 Credit: brian_povak
7
Łukasz (Lukas) Zglenicki
Instagram: tai9a
Łukasz (Lukas) Zglenicki is a Poland-based tattoo artist who mainly focuses on forest motifs. His designs are filled with nostalgia, magic, and mystery.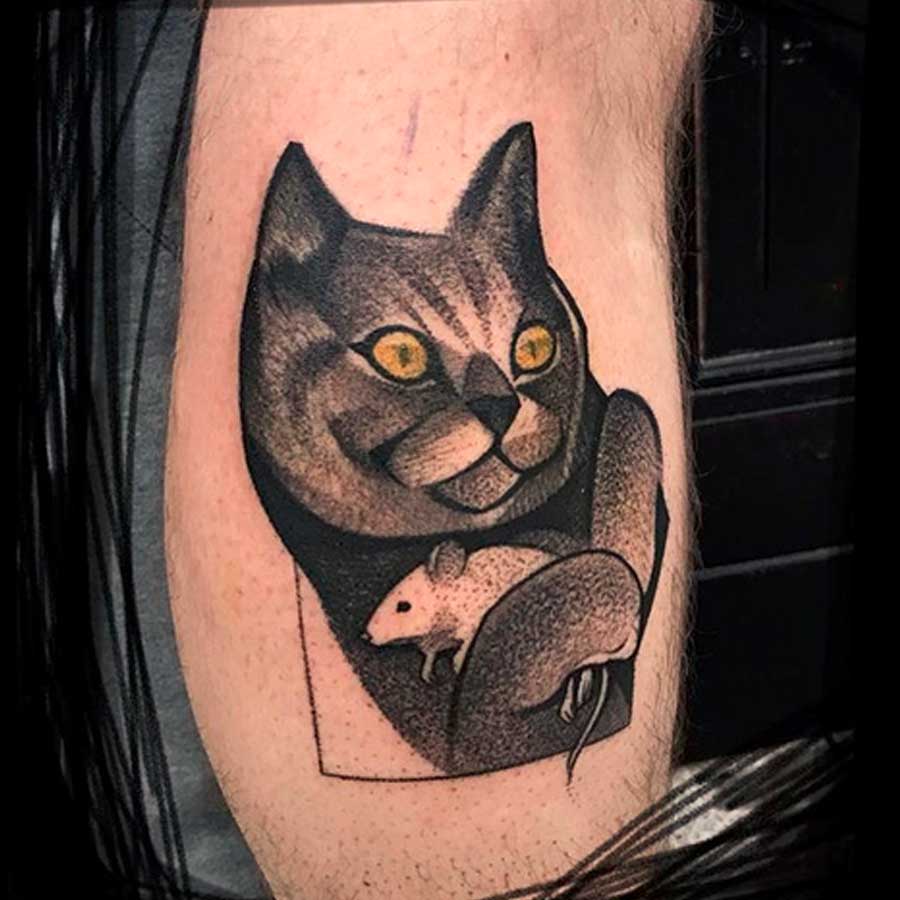 Credit: tai9a
8
Joanne Baker
Instagram: milky_tattoodles
Joanne Baker specializes in the watercolor style. The colorful designs of this Edinburgh-based tattoo artist are filled with dynamic wonder, creating totally unique body art.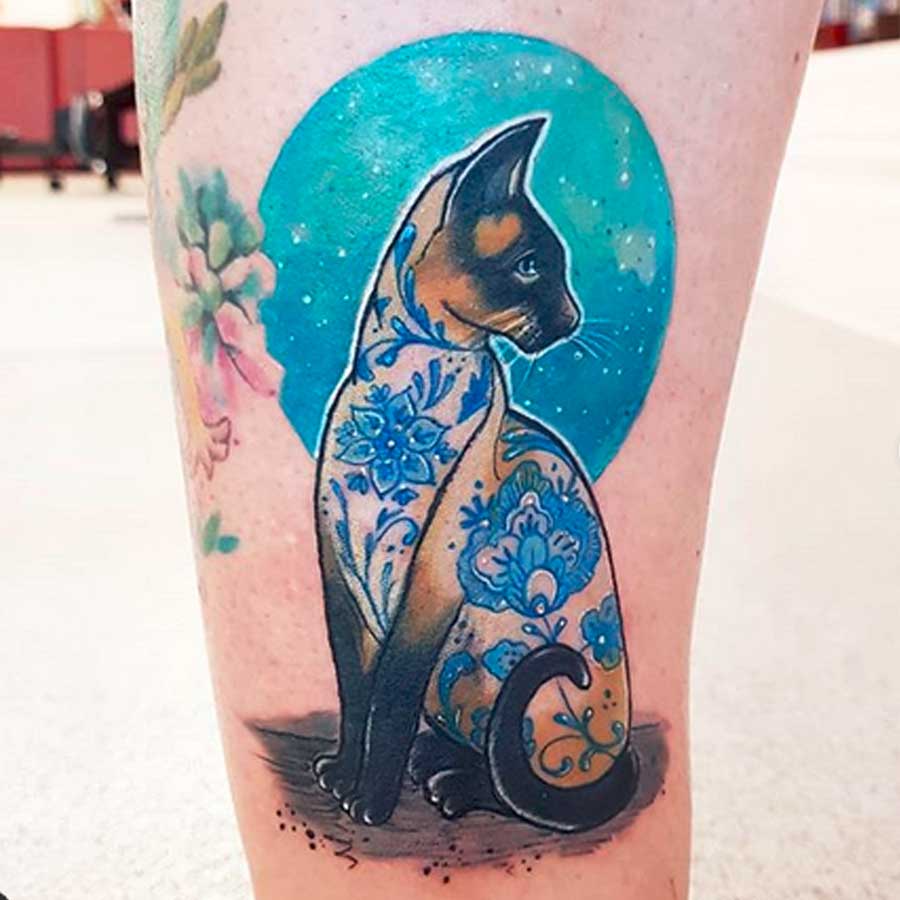 Credit: milky_tattoodles
9
Jason Adelinia
Instagram: jasonadeliniatattoos
Tattooist Jason Adelinia is internationally recognized for his bright, colorful designs and has perfected the art of blending watercolor with realism in his tattoo designs. He works out of his own studio in Worthing, UK.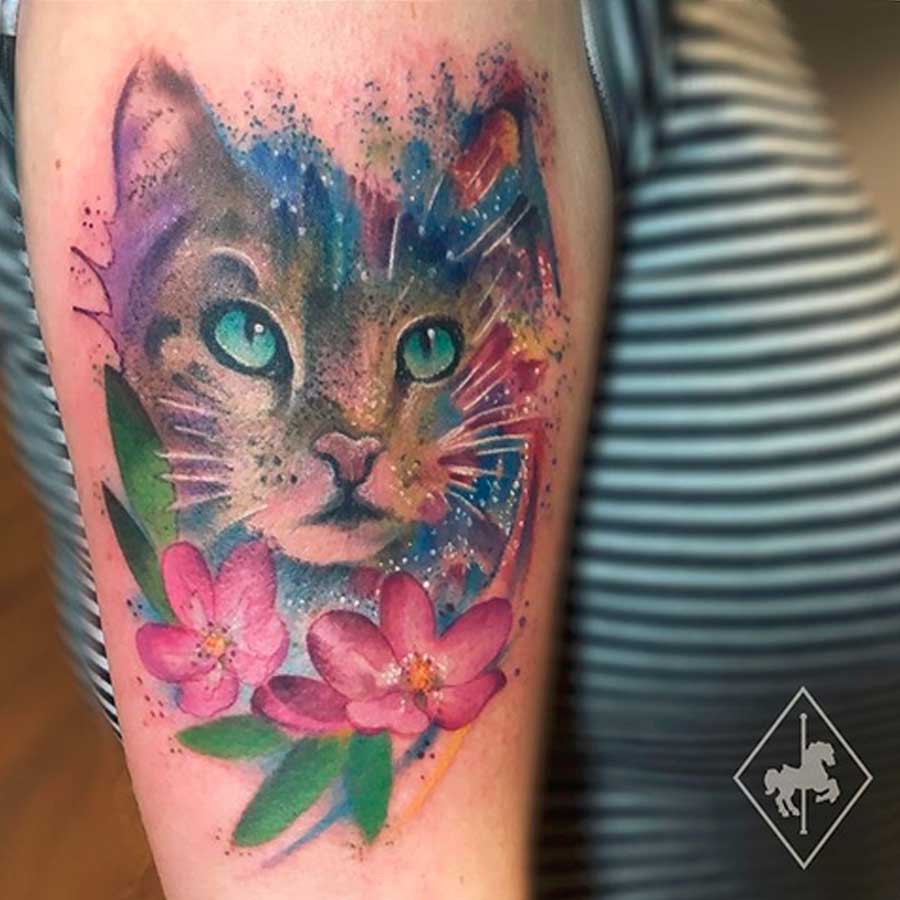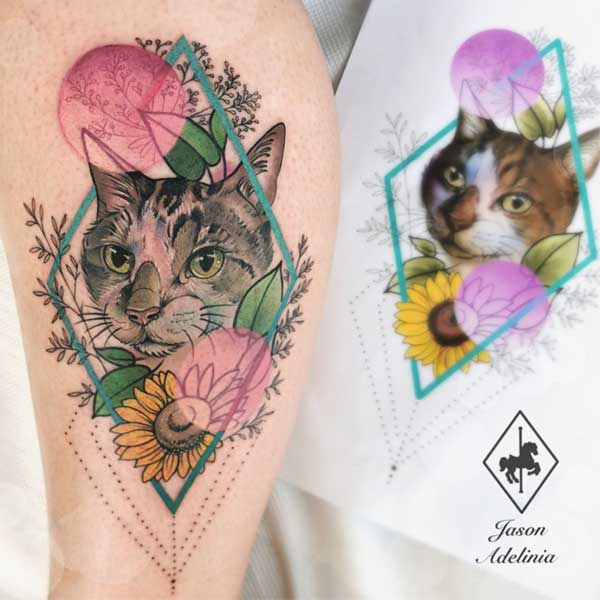 Credit: jasonadeliniatattoos
Jason Adelinia: I think the best way I can describe why people get tattoos of their cats is as follows… I really think pets are like family, and when it comes down to cats, people just can't seem to get enough! Many are memorial portraits, or even actual paw prints they have managed to get. The pink watercolour cat was just an amazing lady who just LOVED CATS and loved pink. Her request was just for any cat, as long as it was pink! She was awesome, and that's my ideal scenario!
10
Matuszka Tattoo
Instagram: matuszka_tattoo
Jagoda Matuła-Krawczyk, originally from Poland, has a background in painting and arts that translates into her tattoo designs inked in vivid, bright colors like pink, blue, orange, turquoise, purple and green.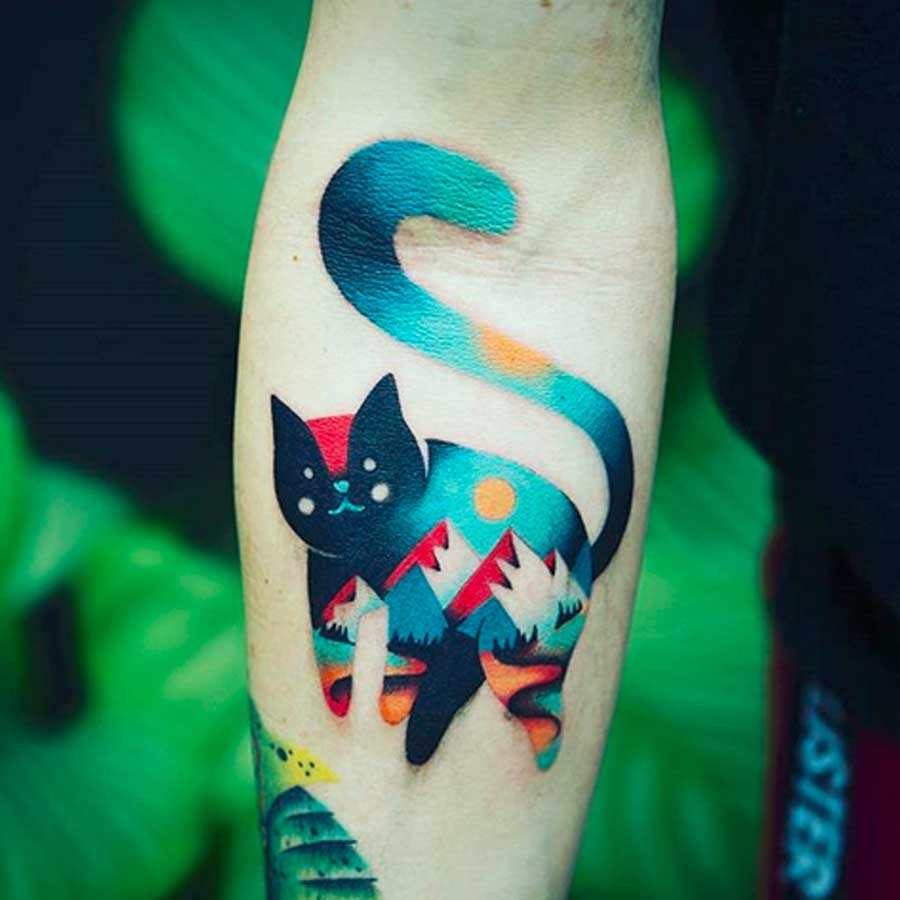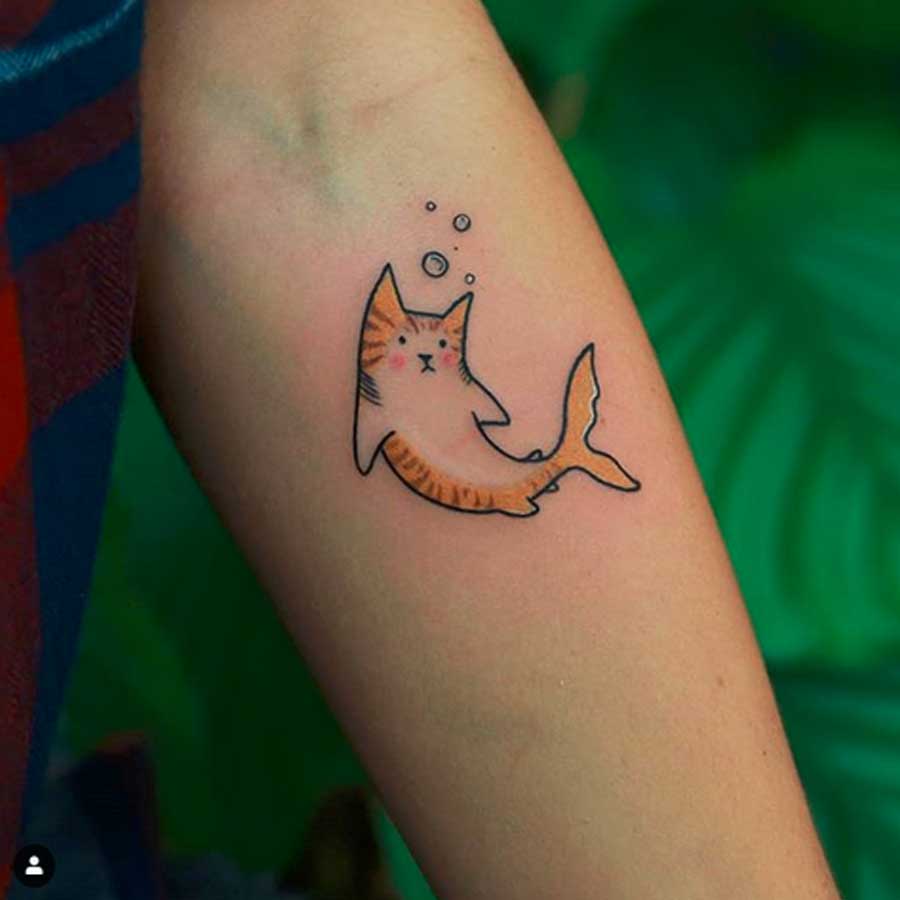 Credit: matuszka_tattoo
11
Sasha Unisex
Instagram: sashaunisex
Animal lovers must check out this account. Sasha has transformed the tattoo artform by fusing watercolor style with graphic elements. She inks animals of all varieties, combining them with unconventional colors and shapes for one-of-a-kind designs.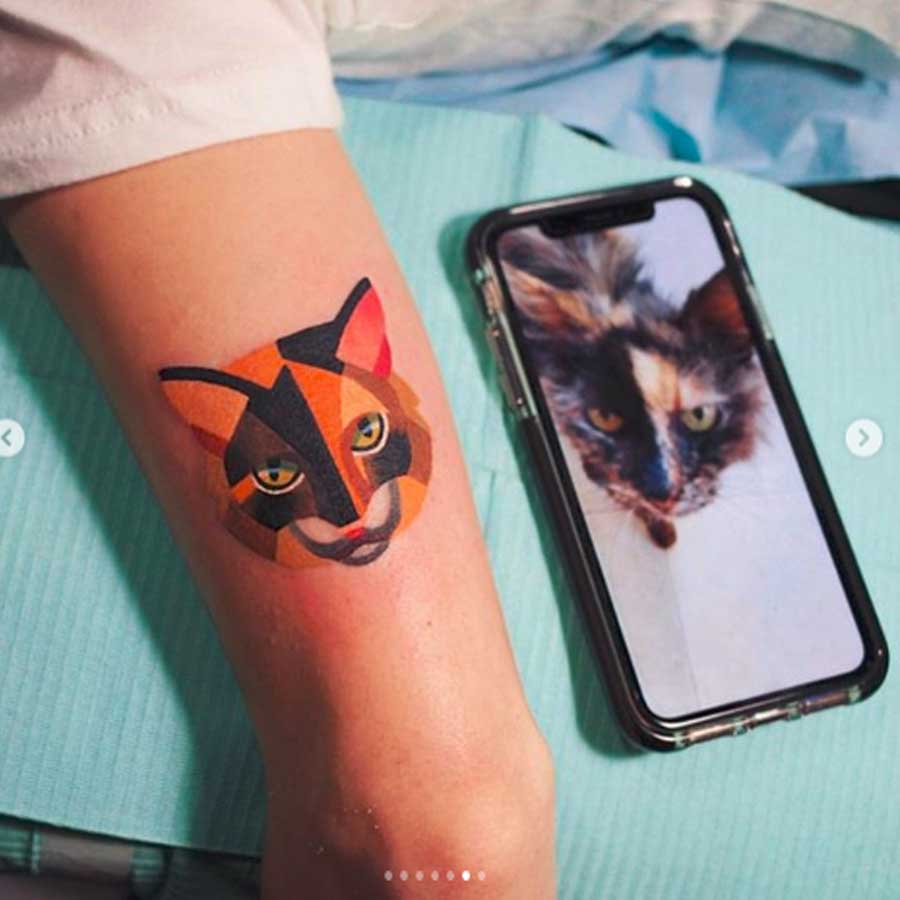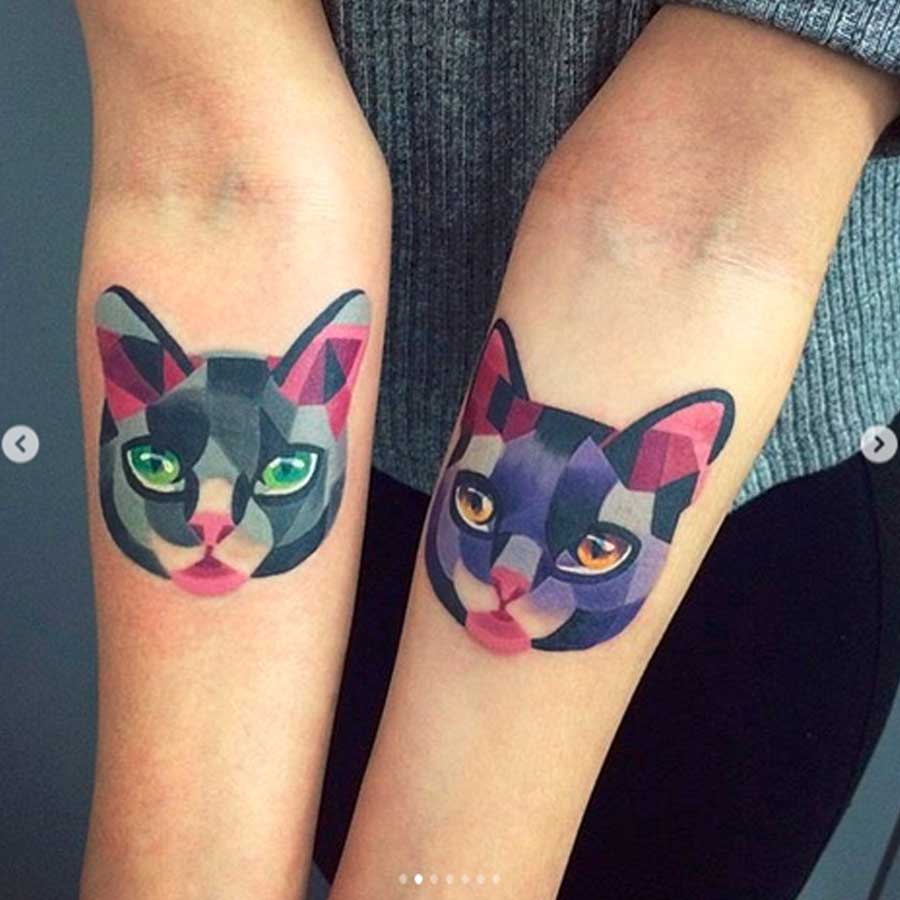 Credit: sashaunisex
12
Franki Tattoo
Instagram: franki_tattoo
This Barcelona-based artist specializes in dramatic black and white tattoos, crafting stunning body-art designs.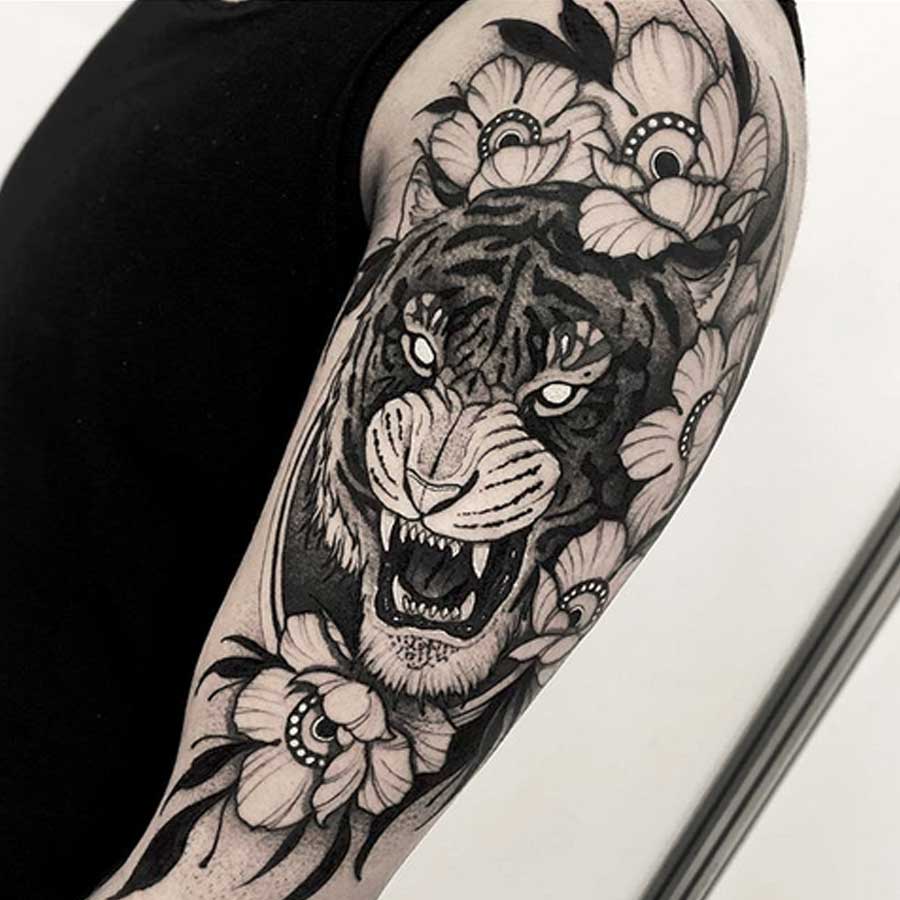 Credit: franki_tattoo
13
SOL
Instagram: soltattoo
Feline fans seeking tattoo inspiration should visit SOL Tattoo's account, brimming with cats upon cats. Her designs celebrate feline beauty across all breeds. She creates stunning cat tattoos, including cat tattoos with flowers, that cat lovers will adore. This is a must-see account for cat tattoo ideas.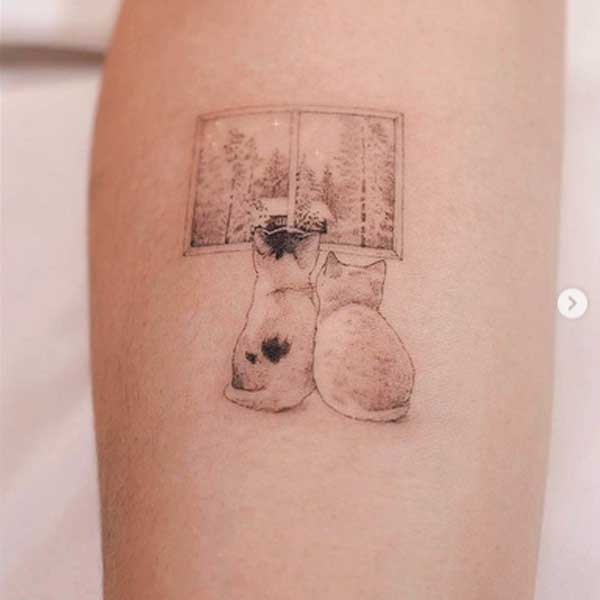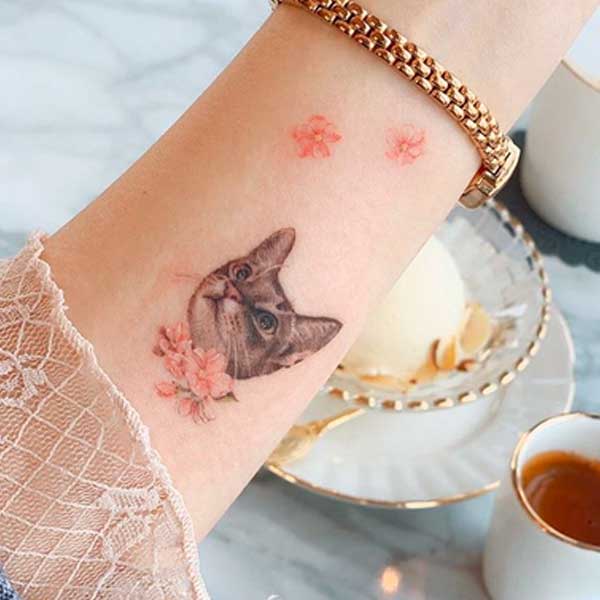 Credit: soltattoo
14
Natasha Animal
Instagram: animal_tattooer
The account name says it all. Name any animal, and this talented tattoo artist from Russia will ink it. Her expertise captures the essence of wildlife through ink.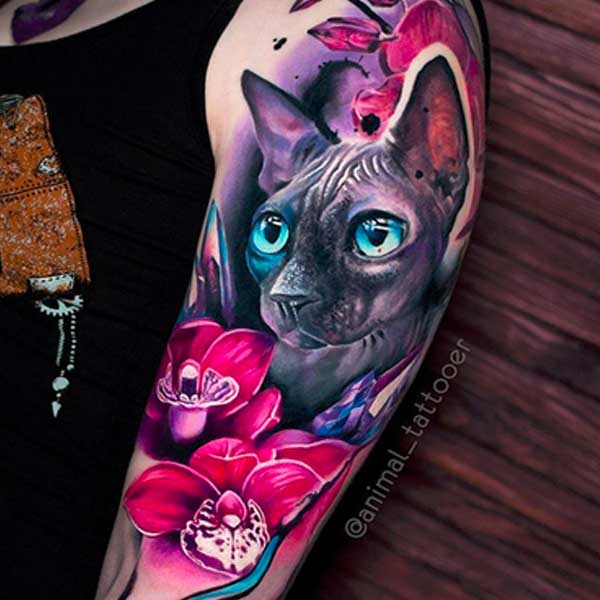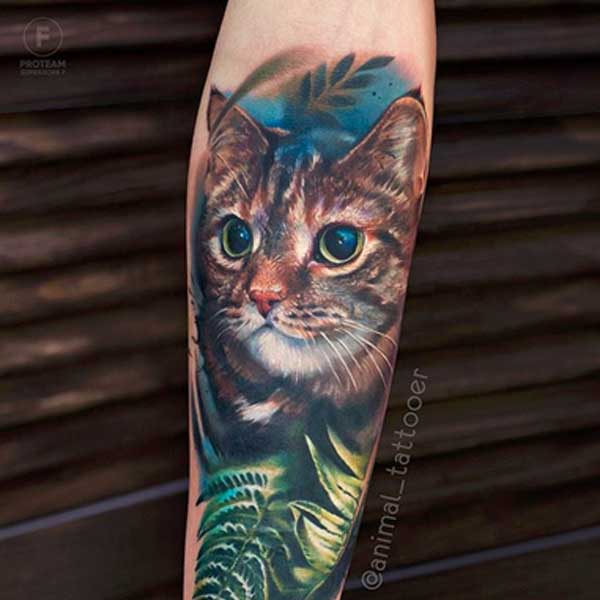 Credit: animal_tattooer
15
Ivan Kuznetsov
Instagram: ivan.kuznetsov.tattoo
Considered one of Moscow's top tattoo artists, he creates realistic style tattoos with masterful precision, paying incredible attention to even the tiniest details. His designs showcase remarkable artistry and technique.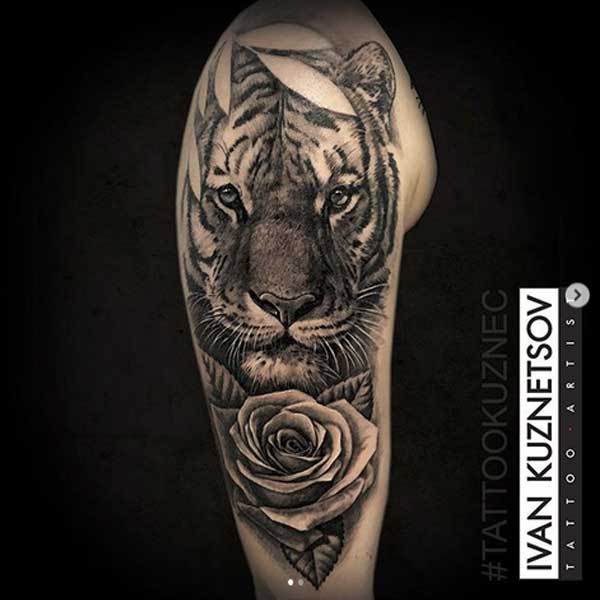 Credit: ivan.kuznetsov.tattoo
16
ivolgatattoo
Instagram: ivolgatattoo
She has an intelligent yet playful style. If you want fun and cute tattoos, including tattooed cats, she will definitely be the perfect artist for you. Her whimsical approach brings out the charm in her ink.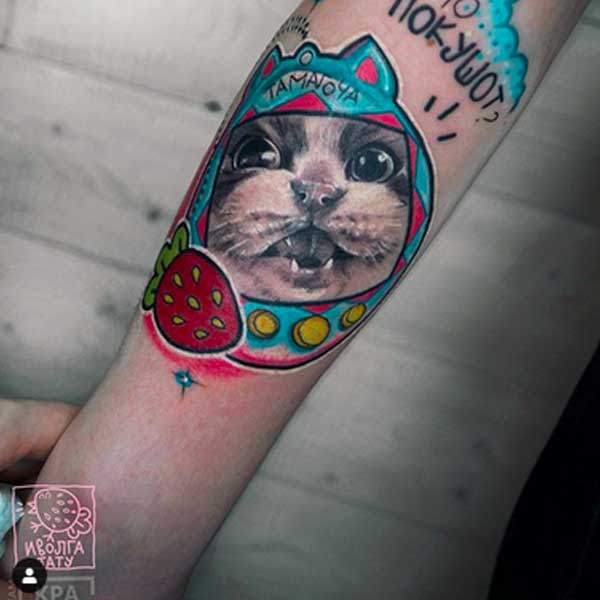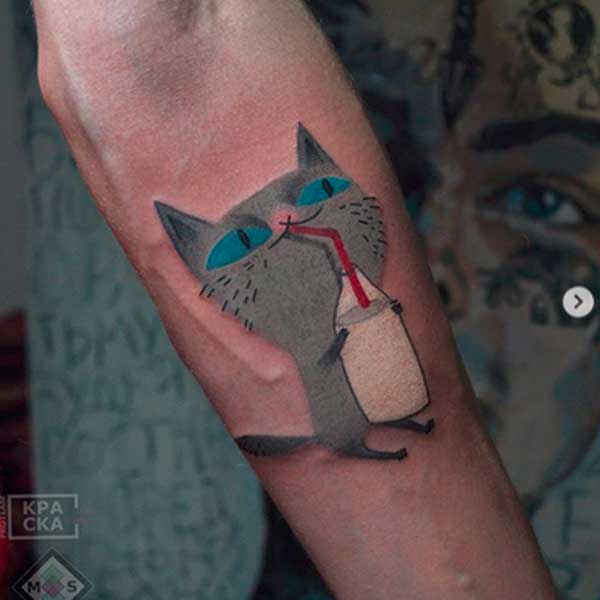 Credit: ivolgatattoo
17
Renata Henriques
Instagram: reh.tattoo
A totally original tattoo artist from Brazil. Mixing watercolor and sketches, her works center around animals, people, and nature. She creates imaginative designs like whimsical cat head tattoos.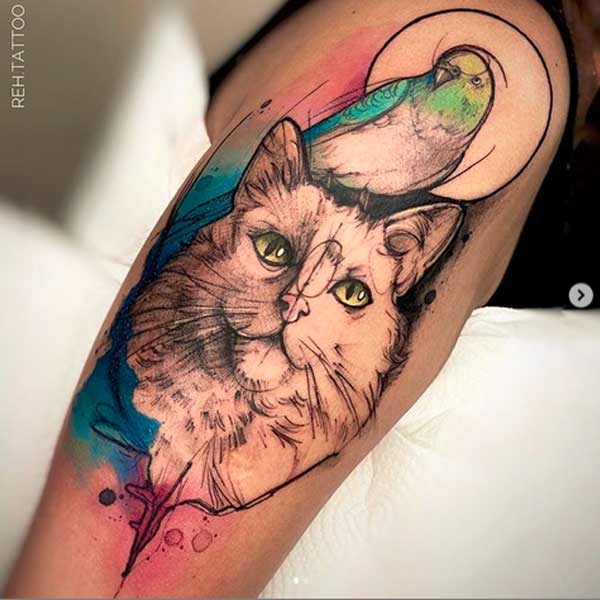 Credit: reh.tattoo
18
tattooist_yeono
Instagram: tattooist_yeono
If you love minimalist black and white tattoos, explore this account. Discover flawless designs of cats, pets, and celebrities executed with precision.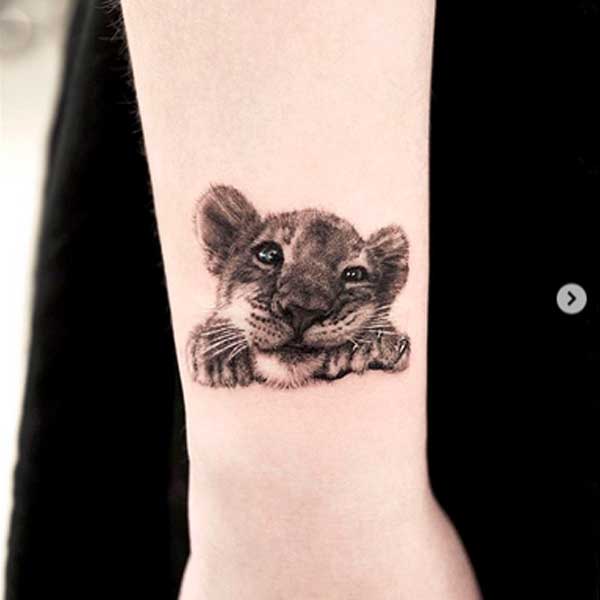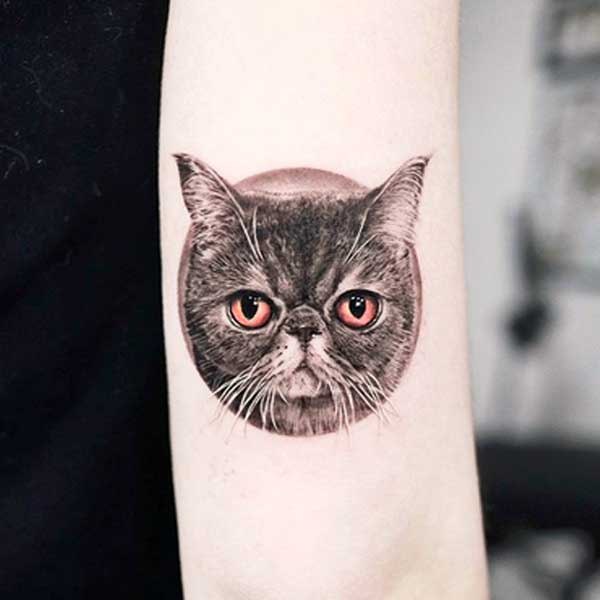 Credit: tattooist_yeono
19
CANTI
Instagram: canti___
This artist is renowned for his vibrant, neo-traditional tattoos. While most of his designs are interpretations of The Simpsons, cat lovers can also find inspiration for their own ink.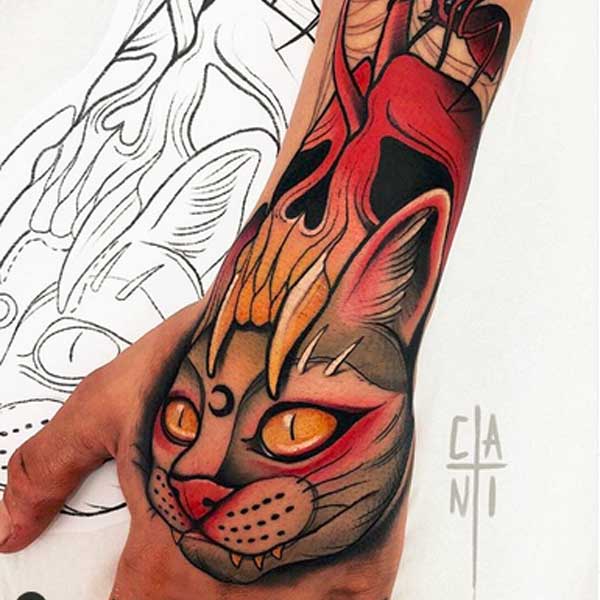 Credit: canti___
20
Tanya Tkachenko
Instagram: green.vesper
Her neo-traditional art has reached an advanced form that can be addictive. She boldly commands color, and her eye-catching kitty tattoos, will captivate attention of any feline friends.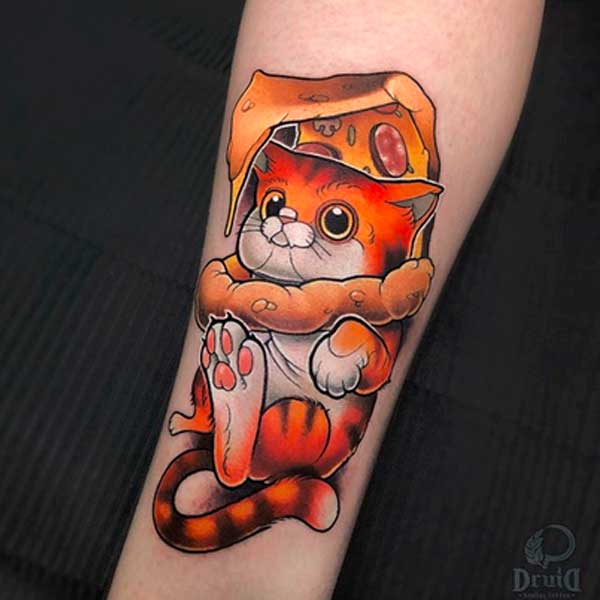 Credit: green.vesper
21
Mat Rule
Instagram: matruletattoo
This France-based tattooist creates amazing mashup tattoos that will make you genuinely smile.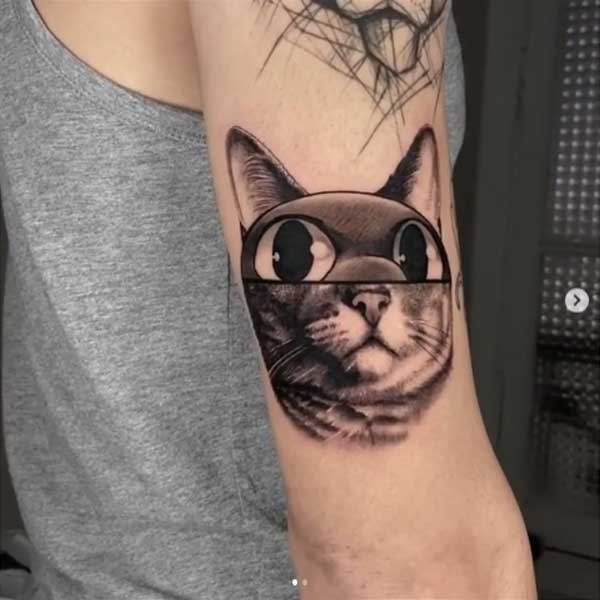 Credit: matruletattoo
22
Tomas Šaray
Instagram: tomas_wolftown
Tomas Šaray, a tattoo artist from Bratislava, has mastered black and gray tattoos and also excels at realistic portrait tattoos and animal illustrations. His versatile skillset allows him to excel across tattooing styles.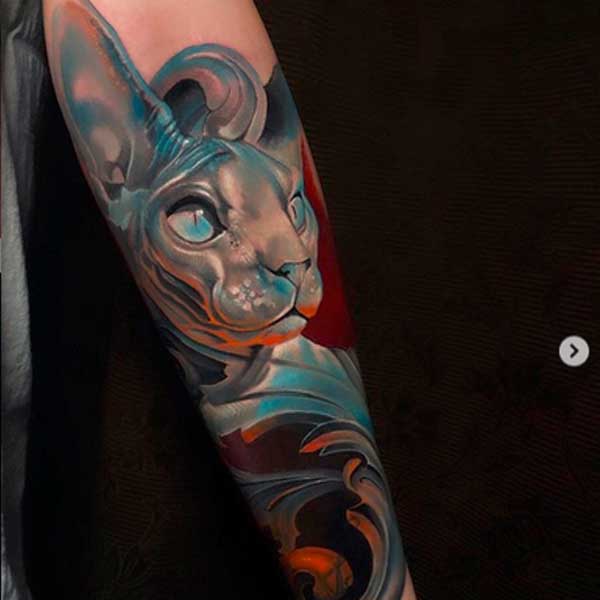 Credit: tomas_wolftown
23
Emanuel Oliveira
Instagram: emanueloliveira_tattooart
Emanuel Oliveira first explored tattooing while studying art at university, curious to try something beyond standard canvas painting. He has since developed his own distinctive style, taking realism and reinterpreting it in imaginative ways. His unique approach pushes the boundaries of traditional techniques.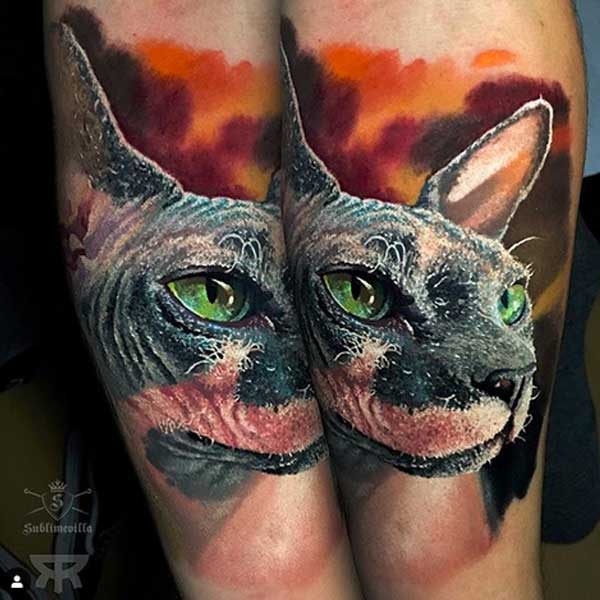 Credit: emanueloliveira_tattooart
24
Dmitriy Samohin
Instagram: dmitriysamohin
Dmitriy Samohin has emerged as one of Ukraine's most acclaimed artists. His realistic style tattoos are uniquely crafted and extraordinarily lifelike. The unbelievable realism of his ink sets him apart.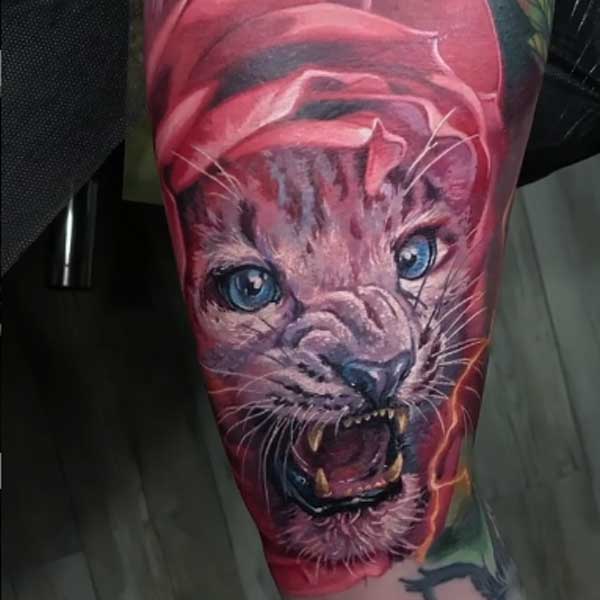 Credit: dmitriysamohin
25
Rober Villanueva
Instagram: rober_villanueva2
Rober pushes creative boundaries with his portrait and animal designs. His Instagram account is so phenomenally amazing, it's difficult to choose just one photo to display. Rober's talent shines through in his unique dog and cat tattoos and other boundary-pushing ink.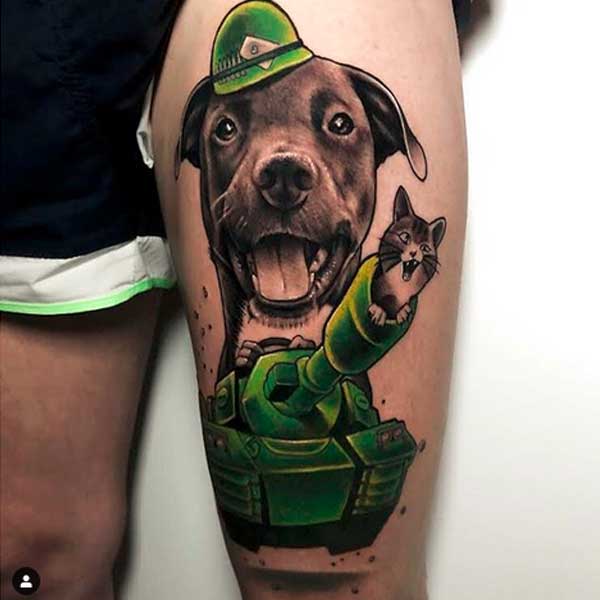 Credit: rober_villanueva2
26
Edit Paints Tattoo
Instagram: edit_paints
This tattoo artist from Israel specializes in black and grey photorealism. If you're looking for stunning micro tattoos or cat tattoos for females, she's the artist for you. Her precision and attention to detail in small tattoos is unmatched.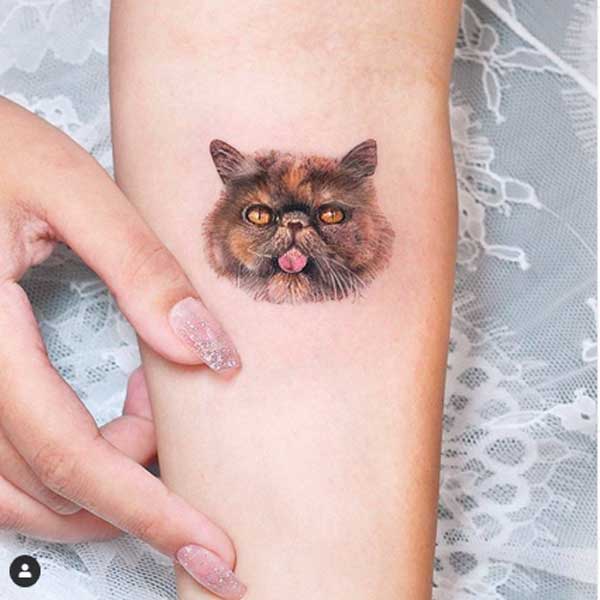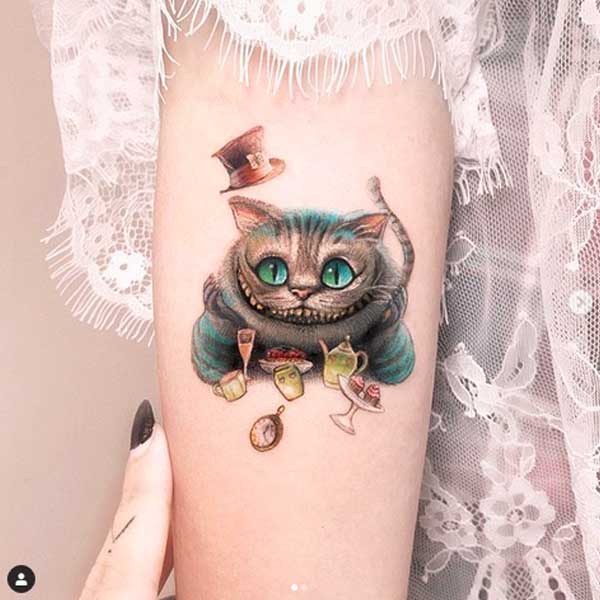 Credit: edit_paints
27
P E R O U
Instagram: peroutattoo
All of their tattoos have an element of whimsy. You'll likely only find such imaginative black and white designs on their account. Their tattoos blend humor and artistry in a truly unique way.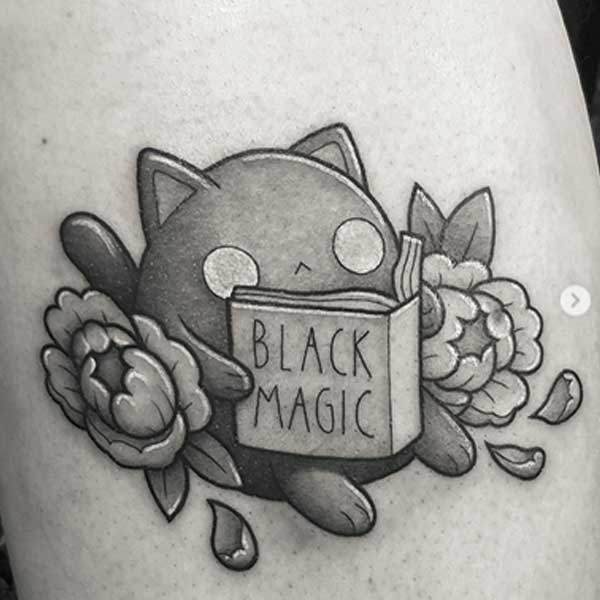 Credit: peroutattoo
28
AkiWong | Tattooist
Instagram: newtattoo_akiwong
These cute, minimalist tattoos catch your eye instantly. The designs usually feature pets, animals, and nature. If you're interested in minimalist cat tattoos, you'll want to check the Instagram account newtattoo_akiwong. Their simple yet artistic style is perfect for understated cat ink.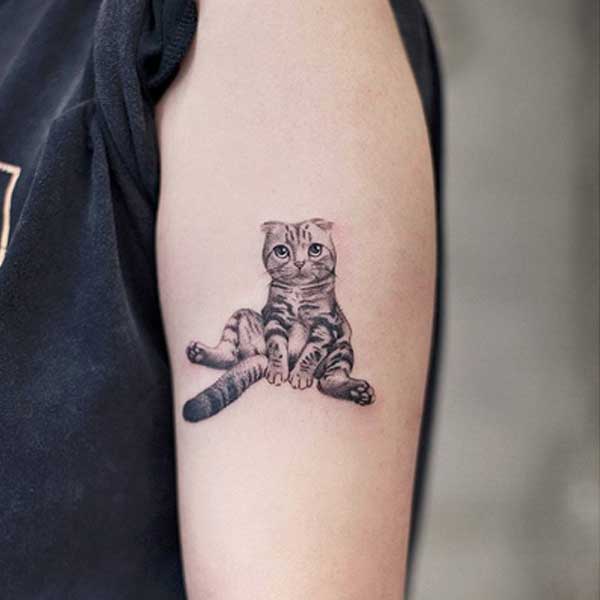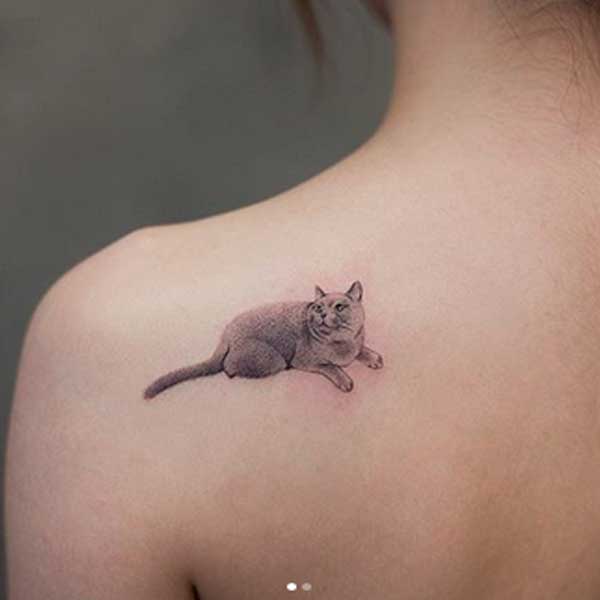 Credit: newtattoo_akiwong
29
dzo_lama
Instagram: dzo_lama
Asia, who once aspired to be a jeweler and director, eventually became a talented tattoo artist. Flowers, nature, and animals appear to be her specialties. Her floral cat and flowers tattoos beautifully blend felines with botanical elements.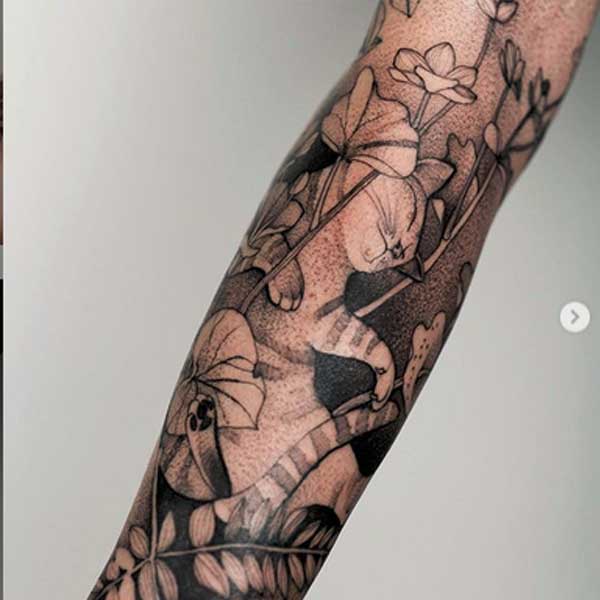 Credit: dzo_lama
30
Sku Plux
Instagram: skuplux
This artist has mastered vibrant watercolor tattooing. His designs and portraits look unbelievable and stunning. Be sure to check out skuplux on Instagram to see amazing, vivid watercolor creations.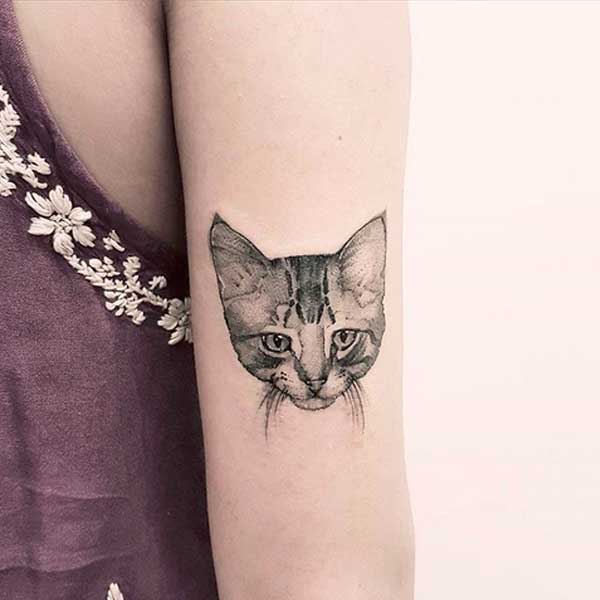 Credit: skuplux
31
Luca Font
Instagram: lucafont
Italian tattoo artist Luca Font has mastered mixing organic forms, abstractions, and primary colors into a style he calls "synthesis." His tattoos blend these elements into a visually striking synthesis.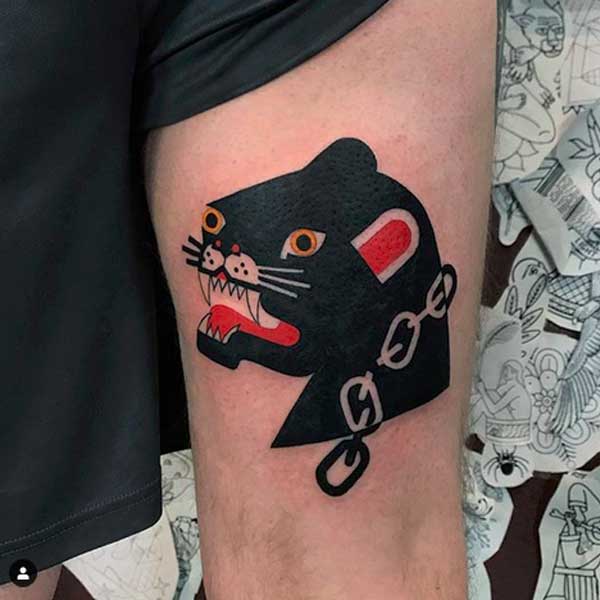 Credit: lucafont
32
K U B R I C K H O
Instagram: kubrickgood
Kubrickgood is a tattoo artist from Taiwan whose designs are inspired by classical oriental art. Her tattoos are beloved by women worldwide and pair perfectly with jewelry or accessories. When one thinks "female tattoo artist," Kubrickgood comes to mind.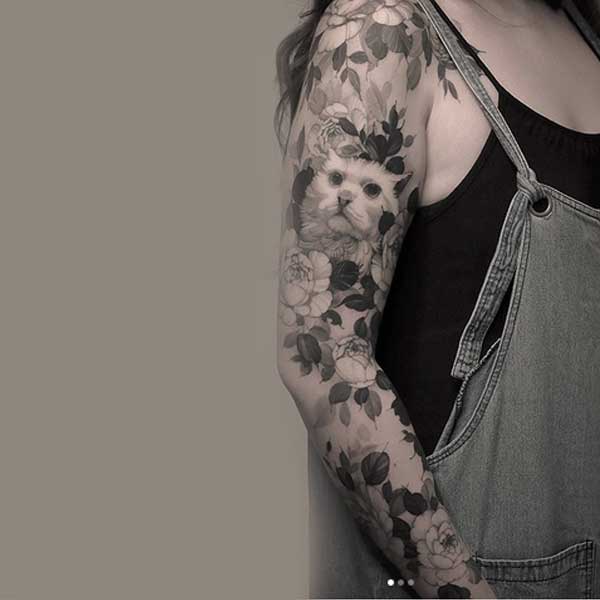 Credit: kubrickgood
33
VINNI MATTOS TATTOO
Instagram: vinnitattoo
This Brazilian artist creates stunning new school realistic tattoos. The vibrant colors and completely original designs, like his two or three cat head tattoos, are irresistible. His bold use of color combined with lifelike technique make his work truly exceptional.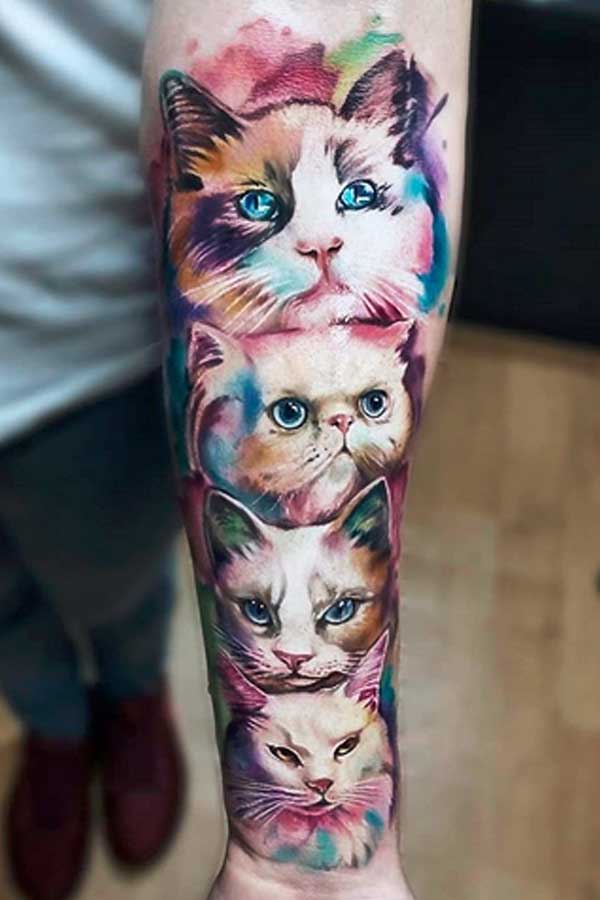 Credit: vinnitattoo
34
Juan David Rendón
Instagram: davidmention
Another master of the neotraditional style, his talent seems unstoppable. If you want a unique tattoo tailored to your personality, be sure to visit his account. His interpretations of this style create one-of-a-kind pieces.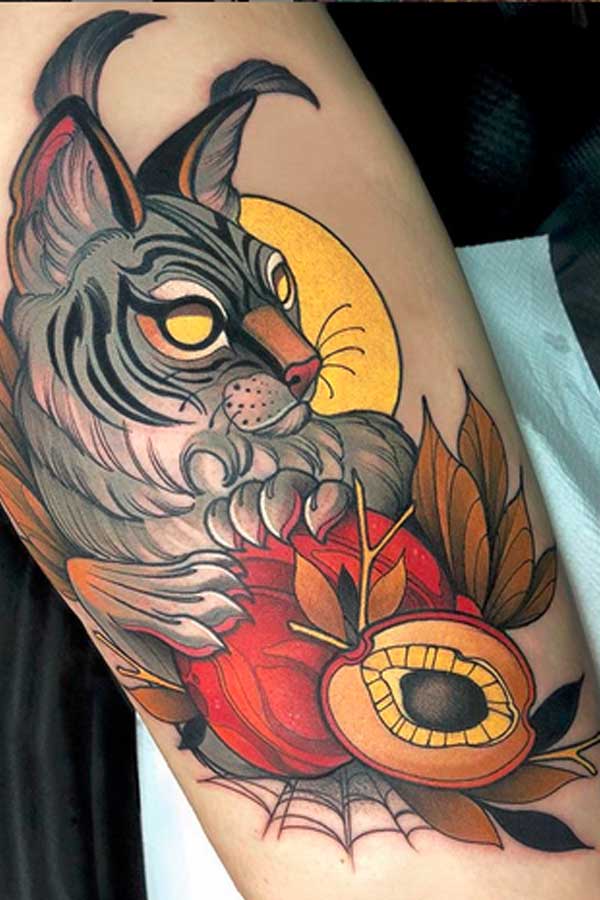 Credit: davidmention
35
Duda Lozano
Pinterest: dudalozanotattoo
This outstanding artist has pioneered his own style: embroidery patch tattoos. As he says, life's too short not to be embroidered. His novel style is perfect for one-of-a-kind designs like cute kitty tattoos.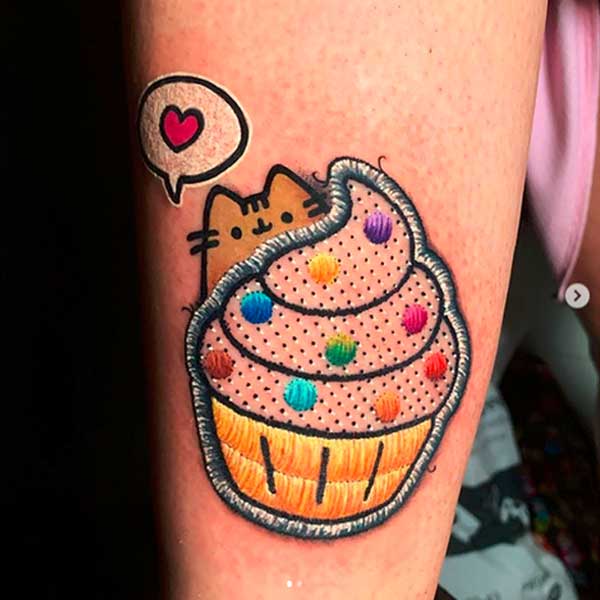 Credit: dudalozanotattoo
36
CATTOOER
Instagram: iris_lys
If you're searching for endless cat tattoo ideas, look no further than this artist. She is likely the most sought-after tattooist for her cat designs. Clients love her clean lines and illustrative style. If you want outstanding cat tattoos or want to incorporate your cat into body art, book a visit with her right away.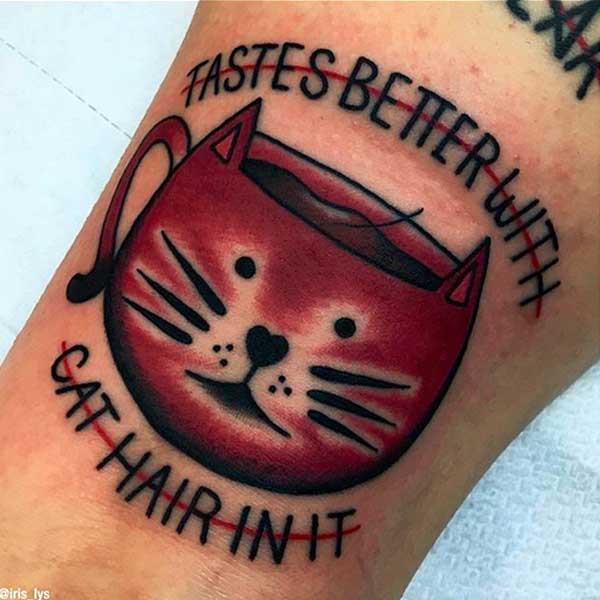 Credit: iris_lys
37
Ralf Nonnweiler
Instagram: ralfnonnweilerta2
Ralf Nonnweiler, a Germany-based tattoo artist, is a master of realistic portraits. If you're looking forcat memorial tattoos, he can ink anything to look like a photo. His technical skill captures every detail to create stunningly realistic animal and pet portraits.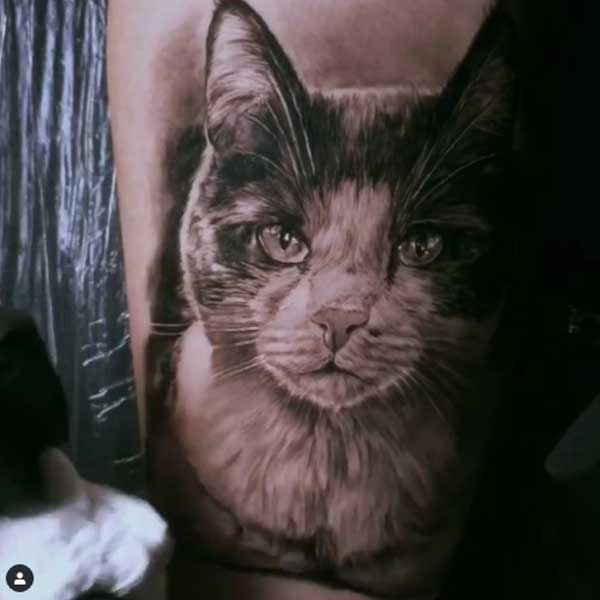 Credit: ralfnonnweilerta2
38
Carly Kawaii Tattooist
Instagram: carly.kawaii
Thanks to Carly Kroll and her vibrant neo tattoos, our world has been getting brighter. As one of the most talented kawaii tattoo artists, she works with vegan ink and brings bright colors into people's lives.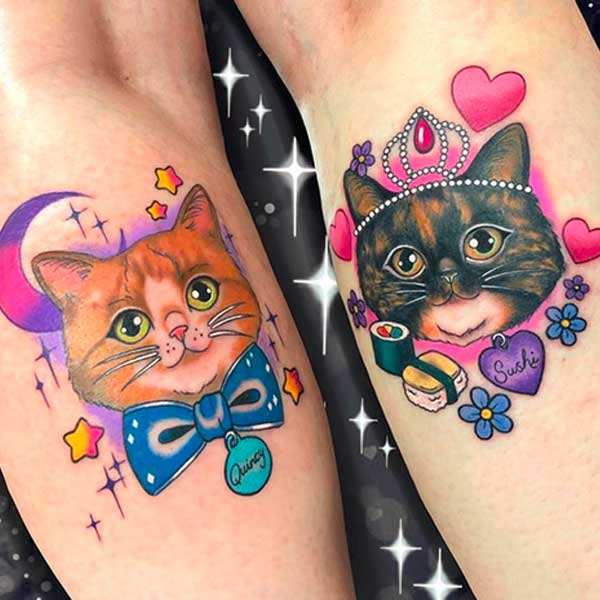 Credit: carly.kawaii
39
Deborah Genchi
Instagram: debrartist
Carly Kroll has a fantastic and stand-out style, and all of her tattoo designs are polished and charming. She is especially known for her whimsical cat and flower tattoo designs. With her bright style and talent for creating imaginative cat flower tattoos, Carly Kroll brings vibrant artwork to life on skin. Her unique designs and artistic flair make the world a more colorful place.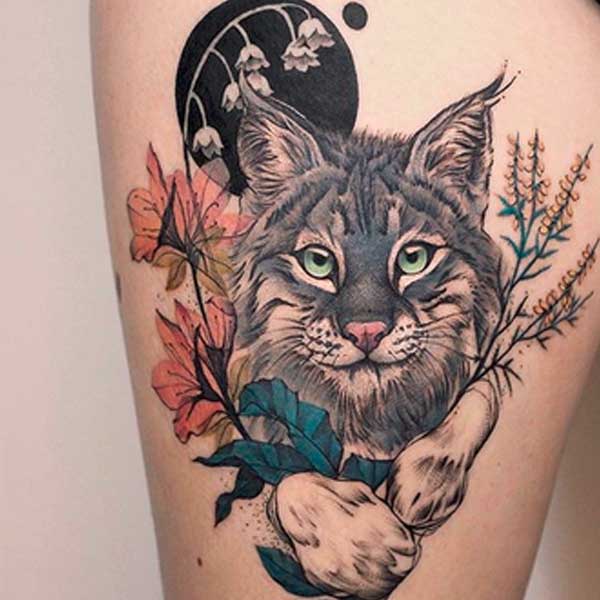 Credit: debrartist
40
Aleksandra Kozubska
Instagram: kozubskaola
As a Poland-based artist, Ola provides something fresh and exciting to the tattoo scene. More than just sketching designs, she creates beautiful and captivating tattoos that you can't help but admire. Her half cat face tattoos showcase her talent for detail, shading, and capturing the whimsical nature of felines. Blending neo-traditional and realism styles, Ola's cat tattoos feel distinctive and contemporary. From the charm and personality expressed in the cat's eyes, to the delicate whiskers and fur details, Ola's half cat face tattoos are truly works of art.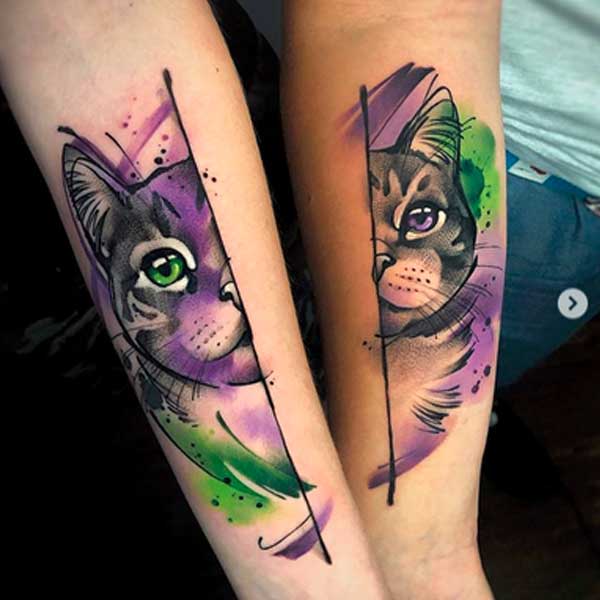 Credit: kozubskaola
41
Tatu Moscow
Instagram: natsi_tattoo
Nataly is a Russian tattoo artist who has broken from the traditional watercolor tattoo style to create her own fresh and innovative designs. It's impossible not to fall in love with Nataly's whimsical tattoo art. She expertly combines vibrant colors with fine line work to produce delicate and dreamy tattoos unlike anything else. Her illustrative approach results in tattoos that look like beautiful little art pieces on skin.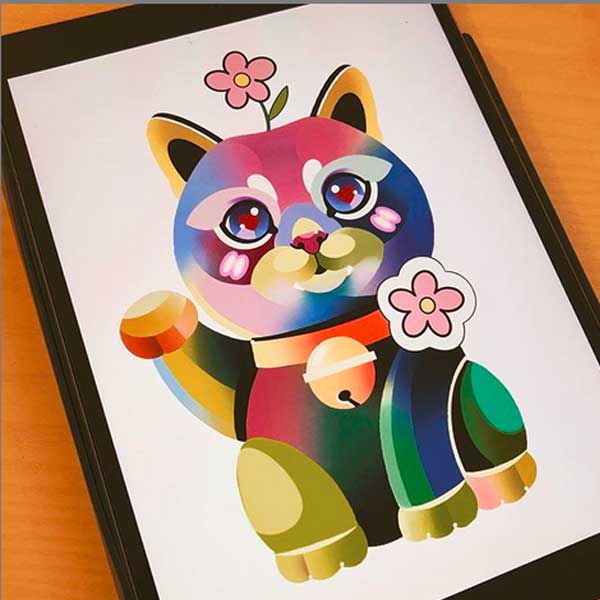 Credit: natsi_tattoo
42
zzizziboy
Instagram: zzizziboy
Mind blowing minimalist tattoos that are full of life. From clever placements to thoughtful use of color, these tattoos may employ a minimalist approach but deliver maximum impact.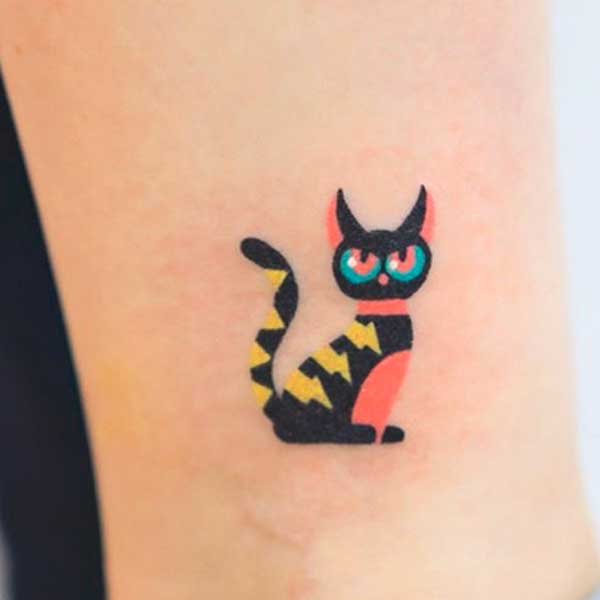 Credit: zzizziboy
43
Brentgoudie
Instagram: brentgoudie
Feline lovers who are fans of modern animation and can't imagine their life without Disney characters, should check out the portfolio and social accounts of this artist inventive style perfectly marries the two passions. Whether it's a silhouette, portrait, or scene, their Disney cat tattoos are equal parts nostalgic and whimsical.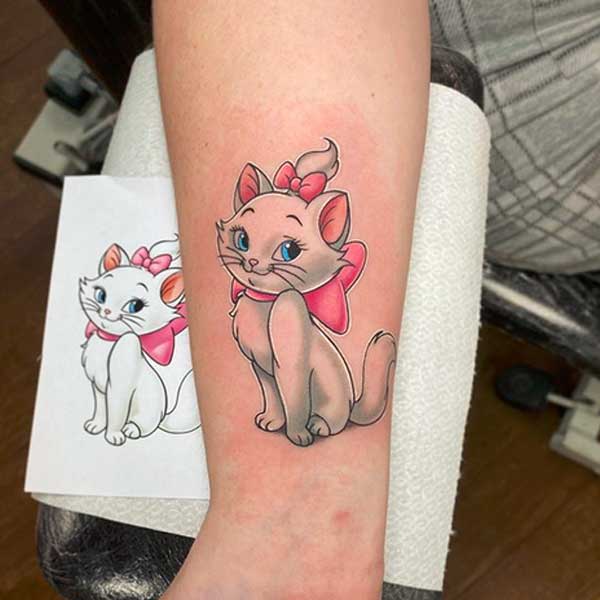 Credit: brentgoudie
44
Nika
Instagram: nikaveratattoo
This remarkably versatile tattoo artist has proven she can bring any imaginative tattoo to life. Her expansive portfolio showcases impressive range and creativity.
Credit: nikaveratattoo
45
Suflanda
Instagram: suflanda
This tattoo artist carefully considers animals' emotions before depicting them in her tattoo designs. She expertly captures the personality of pets through lively facial expressions and captured moments that evoke a narrative. It's clear this artist has a gift for looking into an animal's eyes and seeing into their soul before translating that onto skin in a meaningful tattoo.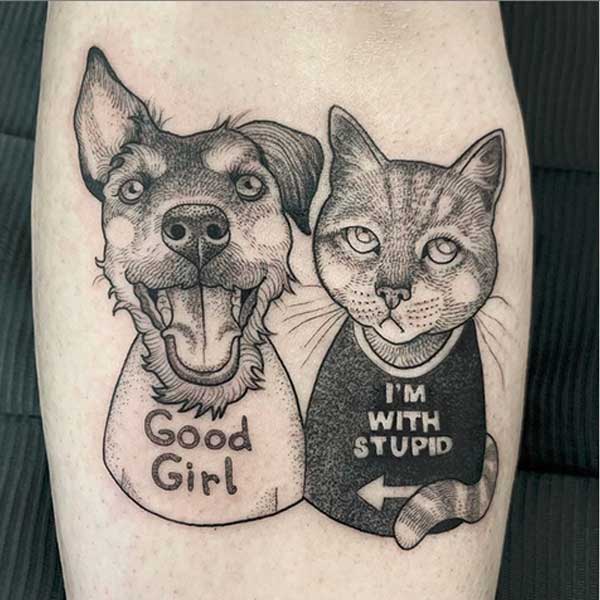 Credit: suflanda
46
LUCA TESTADIFERRO
Instagram: lucatestadiferro
This talented Italian tattoo artist creates fantastic tattoos with a unique sketchbook style. His half face tattoos showcase his mastery of the illustrative technique. With skilled shading and textured detailing, he brings striking black and grey portrait tattoos to life on skin. The unfinished, hand-drawn look of his half face tattoos lends an artistic edge.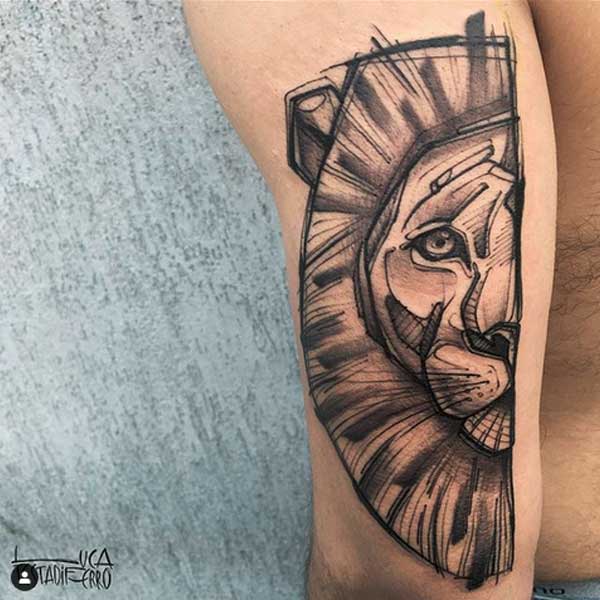 Credit: lucatestadiferro
47
Violeta Arús
Instagram: violeta.arus
This extraordinary Spanish tattoo artist from Madrid has mastered the art of minimalist, surreal tattoos. By paring down her subjects to their essence, she creates surreal tattoos that intrigue the eye.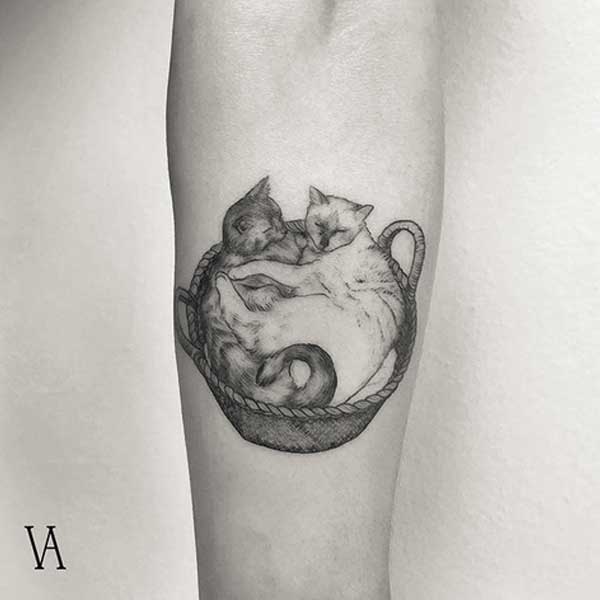 Credit: violeta.arus
FAQ
What is the meaning behind cat tattoos? 
Cat tattoos can symbolize independence, mystery, intuition, magic, luck, curiosity, creativity, femininity, and protection. They can also represent someone's fondness for cats or memorialize a beloved pet.
What are some popular cat tattoo ideas?
Popular cat tattoo ideas include black cats, cat faces, cat eyes, sitting cats, cat outlines, cat silhouettes, geometric cats, minimalist cat designs, cats and dogs, cat and flowers, Egyptian cat art, panthers. or you beloved 4-paw friends. You can also check out Instagram and Pinterest for more cat tattoo ideas.
What are cute small cat tattoo ideas?
Cute small cat tattoo ideas include a tiny cat face, cat paw print, cat whiskers, cat ears, cat nose, curled up sleeping cat, cat head silhouette, or single cat eye.
What are good places to get a cat tattoo? 
Good places for cat tattoos include the wrist, finger, forearm, shoulder, thigh, back, chest, behind the ear, ankle, and calf. Placement depends on the size and design of the cat tattoo.
Should I get a realistic or cartoon cat tattoo?
Realistic cat tattoos look very lifelike and detailed, while cartoon cat tattoos have a more playful, animated style. Choose based on your own personal taste and tattoo style preference.
What kind of cat makes the best tattoo?
Any breed of cat can make a good tattoo. Some popular choices are Siamese, Persian, Maine Coon, calico, black cat, orange tabby, sphynx, or your own pet cat. 
How can I make my cat tattoo unique?
Ways to make your cat tattoo unique include adding personal symbols, custom details, creative backgrounds, an unconventional art style like watercolor or neon, or integrating it with other tattoo elements. You could also ask a tattoo artist for their suggestions that might inspire you.
How can I honor my cat in a tattoo?
To honor your cat in a tattoo, include their name, paw print, portrait, eye color, favorite toy or food, or subtle tribute like their face shape or fur markings. A memorial date is also meaningful.
How do I choose the right tattoo artist for my cat design?
Look for an artist experienced in animal and pet tattoos whose artistic style matches what you want. Bring reference photos so they can create a cat tattoo you'll love.
Final thoughts
Tattoos are a great way to express your interests and passions. For feline fanatics, cat-themed tattoos can perfectly capture their admiration for these furry, mystical creatures. With so many cat tattoo ideas and artistic interpretations, a cat tattoo makes a paw-some and meaningful addition to your body art.