Cats have been living side-by-side with people from time immemorial, and have fickle, contradictory and mysterious natures and, habits that people have not been able to understand so far. Tattoos of cats who fascinate us by their playfulness and affection usually have the meaning of:
grace and beauty;
magic;
evil and deceit;
love of freedom;
wildness and willfulness;
peace.
Back to the time of ancient Egypt, cats were considered equal with Gods and associated with fertility, fun, and joy. The image of cats organically fitted into the design of building and represented female beauty, grace, and attractiveness.
People with cat tattoos often demonstrate character traits such as independence, mystery, sharp mind, ability to defend their positions, and others.
The world of felines is so large and is characterised by its own message. A black panther is associated with success, strength, calculated movement, and beauty. Most often people associate big cats with passion, strength, power, beauty, or leadership. Smaller feline friends, in general, are symbols of independence and intelligence.
In general, you do not need to be a cat lover or cat owner to have a great feline tattoo. Tattoos of big and small cats are an amazing way to demonstrate your personality to the world.
Below you will find cat tattoos inked by the best tattoo artists from all over the world (thanks to Instagram, mainly) and there is no reason you should wait too long to celebrate your passion for big or small cats.

1
London Inkaholics ® Tattoo Shop
Instagram: londoninkaholics
Black and white designs inked in a London based professional studio whose owner is one of the senior artists in the studio with an impressive almost 20-years of experience in tattooing.
If you are considering a wild cat tattoo, you definitely need to check their website or Instagram account for more cat tattoo ideas and inspiration.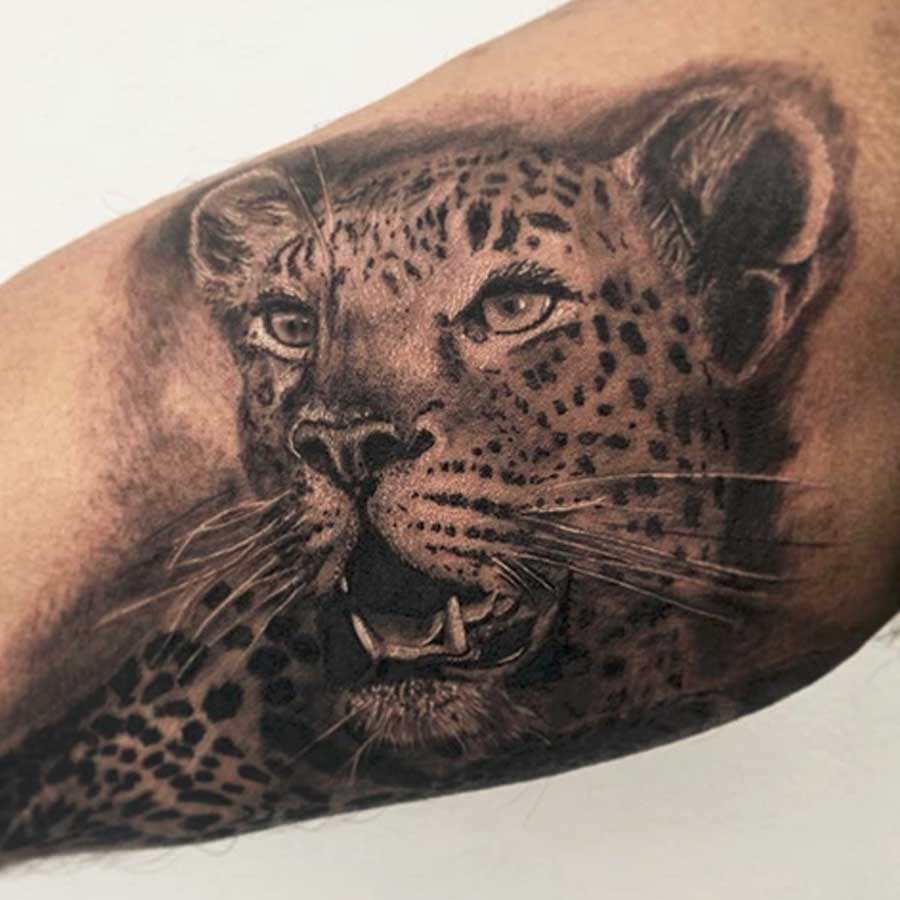 Credit: London Inkaholics
What are the most popular cat breeds you tattoo?
Jopsy Daisy (Inkaholocs): I would say the most popular breed of cat would be large cats such as lions, tigers and leopards, but for domesticated cats it's a large variety ranging from the fluffiest kitten to soft spynx cats.
For cat portraits the most popular style is photorealism, especially in black and grey, but I would say that is mostly because of what we focus on in the shop. Personally I love doing any style and I have recently finished a sleeve with 10 semi realistic colour portraits of various cats, something I soon will put in my portfolio.
2
Alex Alvarado
Instagram: alexalvarado_tattoos
London-based tattoo artist who mainly performs black and white, watercolour or grey tattoos in a realistic style. However, he also likes mixing styles to create unique designs.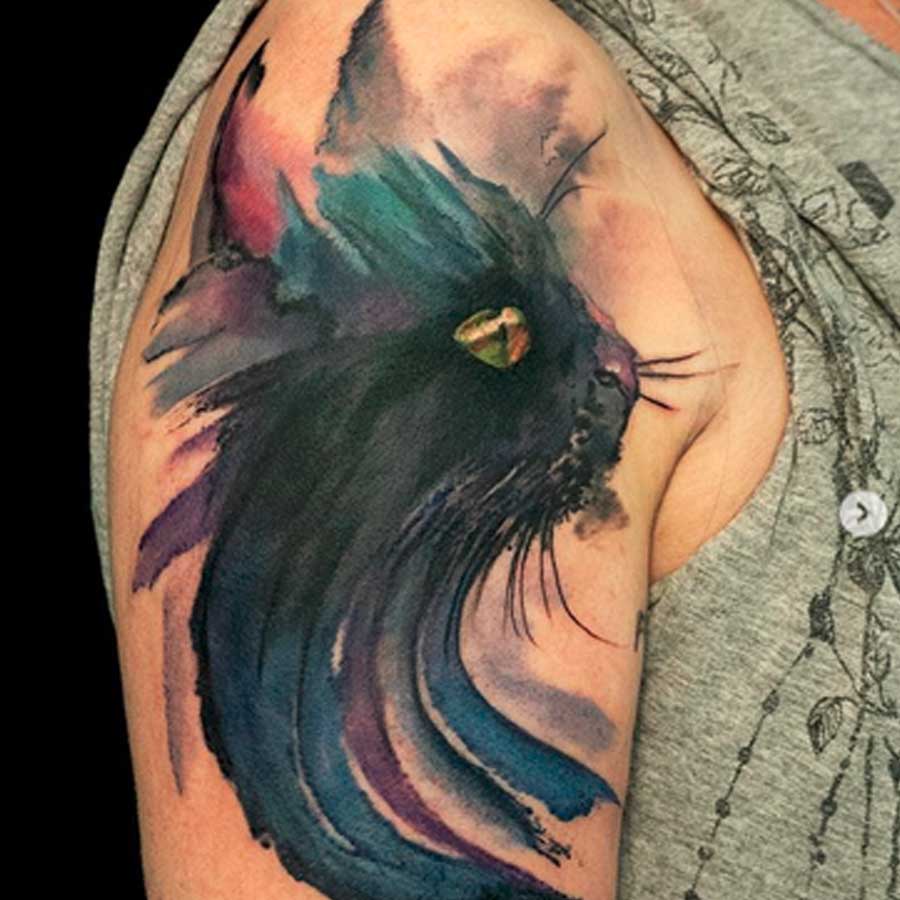 Credit: alexalvarado_tattoos
Alex Alvarado: "I've done a bit of everything really, but I guess stand outs would be Siamese, British Shorthair, Angora and Himalayan. The styles also range quite a bit but the usual ones would be watercolour and realism."
3
𝐊𝐞𝐞𝐥𝐲 𝐆𝐥𝐢𝐭𝐭𝐞𝐫𝐬 𝐓𝐚𝐭𝐭𝐨𝐨𝐬
Instagram: keelyglitters
A tattoo artist with a background in fashion and art design who combines traditional and glitter work and mixes it with a girlish style. As the artist now says, she cannot even do a tattoo without adding something glittery. She works in London, and most of her own tattoos are of cats 🙂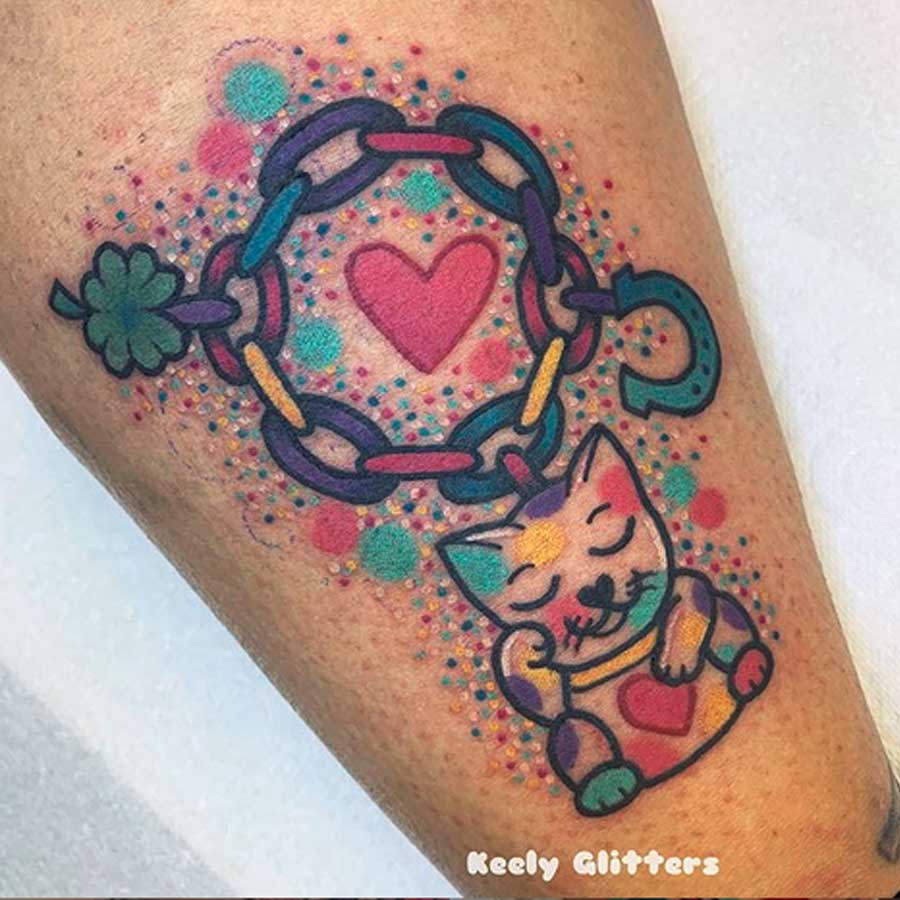 Credit: keelyglitters
What are the most popular cat breeds you tattoo?
Mostly domestic cats, peoples beloved pets. I absolutely love cats, it's amazing being able to create gorgeous cats faces into tattoos for the client to wear them forever.
What are the most popular styles in cat tattoo?
I would think traditional. The classic tiger head tattoo has always been a popular classic, the same as a panther. I use the same traditional style when tattooing cat portraits.
4
Dani Queipo
Instagram: daniqueipo
London-based tattoo artist who got his first tattoo when he was 15. The characteristic features of his designs are simplicity and colours, mostly red, blue, and black.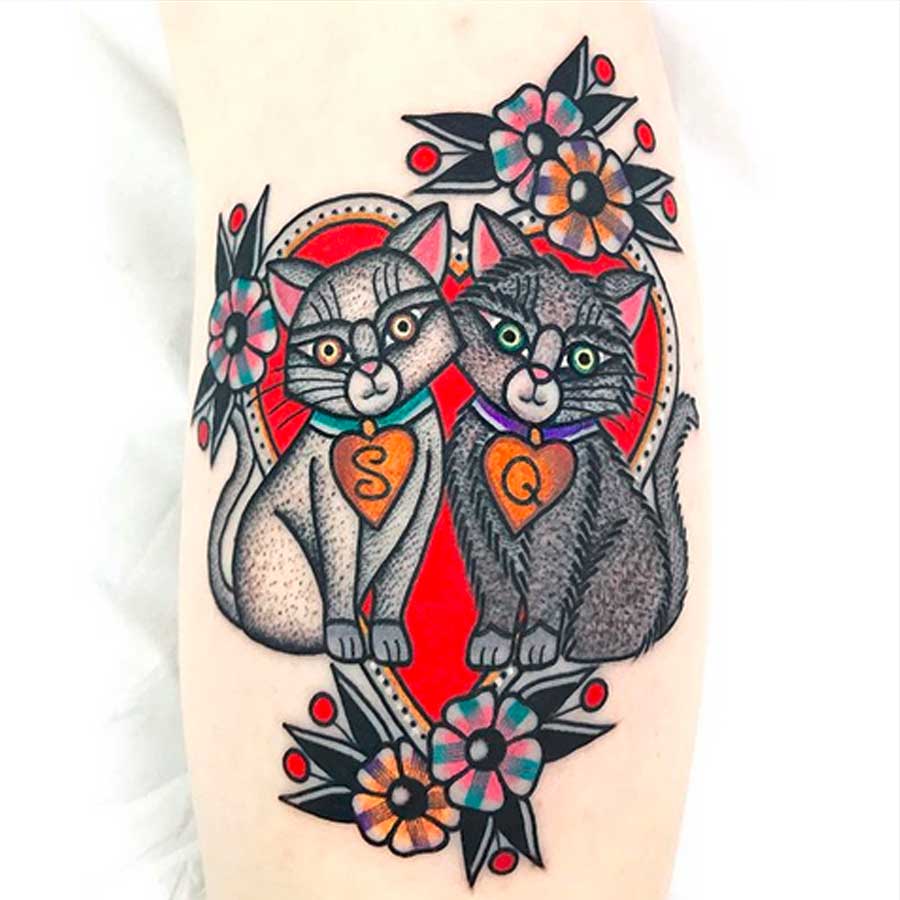 Credit: daniqueipo
5
Ricktattoo and studio The Team
Instagram: ricktattoo
Artists who mainly ink black and grey tattoos, but as they said they are passionate about fresh ideas.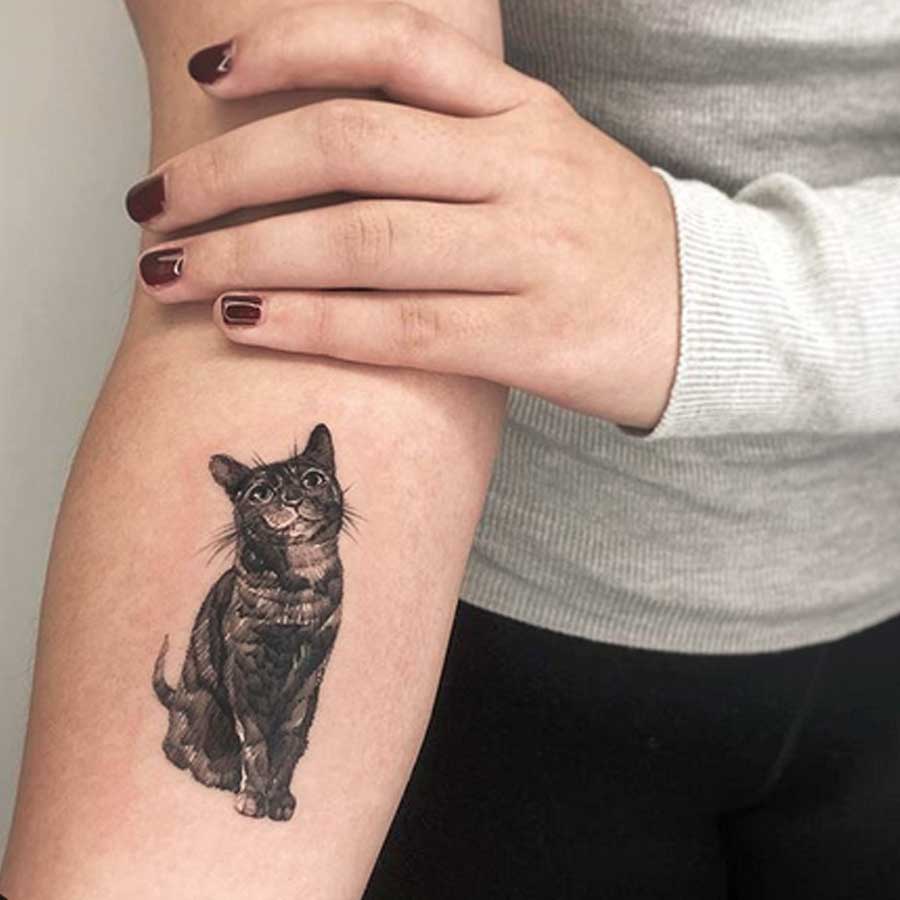 Credit: ricktattoo
6
Brian Povak
Instagram: brian_povak
Berlin-based new school artist who is one of the best tattoo artists in Germany. Animal art that is full of colors and character.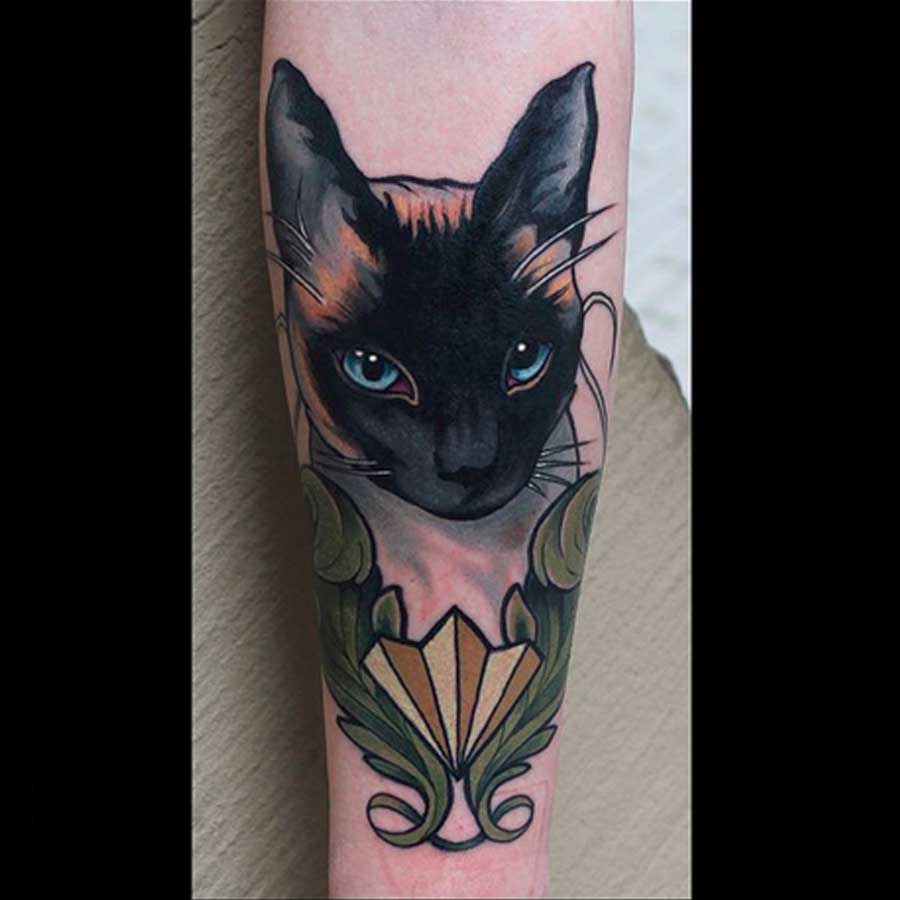 Credit: brian_povak
7
Łukasz (Lukas) Zglenicki
Instagram: tai9a
Łukasz (Lukas) Zglenicki is Poland-based tattoo artist who mainly concentrates on forest motifs. His designs are full of nostalgia, magic, and mystery.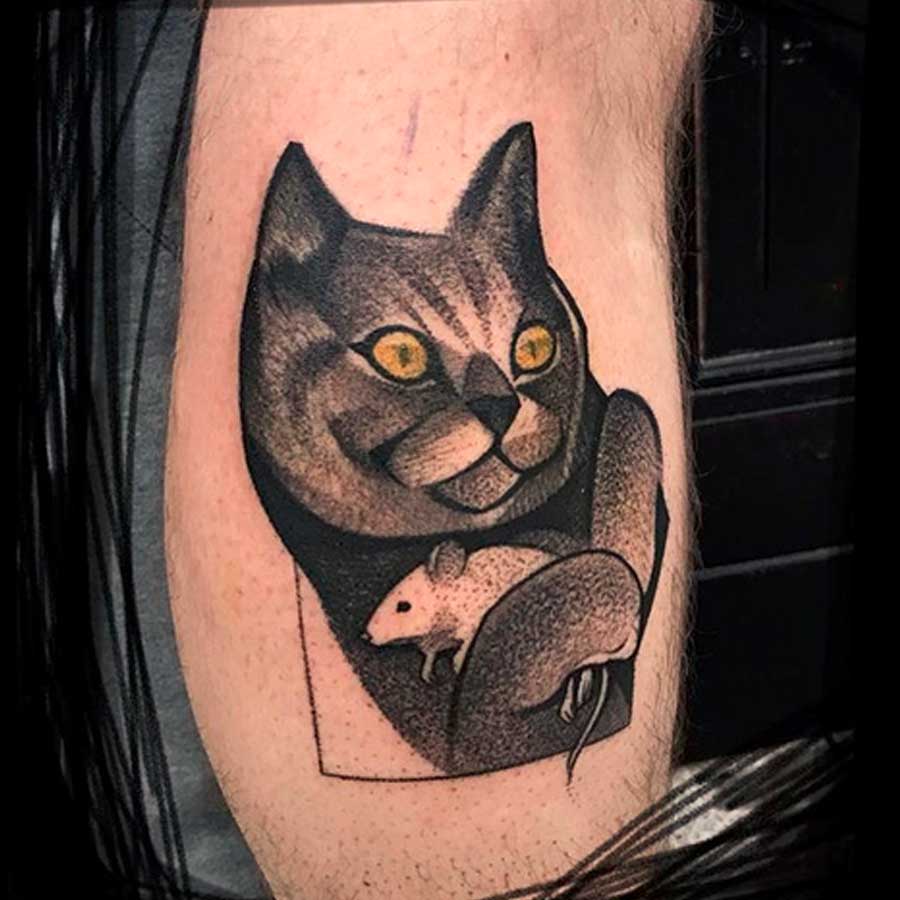 Credit: tai9a
8
Joanne Baker
Instagram: milky_tattoodles
Joanne Baker specialises in the watercolour style. The colourful designs of this tattoo artist from Edinburgh are full of dynamics and wonder that are totally unique.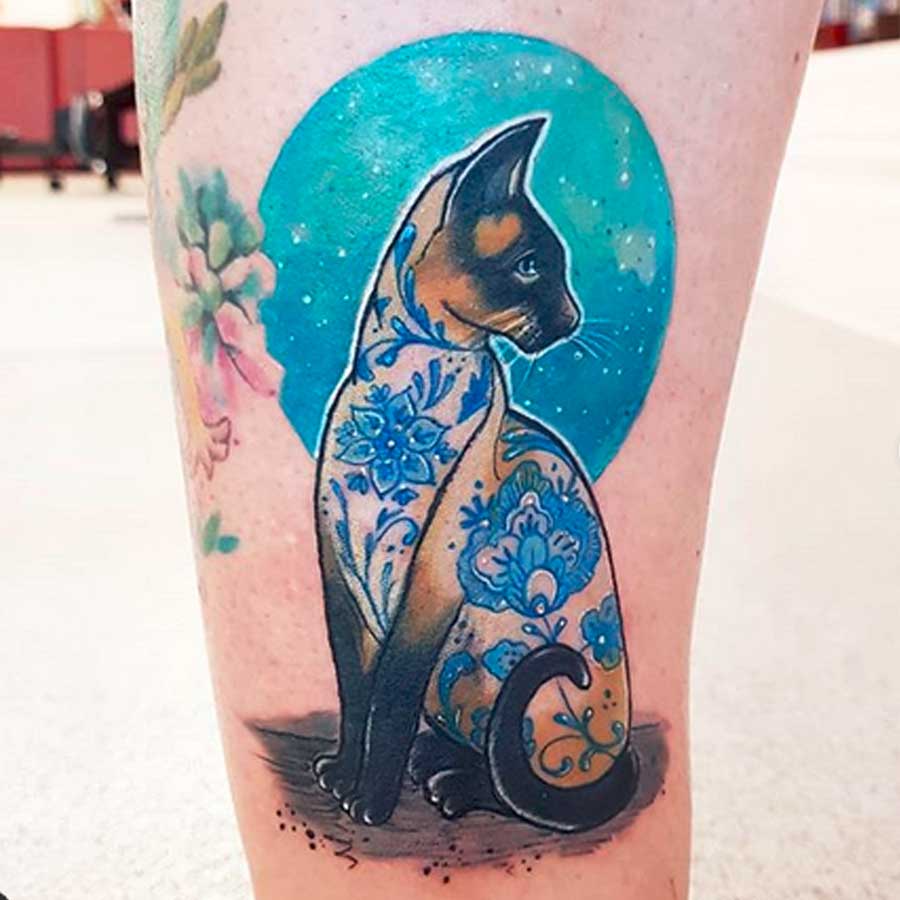 Credit: milky_tattoodles
9
Jason Adelinia
Instagram: jasonadeliniatattoos
A tattooist Jason Adelinia who is internationally recognised for his bright and colourful designs has perfected the art of watercolour tattoos blended with realism. Jason Adelinia works out of his own studio in Worthing, the UK.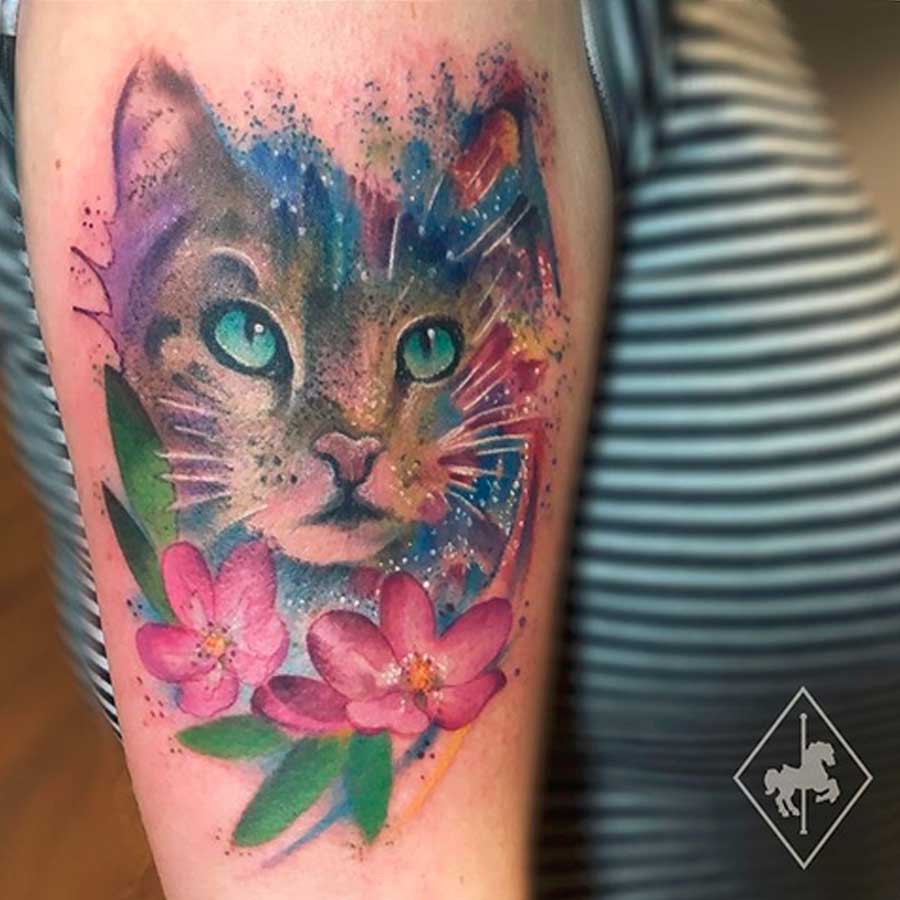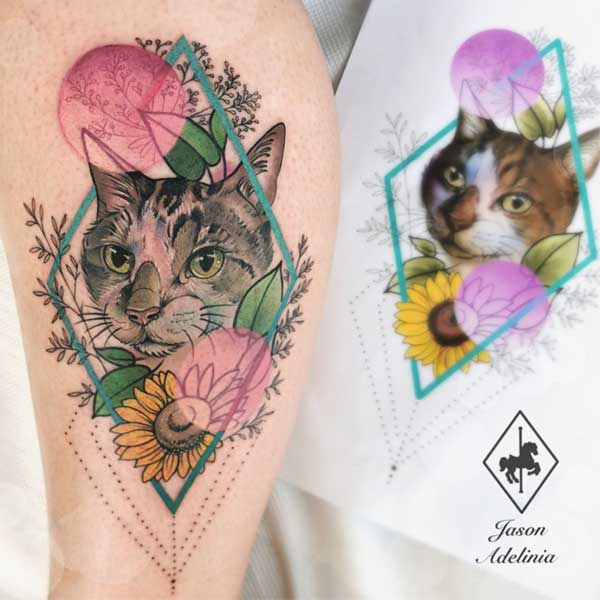 Credit: jasonadeliniatattoos
Jason Adelinia: I think the best way I can describe why people get tattoos of their cats is as follows… I really think pets are like family, and when it comes down to cats, people just can't seem to get enough! Many are memorial portraits, or even actual paw prints they have managed to get. The pink watercolour cat was just an amazing lady who just LOVED CATS and loved pink. Her request was just for any cat, as long as it was pink! She was awesome, and that's my ideal scenario!
10
Matuszka Tattoo
Instagram: matuszka_tattoo
Jagoda Matuła-Krawczyk is originally from Poland. Her background in painting and arts translates to her designs that are inked in vivid and bright colours such as pink, blue, orange, turquoise, purple and green.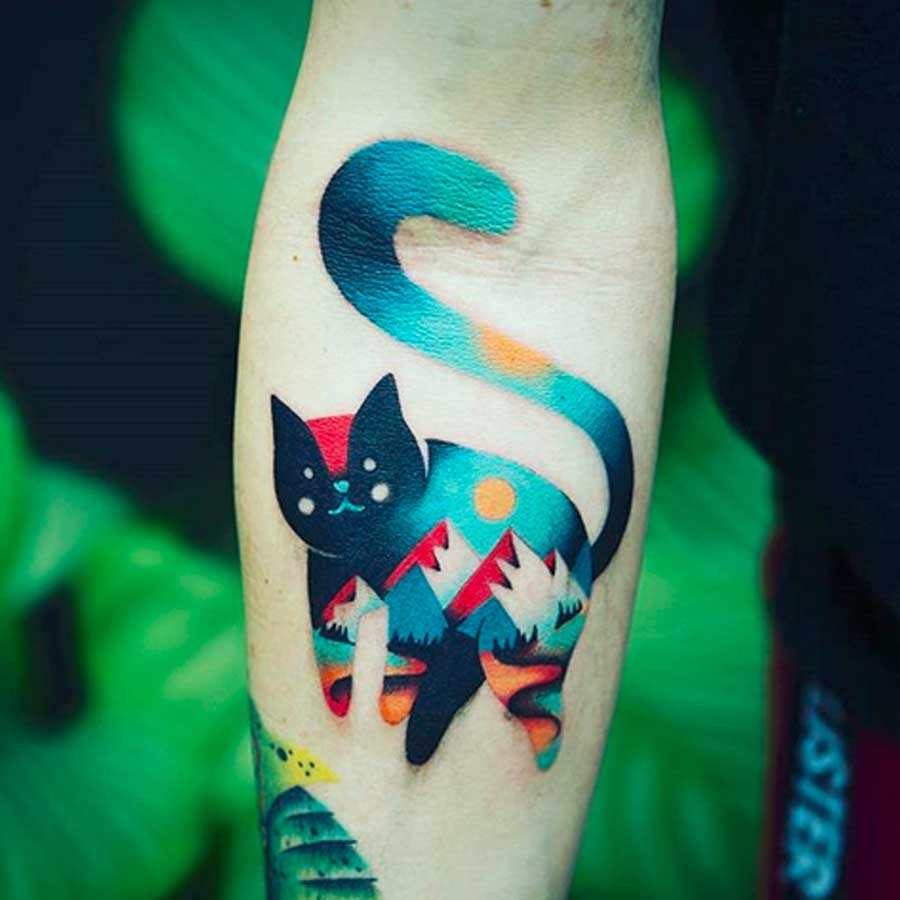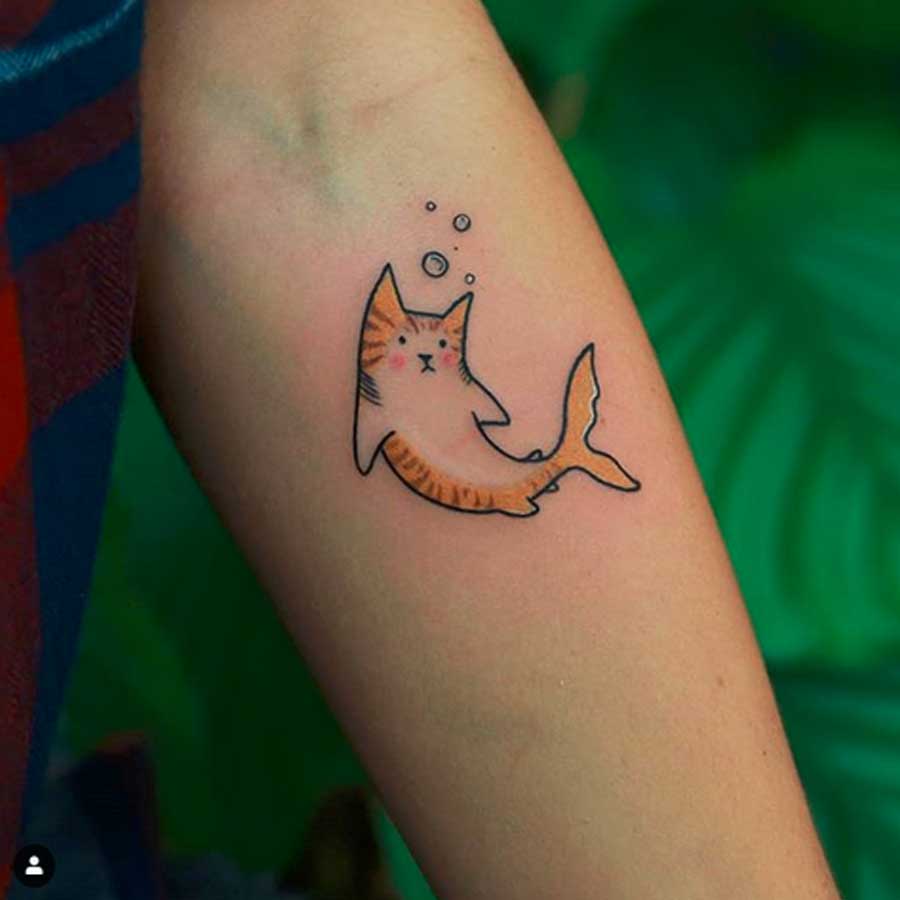 Credit: matuszka_tattoo
11
Sasha Unisex
Instagram: sashaunisex
If you are an animal lover, you must see this account. Sasha has revolutionised tattoos blending watercolour style and graphics. She tattoos animals of all kinds mixing with non-standard colours and shapes.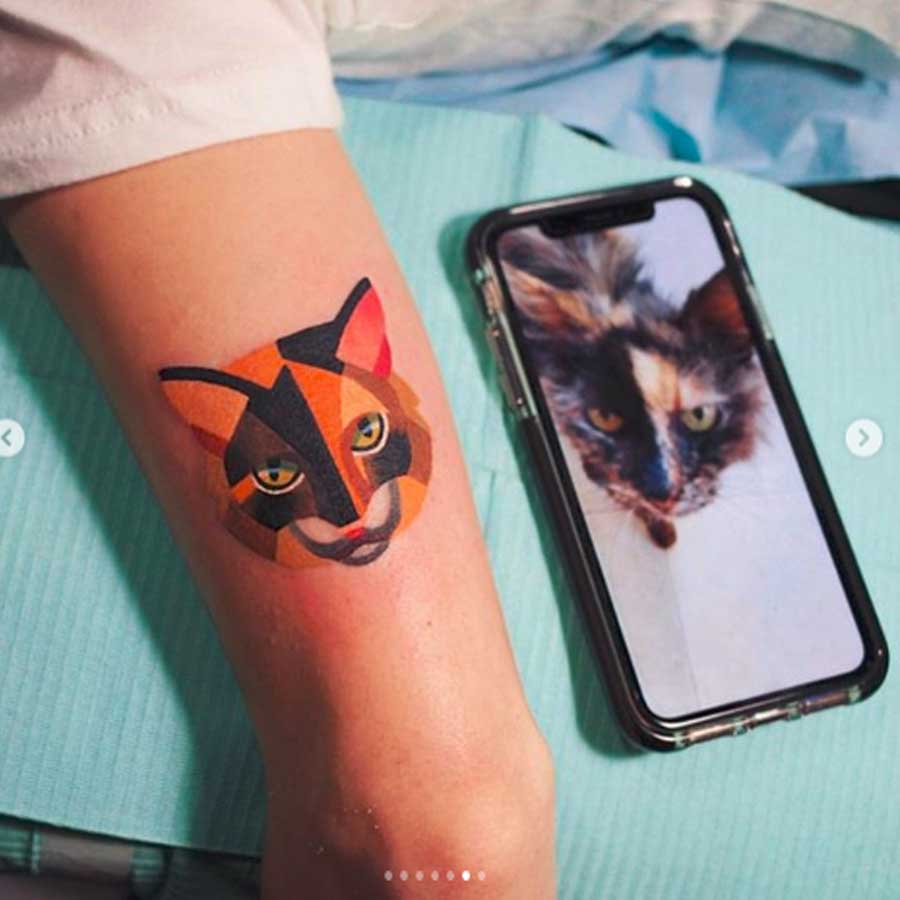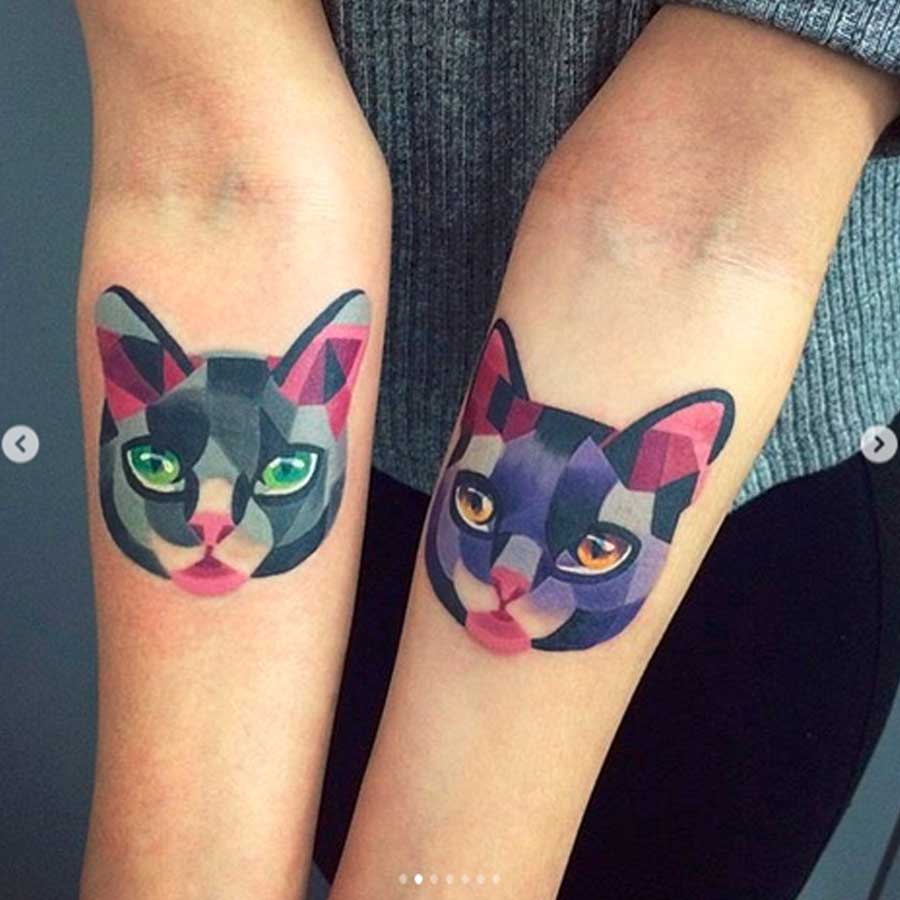 Credit: sashaunisex
12
Franki Tattoo
Instagram: franki_tattoo
Barcelona-based artist who specialises in black and white tattoos. He creates stunning dramatic tattoos.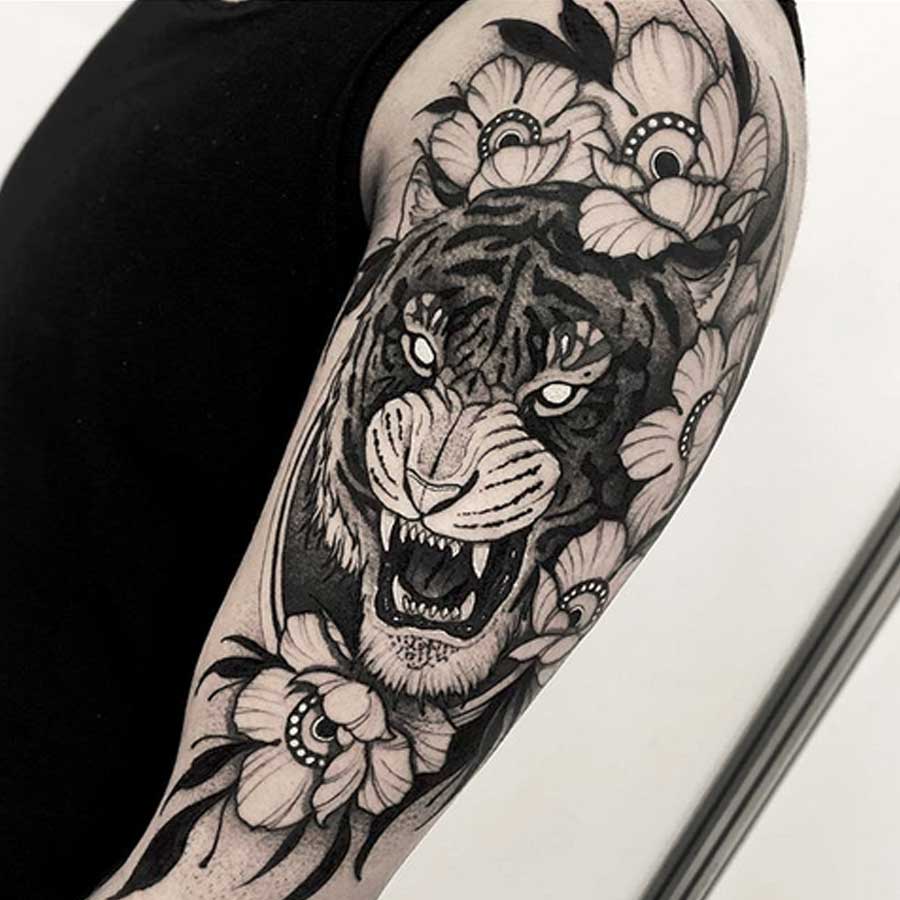 Credit: franki_tattoo
13
SOL
Instagram: soltattoo
If you are looking for the account where there are cats, cats, and more cats , look no further than SOL. Her designs celebrate the beauty of felines of any breed.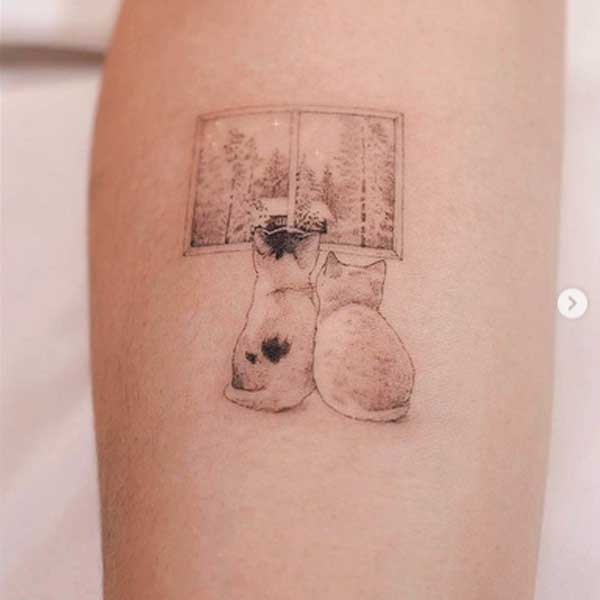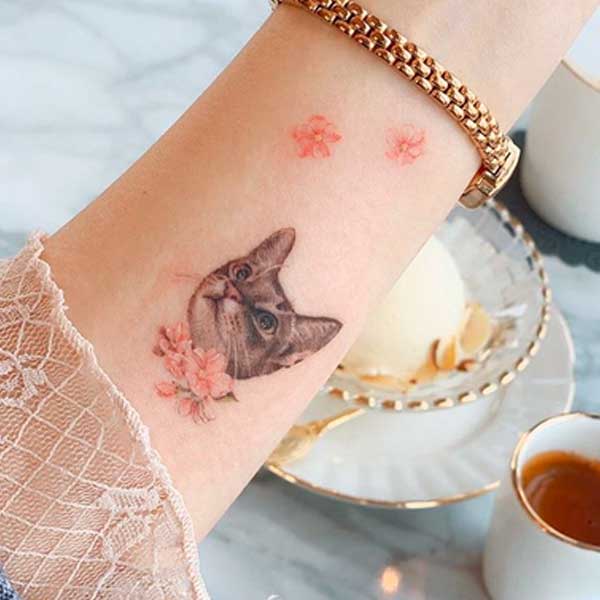 Credit: soltattoo
14
Natasha Animal
Instagram: animal_tattooer
The account speaks for itself. Name an animal, and this tattoo artist from Russia will ink it.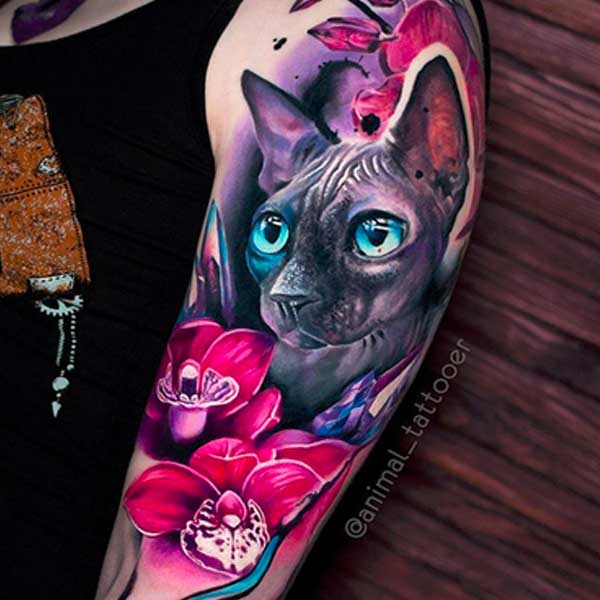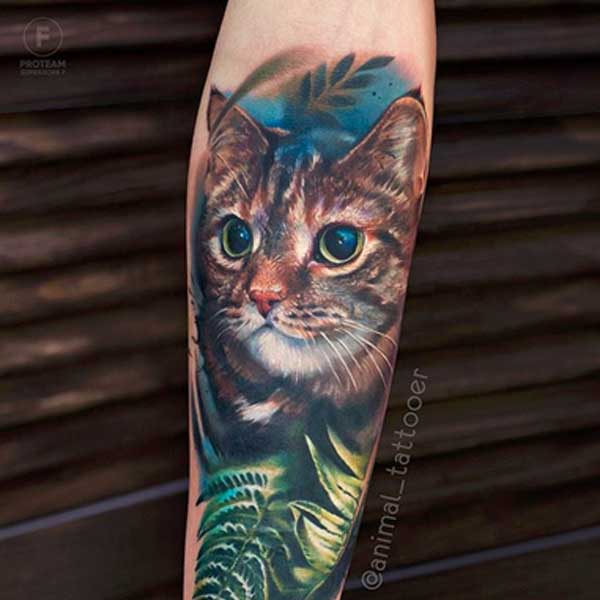 Credit: animal_tattooer
15
Ivan Kuznetsov
Instagram: ivan.kuznetsov.tattoo
One of the best tattoo artists in Moscow, he creates tattoos in realistic style. Tattoos are masterfully polished with incredible attention to the tiniest details.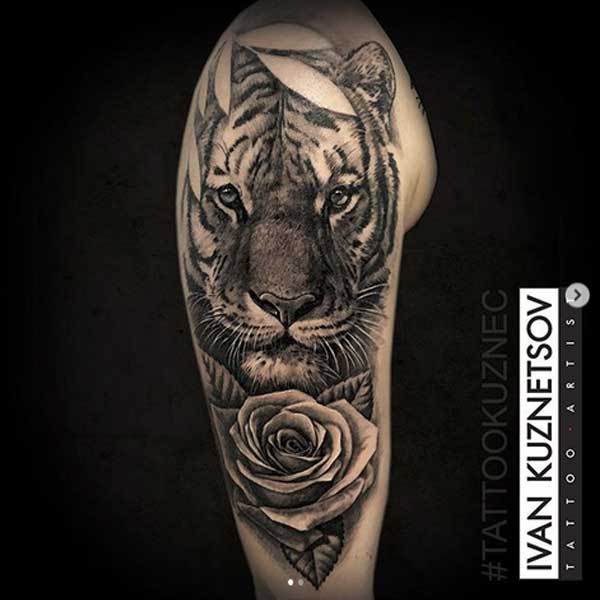 Credit: ivan.kuznetsov.tattoo
16
ivolgatattoo
Instagram: ivolgatattoo
She is intelligent and not serious. If you are looking for fun and cute tattoos, she will definitely be the artist for you.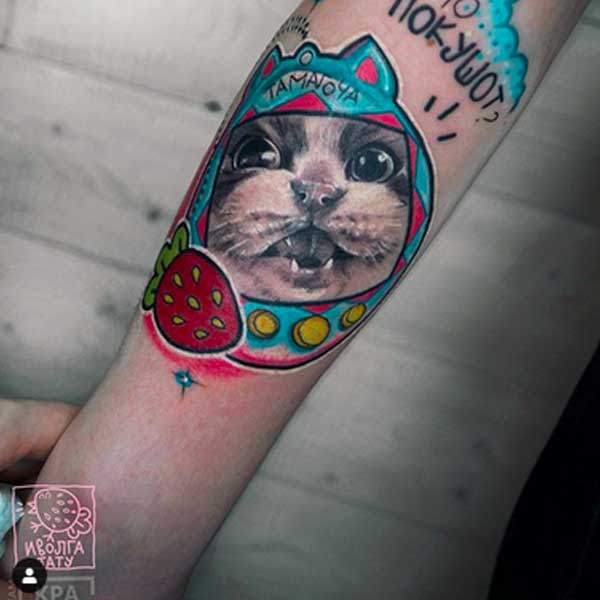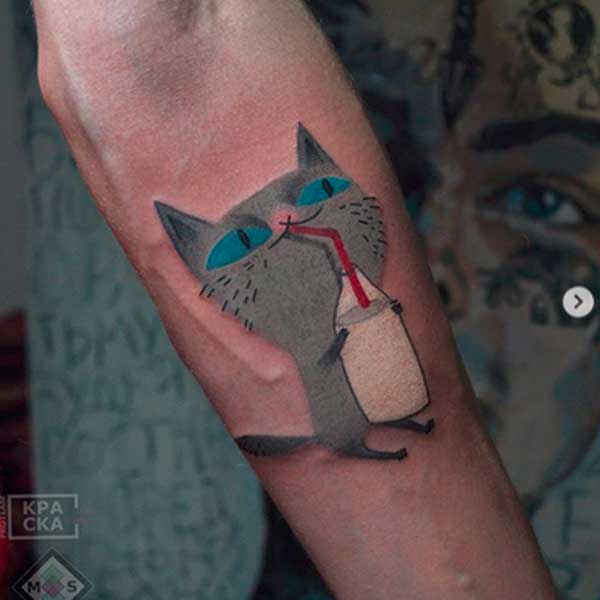 Credit: ivolgatattoo
17
Renata Henriques
Instagram: reh.tattoo
A tattoo artist from Brazil who is totally original. Mixing watercolour and sketches her works centre around animals, people, and nature.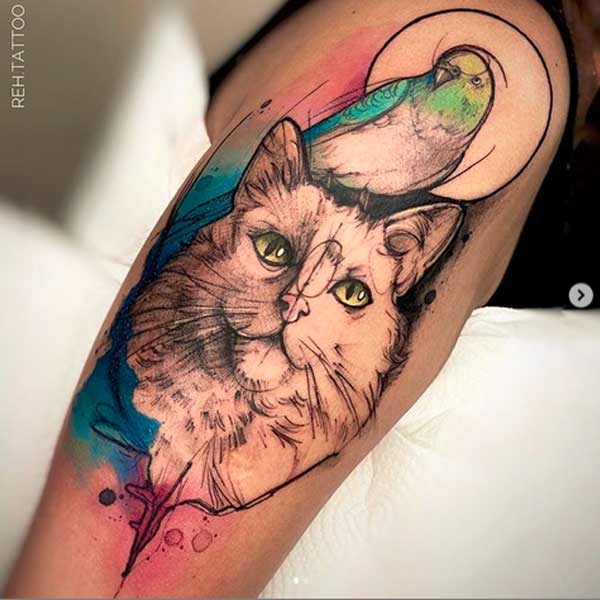 Credit: reh.tattoo
18
tattooist_yeono
Instagram: tattooist_yeono
If you are obsessed with black and white tattoos in a minimalist style, scroll through this account. Expect to find perfect designs of cats, pets, and famous people.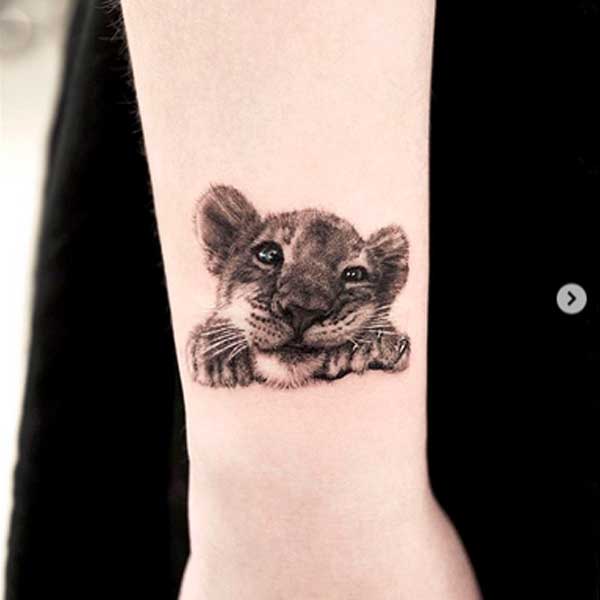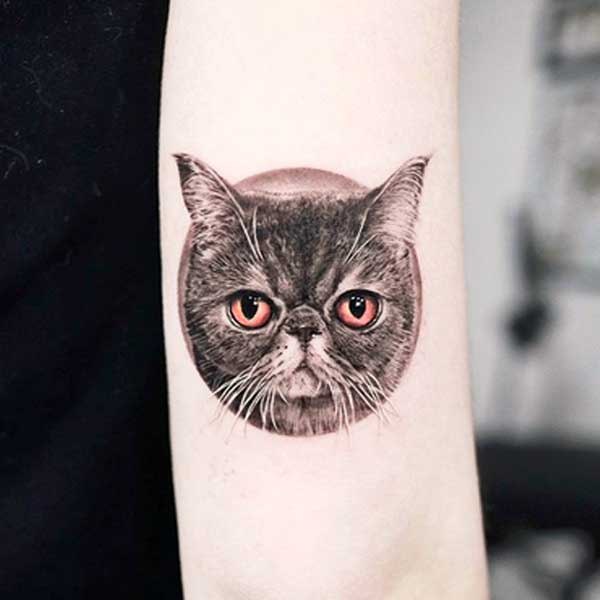 Credit: tattooist_yeono
19
CANTI
Instagram: canti___
The artist is known for his crazy neo traditional tattoos full of colours. Most of his designs are interpretations of the Simpsons, but cat lovers will also find a few ideas for themselves.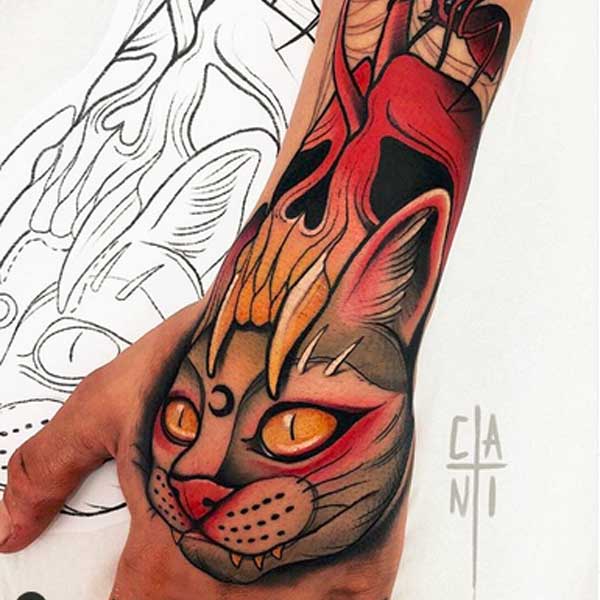 Credit: canti___
20
Tanya Tkachenko
Instagram: green.vesper
Her neo traditional art is in the most advanced form that you can become addicted to. She is confident in using colours, and the designs she draws will hold your attention.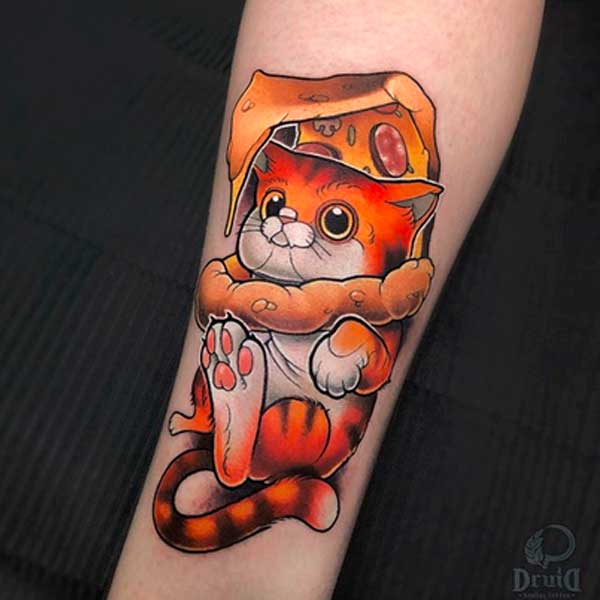 Credit: green.vesper
21
Mat Rule
Instagram: matruletattoo
His mashup tattoos are amazing. This France-based tattooist is one of the artists whose works make you honestly smile.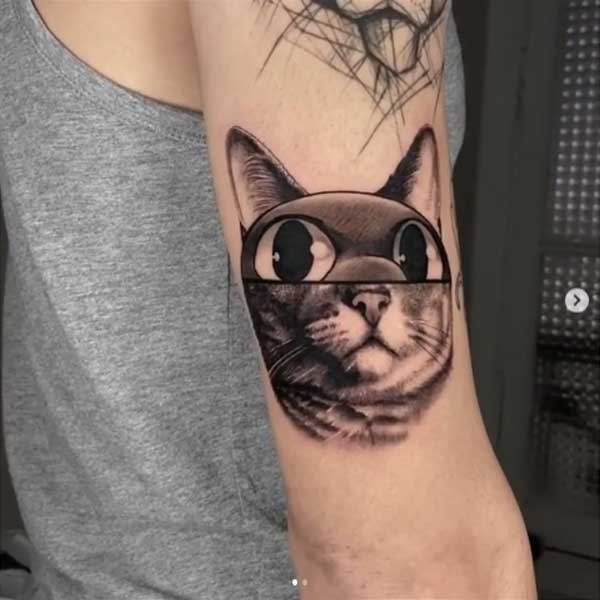 Credit: matruletattoo
22
Tomas Šaray
Instagram: tomas_wolftown
Tomas Šaray, a tattoo artist from Bratislava, has mastered black and grey tattoos but also excels in portraits in realistic style and illustrations of animals.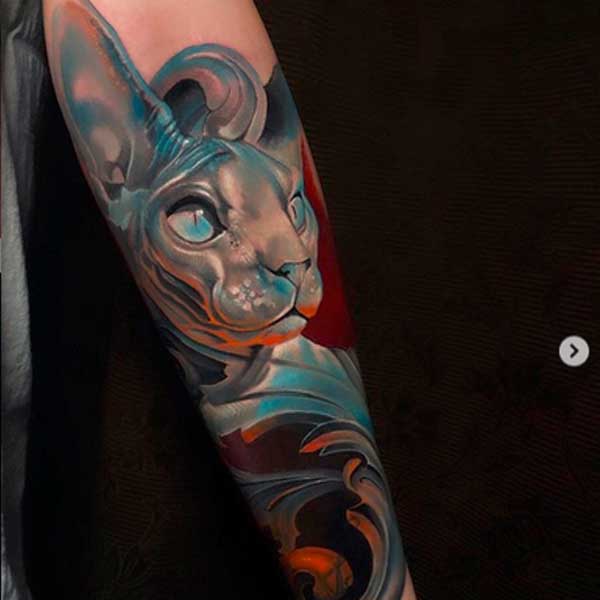 Credit: tomas_wolftown
23
Emanuel Oliveira
Instagram: emanueloliveira_tattooart
Emanuel Oliveira had his first contact with tattoos while studying art in university as he was curious to try something new besides standard painting on canvas. Emanuel has created his own style, taking what is real and interpreting it in different ways.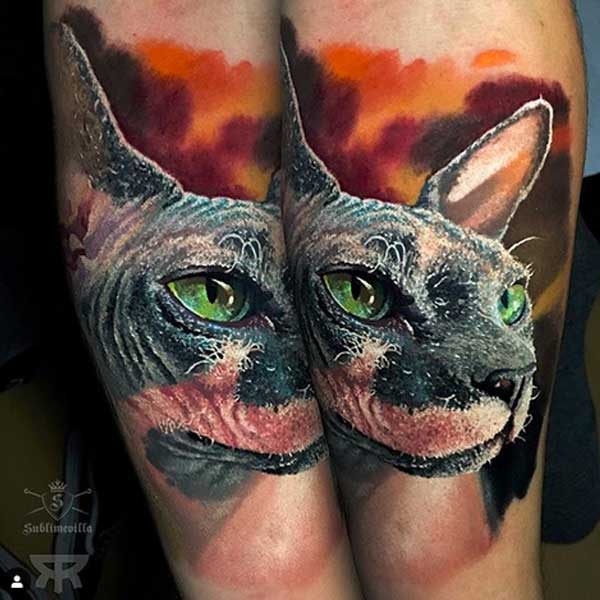 Credit: emanueloliveira_tattooart
24
Dmitriy Samohin
Instagram: dmitriysamohin
Dmitriy Samohin has become one of the most popular artists in Ukraine. His tattoos in realistic style are unique and unbelievable.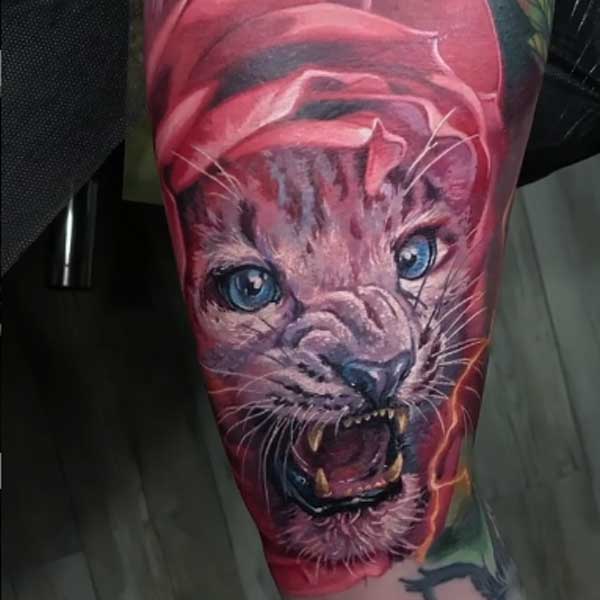 Credit: dmitriysamohin
25
Rober Villanueva
Instagram: rober_villanueva2
Rober is one of the artists who pushes the boundaries. He focuses on portraits and animals designs. His Instagram account is so amazing that it's really hard to choose a photo to display.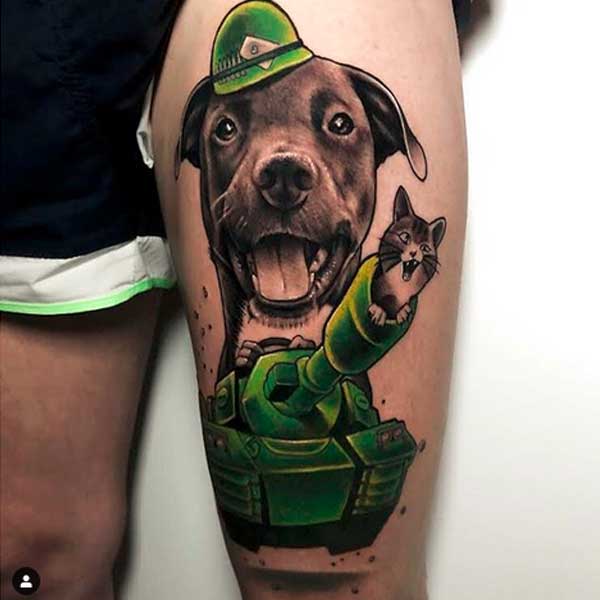 Credit: rober_villanueva2
26
Edit Paints Tattoo
Instagram: edit_paints
A tattoo artist from Israel who specialises in black and grey photorealism. If you are searching for impressive micro tattoos, she will be your artist.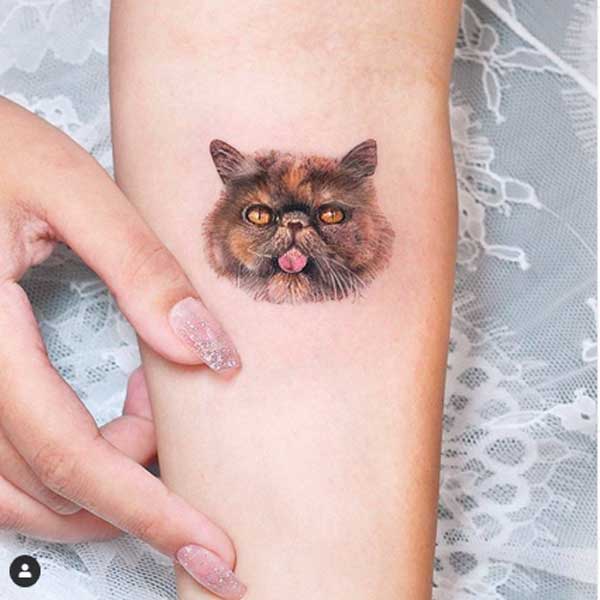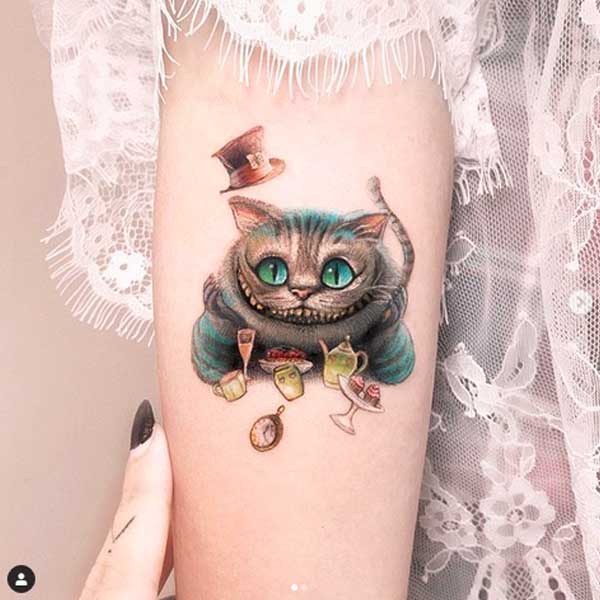 Credit: edit_paints
27
P E R O U
Instagram: peroutattoo
All of their tattoos have a thin layer of smile. You will probably see such black and white designs only on his/her account.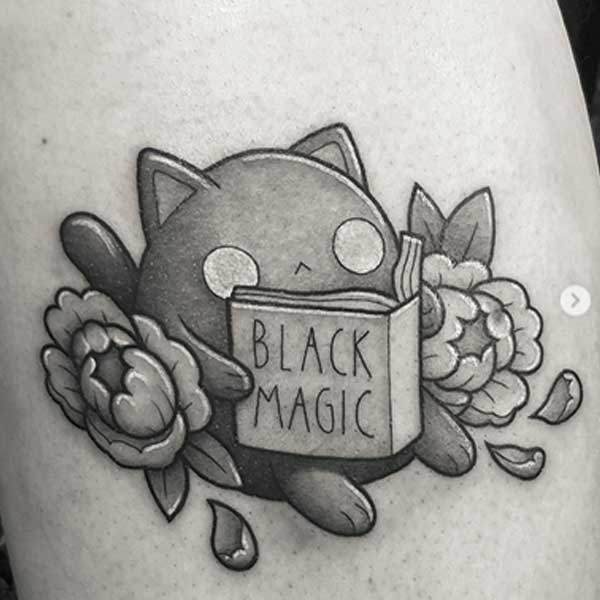 Credit: peroutattoo
28
AkiWong | Tattooist
Instagram: newtattoo_akiwong
Cute minimalistic tattoos that catch your eyes so quickly. The designs usually feature pets, animals, and nature. If you are interested in cat tattoos in a minimalistic style, you will want to check Instagram account of newtattoo_akiwong.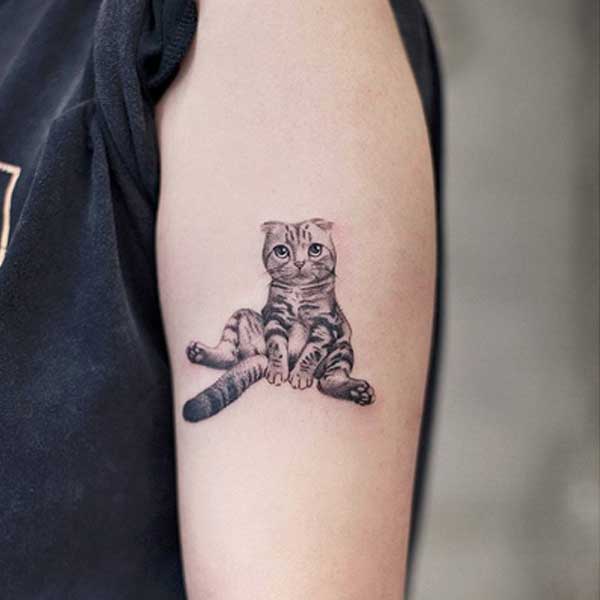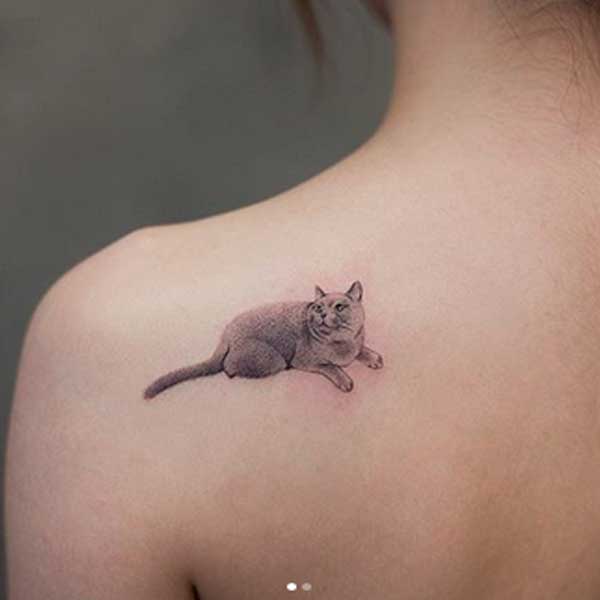 Credit: newtattoo_akiwong
29
dzo_lama
Instagram: dzo_lama
Asia, who wanted to be a jeweler, then a director, but eventually became a tattoo artist. Flowers, nature, and animals all seem to be her specialty.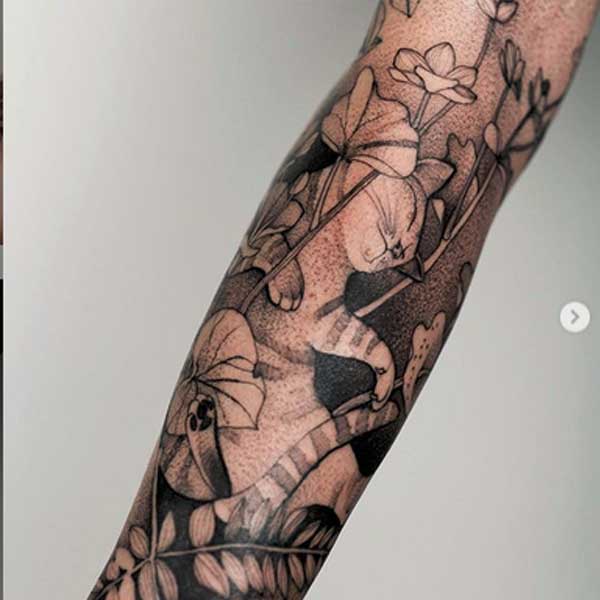 Credit: dzo_lama
30
Sku Plux
Instagram: skuplux
The artist has mastered the art of vibrant watercolorus. His designs and portraits look unbelievable and stunning. Check out skuplux on Instagram.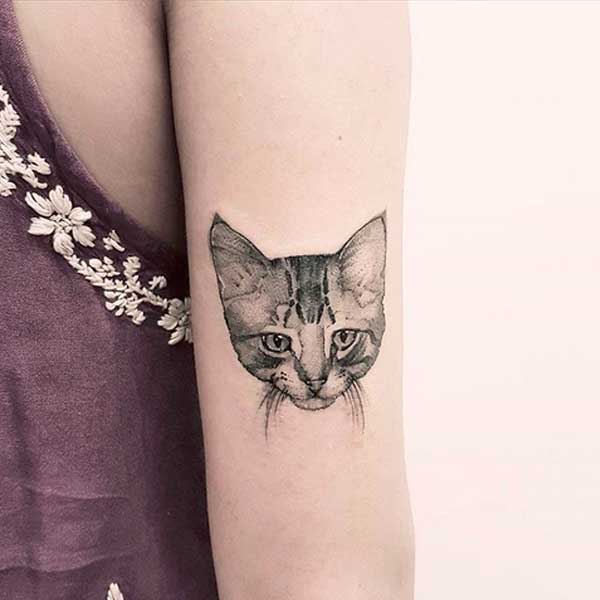 Credit: skuplux
31
Luca Font
Instagram: lucafont
Italian tattoo artist Luca Font has mastered the mixing of organic forms, abstractions and basic colours. He has named his style "synthesis"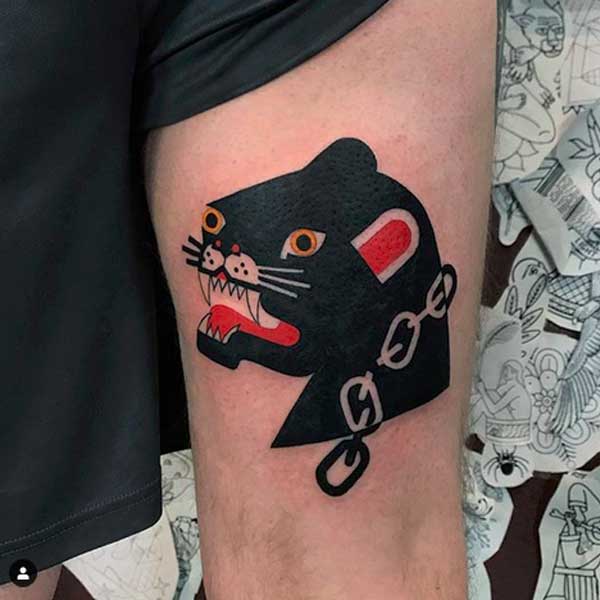 Credit: lucafont
32
K U B R I C K H O
Instagram: kubrickgood
A tattoo artist from Taiwan, whose designs are inspired by classical oriental art. Her tattoos are loved by women from all over the world and are perfectly worn with jewelry or accessories. When we say "female tattoo artist" we mean kubrickgood.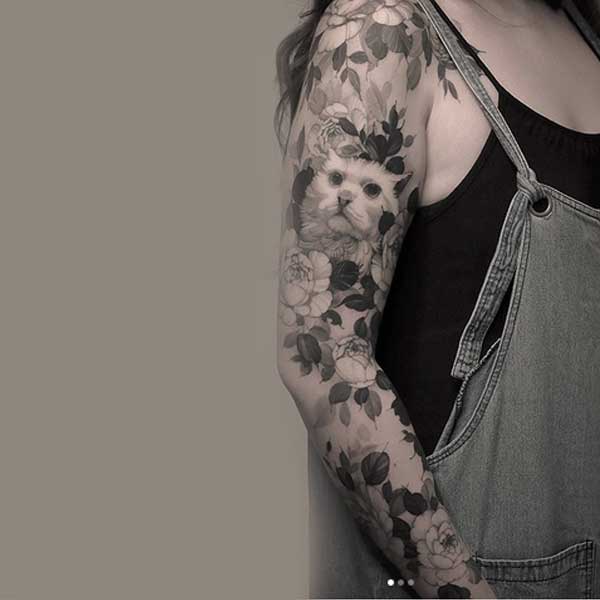 Credit: kubrickgood
33
VINNI MATTOS TATTOO
Instagram: vinnitattoo
Brazilian artist who inks new school realistic tattoos. We cannot get over the vibrant colours, as well as the gorgeous and totally original designs.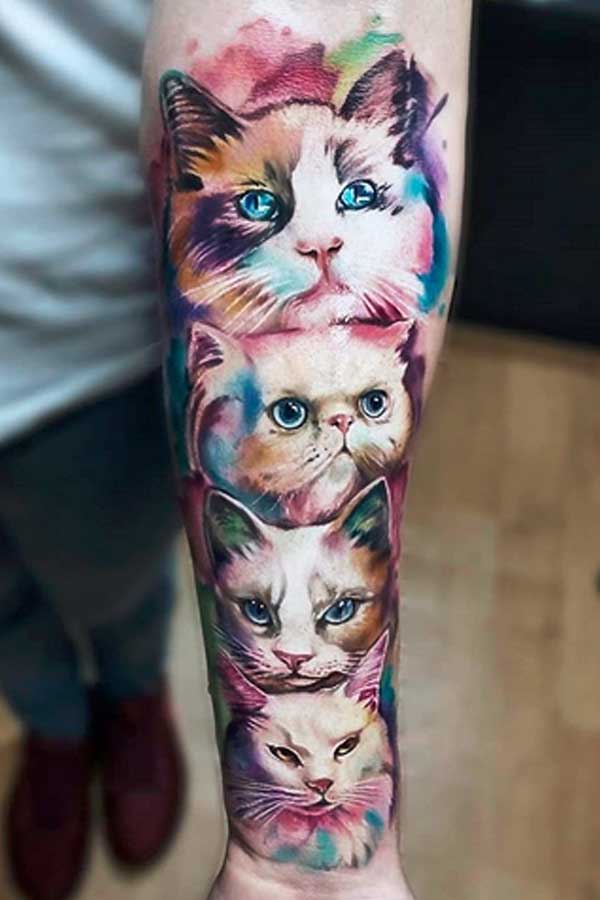 Credit: vinnitattoo
34
Juan David Rendón
Instagram: davidmention
Another master of neotraditional style, and we are sure he is unstoppable. If you want a unique tattoo that fits your personality, visit his account.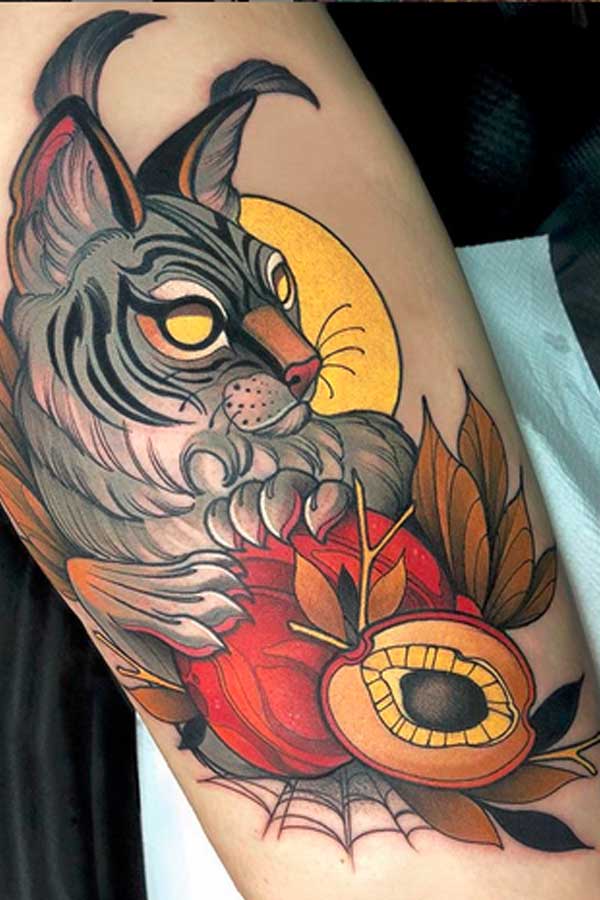 Credit: davidmention
35
Duda Lozano
Pinterest: dudalozanotattoo
An outstanding artist who has created his own style: embroidery patch tattoos. Life is too short not to be embroidered.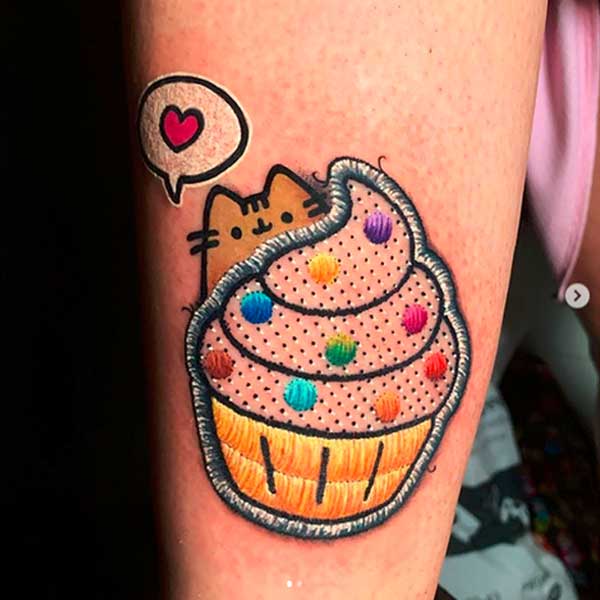 Credit: dudalozanotattoo
36
CATTOOER
Instagram: iris_lys
If you are searching for endless cat tattoo ideas, look no further. She is probably the most desired artist for her cat tattoos. Her clients like designs for clean lines and illustrative style. If you want outstanding cat tattoos or want to incorporate your cat into tattoos, book the visit right now.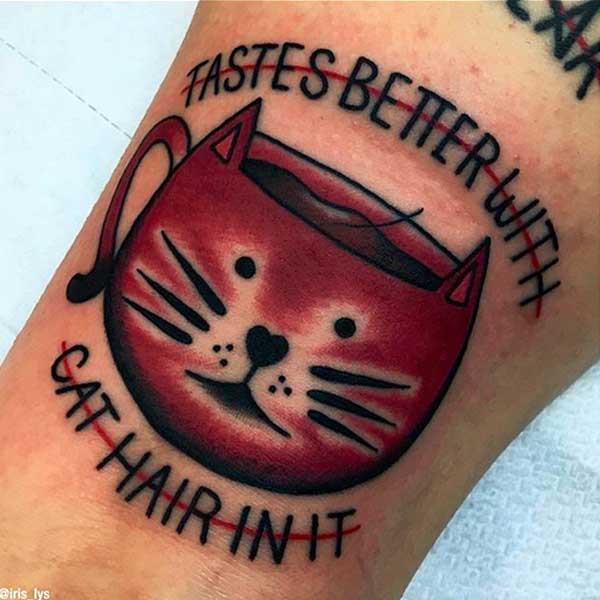 Credit: iris_lys
37
Ralf Nonnweiler
Instagram: ralfnonnweilerta2
Ralf Nonnweiler, Germany-based tattoo artist, is a master of realistic portraits. If you are looking for a portrait of your kitty or dog, he can ink everything that will look like a photo.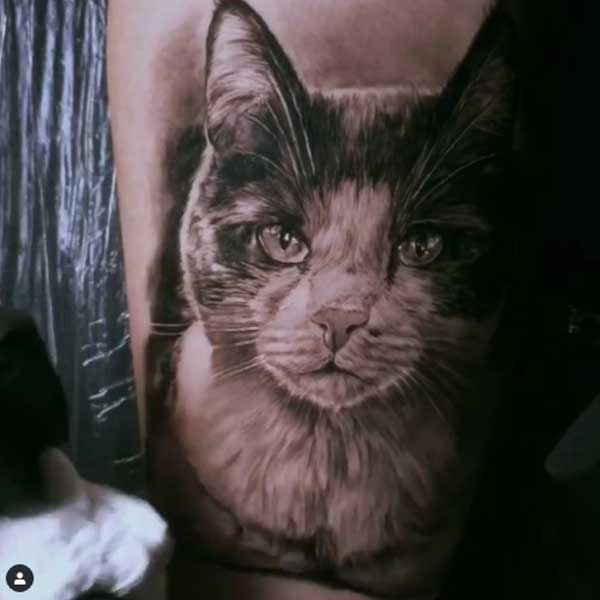 Credit: ralfnonnweilerta2
38
Carly Kawaii Tattooist
Instagram: carly.kawaii
Thanks to Carly Kroll and her bright neo tattoo our world has been getting brighter. Being one of the most talented Kawaii tattoo artists, she works with vegan ink and brings bright colours into your life.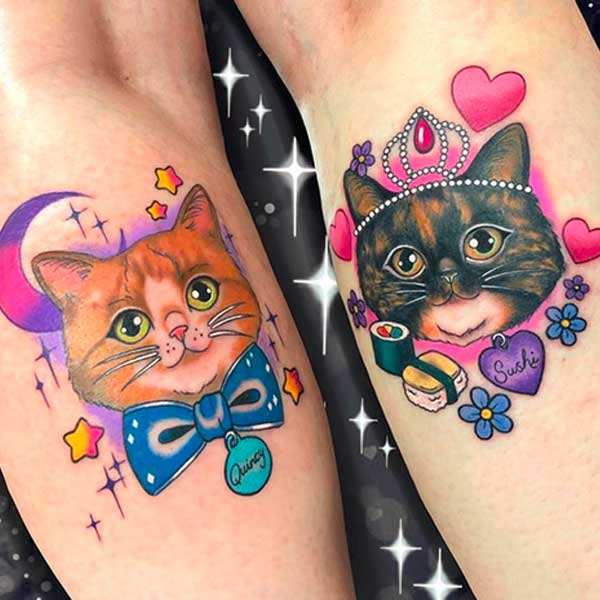 Credit: carly.kawaii
39
Deborah Genchi
Instagram: debrartist
She has a fantastic and stand –out style, and all her designs are polished and charming.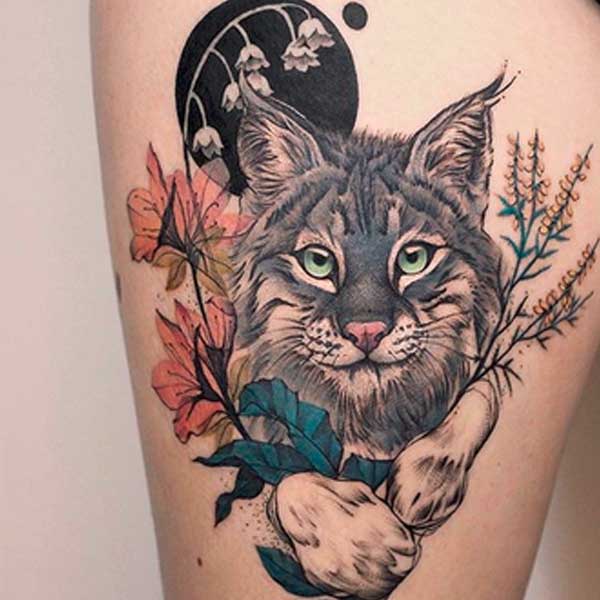 Credit: debrartist
40
Aleksandra Kozubska
Instagram: kozubskaola
Poland-based artist that provides something fresh to the tattoo scene. She does more than sketching, Ola creates something beautiful that you want to follow and admire.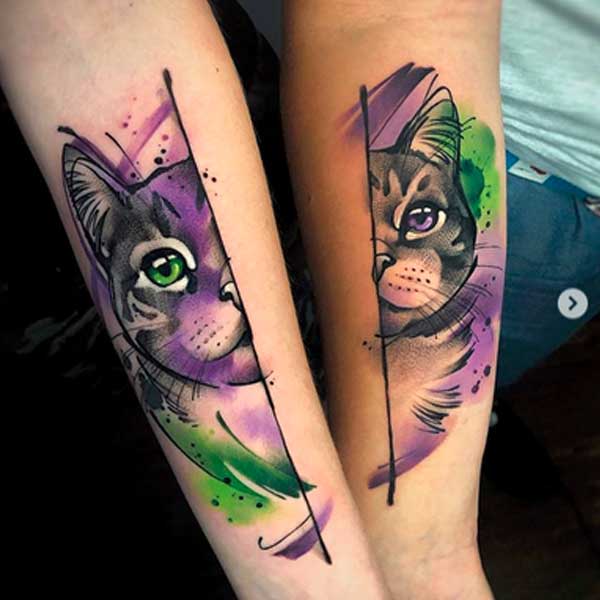 Credit: kozubskaola
41
Tatu Moscow
Instagram: natsi_tattoo
Nataly is Russian tattoo artist who has shaken off traditions of watercolour tattoos to create her own style and provide something new and fresh. It's impossible not to fall in love with Nataly and her designs.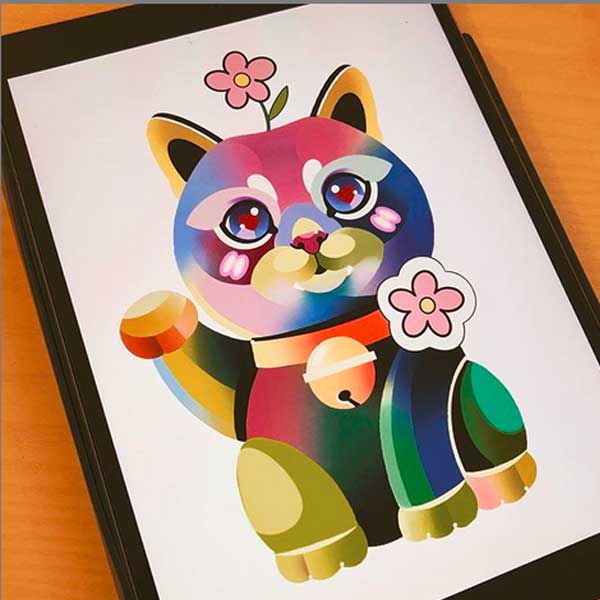 Credit: natsi_tattoo
42
zzizziboy
Instagram: zzizziboy
Mind blowing minimalist tattoos that are full of life.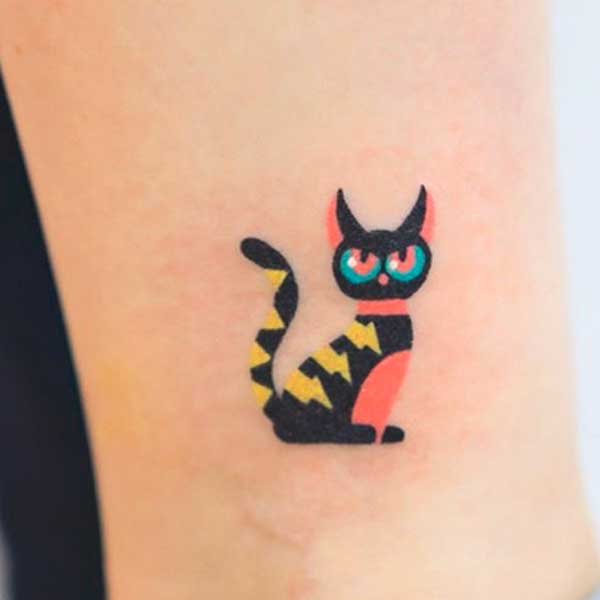 Credit: zzizziboy
43
Brentgoudie
Instagram: brentgoudie
If you are a fan of modern animation and can't imagine your life without Disney heroes, look at his portfolio.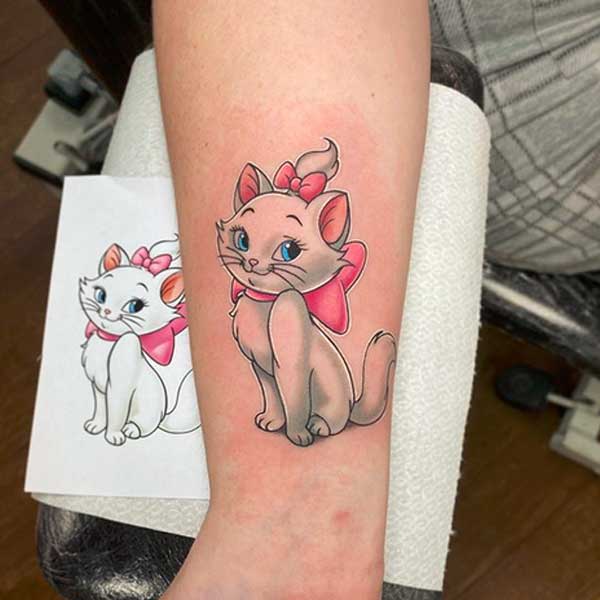 Credit: brentgoudie
44
Nika
Instagram: nikaveratattoo
The artist has proved that she can create any tattoo you are dreaming up.
Credit: nikaveratattoo
45
Suflanda
Instagram: suflanda
Susanne enjoys tattooing mainly animals but can also ink other subjects. If you want to spend a few hours with the artist who wonders about animals emotions before she chooses them for her pictures , visit her account.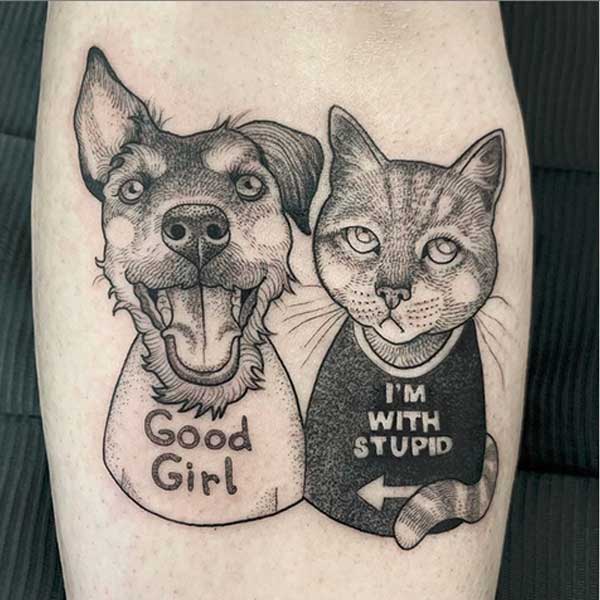 Credit: suflanda
46
LUCA TESTADIFERRO
Instagram: lucatestadiferro
Italian tattoo artist who inks fantastic tattoos in a sketchbook style inspired by pop culture.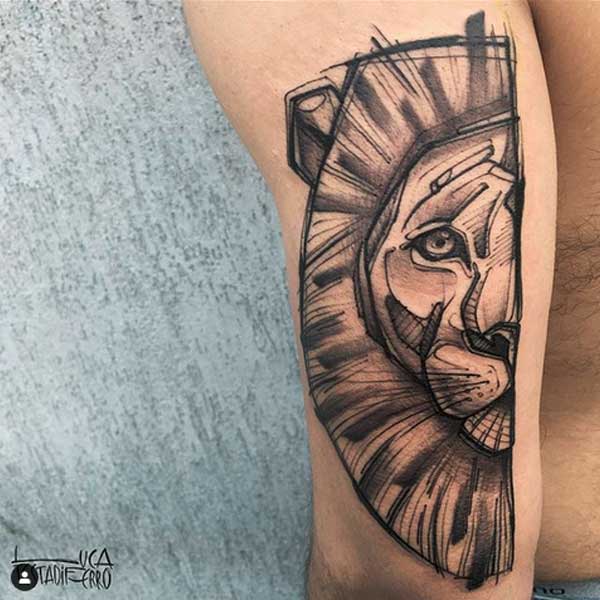 Credit: lucatestadiferro
47
Violeta Arús
Instagram: violeta.arus
Minimalistic and extraordinary surrealistic tattoos created by a Spanish tattoo artist from Madrid who has mastered the art of blending motifs such as animals, humans, or nature. Perfectly executed linea and dot work. Enjoy her portfolio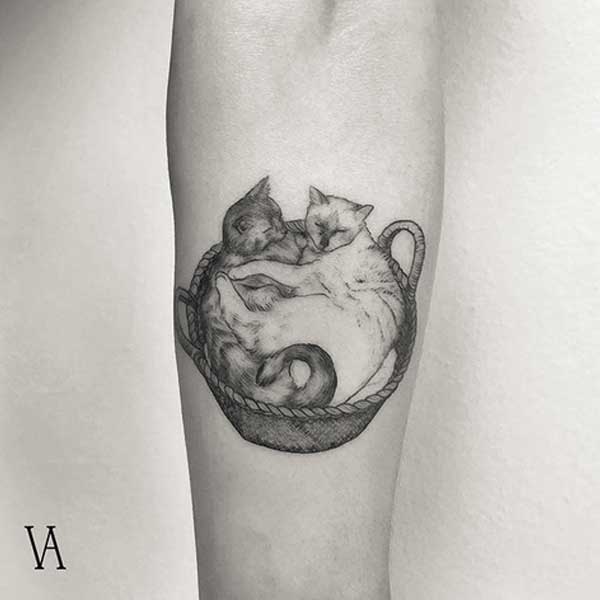 Credit: violeta.arus