Tofu cat litter is a relatively new and innovative type of cat litter that has gained popularity among environmentally conscious cat owners. It is made from tofu, also known as bean curd, which is a protein-rich food derived from soybeans. Specifically, tofu litter is produced from the soybean pulp leftover after pressing soymilk to make tofu. This soy pulp byproduct is dried and shaped into granules or pellets to create an eco-friendly and biodegradable alternative to traditional clay or silica gel-based cat litters.
The reuse of this soybean pulp waste gives tofu litter added environmental benefits over other types that require dedicated mining or manufacturing. This tofu byproduct is used to create a litter that is sustainable as well as effective for feline waste absorption and odor control.
One of the primary advantages of tofu cat litter is its sustainability. Unlike traditional litters, which are often mined or produced through resource-intensive processes, tofu cat litter is typically made from renewable and biodegradable materials. This makes it an appealing choice for those seeking eco-friendly alternatives. Tofu litter is biodegradable, meaning it can break down through natural biological processes. The components of tofu litter can be safely returned to the earth through composting or biodegradation in landfills.
By contrast, traditional clay litters contain non-biodegradable bentonite clay that will persist in landfills. The natural soybean pulp in tofu litter contains microorganisms that help it decompose, allowing it to break down much more rapidly without harming the environment. This biodegradability makes tofu litter a more sustainable option.
The litter is known for its low-dust properties compared to traditional clay litter. When cats dig and move around in their litter box, clay litters tend to create fine particulates that become airborne dust. This clay dust can aggravate respiratory conditions and allergies in sensitive individuals, both feline and human. Tofu litter's texture results in less dust dispersal throughout the home. The smooth, granular soybean pulp pieces do not tend to crumble or release heavy dust. Having lower airborne dust levels can help maintain better air quality and reduce allergy triggers. For pet owners or cats with asthma or allergies, a low-dust litter like tofu can create a healthier living environment.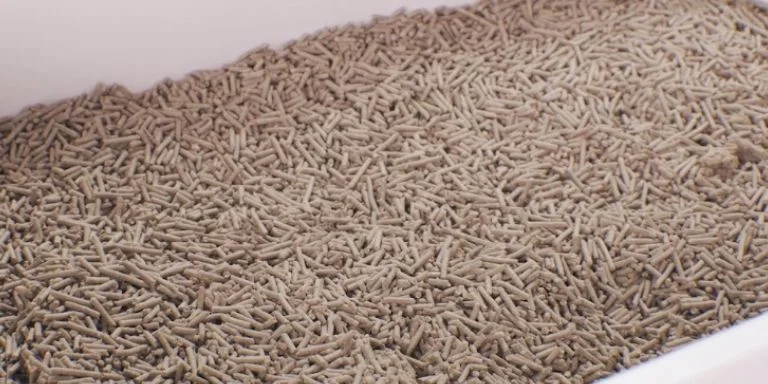 Additionally, tofu cat litter is prized for its lightweight and low-tracking properties compared to clay litter. Tofu litter's granules are much lighter in weight than dense clay litter. The smooth texture also makes it less likely to stick to cat paws and be tracked out of the litter box. Clay litter's heavier weight and rougher texture lead to more pieces getting lodged in cat paws and tracked around the house. With lightweight tofu litter, cats tend to exit the litter box cleaner, keeping more mess contained.
The low trackable quality helps maintain cleaner floors and prevent litter being spread throughout the home. For owners who prioritize minimal mess and easier cleanup, tofu litter's characteristics are very advantageous over regular clay options when it comes to tracking.
A new beginning
When moving your cat from traditional clay litter to a tofu-based litter, it's important to gradually introduce the new substrate over time. This allows your cat to adjust to the new texture and prevent outright rejection of the litter.
First, start by slowly mixing a small amount of tofu litter in with the old clay litter, using a ratio of about 25% tofu and 75% clay. Over the course of 2-3 weeks, gradually increase the ratio of tofu litter until only tofu remains.
During this transition, be sure to keep litter boxes extremely clean and scoop daily. The change in texture may result in loose stools at first, so frequent waste removal is key. Also expect an adjustment period of 1-2 weeks for your cat to become fully accustomed to the new litter. Have patience and try different tofu litter brands if your cat seems resistant. With time, most cats adapt well to tofu litters.
Final thoughts
While tofu cat litter has its advantages, it's important to note that it may not be suitable for all cats. Some cats are picky about the texture and scent of their litter, so it's essential to monitor your cat's reaction when transitioning to a new type of litter. Overall, this cat litter represents a sustainable and biodegradable option for cat owners looking to reduce their environmental footprint while providing a comfortable and efficient solution for their pets.
FAQ
Is tofu cat litter really environmentally friendly and biodegradable?
Since it is primarily made from natural, plant-based materials (tofu), it can break down more easily in landfills compared to traditional clay-based litters. It's often marketed as biodegradable and environmentally friendly.
Does it produce less dust than clay-based litters?
Tofu litters are often praised for producing less dust than clay-based alternatives. The reduced dust can be beneficial for both cats and their owners, as it reduces the potential for respiratory issues and keeps the litter area cleaner.
How effective is tofu cat litter at controlling odors?
Tofu litters are often formulated to provide effective odor control, similar to or even better than traditional litters. This can help maintain a fresh and odor-free environment in your home. The cat litter controls odors primarily through its absorbent and clumping properties. When your cat urinates, the litter quickly absorbs the moisture, trapping it within the litter particles. This absorption helps prevent the urine from spreading and emitting odors into the surrounding air. When the litter absorbs moisture, it forms tight and solid clumps. These clumps are easy to scoop out, and by removing the soiled litter, you're also removing the source of odor.
Does it clump like traditional litters?
The litter is often designed to clump when it comes into contact with moisture, which makes it easier to scoop out clumps and keep the rest of the litter clean. This clumping ability is a significant advantage for cat owners.
Is tofu litter safe if ingested by cats?
It is generally considered safe for cats if ingested in small amounts. However, it's not intended to be consumed, and you should take precautions to prevent your cat from eating the litter. Tofu litter is typically made from natural, plant-based ingredients like soybean byproducts. These ingredients are generally non-toxic. However, the litter may contain additives or natural deodorizers, so it's essential to check the product's label for any specific information about its safety.
If your cat consistently eats the litter, this could lead to digestive issues, such as gastrointestinal upset or blockages.
YOU MIGHT BE INTERESTED IN
Best Tofu Cat Litters: Reviews of the Best Soy-Based Litters
How to Keep My Dog Out of the Litter Box with Door Buddy