It's a problem as old as time – keeping dogs out of litter box seems to be an issue that all furparents face. There's nothing worse than coming home to a floor scattered with kitty Roca treats and seeing your cat disheveled from having their privacy interrupted. Sound familiar? We thought so!
Nowadays, there are plenty of pet-proofing solutions. From expensive baby gates to complicated cat doors, pet owners have a lot of options to choose from. However, finding a dog proof cat door to keep dogs out of litter box doesn't have to be expensive or require cutting huge holes in your doors.
So, what's the answer? We'd like to introduce you to Door Buddy. Door Buddy is an adjustable door strap that keeps your nosy dog from getting into the litter box. When it comes to cat door alternatives, Door Buddy is as good as it gets!

The secret to keeping dogs out of a litter box
Before diving into how Door Buddy can answer your dog proofing needs, the best way to keep dog out of litter box is by understanding their fascination in the first place. Even though we may find kitty litter snacking unappetizing, there's a reason our dogs can't seem to get enough.
The truth is, dogs are natural scavengers. They love to eat up scraps and pieces wherever they can find them! Unfortunately, this is often the cat litter. Cat food does tend to appeal to our dogs' senses which explains the snacking. On top of this, your dog might find comfort in the smell of your cat that they find in the poop. Gross but true!
Now that we have an understanding of the science behind it, handling how to keep dog away from cat litter becomes much easier.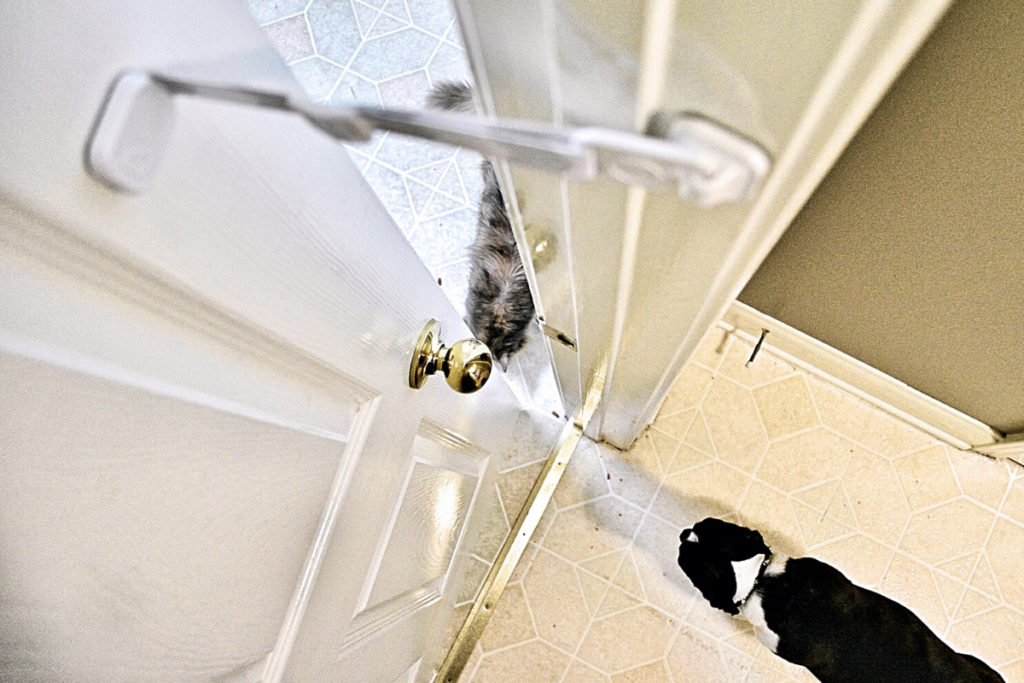 All about Door Buddy
If you're looking for a cat door without cutting door, Door Buddy is the answer! This door stopper for pets installs in seconds without any tools or renovations needed. Just stick on the strap to your door and your cat's litter box is protected in an instant.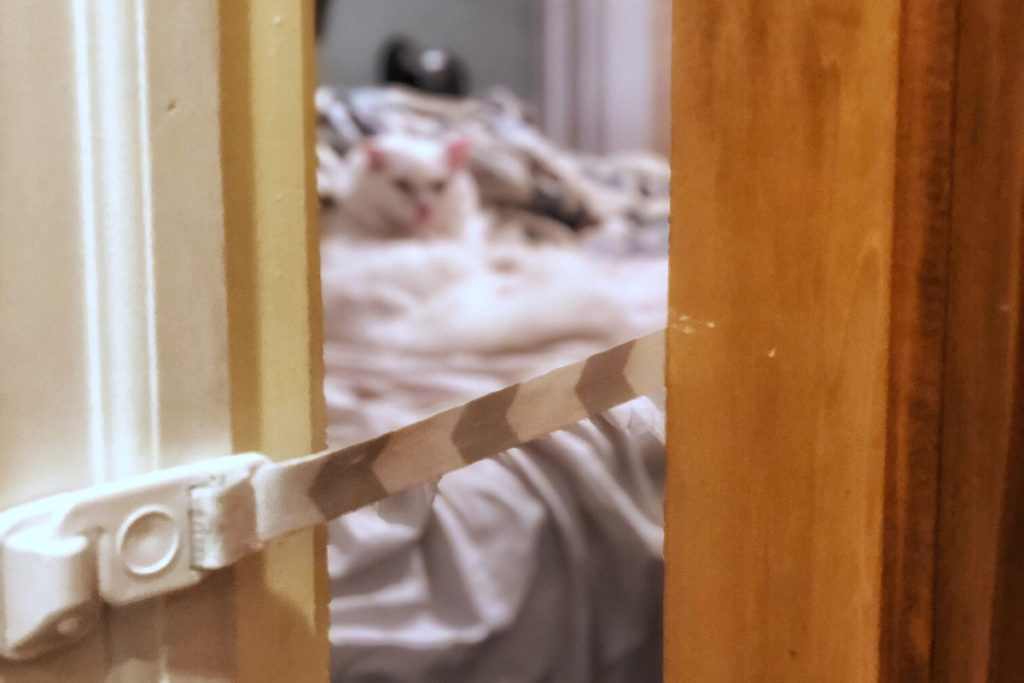 Here's how Door Buddy works. The strap acts as a buffer between your cat's litter box, the door, and your dog. It allows the door to open just wide enough so your cat can easily enter and exit the room with the litter box in it as they need. At the same time, the opening is small enough to keep your dog or even toddlers out of the room. When us owners want to enter the room, it takes a simple unlock of the door latch. This hook mechanism is incredibly simple to maneuver, unlike a complicated baby gate.
Door Buddy offers its customers two product options. The first being the door strap which is available on Amazon here. The second includes the door strap and a foam door stopper. The door stopper is a great way to keep the door from slamming on any tails or fingers. You can buy the combo product via Amazon too.

FAQ
How does Door Buddy work?
Through the use of a strap and adhesives, Door Buddy can give back your cat's space instantly. This door stopper for pets works by being attached to your door through the use of its adhesives and then can be adjusted to suit the width of your cat. For owner access, the latch hooks and unhooks for a quick and easy entry.

Does Door Buddy work for small/big dogs?
This will entirely depend on the size of your cat. For smaller dogs, if they're smaller than your cat, then Door Buddy may not work very well. However, it's important to note that cats can creep into smaller spaces than dogs. For this reason, we'd recommend judging the space by your pets' head sizes.
On the other hand, Door Buddy will work perfectly for larger dogs when properly installed and adjusted to the right distance.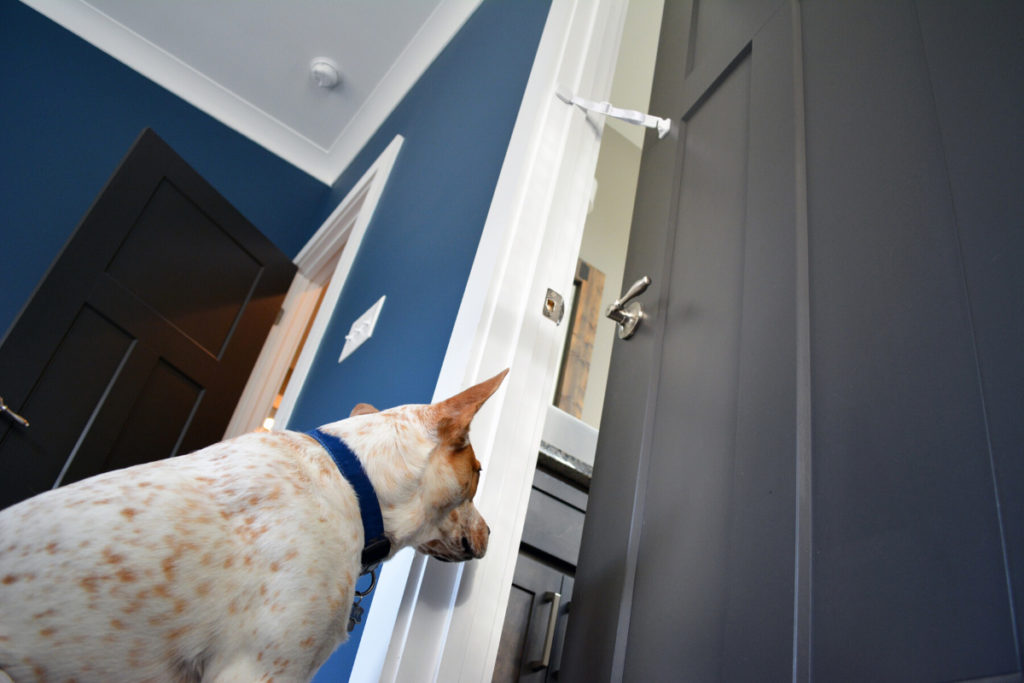 Where can I buy Door Buddy?
Door Buddy is available on Amazon or it can be bought directly from their site.

Does the installation process need any tools?
No! That's the best part about Door Buddy. All it takes it to bond the adhesives to your door frame and door, and you're good to go.

Can Door Buddy work for kids?
Yes. If you have a curious toddler who can't seem to stay away from your cat's personal space, Door Buddy works wonders. For older kids, just place the door strap slightly higher where it's out of reach.

YOU MIGHT BE INTERESTED IN
Best Bassinets For Cat Owners



*FTC Disclosure: This page contains Amazon Associate links. If you make a purchase after clicking on the links, Meowpassion will get a small commission at no extra cost to you. We are dedicated to finding the coolest products for cats, cat owners and lovers, and we never recommend anything that we don't love or trust.