Cats feel comfortable in known surroundings and enjoy their routine. A new member in a family, new job schedule of the owner,  a house or apartment renovation all these and other changes might be the reasons as to why your feline friend will be stressed.
Around the winter holidays everybody is in a hurry, door bells ring, and new people and smells appear in the house. Every holiday time is very stressful for pets and particularly for cats, so plan your time to give your feline friend a sense of security during this amazing time.

Christmas cat dangers
Gifts
When members of your family visit your home with lots of presents, suggest not forgetting about your cat. Nowadays, there is an amazing choice of products for pets: interactive and classical toys, backpacks, goodies, food, and others.
Many cat owners see joy in decorating presents, although it might be time-consuming.  While you wish to amaze your loved ones, avoid leaving presents with strings, ribbons, and small objects when your kitty is somewhere near.

Decorations
Keep a close eye on decorations, as cats particularly like tinsel, ribbons and baubles. In the worst case, a cat owner will need to visit a vet and have surgical intervention because your cat chewed on  a few artificial pieces. Try to avoid having particularly small glass ornaments low to the ground.
Candles are attractive not only for people but also for cats.  However, kittens in particular may get too close to stay safe. Always keep an eye on your pet if they are in an area with candles.
Potpourri should also be kept out of your kitty's reach, particularly if you do not know what essential oils have been used in the composition.

Food
People enjoy having delicious food and desserts during holidays, and extra treat for your cat is not a bad thing. Make sure you avoid giving human food such as sweets, baked goods, raisins, chocolate and nuts to your cat as they are toxic to them. For more information check out:

Plants and flowers
There are plants and flowers that are very popular during the holiday season, and they look nice in every house. It's best to keep toxic plants and flowers such as holly, Christmas trees, poinsettias, amaryllis. and mistletoe out of your home. If you notice symptoms such as vomiting, diarrhea, difficulty breathing, or collapsing call your vet.

Decorative lighting and electrical cords
Who doesn't like decorative lighting? But for your cat it is only another toy to play with. If you plan to brighten up  your house, be sure that wires are out of your cat's reach.  Cats are often tempted to chew cables so always remember to unplug your decorations when leaving your home.

Houseguests and noise  
If you organise a party, think about safe and known places for your kitty. While singing and dancing is OK for you and your guests, how will your cat feel? Provide a comfortable and safe place where your pet can relax or hide. And the most important – your fluffy friend  must be safe and won't leave the house unnoticed while many guests are coming and going. Before the holidays make sure that your pet is microchipped.
It's also wise to inform your guests that you have a kitty because some guests can have allergies or have immune-related issues such as taking medicine or other diseases.
Be aware that not all cats are used to being around kids, and might react aggressively. In this situation, it's better to take care of everyone's comfort.
What should you do if your best friend or a family member will visit with their kitten or puppy?  You can politely explain that your senior cat needs a calm and peaceful time, or you can ask your friend to come a few days earlier to let the pets spend time together and to see how they acclimate.

Do not leave your cat alone
Cats appreciate knowing the schedule of their owners. However, during the holidays people can travel to their  parents or friends. Depending on how long you will be travelling, you need to prepare yourself and your kitty for the new circumstances. You will reed tips and recommendations at Leaving Your Cat Alone – For How Long?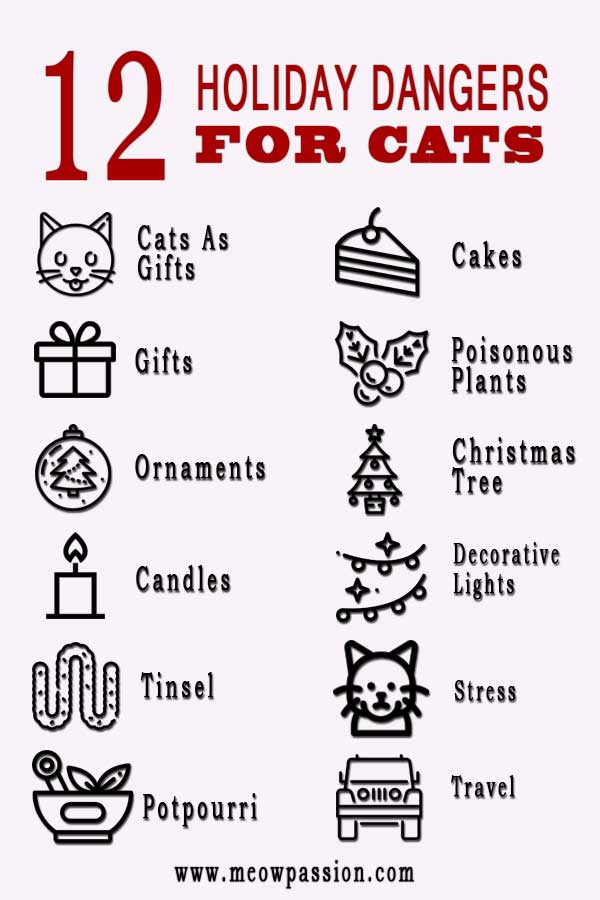 Keep Your Cat Safe at Christmas
Own safe place
Cats adore resting in their own safe places. If you have not bought a cat tree or a hammock yet, it's high time to do some shopping.  By climbing a cat tree, shelf, or any other high spot, your kitty will be observing their surroundings and return to you and your guests when he feels it's the right moment.  Some cats will prefer hiding places, so an under-table or under-chair hammock will not only save space in a room but will also be the perfect safe spot for your fluffy friend when your room will be full of guests. Remember not to force your cat from their hiding spots.

Stress relief and calming essential oils
Catnip is known to be the best and most natural stress relief for cats, particularly during the period that is filled with music and parties. Essential oils or blends of essential oils are another effective solution that works for cats. You need to introduce a cat to essential oils gradually and use only top quality products that are safe for pets.  You will find more information at doTERRA Essential Oils For Cats

Exercising to relax
Exercises and physical activities reduce stress in people. The same is true for pets. If you are the owner of a kitten, play with them for  5-10 minutes a few times daily. If your cat is an adult, offer 5 minute sessions with interactive toys twice during a day. Senior cats might not be willing to play at all but they will be happy with the attention they get from their owners.

Plan in advance
Everybody likes to be perfectly prepared for the holidays.  The same is true for cats and their safety. Check out what 24/7 vet clinic works in your area, and especially if you travel with your kitty or arrange for someone to take care of your cat while you are staying with your parents or friends.
Also find time to talk to your vet to be sure that you can safely travel with your pet and if it's your first trip how you need to prepare yourself and your 4-legged friend.
Fortunately, if you follow our recommendations and prepare yourself and your kitty, you will both enjoy the holiday celebrations.

Please note: this article has been provided only for informational purposes. If your cat is showing any signs of any disease, please contact your vet immediately.