Cats are not that much different from humans and love to relax in hammocks as many people do. A cat hammock is likely to become their favorite place where your furry friend will enjoy sleeping and relaxing. (Do you remember that cats are the world champions in sleeping?) In particular, cats who like hiding and observing views will be grateful to their owners for this cozy piece of furniture.
A cat hammock is an excellent way to manage space in any house or apartment, particularly if you manage a multi-cat or multi-pet household. As a rule, cats do not like to sleep right on the floor and prefer soft and comfortable surfaces such as a table, chair or sofa.
In some cases, this might be uncomfortable for owners and guests, who will be unsure how to behave with a kitty. A cat hammock is a perfect solution, as a cat does not need to compete for a place to relax and has their own cozy place, and an owner or a guest can also relax and enjoy being close to a cat.
Some cat owners, particularly of cats with long hair, might not be happy to find cat fur on their clothes five minutes before leaving their apartment or house. By having a cat hammock, a pet owner will solve that easily, as this soft and comfortable swinging bed will replace an owner's jumper or jacket, that a cat used to like. More than that, it is very easy to take care of a hammock, to clean or wash it.
A cat hammock is a very practical piece of furniture. As a rule, it is made of practical and very dense material that can stretch when the animal climbs into it. Even if you have a big cat such as a Maine Coon, you will find a hammock of suitable size. Considering what the best cat hammock to buy for your feline friend is, you should keep in mind your cat's personality and places where your pet likes to relax.
A cat hammock plays a positive role in the proper behaviour of a cat. As we already have discussed, every responsible pet owner should provide their pet with all necessary resources, and a pet's own place is one of them. A cat hammock is an amazing alternative to a cat's house or a bed, comfortable and cozy and can even be placed on the balcony or in the garden. Cat hammocks are safe and can be placed at any height. A kitty knows that it is their own and safe place, where she or he can hide or relax.
Cat hammocks promote healthy sleep, as thanks to this piece of furniture a cat, who can sleep in almost any position, can relax in the most natural position from an anatomical point of view. When a pet decides to change positions during their sleep at the middle of the night, he or she unwittingly swings the hammock and that gets a cat back to sleep.
Cat hammocks for windows are one of the most popular types, and they are mounted directly to the window. It is an ideal piece of furniture for cats who love observing nature with a view outside. Hammocks for windows can support even the biggest cats. However, we would recommend checking the maximum allowed pet weight in a shop or the recommendations of a manufacturer. Here is our review of best cat perches.
Cat trees with a hammock is an ideal option for every cat, particularly an active one. Once your kitty is tired after active play, they can rest in the hammock before another play session. Cat trees with a few hammocks will ideally satisfy the needs of cats in multi-pet households and will let cats live in harmony and not need to compete for resources.
Hanging cat hammocks can be small or large, made from different materials and be in different designs, that ideally fit your style. Cats particulalry like hanging hammocks, as animals love to be off the ground and observe surroundings.
Cat wall hammocks save place and let the owner design superhighways (highways are the concept that is introduced by Jackson Galaxy, and, ideally, allow a cat navigates around a room without touching the floor) Cat wall hammocks are mounted directly to the wall, and are also the ideal solution in multi-cat households.
A cat chair hammock is a cozy option that works best in case of a wooden chair. Your cat will like it.
Portable cat hammock is a flexible solution, as an owner can open it at any time and in any place. There are even travel versions that can be mounted to a car window and will let your kitty travel comfortably.
Take a look at a wonderful selection of cat hammocks from both famous and not-so-famous brands that cat lovers all over the world enjoy.
Cat hammocks by HatataPets
Crafted with love and meticulous attention to detail, this hammock by HatataPets is tailored specifically for the discerning cat owner who values their feline well-being. The pet-friendly materials used to make this hammock provide a soft and comfortable surface for your pet. Materials are strong and durable, ensuring that the hammock can withstand daily usage and regular washing.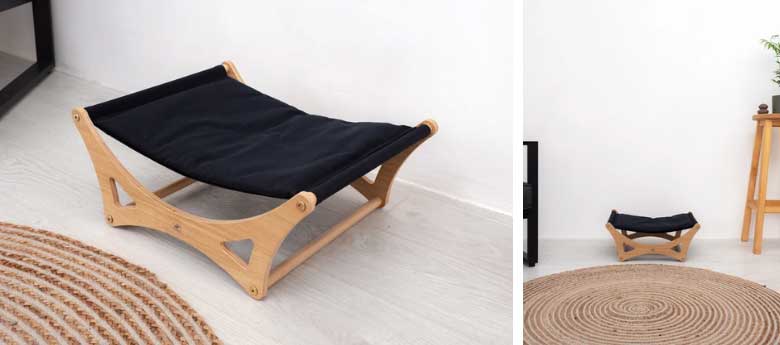 This stylish cat hammock is designed with both aesthetics and functionality in mind, blending in seamlessly with any decor, allowing the bed to be a subtle addition to any room. Your kitty can enjoy a safe and secure lounging spot which installation is quick, simple, and a matter of minutes.
Cat hammock by IfCatsCanFly
The cat bed with a pillow by IfCatsCanFl is the perfect blend of comfort, style, and functionality.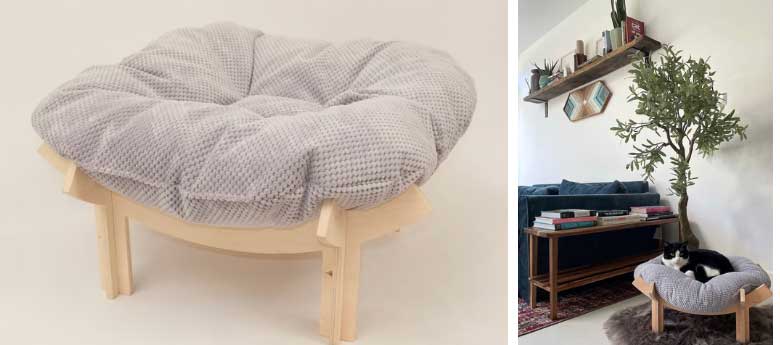 The cloud-like hammock provides enough space to stretch and find the ideal sleeping position, complemented by the timeless design and extra pillow support allowing your kitty to find a comfortable sleeping position. Cleaning and maintaining of the hammock is also effortless.
The cat bed with pillow is unique for several reasons. Its Japanese pagoda-inspired design fits many interiors and combines style and harmony. The big and fluffy pillow provides comfort during every nap. We know from experience that in addition to resting, it is also a pleasant place to play with another cat or owner. The bed is made of plywood and available in several color options. It is designed to make the cat happy and give the owner an original decoration for the interior

comment from the creator
Kitty hammock by CatPlayFurniture
This ergonomic cat hammock offers unique style and optimal support for your cat. Its curved shape follows your cat's natural contours and is crafted from soft yet durable fabrics that are gentle to the touch. With its sturdy construction, it will provide lasting comfort and security that both you and your cat can enjoy.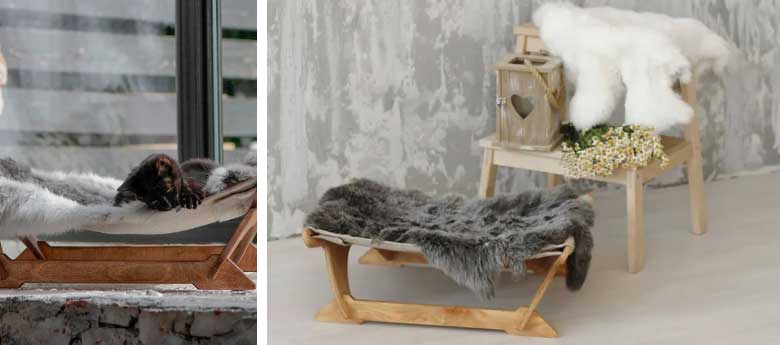 This simple and stable design allows for assembly in just a few minutes, making it the new favorite pastime of your cat (or small dog). Available in a variety of colors, pet owners can personalize a pet's bed to match any home décor. And with worldwide shipping, anytime can be nap time.
Cat hammock by RshPets
The cat hammock was designed not only to provide a comfortable and intimate space for cats but also to allow owners to easily interact with them. The cave was made from sustainable plywood, strong enough to hold even large cats. Putting the shelves together is a straightforward task that does not require any special skills.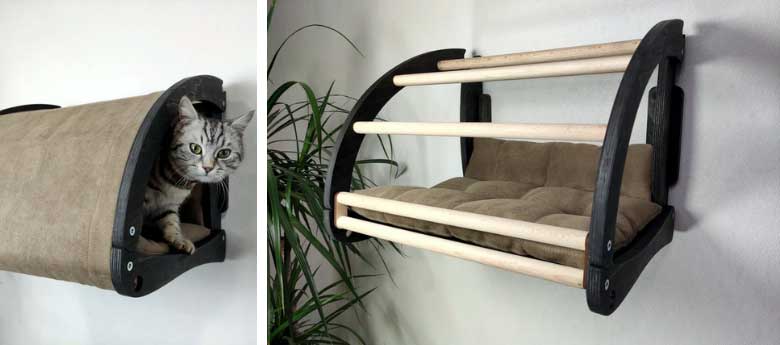 The hammock can be personalized with a furry friend's name.
Our wall-mounted cat hammock is our latest addition to the ECO collection, which is the perfect combination of sustainability, comfort and functionality.

Made from natural birch plywood and impregnated with environmentally friendly oil, our cat hammock provides maximum comfort and safety for your pet. The base of the hammock is made of sisal or jute cord, which is made from natural fibers, making our hammock even more eco-friendly.

There is also some uniqueness in the fact that due to the shape of the hammock (hanging fabric), it is a light and soft surface for the cat and the cat feels like on a cloud watching what is happening, that is, the cat is busy doing what he loves – watching.

comment from the creator
Cat wooden hammock by PetHavn
The cat hammock was carefully crafted with your kitty's comfort in mind. The swing was made from the highest quality wood and designed to provide a cozy place for your feline friend to relax and have a bit of fun.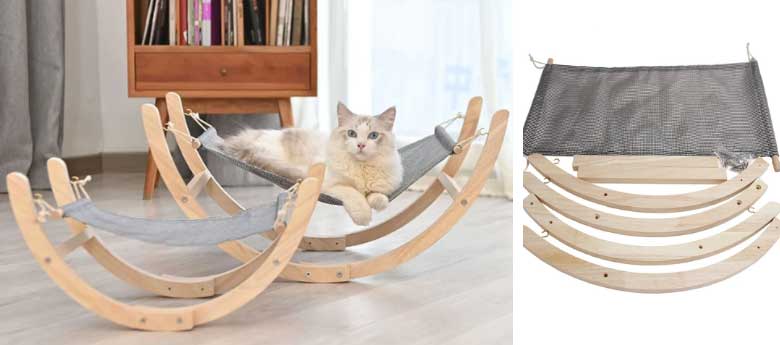 With its striking shape, this hammock is sure to be an eye-catching deco element in any cat enthusiast's home.
Cat hammock by CatPlayFurniture
A beautiful hammock by CatPlayFurniture is made from birch plywood and can be easily moved to any place you or your kitty wants. This piece of furniture is of great quality, and has already been shipped to many cat owners from around the world.
Hammock by JUNSPOW
The JUNSPOW cozy cat hammock is crafted from tough fabric that won't tear even after years of use. Its wide base gives cats a stable place to rest and observe their surroundings.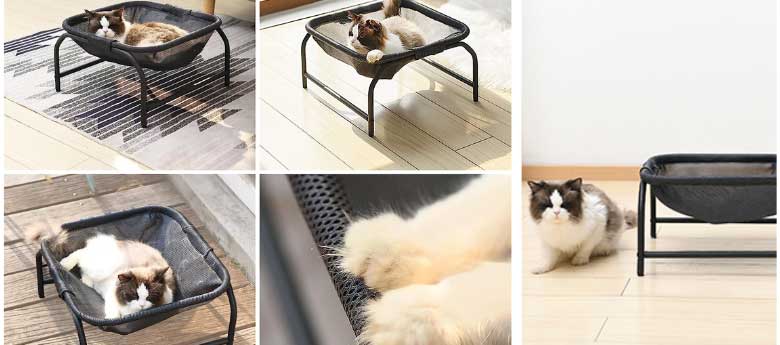 The hammock is suitable for pets of various sizes, is comfortable and durable.
Cat hammock by FUKUMARU
The FUKUMARU hammock was designed to provide an inviting and comfortable sleeping space for smaller pets. Produced from pet-friendly plywood, this cat hammock is stable and safe for your pet.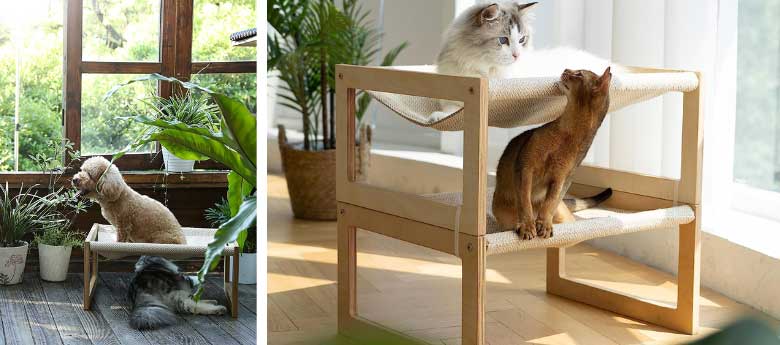 A luxurious place for your cat to relax and rest. A wonderful décor for any house that can be personalized. We know yoThe breathable fabric allows air to circulate and makes for effortless cleaning. Assembly is simple and requires minimal tools.
The lightweight design also makes it portable, allowing pet owners to take the hammock indoors or outdoors.The product helps to promote your pet's wellbeing by providing a cozy, safe atmosphere and a secure spot for restful sleep.
Cat wall hammock by CatastrophiCreations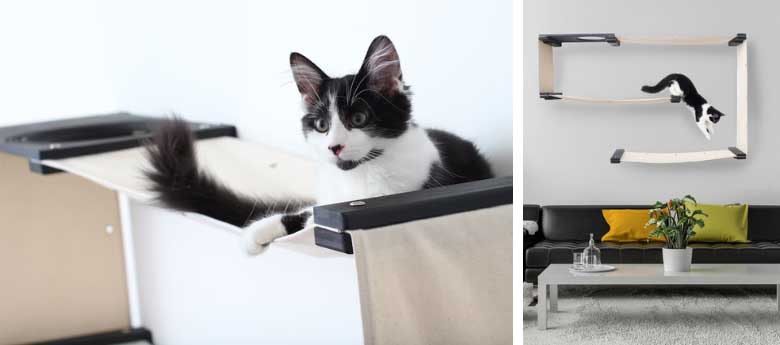 If you want to have more room in the house, this cat shelf combined with a hammock will be a perfect solution. CatastrophiCreations has designed it to stimulate your kitty's brain and body. This cat shelf is made of cotton and is ideal for 1-3 cats. Some cat owners said that even senior cats like jumping onto it.
Our cat furniture is wall-mounted, which evokes your cat's natural instincts to climb and explore. Each Hammock is weight tested to support up to 85 lbs. We use sustainable bamboo for our wooden components because it is a very durable and sleek alternative to hardwood. Cats around the world love their Catastrophic Creations.

comment from the creator
Cotton canvas cat hammock by CatastrophiCreations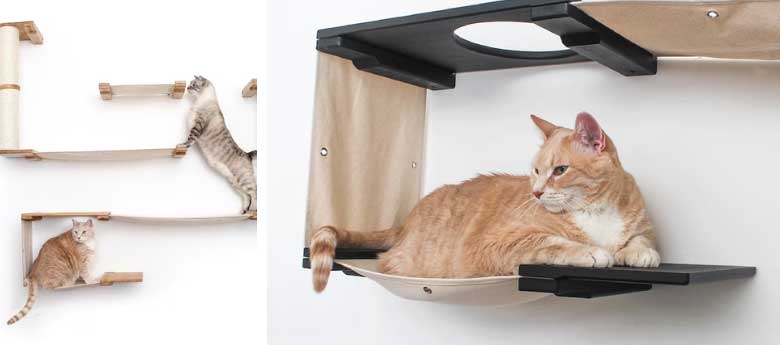 Another wall mounted solution with a hammock for your kitty by CatastrophiCreations that is perfect for multi-cat households. The complex includes several resting places, and many ways to enter and exit.
D+GARDEN cat hammock
The D+GARDEN cat hammock is crafted from natural rattan, giving it a classic look that blends seamlessly with any home decor. Offering incredible comfort and safety, the basket-style hammock features a wide opening for interaction and playtime with your cat while the detachable cushion adds an extra layer of coziness.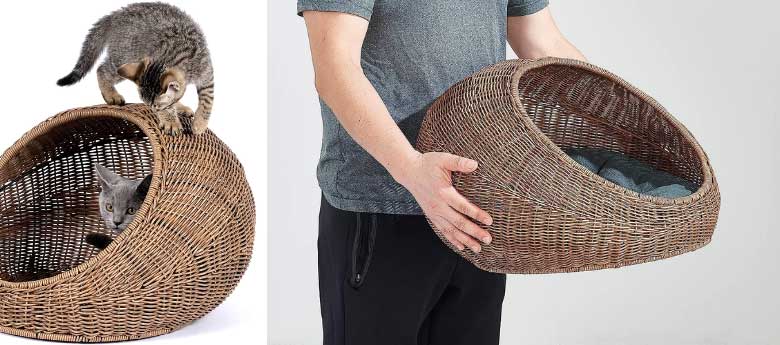 Perfectly sized for small to medium cats, this stylish hammmock is an ideal way to show your feline friend how much you care! Cleaning only take minutes, making it easy to keep your pet's favorite lounging spot looking great.
Cat hammock with a planter shelf by CatastrophiCreations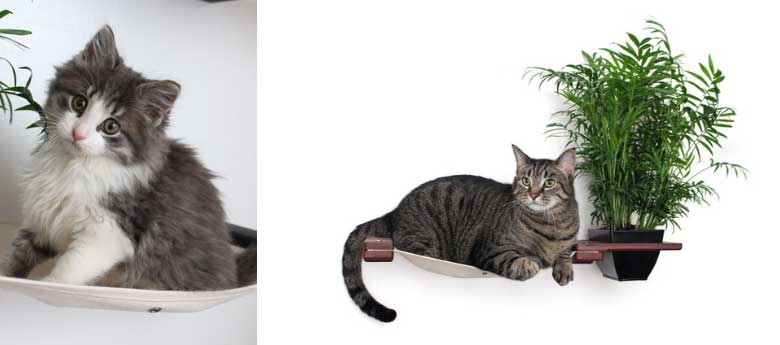 A cat hammock with a planter where cat owners can grow cat-friendly grass. This piece of furniture goes well with any room, and will become a favourite place of your pet.
Pet hammock by CatPlayFurniture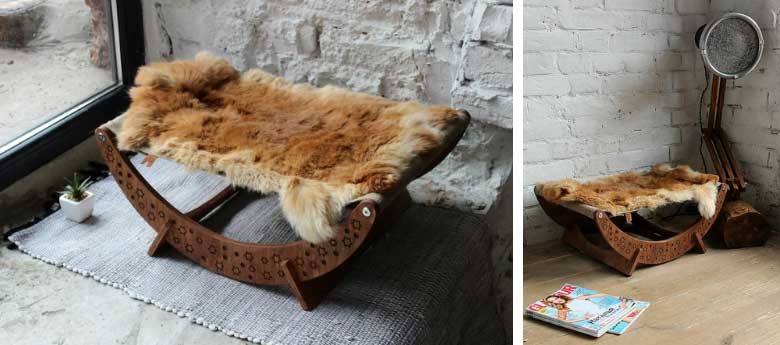 The elegant and sophisticated New Moon cat hammock can be assembled within 5 minutes, is strong and stable enough even for large cats. Not only does it look incredibly stylish, but it also serves as the perfect haven for your beloved pet to rest and relax.
In just a matter of minutes, pet owners can effortlessly assemble a cozy and inviting lounging spot for their feline companion. Crafted with both comfort and durability in mind, the hammock provides the ideal balance between functionality and aesthetic appeal. Its sturdy construction ensures long-lasting use, while the plush bedding offers a luxurious surface for your kitty to curl up and relax.
Cat hammock by AtelierSuburban
Cats are known to have a fondness for cozy, enclosed spaces. Cat parents may often find them curled up inside paper bags, cardboard boxes, or drawers.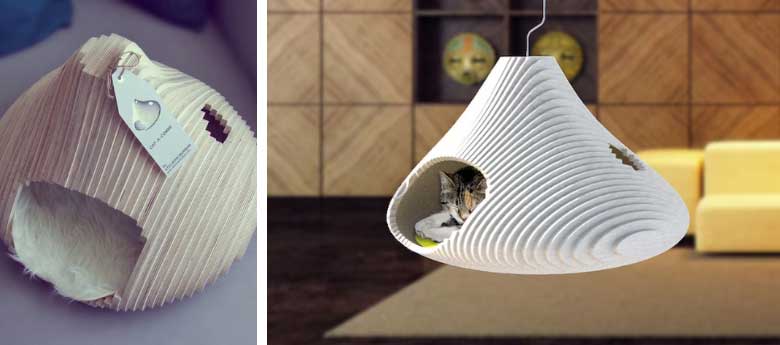 Introducing CAT-a-combe, a unique sculptural object designed to replicate a natural hide-out for your beloved feline. This innovative design aims to go beyond traditional pet furniture and seamlessly blend into any living space. The versatile hammock can be placed on the floor or from the ceiling, offering various options to suit your cat's preferences.
With CAT-a-combe, you can expect your cat to be so content and comfortable. Give your furry friend the ultimate gift of relaxation with this exquisite hammock.
Cat hammock by KlikKlakBlocks
This special hammock is made from sturdy birch plywood, ensuring durability and comfort for your furry friends. It's not just a bed; it's a place where they can sleep, play, and have lots of fun!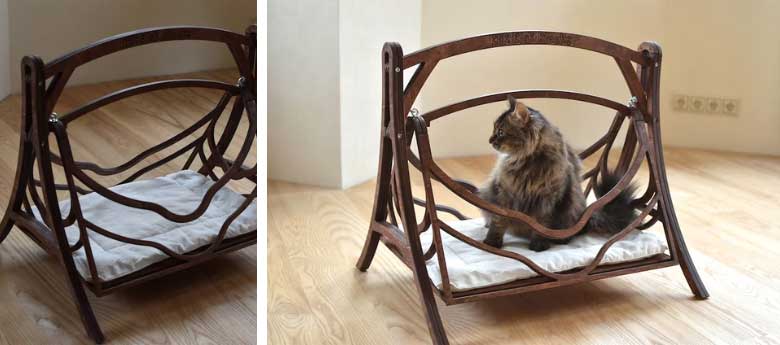 The wooden cat hammock, designed by Klik Klak Blocks, is a completely new and unique set consisting of a wooden swing frame and a wooden bed. You have the flexibility to use the cat bed separately by placing it on the floor or attaching it to the swing frame.
Rest assured, the wooden hammock has undergone weight testing to ensure its durability and safety for your furry companions.
Retro cat hammock by PurrFurPL
A retro box with hammock—a fantastic and stylish furniture piece for your furry friend! This box serves as a cat house, bedding, and cat bed all in one. It's packed with so many functions that we can't even begin to describe them all.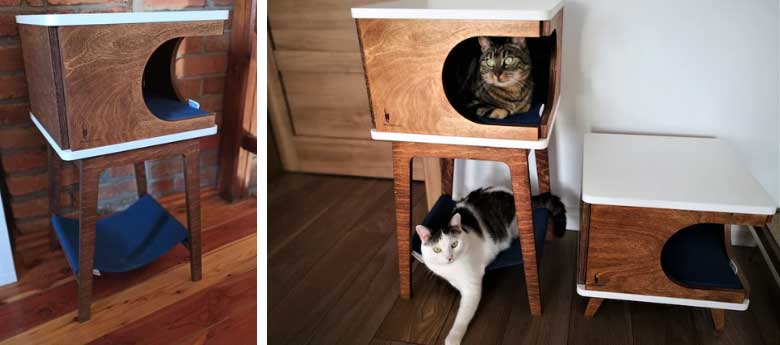 The retro box provides a cozy spot for your cat to play and sleep. It's designed to be a secure hiding place, perfect for those shy cats who need a little extra comfort. With its stylish design, high-quality materials, and rounded edges, this cat furniture ensures both safety and comfort.
If you are a happy parent of multi cat household, this hammock is the purrfect solution for you! It provides enough space for your fluffy balls to enjoy simultaneously.
Wooden cat hammock by CatPlayFurniture
Does your cat enjoy playing hide-and-seek? This unique pergola-inspired design creates an amazing resting and observation spot for your feline friend. The fabric on top can completely close the house, providing a cozy hiding place for your fluffy companion.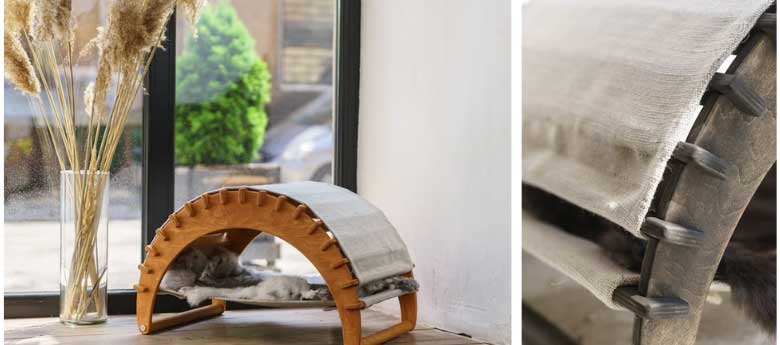 The construction of this cat house is stable and super easy to assemble. Cat owners won't have to worry about any complicated setup processes. It's hassle-free!
You can select the base color from teak, rosewood, or ebony. As for the lapin (fabric), you can choose from white, black, or gray.
Cat hammock by ScratchyThings
This cat hammock by ScratchyThings combines minimalist design and clean lines will get the heart of cat owners. The unique sleeping surface adjusts to your pet's weight, providing relief from uncomfortable pressure points.
The hammock is carefully crafted with a sturdy birch plywood frame. It features a removable hammock made of soft material that is machine washable at a gentle 30°C.
Wall cat hammock by ScratchyThings
Who does not like judging others from high above? The perfect wall hammock for cats for relaxation and observing the world from up high.
Handcrafted with care, the hammock is designed to expand your cat's personal space. It's particularly great for smaller homes and apartaments, as it saves valuable floor space. It fulfills your cat's natural climbing instincts by giving them their very own elevated spot. It's a safe haven where cats can feel secure while enjoying a great view of their surroundings.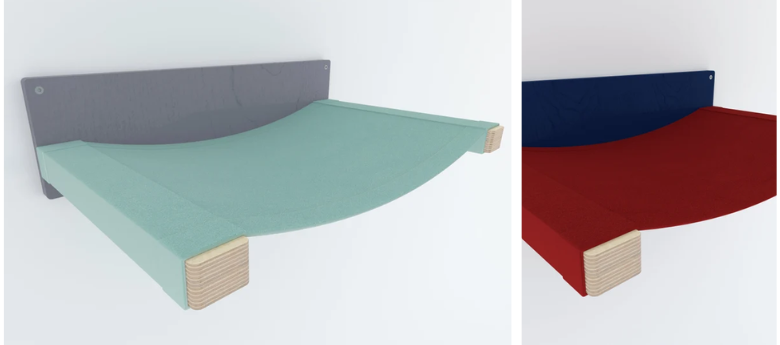 Ca owners can customize the hammock by choosing from a variety of colors. With solid construction, protected by multiple coats of non-toxic acrylic lacquer, you can trust in the durability and safety of this product.
Hammocks for cats: FAQ
What are the benefits of a cat hammock?
A cat hammock can provide several benefits for your feline friend. Here are some of the advantages: a) a cozy place for your fluffy ball that provides a secure spot for them to relax, nap, and observe their surroundings b) a space-efficient option c) pets often enjoy the gentle rocking motion of a hammock, which can help reduce anxiety d) entertainment function because furry friends can observe their surroundings from a different perspective that can satisfy their natural curiosity and provide mental stimulation.
Do cats like hammocks?
In conclusion, cat hammocks are the key to keeping your four-legged roommate happy. You don't need a lot of space to attach it to a wall or a window, hang it from a ceiling or some other elevated surface, or put it in a corner. Plus, they are easy to find or even if you are feeling particularly crafty one day, make it yourself.

Well… One (maybe even the most important) question remains. Do cats like hammocks? You would have to ask your cat. They're the ones who will be judging your purchase choices.
*FTC Disclosure: This page contains affiliate links. If you make a purchase after clicking on the links, Meowpassion will get a small commission at no extra cost to you. We are dedicated to finding the coolest products for cats, cat owners and lovers, and we never recommend anything that we don't love or trust.