Cats are smart observers who love watching the world around them, noting down every little detail in their tiny tiger skulls. Whether it be their human walking around the house with a long metal tube, big blobs of colour with round eyes in a water box, or other dark, floating blobs. Cats are also experts at choosing the best spot in the house where the sun hits just right and laying there for what seems like an eternity.
So-called "cat TV" provides your feline friend with entertainment, enrichment and eliminates boredom (in case you're at work or your cat's favourite fishing pole has disappeared – read more about toy rotation here).
We've reviewed the best cat window perches from across the web to determine which ones are going to be approved by your cat, and which ones are going to be ignored. The best part about reviewing these perches? All the cute cat pictures other cat owners have included.

The K&H EZ mount scratcher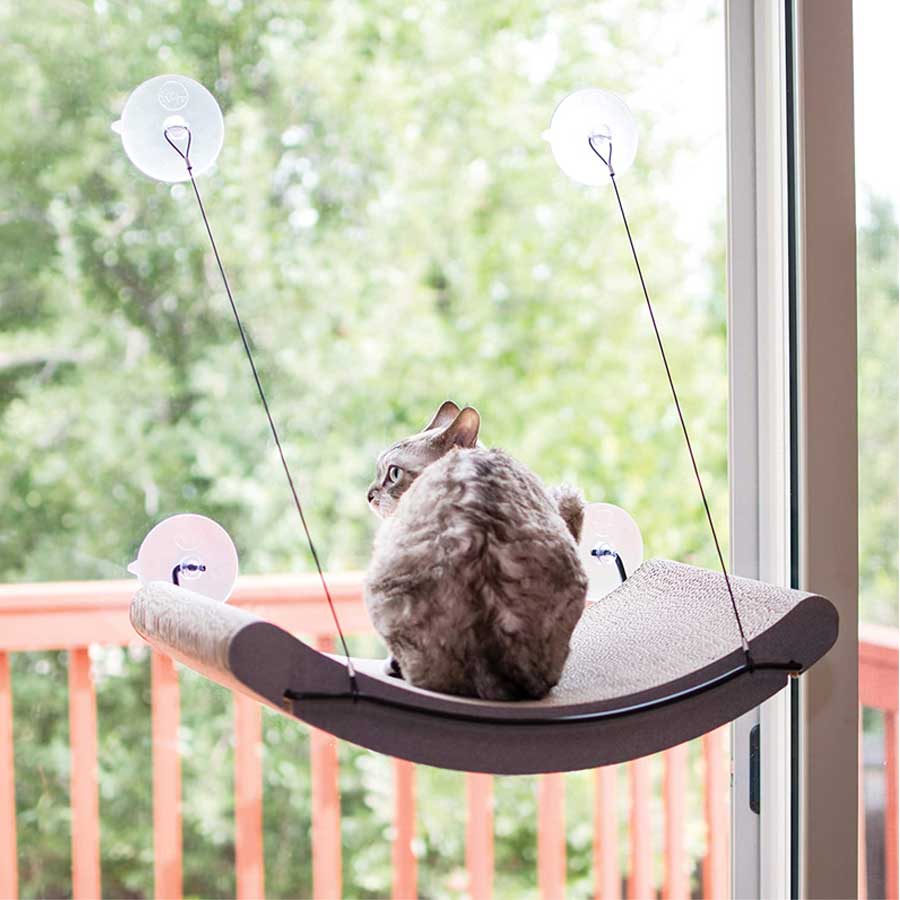 This cat window perch combines your kitty's three favourite entertainment sources – scratching, bird watching and sleeping. This piece can be mounted to any glass surface and is suitable for any window with the size starting from 20″ wide. K&H EZ Mount Cat Scratcher Kitty Sill is a perfect sleeping bed for cats up to 60 pounds or 27 kg.
One of the biggest problems the customers have mentioned is the way the cardboard scratcher is secured to the mount. Sometimes when a cat jumps off, it can shove the scratcher, making it impossible for the cat to jump back on. The wires are not far enough to the sides and can get in the way of the cat jumping on, or sleeping up there. In some cases, the suction cups have to be cleaned and re-attached semi-regularly. In other cases, the suction cups hold and are much stronger than expected.
Even though two cats won't fit at the same time, the perch can hold up to 27 kg (or 60 lbs).
Easy to install
87% of cat owners recommend K&H EZ Mount Cat Scratcher Kitty Sill
Cat's favourite spot
A kitty spends hours on it
Cat owners need to remember to clean the window well before attaching of the suction cups.


K&H kitty perch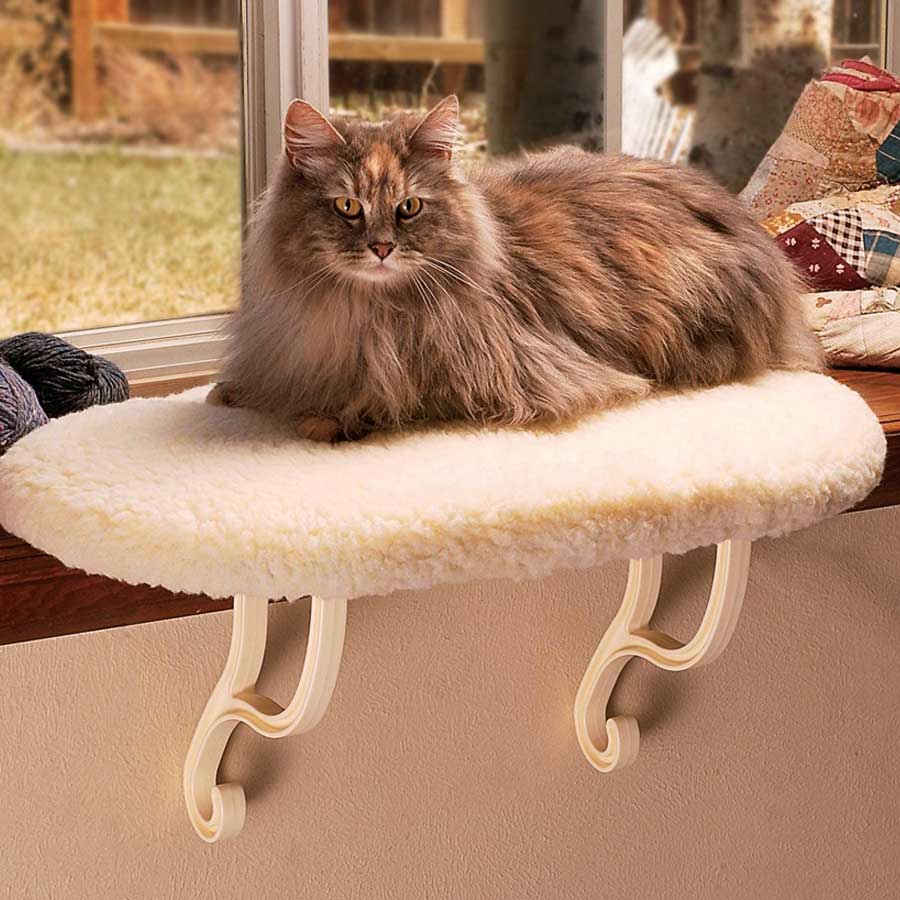 The installation process is quick, and K&H PET Kitty Sill fits perfectly against the window and rests lightly against the wall. With a removable and easy to clean cushion, this cat sleeping bed is comfortable and  soft. The window perch is suitable even for large breeds and the weight limit is 18 kg (40 lbs). The producer declares that the perch is the sturdiest available on the market, and that it will definitely coordinate with any decor.  Another advantage that is worth mentioning is that pet parents do not need to possess any tools to install the window perch, and this piece of furniture is ideal for cat owners who rent a property.
If you decide to choose the screw-in method instead of the self-adhesive Velcro option (undoubtedly less secure and safe), don't install the cushion too close to the window side. Some cat owners mentioned that after installing the perch, they weren't able to put on the cover.
A removable washable cover
A heated version for pet owners who live in cold climates
Owners of multi pet households also love this window perch
Easy to install 
Some cat owners are not satisfied with Velcro strips

Kitty Cot cat perch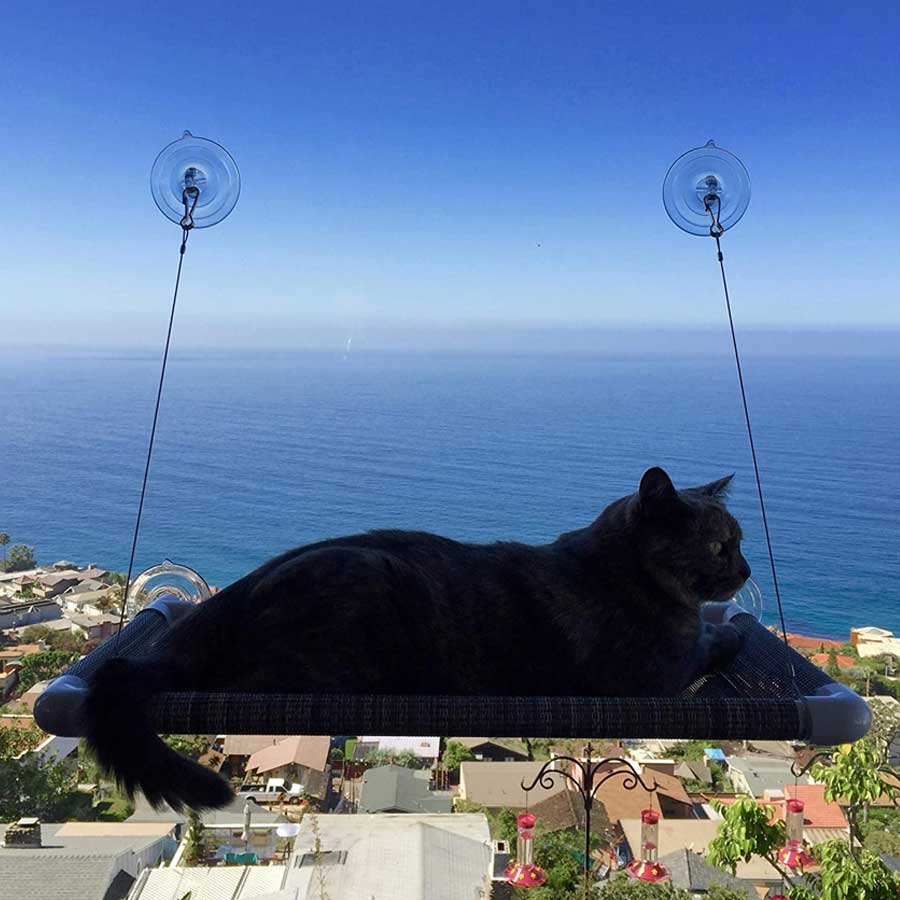 Standard cable and suction cup design. Working indoors and outdoors, Kitty Cot cat perch is made from weather-resistant and easy to clean fabric, with plenty of space for your cat to spy on unsuspecting nature guests such as squirrels or birds.  This perfect resting place for your kitty comes in three different sizes (small, medium, and large), and is super durable and easy to clean. 
The company also sells replacement suction cups, in case they get too dirty, have extensive wear, or are no longer sticking to your window. Pet owners do not need to have tools to install the window perch, and the cup is rated for a maximum weight of 12 pounds.
Durable
Easy to clean
Strong suction cups
Can be used on many non-porous surfaces such as sliding glass doors or mirrors
It takes a few minutes to assemble
Cat owners need to remember to clean the windows before mounting the perch
Some cat owners complain about the suction cups

LSAIFATER all around cat window perch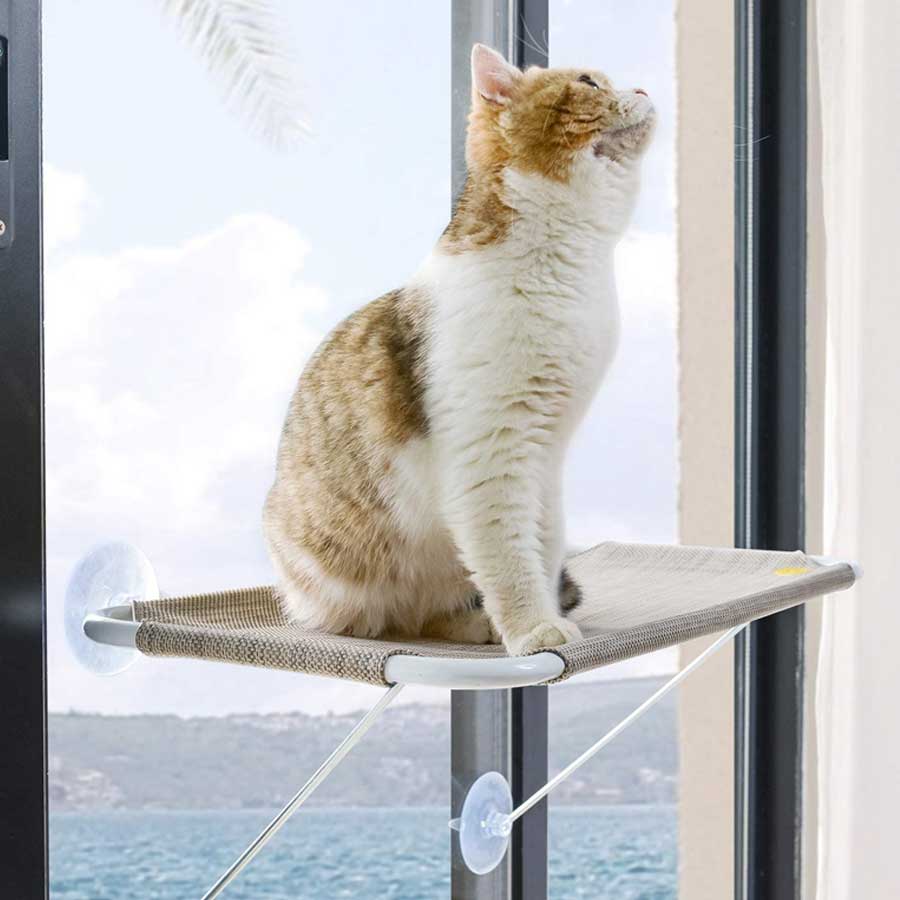 Many pet owners have expressed they prefer this type of design over the one with hanging wires because the support rods don't get in the way of a jumping cat. The removable fabric mat is easy to clean (you can wash it in a washing machine), and the perch is sturdy. LSAIFATER All Around 360° cat window perch is suitable for cats up to 22 kg (50 lbs). This perfect gift for your kitty is strong as it is made from steel, and includes a removable and waterproof cover.
To avoid the risk of suction cups falling, please make sure you've properly cleaned them and the window the cups will be sticking to
Easy to assemble
Strong suction cups
Some cat owners say LSAIFATER All Around 360 is not sturdy

PetFusion cat window climbing perch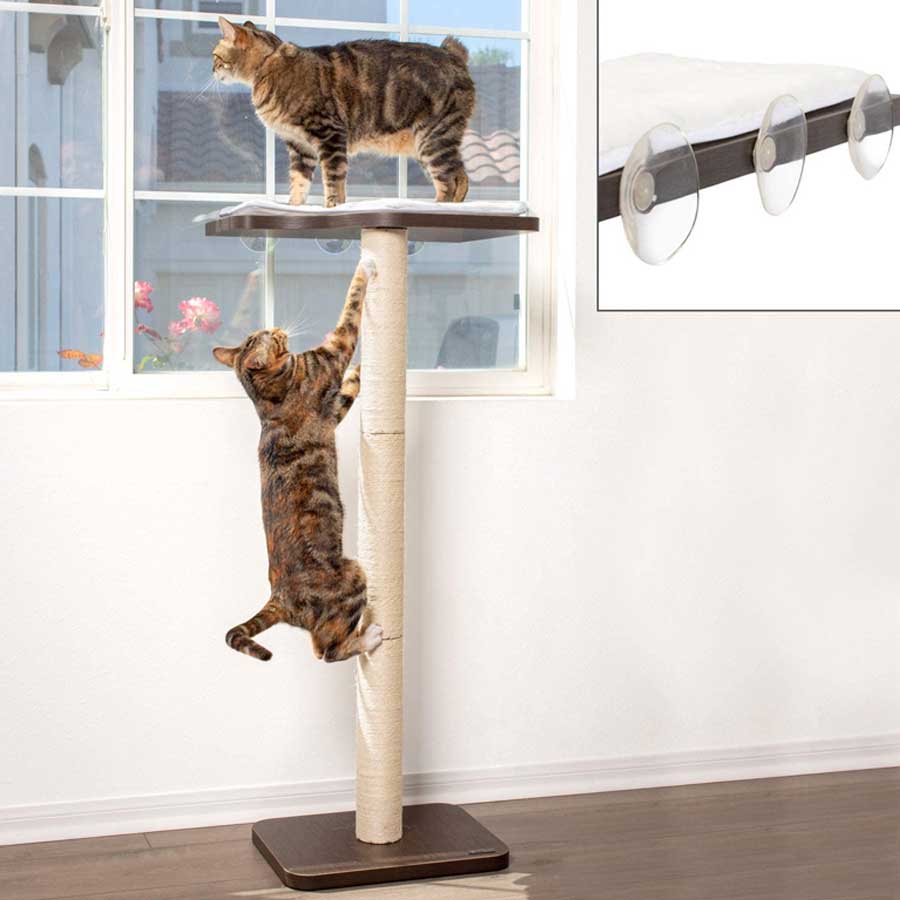 PetFusion cat window perch is a unique combination of climbing post and a window perch. Designed for cats who love to climb, scratch, lay in the sun, and watch the world go by. The minimalist design correlates perfectly with any home or apartment and is a great alternative to potentially dangerous free hanging cat window perches of poor quality. It usually takes pet parents a few minutes to assemble, and the platforms are made of heavy wood.
Sturdy
Easy to assemble
Unique combination of scratching post and cat window perch
Attractive and well made
Older cats may have a problem with reaching the perch
Before purchasing, make sure the perch reaches your window (for reference, it's 113 cm or 45′ inches long)
Some cats might not like it

K&H EZ window mount kitty sill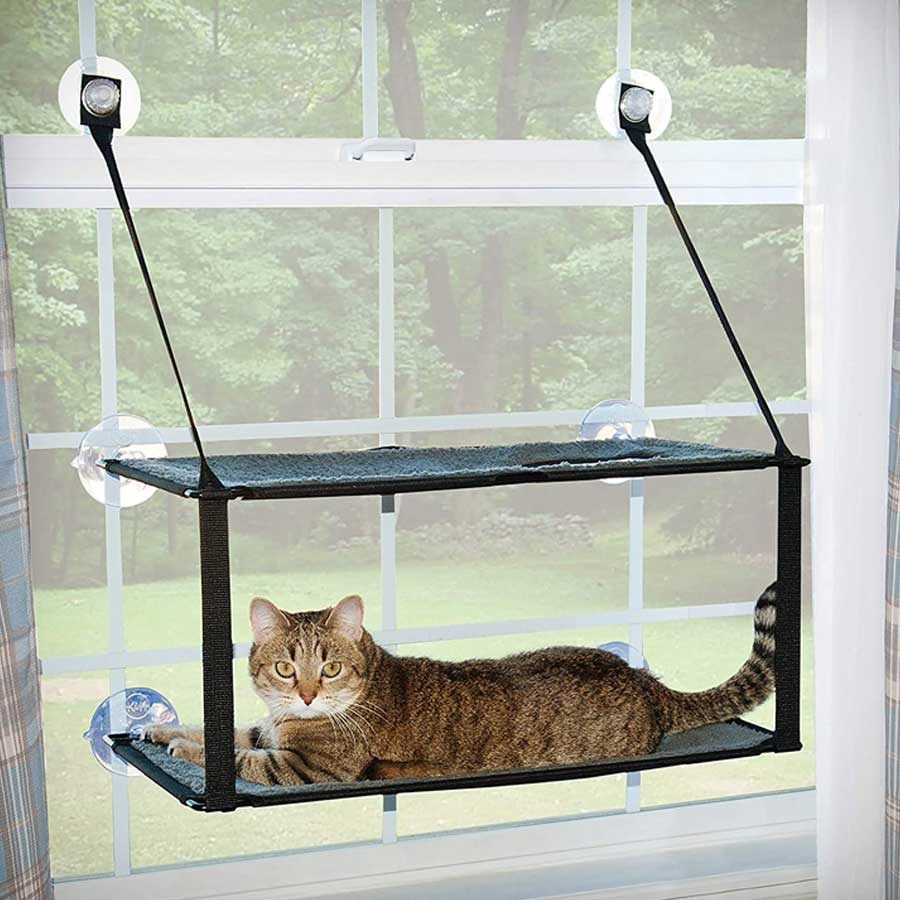 Two levels of kitty goodness. K&H PET cat window perch is the perfect alternative for bigger cats who love snaking in the middle of the night or change their sleeping positions. If you are a parent of a few kitties, this piece of furniture will also comfort your 4-legged friends. The cat window perch is suitable  for breeds who are a maximum weight of 45 kg (or 100 lbs).
The removable covers are easy to clean (even in the washing machine). Thanks to the innovative design and functionality, pet owners do not need to resign from blinds or curtains on windows.   Suction cups may need to be replaced, regularly cleaned, or additionally strengthened. Some pet owners have mentioned that the suction cups are defective and won't stick to the windows.
Easy to assemble
Easy to clean
Some owners complain the suction cups are not strong enough

K&H PET bed kitty sill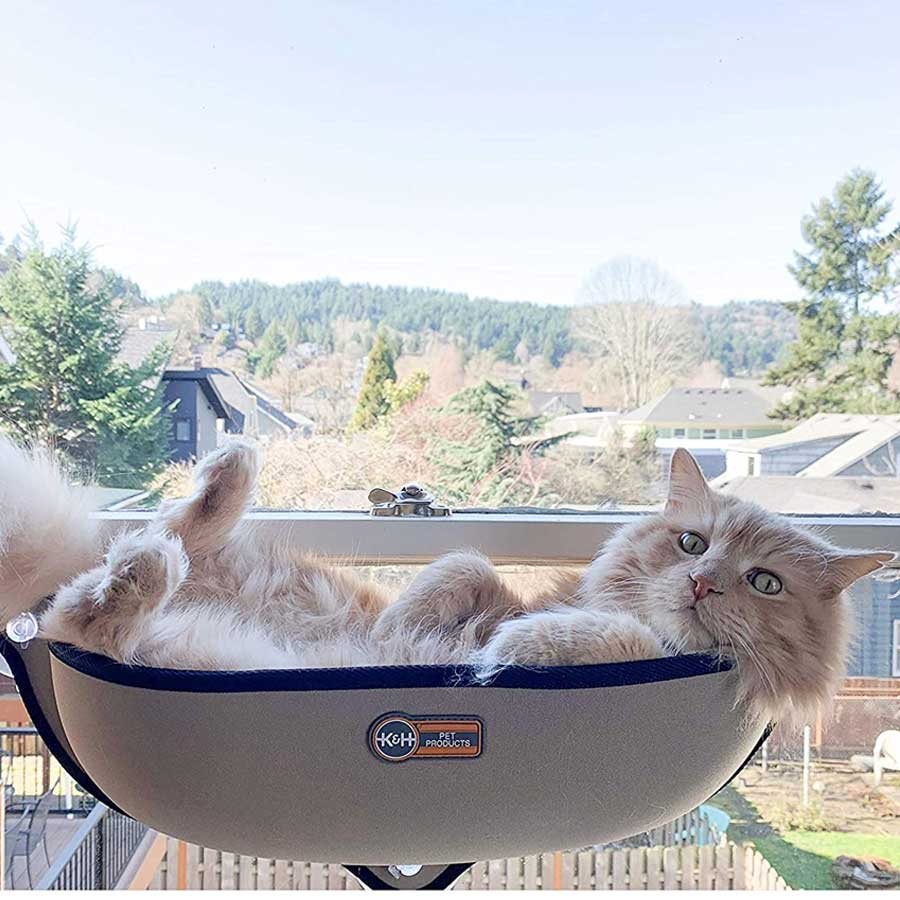 Available in a few colours, this cat window perch by K&H PET is a good alternative to cat hammocks. Although the space is very narrow, cats, who are the best critiques,  seem to enjoy the snugly, cosy fit.  This cat window perch can be mounted on any glass surface and can hold up to 27 kg (60 lbs) of kitty weight.
K&H PET window perch is easy to install, and cat owners only need three suction cups to attach it. Kitty Pad has another advantage worth mentioning, as it absorbs and holds your kitty's body heat, and  the pad also traps kitty hair like a magnet. The cat owners do not need to use any tools to mount the window perch, the only one thing pet parents need to remember is window cleaning. Some customers have reported either their suction cups do not properly stick to their window, come loose when the temperature dropped, or the small plastic rods broke in half.
Easy to clean and mount
ESome cat owners say their Maine Coons love K&H PET window perch
Suction cups might be unsecure

K&H Penthouse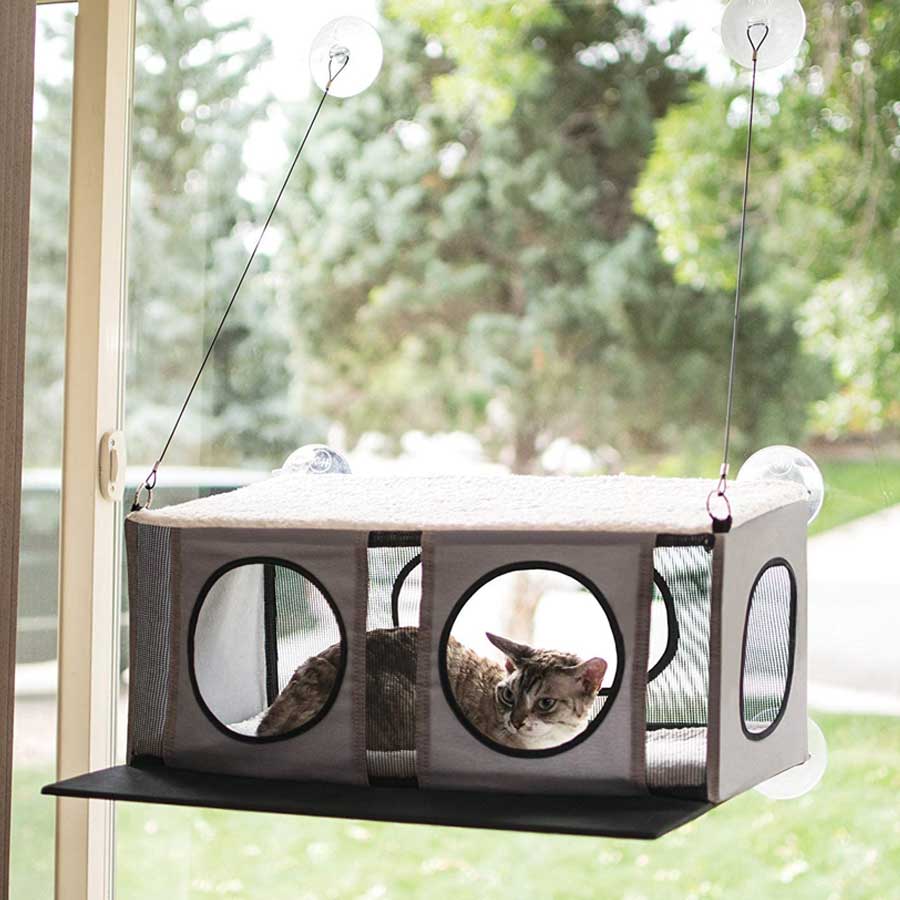 A truly luxurious, box-type window perch, another product designed by K&H Pet Products, is only for the best-behaved cats who don't pass the opportunity to hijack a big carton box. The perch has a lower level for the cat to jump on, open mesh windows for visibility, and includes a removable microfleece surface to sleep on. The lower level provides your cat with the feeling of safety that comes with an enclosed space. The top level has a thick, fluffy surface. Pet owners do not need any tools to mount , although windows need to be cleaned before assembling. The cat window perch by K&H Pet can be removed easily and has a one year limited warranty.
Although this luxurious window perch will be to your kitty's taste, some cat owners have complained about the suction cups saying that they may need to be reattached and cleaned once a month for safety.
Strong suction cups
Easy to mount
Some cats might not like it

Arf Pets cat wall-mounted wooden shelf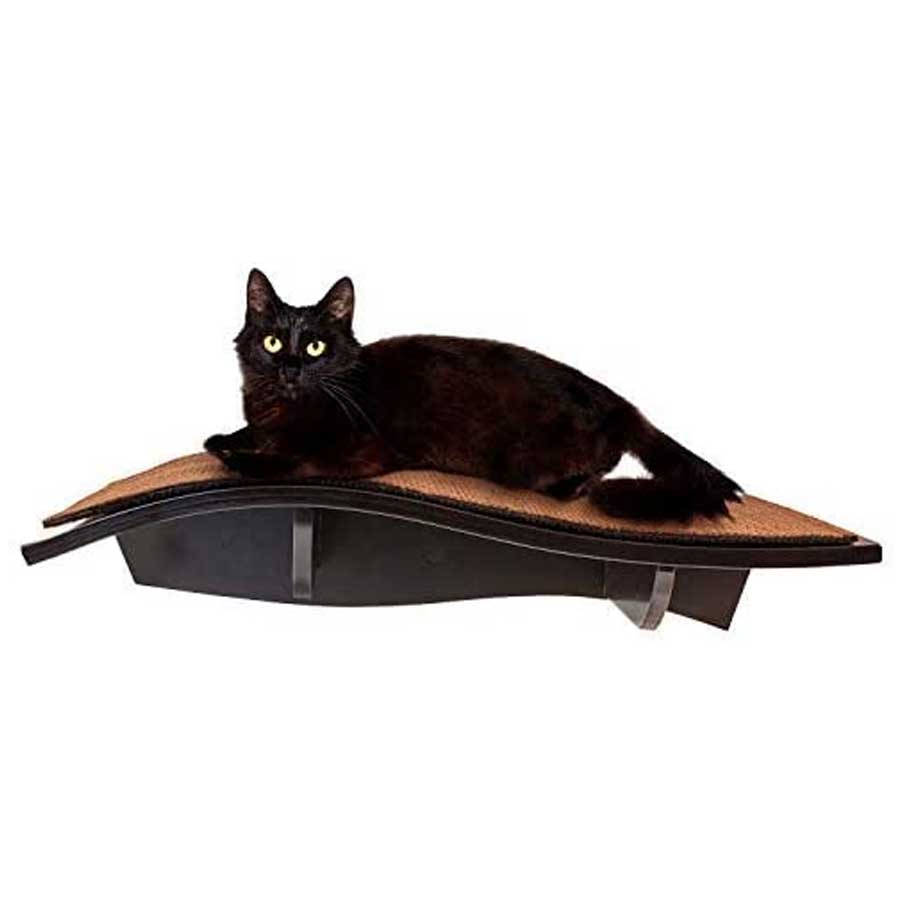 This lovely cat perch requires screws to secure the shelf (which are included with the perch), being more safe and secure than suction cups, Arf Pets cat perch will let your kitty choose any sleeping positions they wish.  High quality materials are used, and this wall perch will definitely suit any home decor or style.
Being easy to remove for cleaning, the carpet has Velcro on the back to attach it to the wooden shelf. However, pet owners will have to pay extra for the replacement pads. The wall perch can accommodate cats up to 20 kg (44 lbs).
Good investment
Sturdy
Holes in walls are needed
Might not meet your expectations

PetFusion ultimate cat scratcher lounge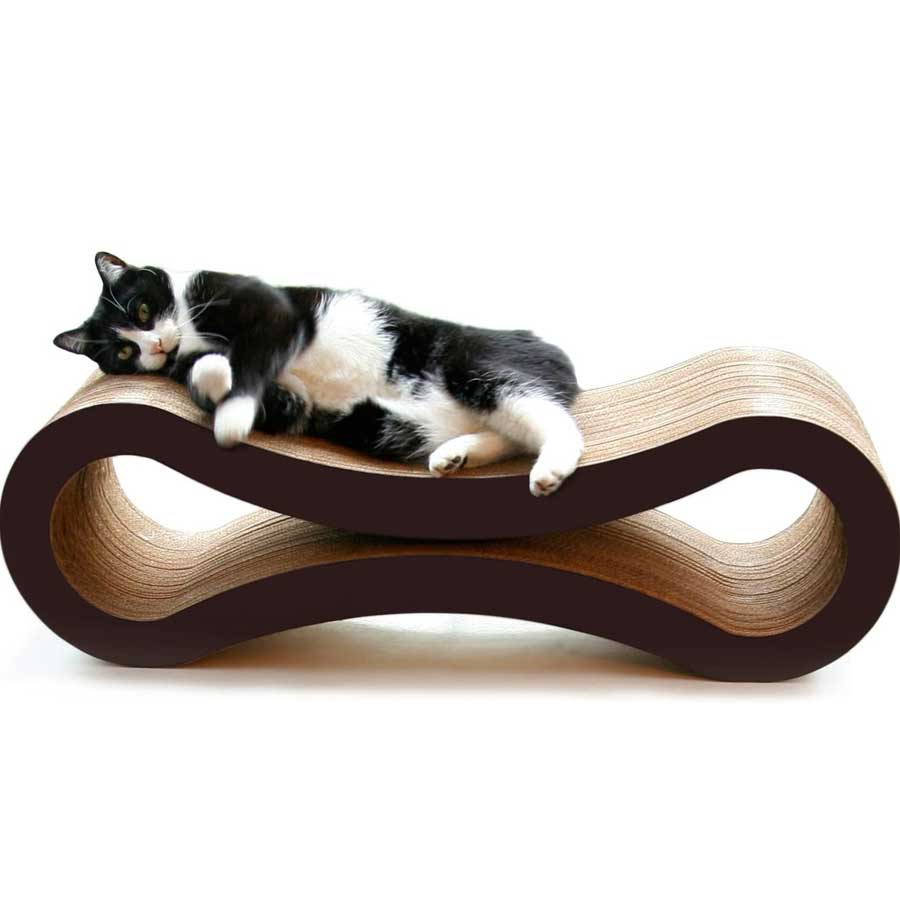 PetFusion scratcher and a fancy doctor's office lounge at the same time provides your cat with double the fun and comfort. Being made out of recycled cardboard held together with non-toxic starch glue, the product is very durable and stylish. PetFusion window perch can be placed on any surface, where your kitty can enjoy observing their surroundings.  PetFusion scratcher is available in three neutral colours – walnut brown, slate grey, and cloud white.
Fair warning: cats will love it, and the addition of catnip will ensure your cat leaves their fancy lounge with a playful shine in their eyes.
Durable
Sturdy
Worth the price
Not all cat will give 5 stars

K&H PET Products mount window bubble pod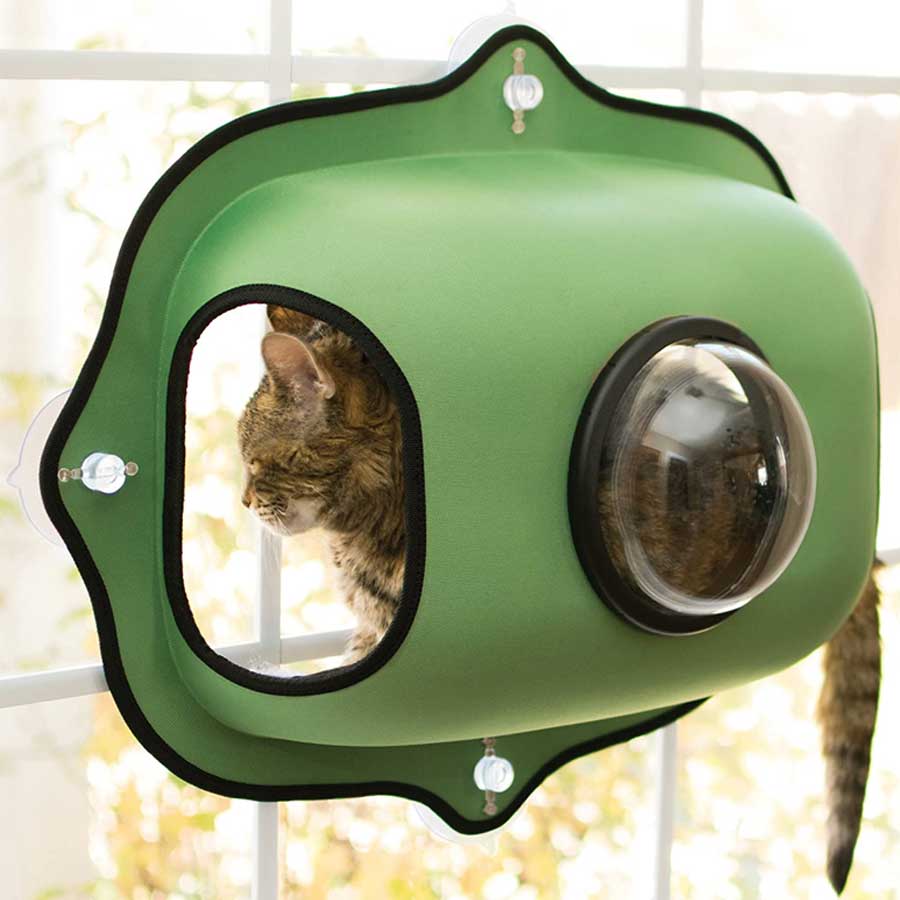 K&H PET has designed a window perch version of the bubble backpack for adventurous cats. The bubble allows the cat to keep an eye on their human while focusing their attention on flying neighbours. The enclosed model will cater to a cat's preference for a quiet, private corner, and cosiness. The kitty pad that has been mentioned above is included, and K&H PETwindow perch can be mounted within a few minutes.
Suction cups will need to be reattached and cleaned monthly to keep the perch secure and prevent your cat from falling. The product is available in two colours – green and tan.
Easy to install
Sturdy
Easy to assemble
Cats might not like it

Bundaloo cat window perch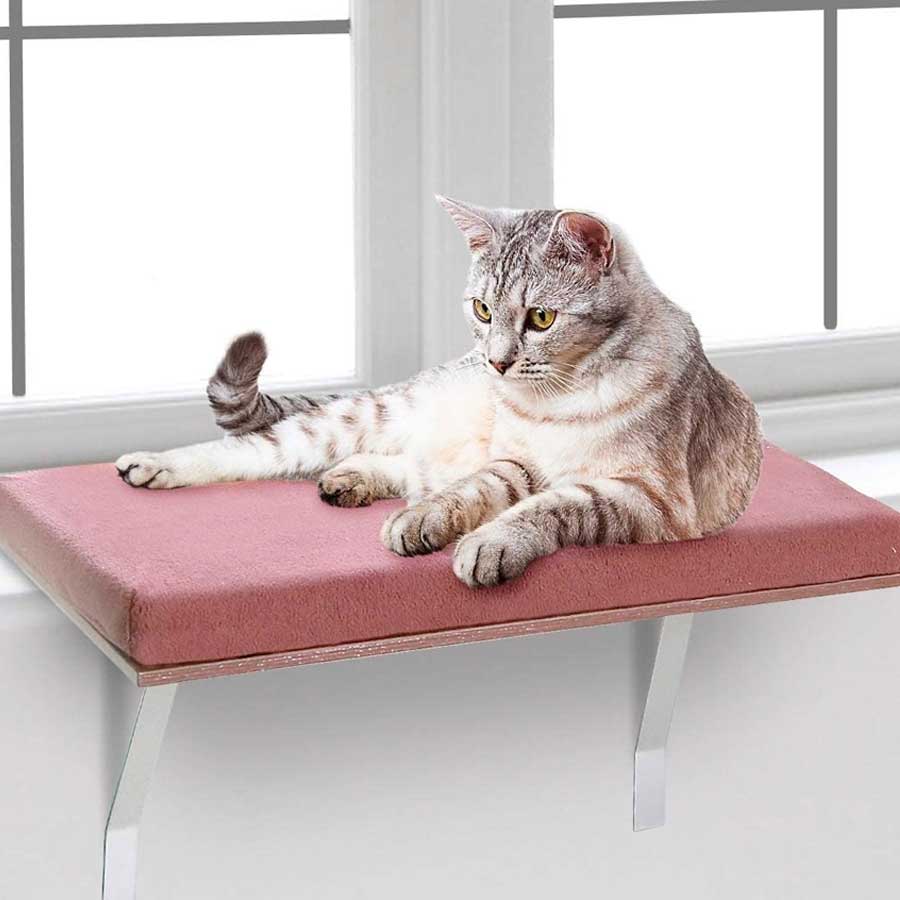 Bundaloo cat window perch is an elegant piece of furniture in soft, pastel colours. Being made with a metal stand structure, this window perch  will support any big fluffy balls (as long as that ball doesn't have more than 16 kg (35 lbs) worth of fluff). The perch comes with a removable and easily washable soft cushion.
Before purchasing, make sure your windowsill is big enough (5 cm – 10 cm or 2″ – 4″), otherwise you won't be able to install the perch properly.
Soft
Easy to assemble
Easy to clean
Some pet parents think Bundaloo cat window perch needs some improvement


Let's move on to Etsy where cat parents will find original and unique cat perches. Also, since you are buying from independent creators rather than companies, you might be able to customise your cat window perch, ask questions if you have any concerns or doubts, or request special features.

Cat window perch by CosyAndDozy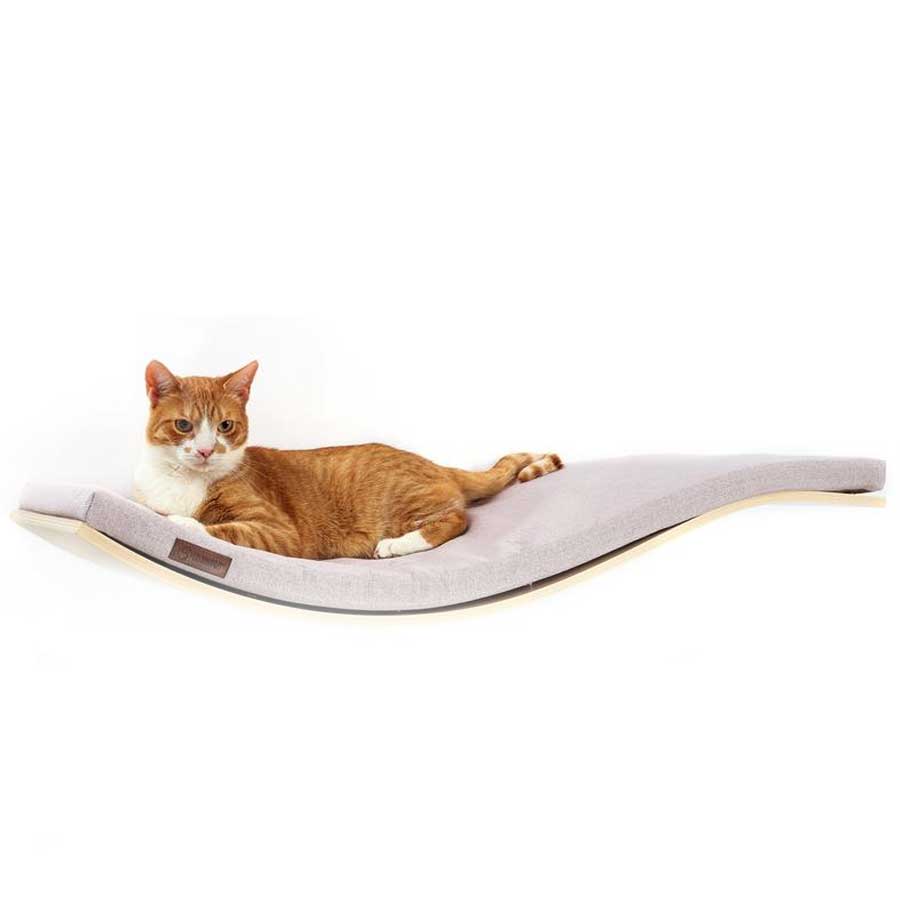 The unique, sleek floating design will not only catch the eye of the predator (who, to be honest, will be more interested in the extra-large soft cushion and in the perfect advantage point this perch provides), but also of your guests. The huge amount of space will be a perfect environment for storing and hiding only the most precious of toys.
The cat perch by CosyAndDozy can hold up to 25 kg (55 lbs) of kitty weight. The creators included a link to a mounting instruction video, so you don't have to worry about missing any important steps. In case anything happens to your pillow, you can easily replace it. On their Etsy page they also have other versions of perches (bigger, smaller, less bendy), as well as other fun cat toys and accessories.
A perfect solution for cats who are afraid of something or are anxious
A cosy place during winter or colder days
A classic design that coordinates with any decor
A washable soft cushion

Window perch by AarogoraCatFurniture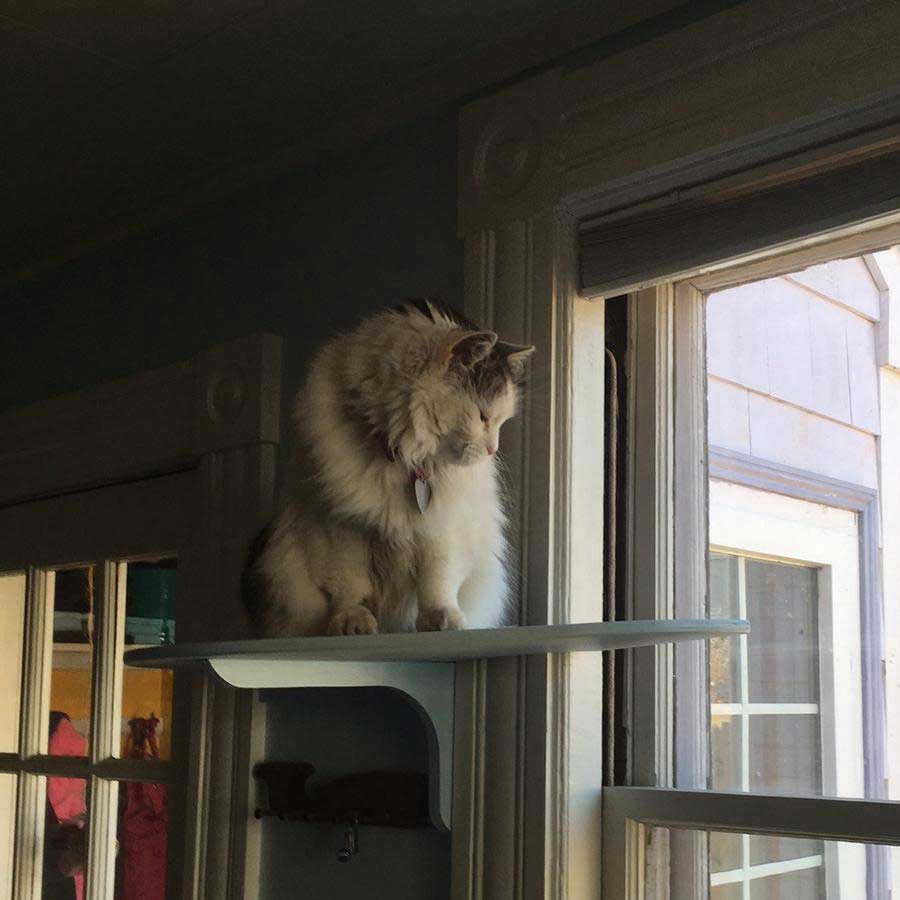 The cat window perch by AarogoraCatFurniture is sturdy, large (also available in a smaller version), and easy to install. This handmade product will be loved by your cats and will last for many years. Some customers have expressed  how they loved customising, and adding unique elements to, their bare perches.
And if you need any tweaks or changes – the seller can customise your perch and is great at communicating. On their Etsy shop, AarogoraCatFurniture also has other perches – you can even create your own design!
High quality 
Great design

Window extension by FelineKingdom12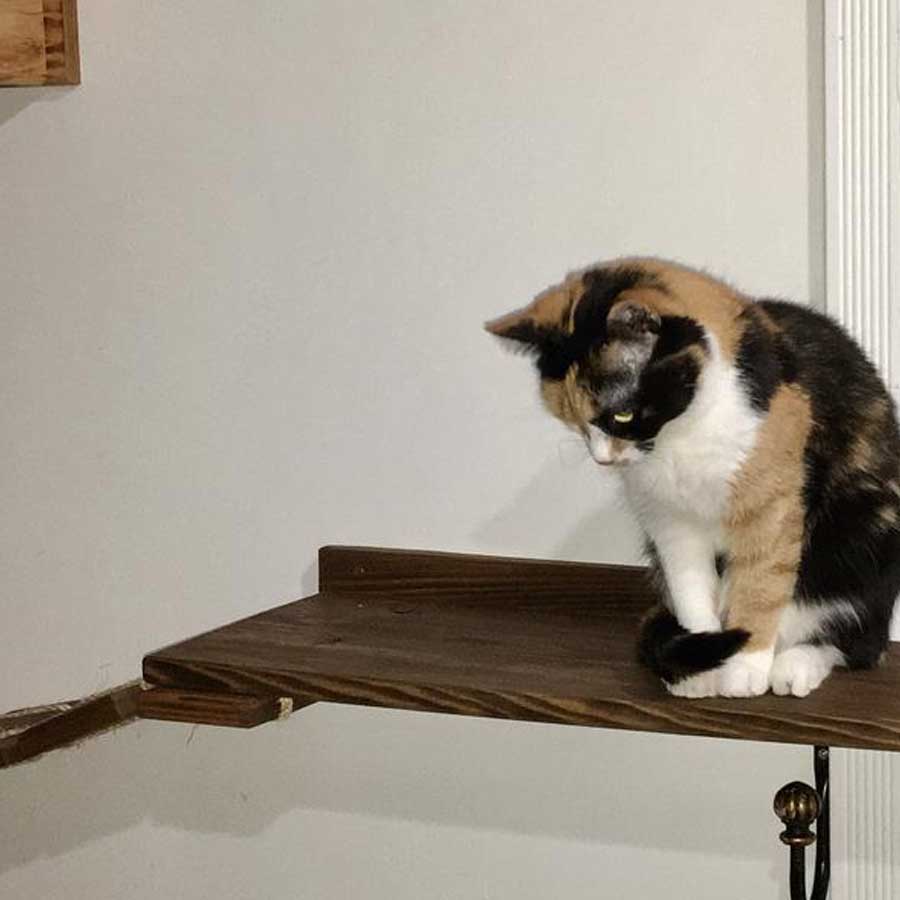 Another handcrafted cat furniture shop! Besides this perch, FelineKingdom12 has a lot of other interesting wooden crafts for your cat.  This perch is made out of solid pine wood, without synthetic colours and is 100% cat friendly.
Safe and comfortable
Great customer service

Curious cats window perch by JennGv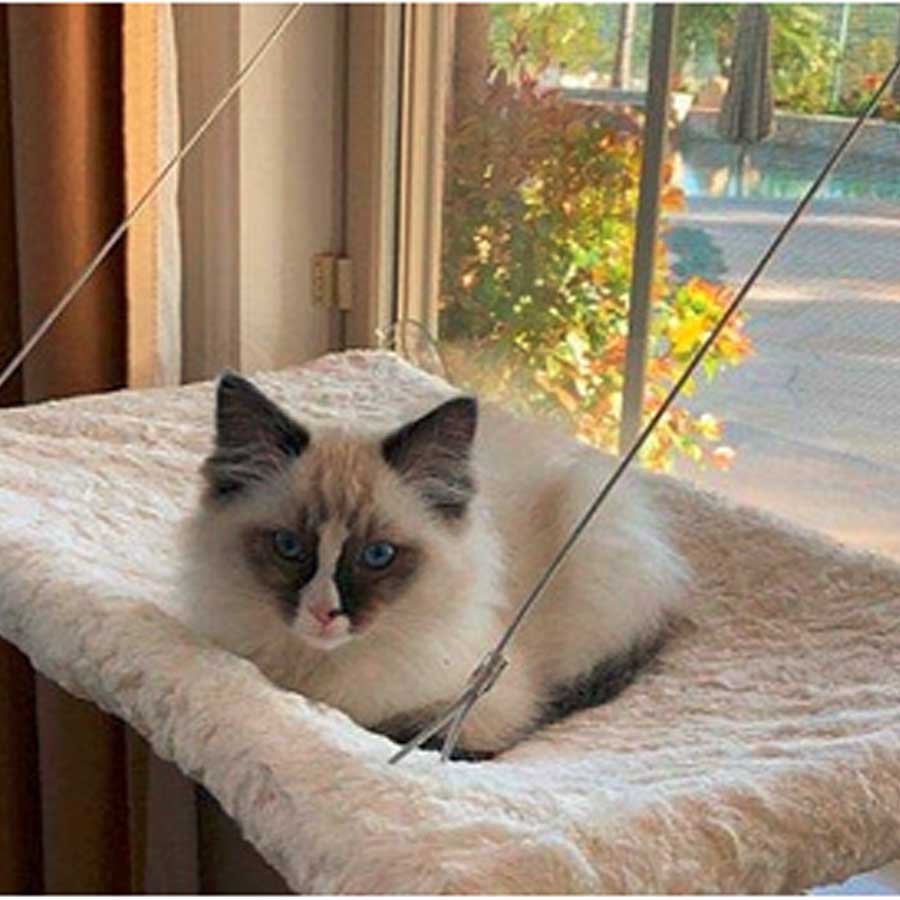 The perches Jennifer makes are soft and stable. She would be very happy to hear your feedback and customise your order. Made for brave hunters who feel the need to satisfy their unending curiosity.
The suction cups should be washed regularly, and Jennifer provides great instruction on how to take care of them and make sure they won't lose their magical suction powers.Just like other Etsy sellers, Jennifer also has other versions of cat perches available.
Made with love
Personalised sizes and fabric designs
Portable
No tools needed for installation

Cat Mat by LoveCatCaves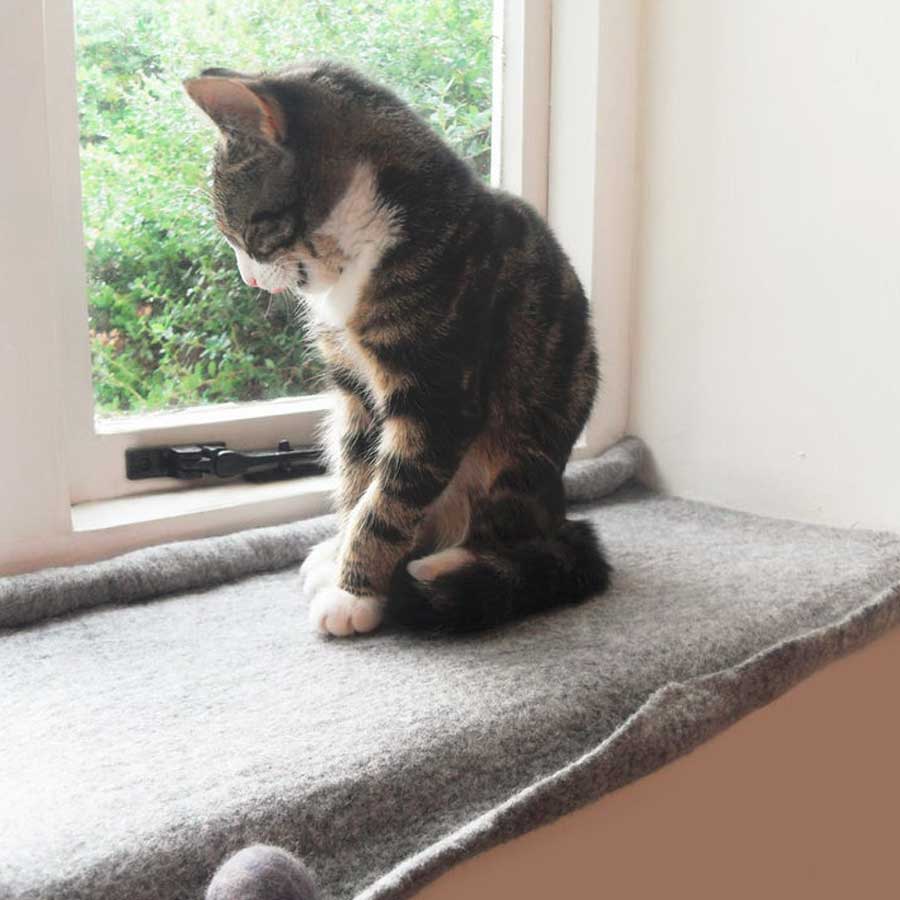 With this perch, you don't have to worry about drilling into your wall or suction cups falling off. Christine has created a perfect solution for bigger window sills – a soft, high quality, hand felted from merino wool mat. Cats will feel warm and snug, as they are naturally attracted by the natural lanolin smell.
To clean it, you can gently hand wash it with lukewarm water. Christine sells other hand-felted creations – all warm, comfortable, and cat-approved (cats not included in the package).
Good quality
Safe
Easy to install and take care of

Luxury cat window hammock set by CatoCoCats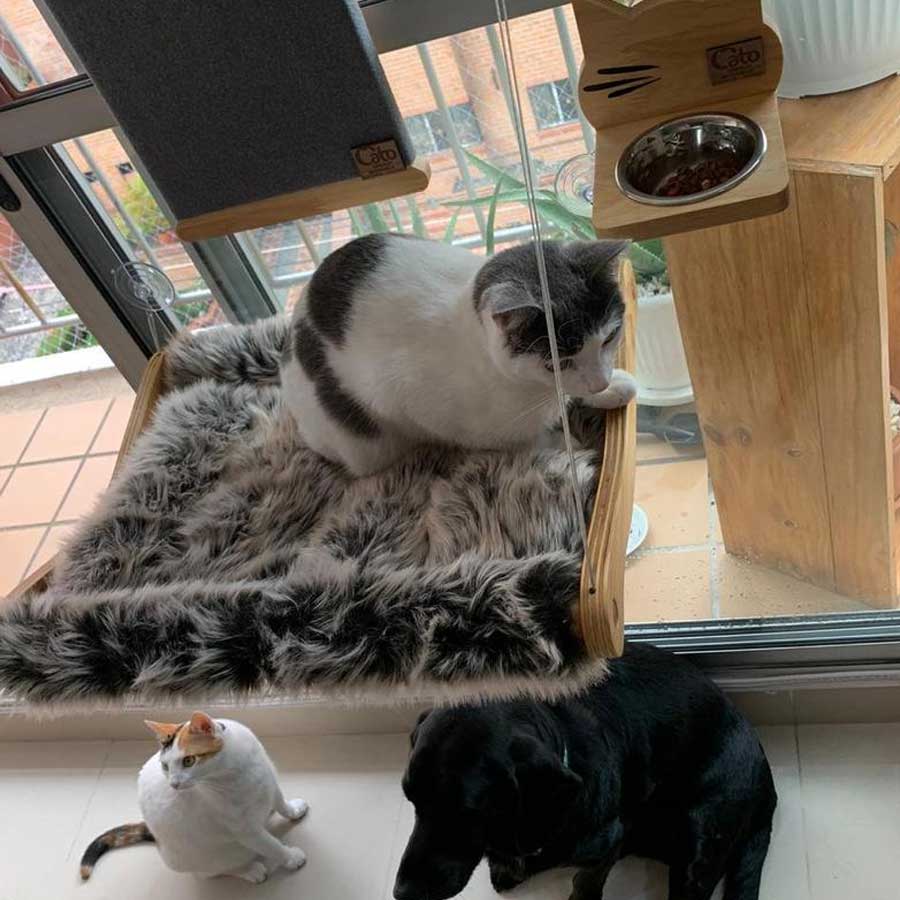 This luxury cat window perch has everything a cat will ever need – a bowl for food or water, a scratching post for their sharp kitty claws, and a soft, warm bed. And most importantly – a little corner they can use to escape from the horrors of everyday cat life. Their Etsy is full of original and aesthetic cat furniture.
Perfect for fall/winter seasons
Keep your dogs away your kitty's food
Stainless steel bowl
Nice design
Sturdy

Bridge Lounge by catastrophicreations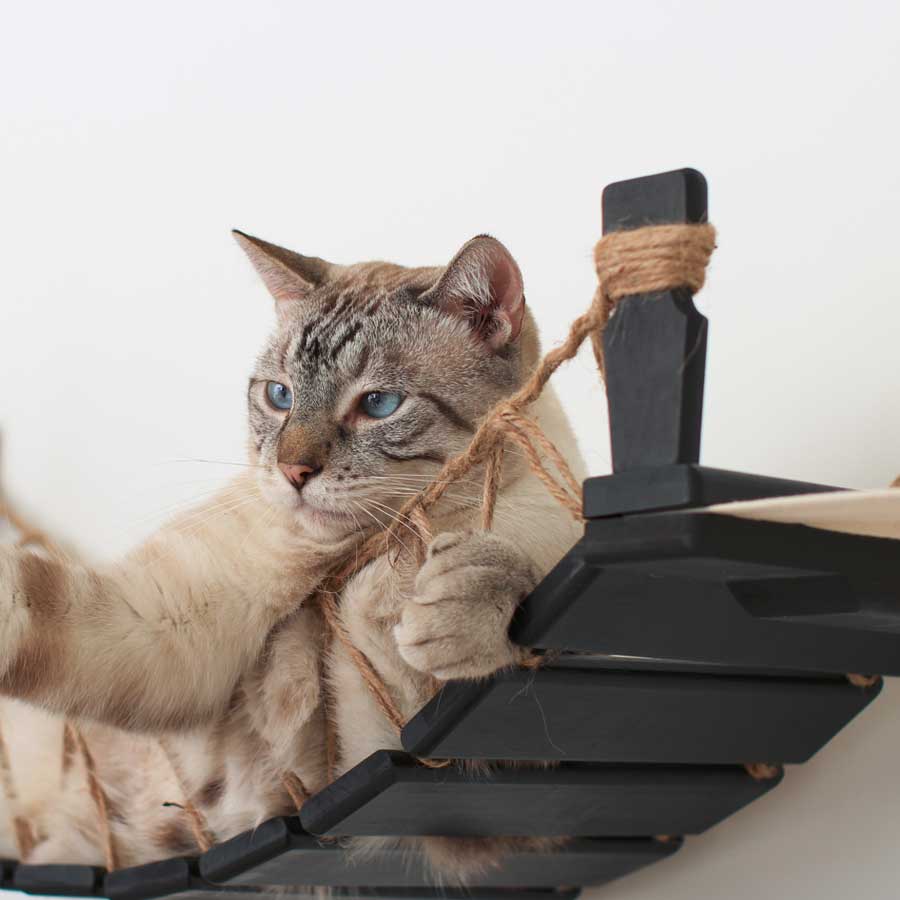 On the more expensive side, this highly customisable perch system is made for the most royal of cats. 
To hang it, cat parents will need to alter their wall, which may not work for everyone. Cleaning will not be easy, but the whole system is made out of sustainable material (an incredibly strong bamboo), so you know it won't break after a few months of use. Bridge Lounge might look complicated to build, but they know our human brains are not as advanced as cat brains and have provided us with simplified paper and video instructions.
When it comes to an aesthetic, beautiful, built to last and something that enriches your cat's environment, Catastrophic Creations are masters at creating incredible cat furniture. Their work has been approved by four cats, who are the brains and paws behind the company.


Why are cat window perches so important?
As we've mentioned before, cats need stimulation. One of the ways they can entertain themselves and occupy their time is to watch what's happening outdoors. Watching people, birds and even what the wind does keeps them engaged and interested in what's happening around them. A window perch will allow them to be a cat detective in a safer, more comfortable environment.
Climbing and napping up high are not only random behaviours, they are instinctual. Cats were hunters (still are, even if the modern prey seems, to us, minuscule) and many of them were used to climbing trees for safety or to hunt.
A window perch could also be your cat's "me time" corner, where they can go to relax and escape other pets or humans.

What should cat parents consider when buying one?
Sizing: Your cat window perch should be, first and foremost, comfortable for your cat. Furry friends should be able to comfortably lay down, stretch, and change their hardworking position as many times as they want without falling off or injuring themselves.
The other criteria for sizing is the designated space. You don't want your perch to look awkward or have dangerous corners. It's a good idea to measure the space and choose one that's not going to bother anyone – you or your kitty.
Weight limit: Cats come in all shapes and sizes. Bigger household tigers should be able to enjoy their free time in the morning sun. Perches can also be shared by multiple cats, doubling the strain. Some have a weight limit, and while purchasing one you should double-check to make sure elements are not going to suddenly fall off or break.
Materials: Make sure the perch you choose is built out of high-quality materials. One of the things to look out for is the frame; make sure it's made out of durable materials, such as PVC piping or steel. Cats shed, especially the long-haired ones, so washable perches with easily removable covers are more likely to last longer. If the spot you have chosen gets very hot during the day, make sure the material is breathable and doesn't absorb sunlight.
Suction cup style: This style uses suction cups and a wire structure. Some cats may not like this style, because it tends to wobble when they jump up or down. Suction cups may also not work properly or be weakened in places with cold weather.
The type of windows you have is also very important. A window perch is not suitable to use against single-pane windows, fragile glass, or old frames.
Ledge style: Many perches require additional reinforcement with screws, bolsters, or hardware. Some are simple carpet-like materials for your already existing windowsill.
Durability: A window perch has to be safe for your cat, without it suddenly falling. If you decide to choose suction cups to hang your window perch, make sure they won't pop off the window. If you decide to purchase a window perch that requires screws, make sure it's well-constructed and there are no sharp edges.
While the perches have to be made out of strong materials, they also can't scratch or damage your window in other ways. Double-check the cords (after all, cats can bite or scratch it), and make sure the material is washable.
Comfort: Many cat perches offer an orthopaedic foam, which over time will not flatten under your cat's weight. Others offer a soft, comfortable material, perfect for sleeping.
There are other things to consider, such as your cat's habits, temperament, how many cats you have or want to have, your cat's needs (are they an older cat, or a cat with mobility issues? If yes, you might need to modify the perch for easier access), how easy is it to install (you have to consider how much time and effort you want to put into building or installing the perch. Do you want an easily removable one or one that is fixed in place permanently?), and less importantly – will it fit into your room's décor?


*FTC Disclosure: This page contains Amazon Associate links. If you make a purchase after clicking on the links, Meowpassion will get a small commission at no extra cost to you. We are dedicated to finding the coolest products for cats, cat owners and lovers, and we never recommend anything that we don't love or trust.