While preparing the review of YouTube DIY channels we came across a YouTube channel with a cute name, Helpful Vancouver Vet, on which a handsome vet accompanied by adorable cats explains the mysterious world of our fluffy friends. Now Dr. Uri Burstyn is one of the most well known vets in the world, and his cats, Mr. Pirate, Clawdia and Lancelot, are real stars with almost 250,000 followers on YouTube.
The well-being of cats and pets in general is very important for animals and their owners. While a pet owner can do their best to provide all of the necessary resources for their 4-legged friends, a professional vet with a passion for animals and commitment to his job remains the best source of information and advice, which is why we asked Dr. Uri Burstyn to give recommendations and advice on how to take care of cats and have a healthy and happy kitty.

Q: Why did you decide to launch your channel?
A: It's a multiple part answer to that question. There are two reasons, one reason is that this is the project to save my voice, there are certain things that I answer probably 3–5 times a day e.g. how to change food for your cat or how to give fluids to a cat in a stress free way (my first video was about that), and I thought it would be great to make videos about that. The second reason is that I own my clinics, and I want to share tips and recommendations that I usually do with my clients in clinics.

Q: Do you plan to create more videos monthly?
A: Absolutely, I had a high ambition to put out videos every two weeks that I consistently failed to do for the last two years. Right now, I create a new video every month, I hope I will be able to keep that up. I have a huge spreadsheet of video ideas for both stuff that I would like to do as well as ideas suggested by my viewers. I have a lot of video ideas but unfortunately between running 3 veterinary clinics and working as a vet in a clinical practice and occasionally acting on TV shows it's really hard to find time to make YouTube videos but I do my best.

Q: How do you choose topics for your videos?
A: I have two video series right now. I started off just thinking about what is the thing that I really wish every client I saw knew. You know my viral video that blew my channel up was how to pick up a cat, and it came from me seeing people handling their cats, and wishing they do it more competently. So a lot of helpful tips for pet owners are literally things that I want cat owners to know. You should know how to tell if your cat is sick, how to choose food for your pet. It's basic pet skills, and I think these things make life better for pets and for people who take care of them. And another video series I am working on now is coming directly from my viewers who asked me about specific common health conditions animals get. The video I am publishing today is going to be about why cats pee out of the litter box that is a very common problem. I hope to make one about diabetes, kidney disease, all really common health issues that every pet owner will encounter during their pet's life. I also want to make some medical videos and more fun staff like videos about Mr Pirate that people always enjoy.

Q: What are the most common mistakes cat owners make but can avoid?
A: I think the most common mistake that pet owners make is waiting too long to go to a veterinarian. Wait and see are the most dangerous words in veterinary medicine because we have a very poor ability to detect when our animals are under stress and it almost never gets better on its own. Probably one of the biggest frustrations for every veterinarian in the world is seeing a cat, for example, who has lost half their body weight and hasn't eaten properly in six months, and an owner shows up and says "Oh, I think my cat is sick".
– Do you think he is sick?
– I was waiting to see whether he would get better and he hasn't, and I also don't want to spend any money.

And the answer is: "If you came six months ago this would be very easy to achieve results. Now it's a severe medical crisis and is not going to be easy to achieve the desired effects. So take responsibility for your cats. Imagine if your child was vomiting five times a day for a week would you really wait to see if they will be better on their own or not? Or imagine if you yourself have lost half your body weight. The sooner a medical problem is diagnosed, the sooner you intervene, the better outcome you will get, and it is cheaper to manage. It's really simple, so do not wait and see.

Q: While choosing a vet for our pets, what should we pay attention to?
A: This is the topic I plan to make a video about. I will give the short version. Most people pick a vet on how close he is to their house and how nice the receptionists are, which is probably the worst way to pick a doctor. I would argue that the best way to pick up a vet is to find someone who is a good doctor. What do I mean by a good doctor? Competent at their job. Not necessarily the nicest and friendliest. But actually someone who will do a great job for your pet, and be effective and efficient. And this is the hard thing to determine for a client. But I will give a few tips to look for or questions to ask.
Ask if you can accompany your pet to the back of a clinic if a pet needs a blood collection, nail trimming or any other procedure. If a veterinary team isn't comfortable having an owner watch what they are doing at the back that raises some questions for me. Not everybody likes to work while being watched. However, I personally would never trust my pet to somebody who is not comfortable with me watching their work, whatever it is. I will let my clients watch the surgery when they ask. Not many people do, but I always invite my clients to the back if this is a blood collection or any other procedure. Not everyone wants to be present, but it is always an open door. So a vet should have a policy of an open door to the clinic.
Ask your vet when the last time they attended a conference was. And if it is more than a year, this is not a good sign. Medicine is a rapidly evolving field, and if you do not go to at least one conference a year, you do not really make an effort.
The third thing I would suggest is to ask your vet whether they have a subscription to any journal other than one that everybody gets automatically from a national vet association. I have probably met one or two vets in my entire life other than myself who subscribe to medical journals beyond what you get automatically. If you go to the effort of subscribing to a journal and reading it, then you are probably somebody who is at an outstanding level of commitment to your profession, and this is someone you want. It can be rare to find somebody like that but when you find somebody like that stick with them regardless of how close they are to your house.

Q: On your channel there are more videos dedicated to cats than dogs. Can we assume that you are more a cat person than a dog one?
A: Laugh… I love all animals, I adore them. I do feel I have a special connection to cats and my audience are mostly cat lovers and owners so I make my videos towards what my audience wants. I also do videos about other animals, dogs, reptiles, and so on.

Q: How did your cats (Mr. Pirate, Clawdia, and Lancelot) appear in your life? Where do they feel more comfortable in the clinic or at home?
A: At home they are very comfortable. I definitely see that Mr. Pirate is very chill regardless of where he goes, and I often take him to work, he accompanies me in the office, and he is used to being in the clinic. Clawdia gets a little spooked, she is a very cheeky and confident girl at home; she is very, very bossy but in the clinics she shows a few shy signs, but she does a good job in videos, I think. And Lancelot lives in the clinic, and he is always comfortable.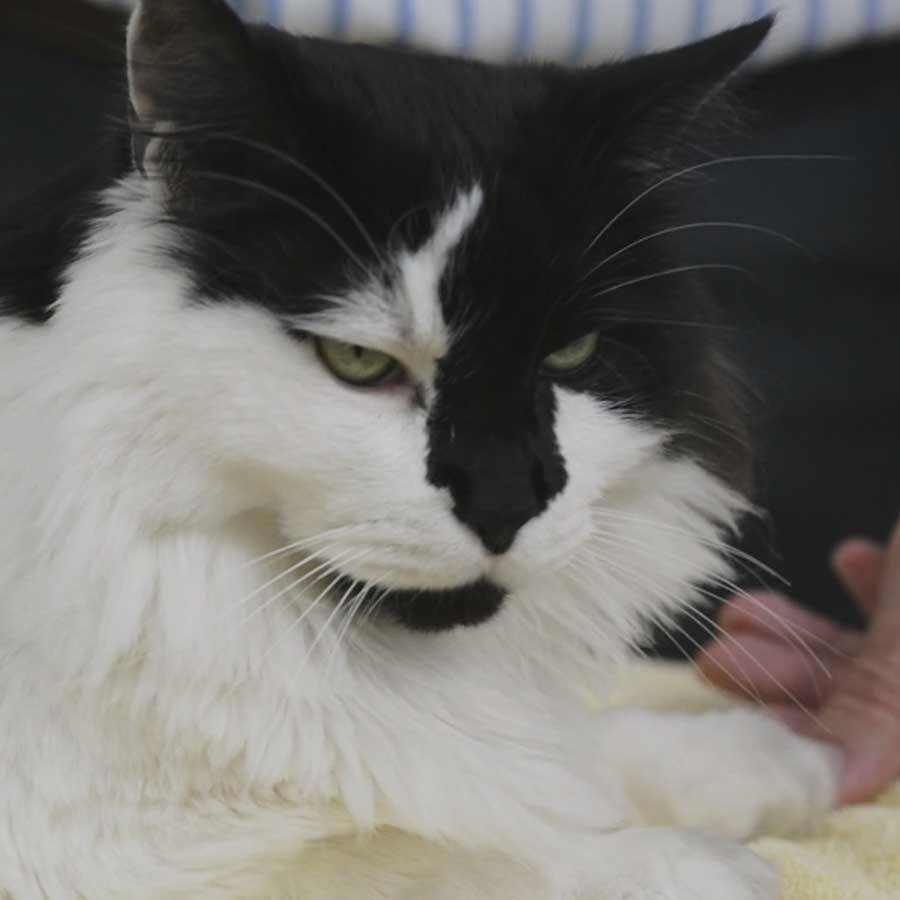 Q: Why did you decide to become a vet? If you were not working as a vet, what other job would you be doing?
A: I have always wanted to work with animals. I think when I was finishing high school, I was briefly considering becoming an actor, but that never really materialised. When, I think, I was 9 years old, I was reading biology textbooks for fun as I really loved animals. But it was not until the first few years of university I kind of realised that biologists are not often very nice to animals or they count them from a distance with binoculars, and I wanted to work hands on. I also started to realise that maybe I am an active person to really be happy as a scientist. So, I think it was the 1st year in a university when I volunteered with my family vet (we had a dog), and then I decided that this is what I want to do all my life. And honestly I do not know what I would be doing if I wasn't a vet because like I said until the rest of my life I focused first on going to veterinary school, becoming a veterinarian and then becoming good at my job. I guess I could say an actor or a biologist, if not a vet.

Q: What advice can you give to people who are considering bringing a kitten home?
A: Oh, do it! My advice is that pets enrich your life. Check yourself to be sure you have time and resources to care for your pet, so get educated to find out what a pet owner's life really means, there is not a lot of work to take care of but there is still some work. Really be honest with yourself if you can care about this animal, and if the answer is "Yes", then go for it.

Q: What are your recommendations regarding general care of senior cats?
A: I think every pet, every animal deserves a health check once a year. That is the absolute basic line. Cats over the age of eight or so should have a health check twice a year, so every six months. Why? Because statistically around that age is when age-related diseases start to come up and cats, and particularly house cats, have subtle issues like old person diseases such as diabetes, bad teeth, hypertension, heart murmurs, all things you cannot notice at home but a veterinarian can. The American Association of Feline Practitioners (AAFP) recommend having blood and urine testing every year after the age of 8 or 9, or so. And again this is because you can often find evidence of age-related diseases in the physical exam, and on blood work and urine testing, years before a cat actually gets sick because cats are masters of hiding disease. By having a health check twice a year and blood and urine testing once a year, you can catch health problems years before you'd notice them normally. And this is the right time to intervene and make small changes that are cheap and easy, and will keep your cat healthy for years to come, without incurring health prices. And all the other stuff like food, housing staff that will come from those visits to a vet as well, or you can also watch my 3-part video series on taking care of a geriatric cat.

Q: What other tips and recommendations would you like to share with all cat owners?
A: This is a very broad question. You know as a vet I often find myself having very serious conversations with people and really encouraging people to think of their pets in a more structured, serious framework like they are living beings who need a lot of care. But I think it's also very important to remember that animals enrich your life tremendously and the most important thing is to bond with your pets, not take them for granted, really enjoy them for who they are, really just have fun with them. I intentionally finish my videos by saying "don't forget to have fun with your pets", and I really genuinely mean it. The more you put into them in terms of intention and time, the more you will get back. And this is really a wonderful thing. 

Q: Reading your profile on Patreon we admire  your mission of creating a solid base of vet-related information that helps cat owners have healthy cats. Can you tell us a little more about this project?
A: I think it's a natural evolution of my channel. When I realised people really watch it and find it useful, it really gave reason for making more YouTube videos. If as a veterinarian I sit in my clinic every day and see my clients I can maybe reach two thousand people a year. And if I am a veterinarian for 20 years, that's maybe 40,000 people I can help. Whereas when I make my video, and my videos get a few hundred thousand views (you know 40,000 people have watched the video on how to tell if your cat is fat), this is the opportunity to reach out to a massive audience and make their and their animal's life better. And a lot of people do not have access to high quality vet advice whether it's because of living in a country without a well-developed vet education system, whether it's because they don't have money or cannot afford to take a cat to a vet, or any number of other reasons, and I think that by creating videos I provide advice that I would provide to my clients who come to see me at work. I feel I can help a lot of people, and it makes my life better and their life better, and it's a strong motivation to keep doing it. You know I do have really amazing feedback. At a party a friend told me that their friends who live down in Oregon, that is 2,000 km away from me, saved their cats from a house fire by putting them in pillowcases and running out of the house because they watched the video where I said how to do that. That is a really amazing story, I helped save the lives of a couple of cats in another country. And occasionally I get stories like this saying "Oh, I know this from watching your video and I took the cat to the vet." And it is incredibly rewarding.
YouTube Channel Vancouver Vet
Instagram
Arbutus West Animal Clinic