If you want to take your feline friend out on an adventure, a special backpack for your cat might be the perfect solution. Even though cats love to sleep a lot and seem to be perfectly content on their soft, comfortable pillows, they are curious, love to explore and observe smaller animals, such as birds or fish.
Some cats will be comfortable with a leash, others will freeze and not enjoy the experience. Before you go out, make sure your feline friend is happy and not scared. Cat bubble backpacks are usually the best option, most cats don't seem to mind being on the back of their owners and a small window is perfect for their curious little minds.
*The post might containt affiliate links


What factors should I consider when buying a cat carrier backpack?
Size
Cats come in all shapes and sizes. A bubble backpack for your cat shouldn't be too small or too big. Too small cat bubble carrier means that your cat might have trouble moving around. If you buy one that is too big for your pet, then your cat might not be able to properly look around.
To find the perfect size, measure your kitty to know how big and heavy your cat is. You should also consider your feline friend's personality – if they like to move around a lot, the backpack should have a little more room.
Functionality
If you can find one, choose a bubble backpack that offers additional storage where you can put your belongings. There is no need for you to carry another bag.
Also, take into consideration what type of activities you will be doing and how often you will be using this cat backpack for. Will you be using the cat bubble backpack for longer hikes or short trips to the park? Some backpacks are more suitable for calmer activities, some might be ideal for longer trips.
Comfort
Carrying your cat will eventually strain your back and shoulders. To enjoy long walks in the park or on a trip, make sure the bubble backpack for your cat has wide and well-padded shoulder straps. If you have a chance to try them out, don't hesitate to do so.
Your smaller friend should also be comfortable. Make sure the bubble backpack of your choice has enough ventilation holes so that your cat can constantly get a dose of fresh air. Check out the material of your new backpack and see whether the carrier is made out of airy material, so your cat won't overheat when out in hot temperatures.
Don't forget to check the backpack's padding. It shouldn't be too soft or too solid. Padding that is too soft will eventually curve or bend under your cat's weight.
Safety
Try to avoid buying cheaper cat bubble backpacks, no one wants your cat escaping and running away. Make sure the carrier is made of high-quality materials and that you're paying a good price. A solid bubble backpack might be more expensive, but you won't have to worry about holes or tears, and it will last a lifetime.
Maintenance
Make sure you clean the backpack now and then and check for any holes, tears or damage. You should store it in a place, where the cat bubble backpack is easily accessible, but in the place that dust doesn't get into.


Benefits of bubble backpack for cats
These carriers are a wonderful way to spend more time with your cat and mean you do not leave your feline friend alone. Each cat is an individual and your furry friend might adore being outdoors safely and observing new surroundings. These carriers are gaining in popularity for a very good reason as they are:
Unique




Safe

for cats and owners




A new way to bond with your pet

who

likes to

explore the outside world




Convenient, and easy to use and take care of
How to make sure my cat is comfortable being in the backpack?
Prior to going out for a walk, introduce your feline friend to the backpack. Let them explore the backpack and acclimatize to it. Place your feline friend into the backpack and walk around in the house to get them used to being on your back and looking through a small bubble-like window. To make sure your cat is even more comfortable, encourage and reward them with snacks or put familiar items inside, such as toys. Remember to take a small blanket with you when the weather gets cooler.
You should not force your cat to travel in the bubble backpack with you. There's a chance they won't like the backpack at all, and if they don't, that's okay. There are other options your cat might like.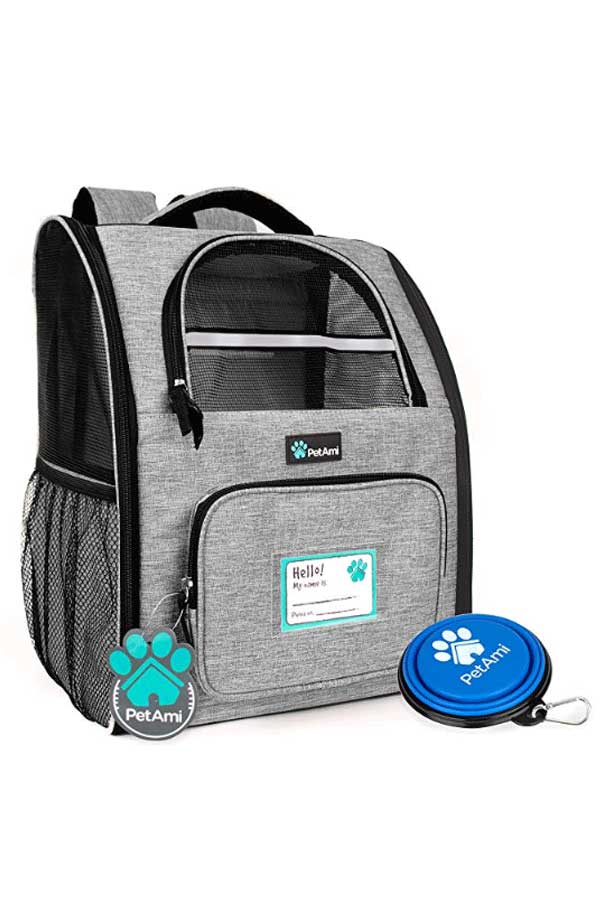 PROS
Extra pockets
Fitted straps
Plenty of room inside
Breathable, cool material
CONS
Zipper might get stuck on the corners
May not be comfortable for larger cats
Digs a little bit into the lower back
BUY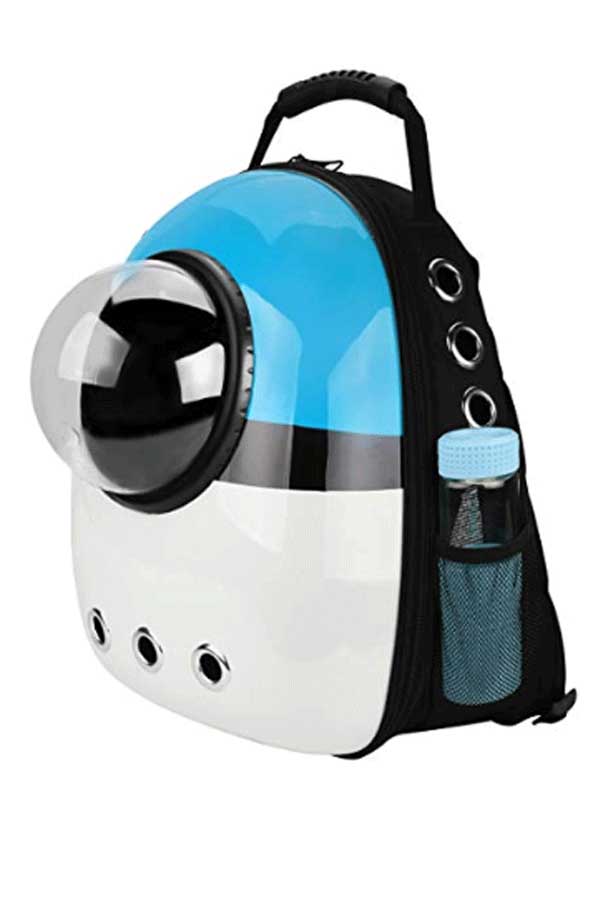 PROS
Different sizes for bigger and smaller cats
Extra pocket on the side
Covered in protective film
CONS
High international shipping
BUY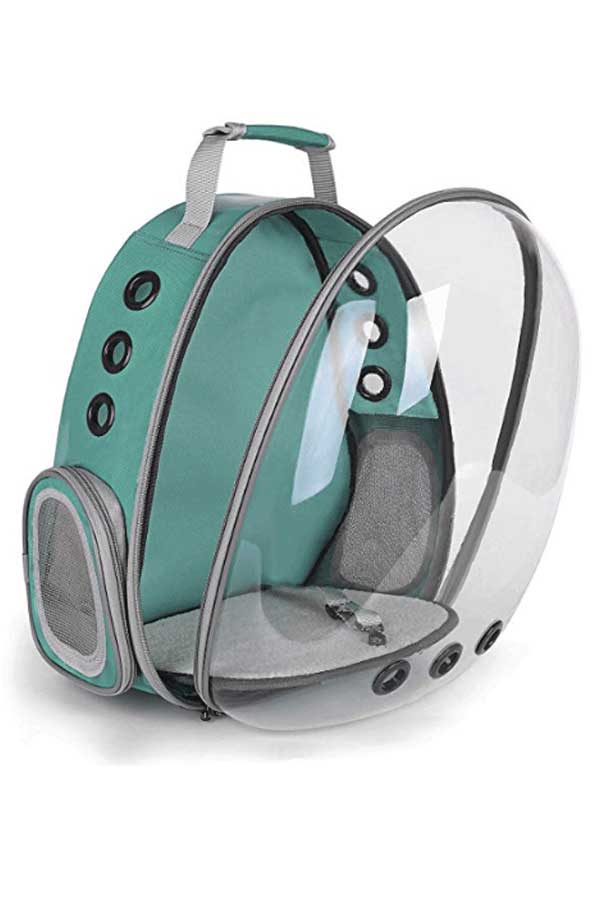 PROS
Extra pocket on the side
Breathable
Removable pad
Back support
CONS
It gets hot and stuffy on extremely hot temperatures
Scratches very easily
Not recommended for bigger cats
BUY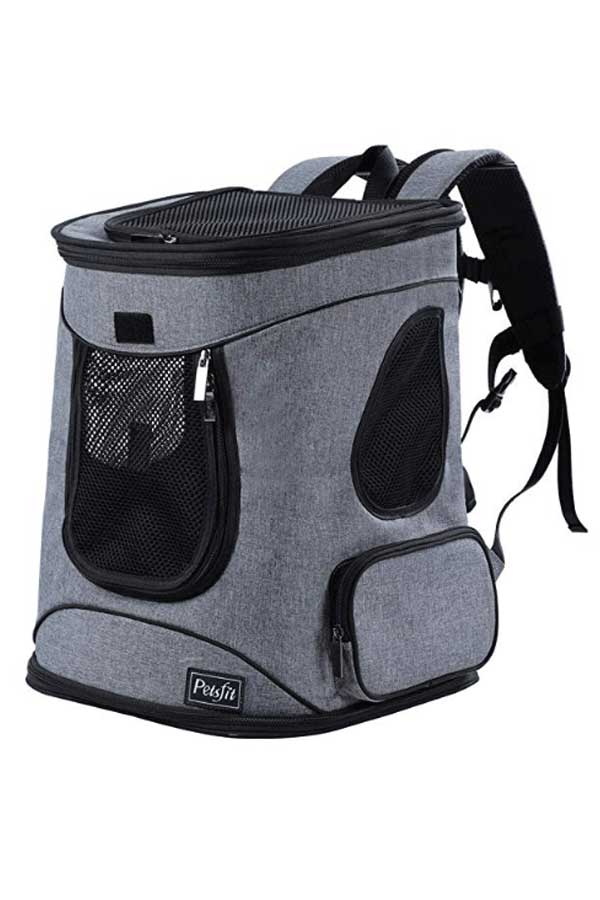 PROS
Paddes straps
Leash inside
Extra side pockets
Plenty of room
Good ventilation
Waist and chest straps
CONS
No backup if the zippers break
BUY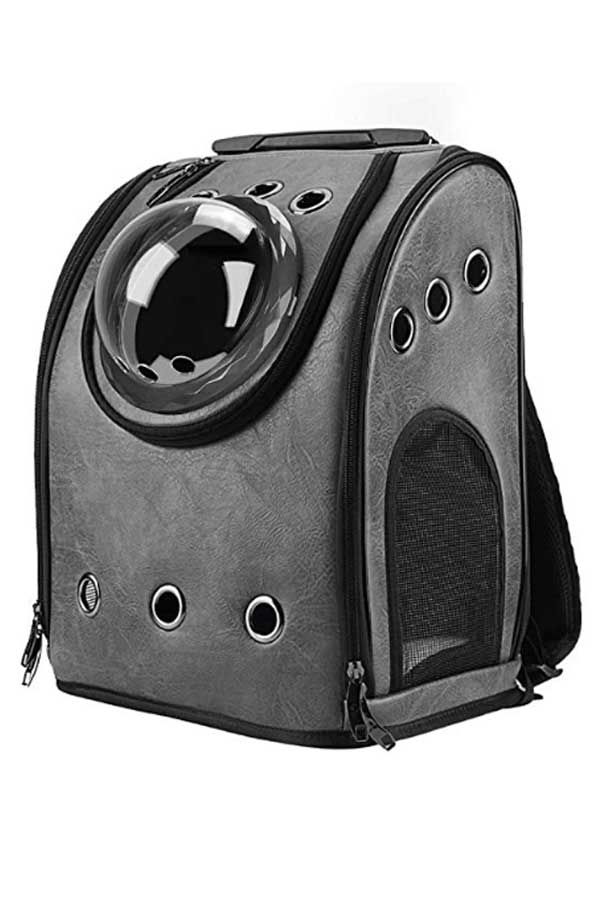 PROS
Security leash
Mesh panels
Soft, washable pad
Plenty of room for larger cats
Very sturdy
Solid floor
CONS
Slight odor, has to be ventilated
Digs into the lower back
No chest or waist straps
BUY


*FTC Disclosure: This page contains Amazon Associate links. If you make a purchase after clicking on the links, Meowpassion will get a small commission at no extra cost to you. We are dedicated to finding the coolest products for cats, cat owners and lovers, and we never recommend anything that we don't love or trust.