Cats, and pets in general, enrich our life and make us happy. Cat owners remember the day when they brought a small fluffy ball home and bought them their first food or toy, their first visit at a vet or other cute moments. Unfortunately, our 4-legged friends live shorter lives than us, and every cat owner experiences the heartbreaking moment when they have to send their pets to the Rainbow Bridge.
There are a great number of ways cat owners can keep memories of their furry partners, taking pictures of pets is one of the simplest. However, if you want to have a place where you can store your pet's favourite toys or other stuff and to have enough space for the urn, then you will like a cat or dog memorial box designed by Pearhead.
Pearhead, a global lifestyle brand, was established to help their customers celebrate the most important and special moments in their life.
The black Pearhead memory box for cats will fit cats up to 100lbs (45kg) and suits all home décor. The box includes everything a cat owner needs to have to celebrate your kitty's life or have a wonderful place to rest:
your kitty's print (100% cat safe clay)
4" x 6" photo insert
a box 10.11" W x 7.87" H x 4.48" D that can be used as an urn or a place to keep kitty's favourite toys, blankets, cards, cremation certificate, or other items.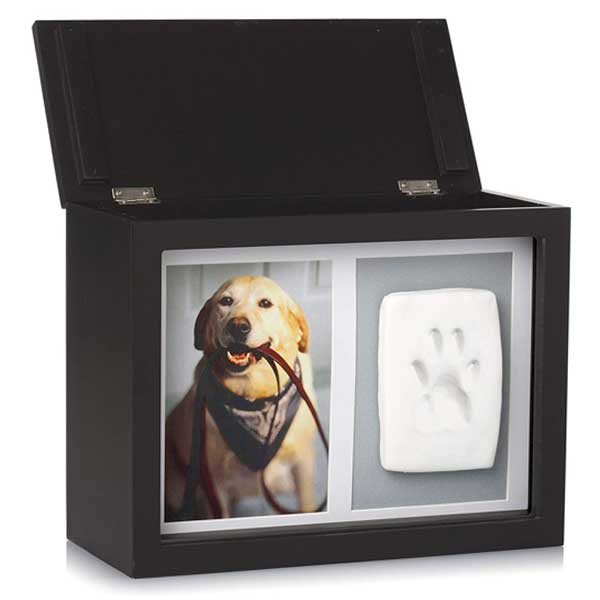 Nothing can replace your kitty, but seeing your pet's photo and knowing your cat is resting in a wonderful place will make easier to cope with the loss of your beloved friend.
Pet Memory Box
A beautiful place for a pet to rest
HANDPICKED RELATED CONTENT
Care For Senior Cats




*FTC Disclosure: This page contains Amazon Associate links. If you make a purchase after clicking on the links, Meowpassion will get a small commission at no extra cost to you. We are dedicated to finding the coolest products for cats, cat owners and lovers, and we never recommend anything that we don't love or trust.