The first thing that you pay attention to when meeting the Ragdoll cat is their bright blue and very intelligent eyes that seem to be looking at the very essence of things. Perhaps, Cat Buddha is the best description of the Ragdoll.
You might find a few common features between Ragdoll and Birman breeds. Although there are a few similarities, the breeds also differ significantly. For example, Ragdolls are big and heavy cats, and are closer to the Maine coon. Their legs are medium length and the tail is long, pointed, and heavily furred. The Ragdoll female weights 4-6 kg, and the male is 6-9 kg.
Ragdoll cats can have three types of coloring:
colourpoint (the Siamese type: light coloured fur and a mask on their face with a dark coloured  tail, ears and paws);

glove coloured – "Mitted" (white gloves on their paws and light coloured fur on the chest and chin);

bicoloured, a combination of two colours (legs, chest, belly can be all white, and a light coloured body with a mask on their face with darker tail and ears).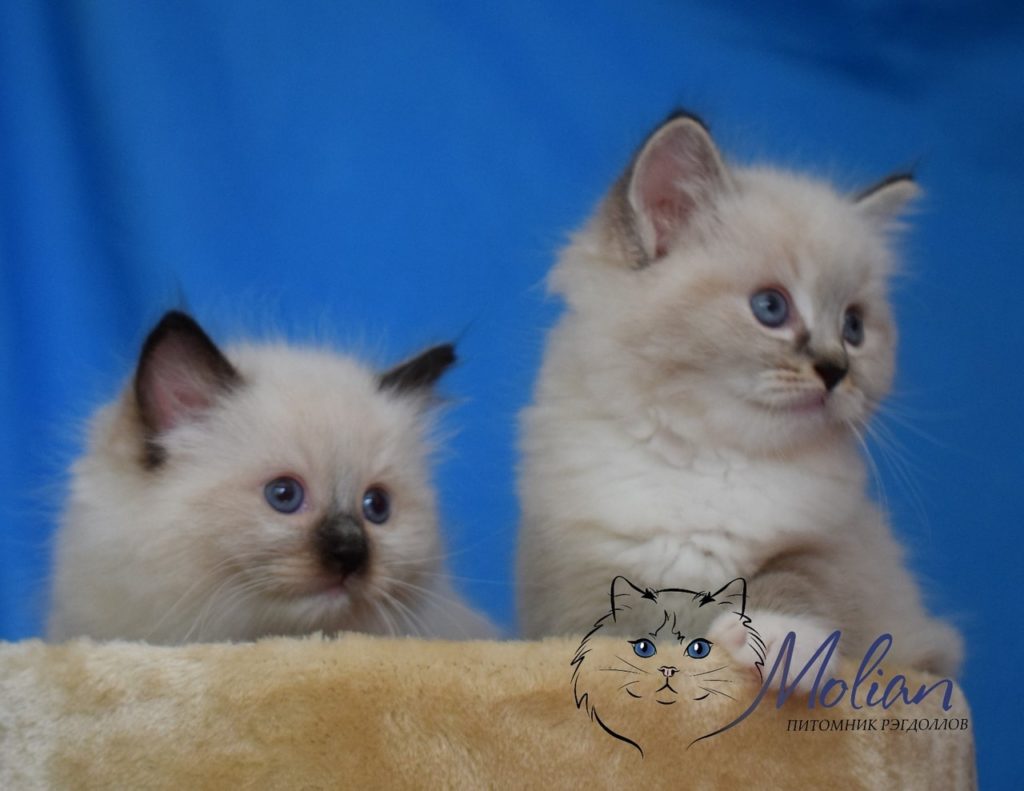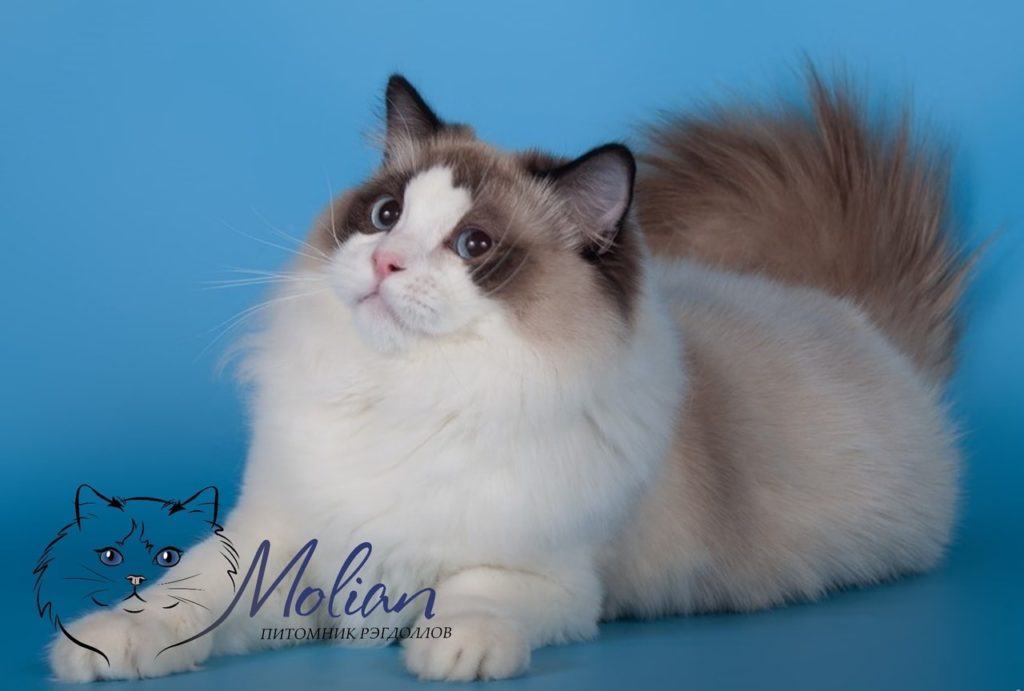 The fur can be of different colour shades with variations of  cocoa-chocolate or brown, as well as dark purple or bluish. Colour combinations are not limited by the standard.
Ragdoll cats personality
Ragdoll cats are characterised by their unique adaptation ability. They  easily adapt to any home and almost any company.  Quietness is a key point, as loud sounds make it difficult to be  lazy, something that the Ragdoll  loves the most and does it masterfully! An owner can really feel very comfortable with this cat under one roof, they are calm, good-natured and obedient.
The Ragdoll's character is not aggressive and very soft.  Owners have noticed that in whatever position they place the Ragdoll, they would remain in such. It is for this reason the Ragdolls  are also called toys!
By the way, the voice of Ragdoll cats is yet another unique feature. Cats use their voice very rarely, exclusively in relevant situations and are barely audible. This breed is ideal for families with children, because the Ragdolls adore when they are cuddled and pampered.
If you already have a pet (a cat or even a dog), then get a Ragdoll cat  without any hesitation, they will get along perfectly with them and even become friends with other pets. However , a cat will prefer the company of  their owner.  Be prepared that  the "rag doll" will always be within your reach, by your hands or feet,  or in the neighbourhoods.  A Ragdoll's life span is 15-18 years, so an owner has time to enjoy their  beauty.
The Ragdoll – health
In general, the Ragdolls are cats with good health and stay healthy to an advanced age. But the cats might suffer from hip dysplasia.To a light degree this does not cause any special inconvenience either to the cat or owner, and it can even remain unnoticed. However, to a more advanced degree it might result in immobility of the pet.
Feline hypertrophic cardiomyopathy (NSM) is yet another disease that Ragdoll cats might suffer from This heart disease is dangerous because the cat can die, even at an early age suddenly. Since the disease is inherited, when buying  the Ragdoll, be sure to ask breeders to provide you with true and complete information about  the health of the kitten's parents. However, other breeds of cats can also suffer from NSM, but it is better to be safe than sorry.
The Ragdoll – care
The Ragdolls can not just turn in the air, and an owner has  to watch and prevent them from falling off  even the smallest height. Just teach a cat not to climb high, and Ragdoll cats are smart, so they will understand!
There are no special requirements for caring for their fur as  Ragdoll fur does not get tangled, but daily combing is a  good habit.
Ragdolls are phlegmatic, but not during eating. They like food and do not complain about a lack of appetite. Ragdolls cats are lucky, as obesity is not something that really affects  them.  However, an owner should always remember to give them  dedicated mineral supplements.  Meals should be not only hearty, but frequent as well.