The Persian cat is probably the most popular and recognisable breed of cats. The Persian is particular in every aspect: the history of its origin is full of secrets and the exotic looking cat might have up to 100 colours! A unique version of their origin does not exist, but one way or another Persian cats came to Europe from the East, and then to England, where the breed gained in popularity.
How long does a Persian cat live? According to statistics, their lifespan is 11-15 years
These 100 colours, of course, means a great number, and is the reason why felinologists rank Persian cats due to the colour of their eyes.
Yellow-eyed Persians usually have white, ginger, black and tortoiseshell fur;

Green eyed Persians are characterised by complex colouring, such as shaded silver or chinchilla;

The colouring of blue-eyed Persians is the most varied;

For the moment the most widespread colours are: blue, red, tortoiseshell and white.

Persian cat  – personality
The Persian cat is one of the most easily adapted breeds for living with a family. It is unlikely that the cat will survive in the wild.
The Persian is a perfect choice for families, as it easily gets on with children, even with capricious and annoying ones. They also fall quickly in love with an owner, and protect them, treat them and feel their emotions. Persians incredibly need to be loved and that is why they travel or relocate with an owner gladly. When an owner is absent, it seems that a cat stands motionless – they do not touch their food and stay in one place. However, when an owner comes home, the Persian cat simply comes to life.
These cats might be of various temperaments, but they are never aggressive. Persian kittens are always funny and restless, and they stay as such for many years, if an owner stimulates such behaviour.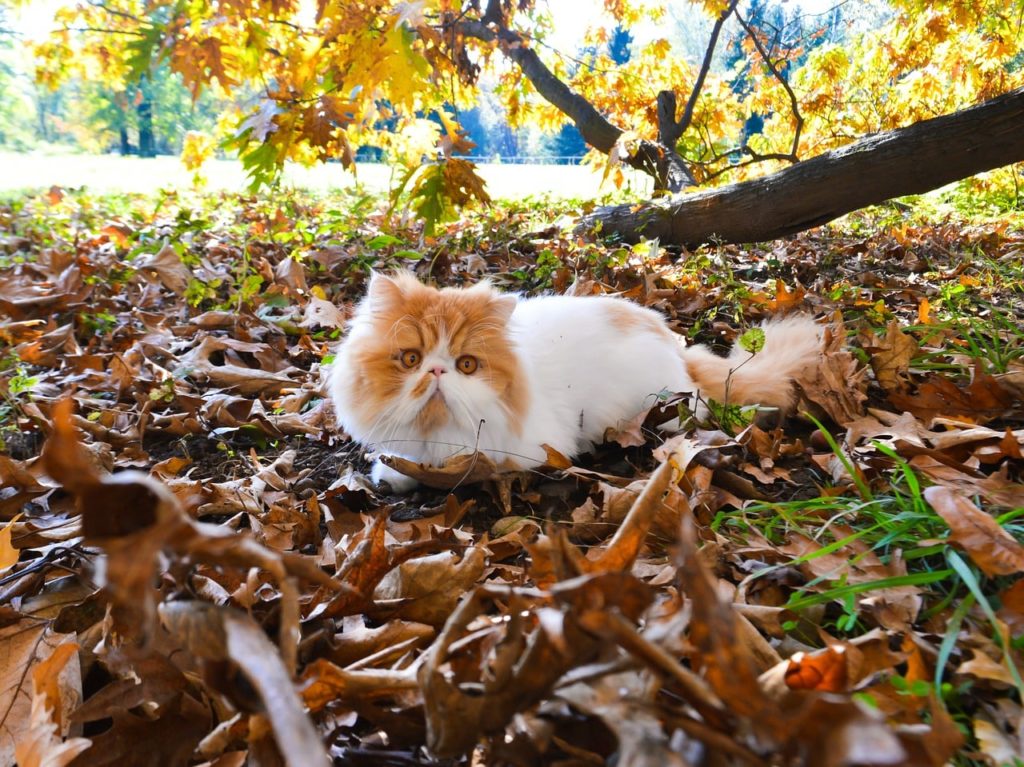 How to take care of persian cat ?
The Persians are very naïve and curious cats, so an owner should:
Keep them away from all chemicals and medicine;

If you are cooking in the kitchen, control the cat, as they can jump onto the cooking stove or touch hot kitchenware;

check out the washing machine or drier, as a cat can sleep in it;

protect windows, as  Persians do like sitting on the window sill.

 

Persian cats grooming
Taking care of their fur is an entire art form, and it requires dedicated products and sequential actions.
The combing includes 3 stages: at first with a spaced comb, then thoroughly combing with a medium spaced one, and smoothing with a narrow spaced comb. Combing frequency is every two-three days.
You can use a spray or conditioner at the end, and remember to use antistat for cats.
Cats should be bathed every 2-3 weeks with a quality shampoo for long haired cats. After bathing, dry fur with a towel, and comb carefully until the fur dries, and naturally, being in a warm room helps.

Persian cats – food
The condition of a cat's fur depends on the care they get and the quality of their food. A cat, even as gentle as a Persian, is a predator. This means the cat is a meat eater. Therefore, the basis of their menu should be meat-based foods. At the same time, however, the diet of Persian cats must be well balanced and contain meat, fish, poultry and vitamins. When you choose a product in the store, you should pay close attention to the information on the label. The best cat food contains a high portion of meat, and the greater the percentage of this ingredient is, the better impact will be on the health and appearance of the cat. In contrast to High Premium food, poor quality food includes ingredients such as grain or rice.

Persian cats health problems
The Persians have pretty good health, but the cats might suffer from a few hereditary diseases, for example:
polycystic kidney disease;

blindness (manifested by 4-8 weeks, and after a couple of months a cat becomes completely blind);

excessive eyes watering due to a flat face;

hypertrophic cardiomyopathy;

cats are prone to gingivitis, dental calculus and plaque.
A pet should have regular veterinarian check ups every several months.
You will definitely fall in love with the main features of Persian cats – a face of a baby, calm temper and infinite devotion. And you won't be waiting too long for two-way love.
A cat should never be fed primarily dry food. Cats are chronically dehydrated because they do not drink enough water. Feeding dry food further dehydrates the cat and leads to a short life span as the kidneys become damaged due to lack of water in the diet. Most, if not all cats, die many years early because of the diet they are fed. Personally, I feed all my cats homemade food. I make them food using human grade chicken, pork, turkey and beef, and add the necessary vitamins, minerals, calcium and organ meats and fish. This food is a "wet" food and has lots of water in it. Canned foods and dry food, unfortunately, is processed, and cats often feel very hungry after just a few hours of eating such foods. My cats stay full for 8+ hr after they eat homemade food. Homemade food is far superior to commercial food. For homemade food recipes, catinfo.org or Dr. Becker's Homemade Food for Cats and Dogs are great resources for recipes.
Regarding caring for a Persian cat, here are some precautions:
– Persians are very innocent and very curious. Make sure you do not leave the back door open or leave them unsupervised on decks as they could run away or accidentally fall to their death.
– Cords to venetian blinds should also be secured up high as Persians could get tangled up in them and choke to death.
– Do not leave threads, yarns, ribbons, shoelaces or tinsel out as Persians are known to eat and swallow such objects and could die.
– Never bring Lilies into the house as Lilies are known to be fatal to cats if ingested.
– If you have reclining chairs or couches, cats should NEVER have access to them. Many cats are known to die every year because they crawl inside and are killed when the reclining mechanism is activated.

Persians are high maintenance cats. They require extensive grooming and bathing. They also shed. Persians are highly social animals and do best when their guardians are not away from home for many hours during the day. Persians do enjoy the company of other cats.
website: http://snobelle.com/