One day we came across your site and fell in love with your amazing products. How did you come with the idea?
Art Your Cat was founded to give a real personalised value to the cat community. The idea came to us after we lost our cat and we were looking for a way to memorialise him and to let everyone know how much we love him, but in a very cool and cute way of doing so, such as a cartoon version of him or a portrait of him as a renaissance character.
Today, we have new cats that we have adopted, and each of them has their own version printed on something!

Can you tell us more about the cat owners who buy your products? What countries are they from, why do they buy your products, and what more would you like to say to those who are only considering buying them?
Sure, most of our customers are from the United States. But we get orders from all over the world! We have customers from South Africa, from Singapore, from all over Europe and from Russia as well! It doesn't really matter to us as we are all cat lovers so we bond around that 🙂

They buy our products, first of all, because they are unique. But mostly we think that they can feel that we are more than just a cat store, but a community and a family to join.

Our customer service is the best you can find online, and we give personal attention to each and every customer, so we are actually friends way before we print the product for them and that is what makes all the difference.
For those on the fence before buying, we always say: Just try us and see for yourself. But if you are still swinging just check our customer reviews, we will let them speak for us!

We see that your customers really like your designs, your service, and that you have amazing reviews. Congrats! Can you tell us more about the process, quality, and your secret as to why your service is rated higher than the rest?
The process is very easy:
1) You place an order with your cat's photo (you can attach it to the order).
2) Our talented designers make the artwork and will send it for proof.
3) You approve the artwork.
4) We print it and ship it!

The quality of our products is the best we can find! We print using a DGT (direct to garment) printer and use the best materials to print on. So your prints will last for years to come and will not wash off in the laundry!

Our secret is not really a secret anymore, we just provide great value, along with the best customer service and we work very hard to make ALL of our customers very happy with their order. So it's that simple 🙂

I also know that you offer individualised designs. Can you say more about these designs?
Sure, we take custom orders and love to go wild with our customer's vision. Do you have a specific character you want to have? Add or remove things from the design? Any custom request can be done. Just send us an email or a message, and we will get it done for you!

If you (or members of your team) have a cat or cats, can you tell us more about your furry friend?
All of the Art Your Cat executives and employees are cat lovers that own their own cats, some of them even volunteer in cats rescue shelters (we also donate to them from time to time).

This is a must for us because we think that only cat loving people can understand each other.

Our favourite indoor model is Mr. Puchicat, he is a rescue cat, saved when he was one month old, he had been abandoned, and he was hungry and weak. We found him lying on a sidewalk near a gas station. We weren't sure if he would survive. But he did! And now he is almost two years old, super energetic, and loves life and tuna treats.
This is the first T-shirt we made of him: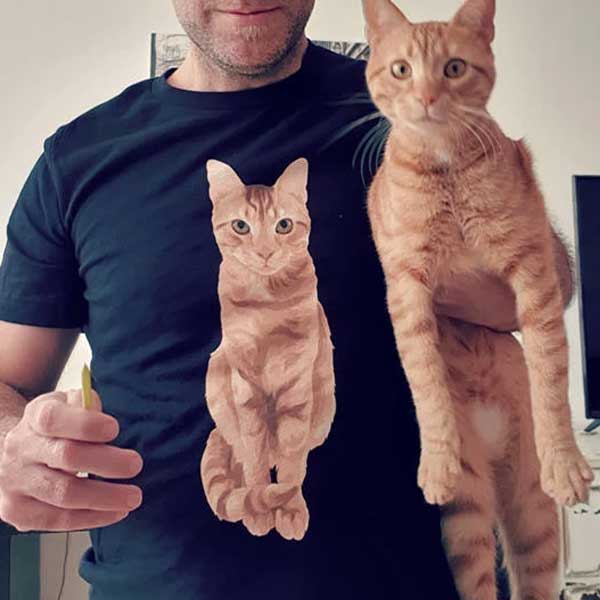 I also know that you can create designs for multi cat households. Could you share your experience and let parents of multi cat households know more, as I am sure they will want to order such designs.
Our customers were looking for a solution where that they could personalise something with all of their cats together, as they could not afford to be buying multiple products per each cat.

So we came up with a special collection: "Family of Cats". Where you get a cute design with you as a Mother of Cats or a Father of Cats (soon we will have Brother and Sister as well) plus the number of cats you have (1-10 cats) and you can personalise it with their names on it! So with one shirt you can get the whole pack in 🙂 isn't that meowsome?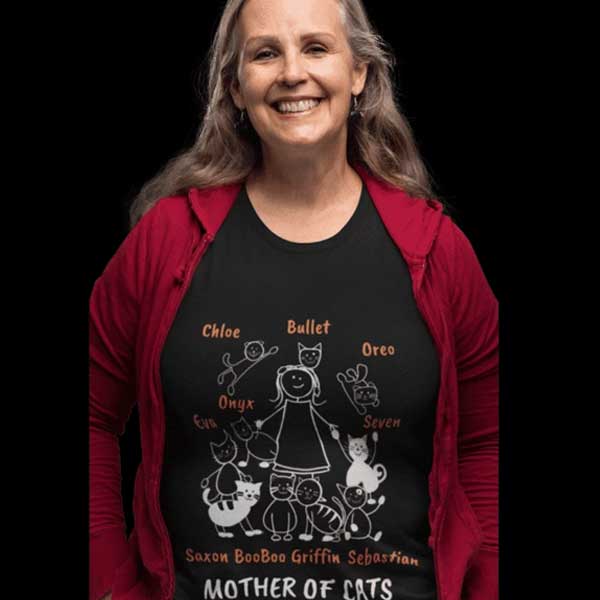 What countries can you ship your designs to?
We ship worldwide to any cat lover in the galaxy!

What are you dreaming about?
We have a dream that governments and countries will treat their furry babies just like humans and will help any animal in need. Still a long way to go, but it is one step at a time.

What are your professional plans? How do you see your shop in 5 or 10 years?
We plan to grow bigger, have more products and services, and to have a big and loving community where people can share their mutual love of cats anytime.


Want to help us?
Purrfect!
Join our FB page, visit our shop and share the word with your friends!