While conducting our research on the best products for our furry friends, we came across the stylish products by FelineKingdom and fell in love with them. We are thrilled that the owners of the brand have revealed more about their gang and the high-quality products they have created for the comfort of our kitties.
Q: From the information on your online shop, we learned that the idea was inspired by your own cats. Can you tell us how many companions you have and talk a little bit about their personalities? Do you think cat owners should have more than one cat?
A: When we first decided to launch FelineKingdom12, we had 5 kitties; they were Chamats, Peebo, Charriacha, Casper and Gordi. That was the crew; the founders of FelineKingdom12. As time went on we rescued 2 more and our family grew to 7 kitties. As time passed, our older kitties sadly passed away but we continued rescuing until at one point we had a total of 14 fur-angles in our home
Today, our crew consists of 3 felines (we also have two doggies). We have Chester (14 yrs old), Bella (11 yrs old) and Zeus (10 yrs old).
A little on Chester our eldest, he can be a bit temperamental but still loving nonetheless. On good days he wants to hang out and play with Bella and Zeus for hours on end and other times he wants nothing to do with them. On those days, he'll take ownership of the Kitty-Bunk we have mounted up high in the corner of our kitchen and he'll lay there watching all the action down below all day long, so funny! He loves that bunk! But, despite his inconstant demeanor, Chester is absolutely adorable! We love our Chester!
Then there's Bella; the queen! We feel she doesn't consider herself a feline but a canine, haha! Bella bonds with our doggies more than she does with Chester and Zeus.
She's a happy camper though; all she's concerned about is having her favorite meals 2x a day, getting groomed, daily hugs and kisses and, spending time with Goldie and Valtam in the living room bird watching through the bay window. She's such a delight! Love her!
And next, we have Zeus, he's our spirited little guy. He's full of energy at 10 years old. After breakfast every morning instead of taking a nap like Chester and Bella normally do right after eating, in Zeus's mind it's PLAYTIME!
Like clockwork, every single morning he springs onto the 6ft scratching pole in the living room and climbs all the way up to where we have ramps all around the perimeter of the ceiling and there he goes running on those ramps all around and around several times. So delightful watching him! We love our peppy Zeus!
You ask if cat owners should have more than one cat? Yes, we feel that cats are not necessarily loners like most people think. We've seen it with our own kitties. When they need space, they will go look for it for the amount of time they need.
We feel cats need and want company; not only human company but feline companionship as well.
Q: What was the first piece of furniture you constructed and why? What was the journey like from an idea to the final piece?
A: The first piece of furniture we constructed was the "Kitty Play-Center". We came up with that particular piece because of the different components to it. The pieces lend themselves for kitties to walk, climb, scratch, or simply lay and take a snooze on. It's like a one-piece has it all. The Kitty Play-Center has: 4 shelves and 1 kitty-bunk 1 bridge and 1 climber/scratcher.
You can mount or arrange the play-center in different ways to accommodate the particular room or space where it'll be installed. This set is one of our most popular items, it's one of our top sellers. It's fairly priced and offers a great deal for kitties to enjoy.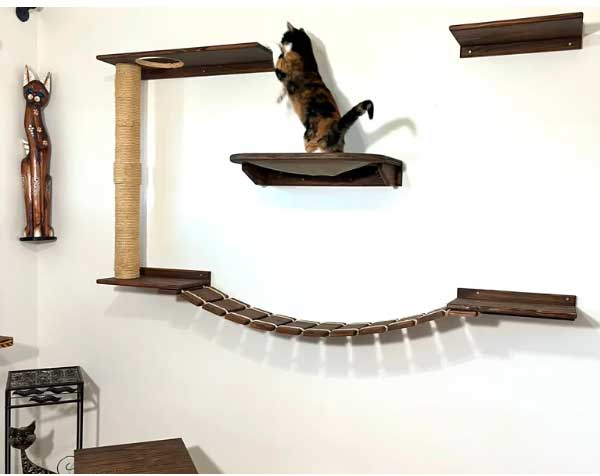 The journey from an idea to the final piece is actually an ongoing process. Better said, there really isn't an end to an idea because there have been times when even after creating a piece, we've gone back and made changes to that same item. That's why we keep a constant eye on the fur-kids because they are the ones that actually confirm whether the piece is perfected or not. Believe us when we say, we pay very close attention to their every move throughout the day. So after we've come up with an idea for an item, we sketch a rough draft for ourselves and from that point on it's transforming an idea to an actual piece of furniture we make in our
workshop.
The item will then get tested by our kitties and they get to keep it 🙂 it's theirs! It can't get any better when you have a Quality-Control Team right in your own home for free 🙂
Q: The variety of sisal scratch posts is amazing: vertical, horizontal, and wall-mounted. What is the most popular design cat parents buy in your shop? Can we say cats prefer e.g. vertical scratch posts?
A: We offer feline parents a variety of climbers and ramps to choose from. Our listings specify the angles in which the piece can be mounted. For example; climbers can be set up actually in any angle but ramps should be mounted horizontally or at an incline. So; as far as a favorite design, we guess it's a matter of choice.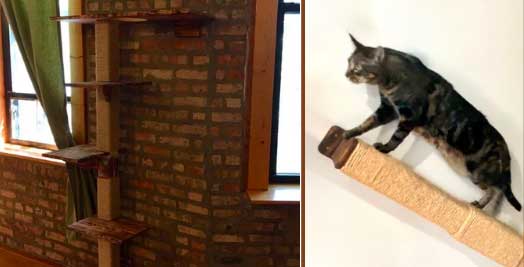 Q: How do you decide on designs and materials you will be using?
A: We decide what materials we are going to use based on what furniture we are going to make. The finishes and fabrics we offer on items are chosen by our buyers. We have various colors for fabrics and the finishes are UN-finished, burnt, paint and stain.
Q: We fell in love with paw steps and paw-designed products. Whose idea was it to create them?
A: We too love paw print designs! Paw prints have been around forever and since we all know that they represent an animal (cat, dog) we felt it would be appropriate to feature paw shapes and incorporate them on some of our items.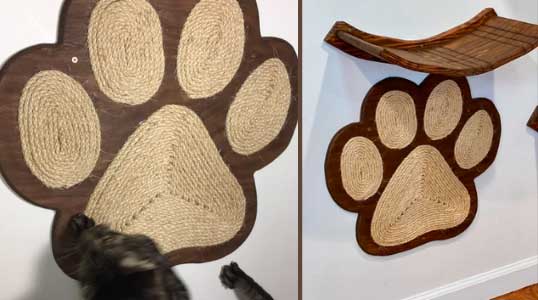 Q: As to the size of felinekingdomllc cat furniture — do they fit apartments and houses of all sizes, even the smallest studio apartments in New York?
A: Yes, we make our furniture fit to meet the needs in any living space. We customize the pieces based on the needs of the customer.
Q: How long does it take to produce a piece of furniture?
A: Completion time of an item is based on the complexity of the piece and quantity ordered.
Q: Do you have any cat furniture you are particularly proud of or loved producing?
A: To be honest, we are proud and love every piece of furniture you see on FelineKingdom. We dedicate a lot of time from the pre-production stage to the final product into making sure all our pieces are cat friendly and practical. We are confident that when a cat parent purchases an item for their kitty, they will not regret making the investment. We stand behind our furniture and believe pet parents and kitties will love their furniture as much as we do.
Q: Did one of your cats fall in love with the furniture you designed for sale? How did you
manage the situation?
A: We've never had a problem with any of our kitties wanting ownership over an item we made for a customer. You see, our kitties actually have all the pieces listed on FelineKingdom. Some of the pieces we have at home may look a little different than the ones in our store but that's because it's gone through the quality-control phase where we made changes to perfect it. So, all in all, our kitties are not phased by anything we make because they already have it 🙂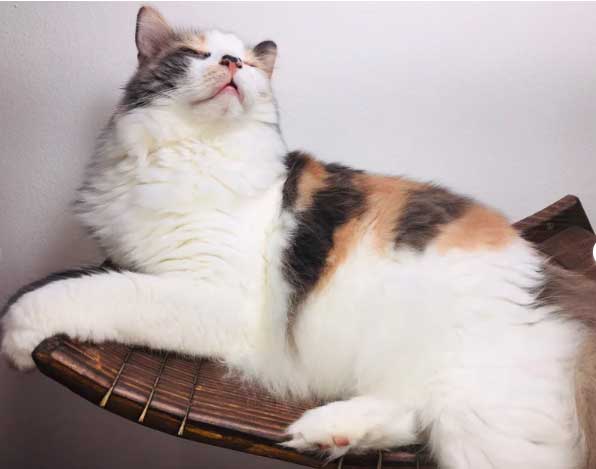 Q: Do you have any plans and/or dreams? Can you share them with us?
A: For the moment our focus is to get as much exposure as possible for FelineKingdommLLC so that we can generate sales. By generating our sales we will be able to increase the amount of donations we currently give and help more no-kill shelters. We have donated furniture to several shelters and we know that helps but, we want to be able to do much more for them.
YOU MIGHT BE INTERESTED IN
Are Three Cats Too Many?