Felines are known for their intelligence, curiosity, and playfulness. To ensure pets are in good condition and health, cat owners should make sure their beloved companions stay hydrated. Pet owners can easily maintain optimal hydration levels for cats by offering them access to fresh, continuously flowing water. Ceramic cat fountains are an excellent way to provide this essential resource.
And—
ceramic cat drinking fountains not only provide fresh water but also add a stylish touch to your home decor. Here are top porcelain cat fountains available in the market, each with its own unique features and benefit.
Etsy ceramic cat fountains: ColoredGroundPottery
ColoredGroundPottery offers a handmade large capacity (10 cups) ultra-quiet fountain with a unique twist. The ceramic material keeps the water cooler, making it more pleasant for cats to drink.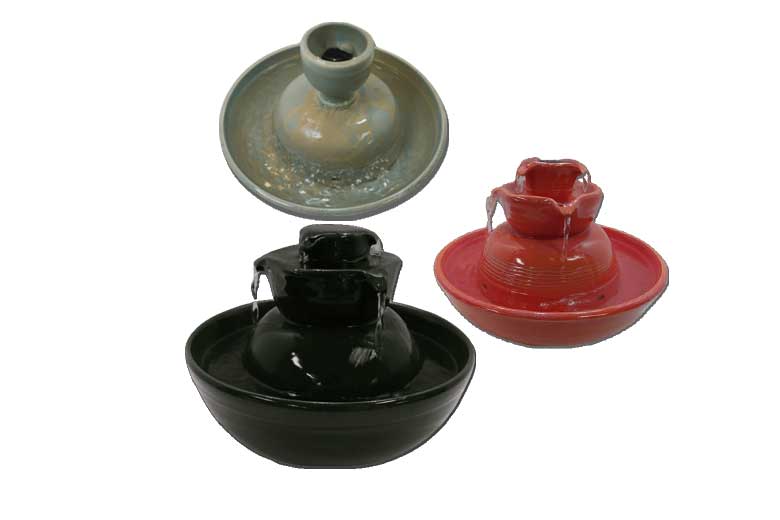 The pump and filter can be easily removed for cleaning, and afterward reassembled. The design is leakproof, and all sections can be cleaned in a dishwasher. Moving water encourages kitties to drink more, and the fountain can be placed in any room to complement any decor.
Dishwasher safe
Hand made
Silent
Non-toxic clay
Simple, beautiful design
Personalized colors can be requested
Excellent customer service
A star seller on Etsy
iPettie Tritone ceramic pet drinking fountain
Tritone cat water fountain is a high-quality, eco-friendly ceramic fountain that is easy to clean and outperforms simple plastic fountains. Being perfect for cats of all sizes, the large capacity ensures pets have enough water to drink throughout the day. The fountain has a dual filtration system that includes a foam filter to prevent pet hair and debris from clogging the pump and a chemical filtration system that removes unpleasant odors. It's durable and resistant to scratches.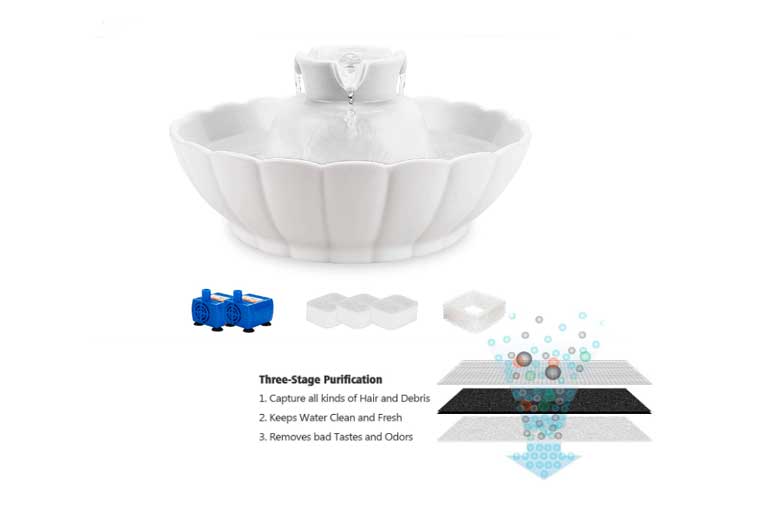 The fountain operates quietly and consumes only 2W of power. With a capacity of 71 oz (or 2.1 liters), the fountain provides enough water for a pet to drink for 2 weeks. The ceramic drinking fountain by iPettie comes with a 3-year warranty.
Features:
Easy to clean and assemble
Quiet
Fits in any decor
Includes an extra pump and additional filters
Nicely priced
Larger debris might not get filtered out
Some cat owners do not like cleaning many parts of the fountain
Drinkwell Pagoda pet fountain
PetSafe Drinkwell Ceramic Pagoda Fountain is the perfect addition to your friend's hydration routine! With a water capacity of 70 oz (or 2 liters), it's ideal for cats and small to medium-sized dogs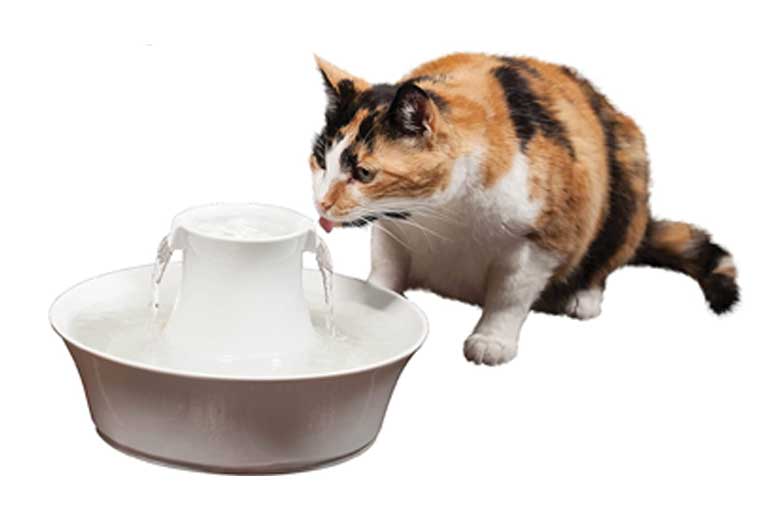 This fountain, with its dual free-falling streams, adds oxygen for freshness and promotes hydration in our unemployed freeloaders. Pet parents can rest easy knowing their pet has constant access to fresh, filtered water. The replaceable carbon filter removes unpleasant tastes and odors, keeping the water fresh.
The PetSafe Drinkwell ceramic Pagoda fountain features two bowl levels: an upper and lower dish that provide two drinking areas for pets. The elevated dish is perfect for senior or arthritic cats. Additionally, the ceramic design is not only hygienic but also stylish, making it an excellent addition to any home.
The drinking fountain is dishwasher safe, making it easy to clean and maintain.
Features:
Open-bowl design
Available in 4 colors
Sturdy
Some pet owners say the instructions are confusing
Drinkwell Seascape ceramic cat water fountain
With a generous water capacity of 70 oz (or 2 liters), this porcelain cat water fountain is perfect for cats and small to medium-sized dogs. It includes a replaceable carbon water filter that keeps water fresh, ensuring our small roommate has access to clean and healthy water all the time.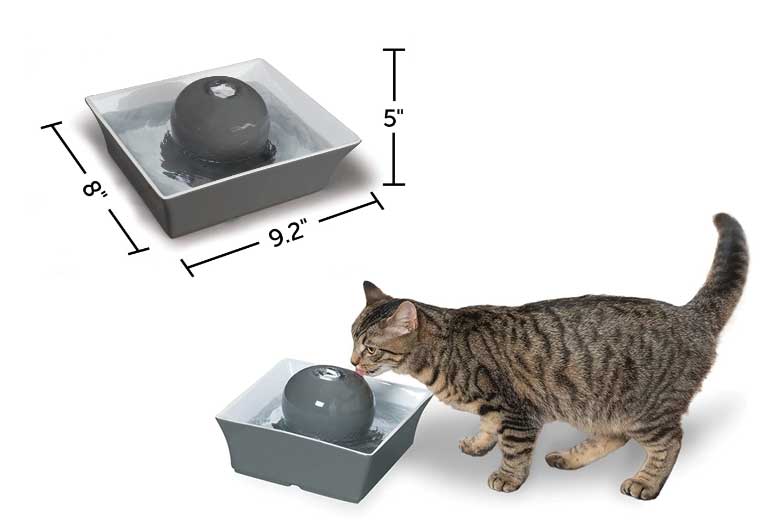 This expertly designed and whisper-quiet operating fountain is a perfect solution for anxious and/or senior pets who may be sensitive to loud sounds. Thanks to its hygienic ceramic design, this stylish fountain is easy to clean and dishwasher safe.
Features:
Clear instructions and easy to assemble
Easy to clean
Quiet
Some cat parents complain cleaning takes them 20-30 minutes
Chomiest porcelain cat fountain
The Chomiest cat water fountain is an excellent choice for pet owners who are looking for a unique ceramic cat fountain for their morning alarm clocks. The high-quality natural ceramic material is not only eco-friendly but also easy to clean. This means cat parents can keep the fountain in tip-top shape with minimal effort, ensuring that their pet always has access to clean and fresh drinking water.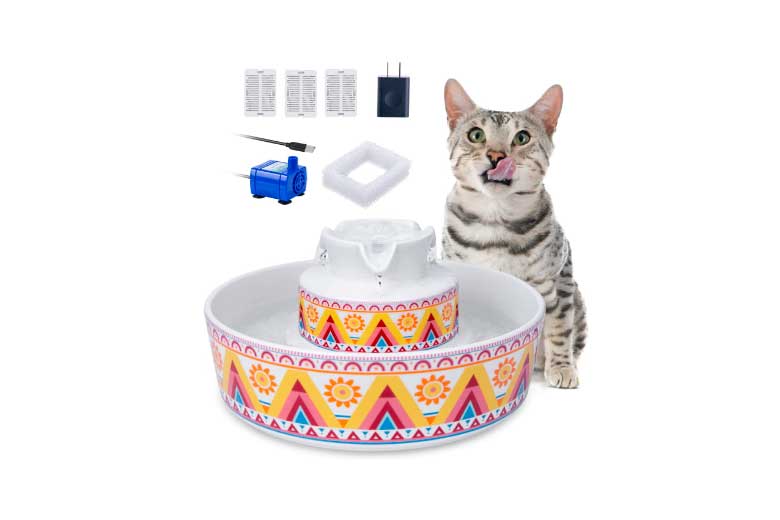 One of the standout features of the cat water fountain is its circulating filtration system including a replaceable carbon water filter that works to remove unpleasant tastes and odors, keeping the water fresh.
The cat water fountain comes with a whisper-quiet water pump and a filtration system. This will allow both you and your pet to have a peaceful and restful night's sleep, free from the disturbances of a loud, whirring fountain.
Another great feature of the cat water fountain is its large capacity. With 2.1 liters, this fountain can provide enough water for your pet to drink for 2 weeks or more. This eliminates the need for regular water refills, giving cat owners and their pets more time to bond.
Finally, the cat water fountain comes with a sophisticated chip control system. This feature will make sure the fountain is automatically switched off when there is no water, avoiding burns and keeping your pet safe.
With these features, the cat water fountain is the perfect choice for pet owners who want to provide their cats with a safe and convenient ceramic water fountain.
FAQ
What is the difference between ceramic and stainless steel cat fountains?
Ceramic and stainless steel cat fountains differ in material, durability, hygiene, appearance, and noise. Ceramic fountains are made of clay and can chip or crack, while stainless steel fountains are polished metal and are more durable. Both are easy to clean and less prone to bacterial growth than plastic fountains. Ceramic fountains may look more pleasing, while stainless steel fountains have a modern look. Ultimately, the choice depends on personal preference and lifestyle factors.
What is the difference between plastic and ceramic cat fountains?
Plastic and ceramic cat fountains differ in material, durability, hygiene, appearance, noise, and safety. Plastic fountains are made of synthetic materials, while ceramic fountains are made of natural clay that has been fired in a kiln. Ceramic cat fountains are generally more durable and easier to clean than plastic ones, which can crack or degrade over time and be more prone to bacterial growth and odors.
Ceramic fountains also tend to look more upscale and attractive, while plastic fountains can look cheap. Plastic cat water fountains may make more noise due to their lightweight construction, while ceramic fountains are usually quieter. Plastic fountains can pose health risks for pets if they contain certain types of plastics or are not BPA-free, whereas ceramic fountains are much safer.
What to do with a broken porcelain cat fountain?
If your ceramic cat water fountain is broken, follow these steps: a) remove any broken pieces, b) assess the damage and repair the minor damage with ceramic non-toxic glue or replace it, and c) clean the area with a damp cloth or paper towel and a pet-safe cleaner. You could also replace the fountain with a new high-quality ceramic fountain if it's extensively damaged and observe your cat's behavior after introducing the new fountain. Encourage your cat to drink from it by placing it in a visible and accessible location.
Is super glue toxic for a cat ceramic water fountain?
Avoid using super glue to fix your cat's ceramic water fountain as it can be harmful to pets. Super glue has cyanoacrylate, which releases harmful fumes and toxins that can be dangerous if inhaled or ingested by your cat.
Instead, use a non-toxic pet-safe ceramic glue. Always ensure that the product label indicates that the adhesive is pet-safe before using it to repair your cat's water fountain.
If your cat ingests super glue or any other adhesive, seek immediate veterinary care as the chemicals in these products can cause serious health problems.
Final thoughts
Ceramic cat fountains are an excellent option and investment for pet owners looking to provide their feline companions with fresh, healthy, and clean drinking water. These fountains are made from natural clay making them durable, hygienic, and easy to clean. Being available in a variety of styles, colors, and designs, from traditional to modern, they can complement any home decor.
Say goodbye to plastic water bowls and upgrade to a beautiful porcelain one with our list of carefully selected options!
RELATED STORIES
TOP Stainless Steel Pet Fountains
Why Doesn't My Kitten Drink Water?
---
*FTC Disclosure: This page contains Amazon Associate links. If you make a purchase after clicking on the links, Meowpassion will get a small commission at no extra cost to you. We are dedicated to finding the coolest products for cats, cat owners and lovers, and we never recommend anything that we don't love or trust.