Kitties are known to be opportunistic water drinkers who might refuse to consume water. Even pets have their temper tantrums and might not like the shape or color of the water bowls. Under-hydrated pets might even experience serious health issues and have a shorter life.
The market for products for pets has exploded and expanded rapidly. Cat owners have also become more conscientious about their role in providing all resources for their fluffy friends (friends or foes, they are definitely overlords). The stainless steel pet fountain is a popular product that helps cat parents ensure their pet always has access to crystal clean, straight from the waterfall, fresh water.
Stainless steel is a durable material that is easy to clean and will not rust or corrode over time. Also, pet fountains come in a variety of fun, unique shapes and sizes to fit any home décor, so pet owners can shop with their pet as the main and only juror.
When choosing a pet fountain, it is important to consider the size of your pet and the amount of water they consume on a daily basis. Pet fountains can hold anywhere from 7 to 30 liters (2 to 8 gallons) of water, so if you have a few pets, or if your kitty is a heavy drinker (of water, of course), you may want to splurge a little and purchase a bigger size.
The BLUZZO pet fountain is made of 304 stainless steel and is BPA-free. A patented design with filters removes any undesirable metals and helps to prevent stone formation in the urinary tract. Thanks to its capacity of 3.2 liters, your fluffy ball will get continued access to fresh and clean water. The silent work of the drinking fountain even during the night hours (not that it matters to cats; they are creatures of the darkness after all), 2 flows of water, super easy to clean, good value for the amount of money… these are only some of the benefits of the water fountain by BLUZZO.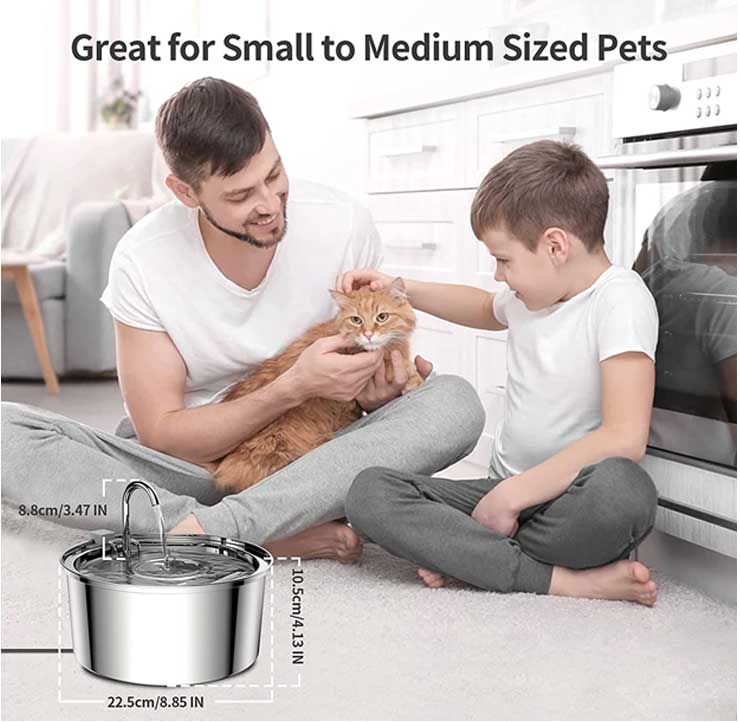 The Tomxcute Cat Water Fountain is a great way to keep your cat hydrated and encourage your pet to drink more. The very durable fountain is made from 304 stainless steel and is equipped with a double filtration system. An easy-to-clean and easy-to-assemble (definitely not as complicated as IKEA furniture, or as frustrating as big Lego sets) drinking fountain also includes a quiet pomp.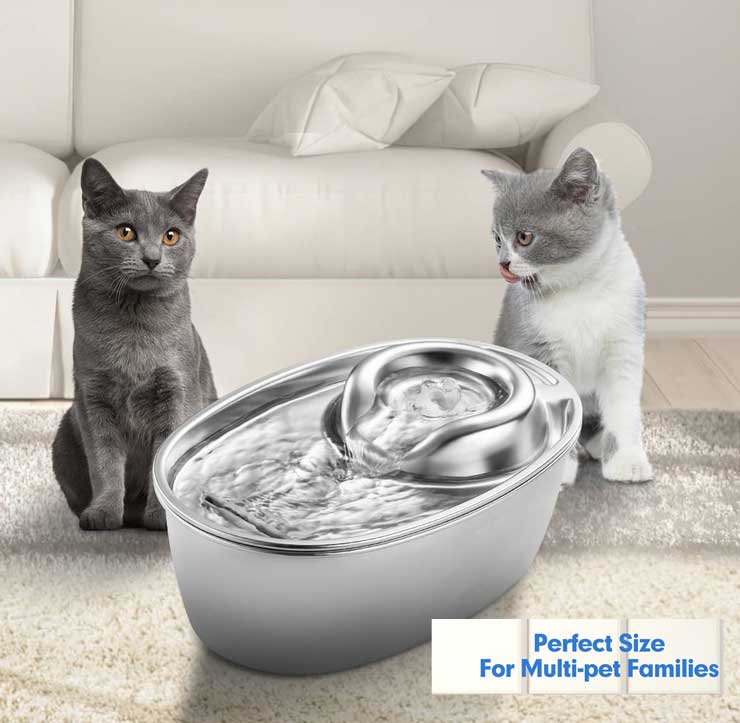 A Wopet cat drinking fountain is resistant to corrosion and skin-friendly (fur-friendly?) for your kitty. The circulating filtration systems keep the water running continuously and ensure the water is clean all the time. High capacity makes this fountain a great choice for pets of all ages (those very young and naïve, and those ancient and wise ones), and its blue light night mode encourages your kitty to loudly drink the water even during the night.
The nice design and great features of the Wopet cat drinking fountain will convince even the most skeptical cat parents that the product is good value for money.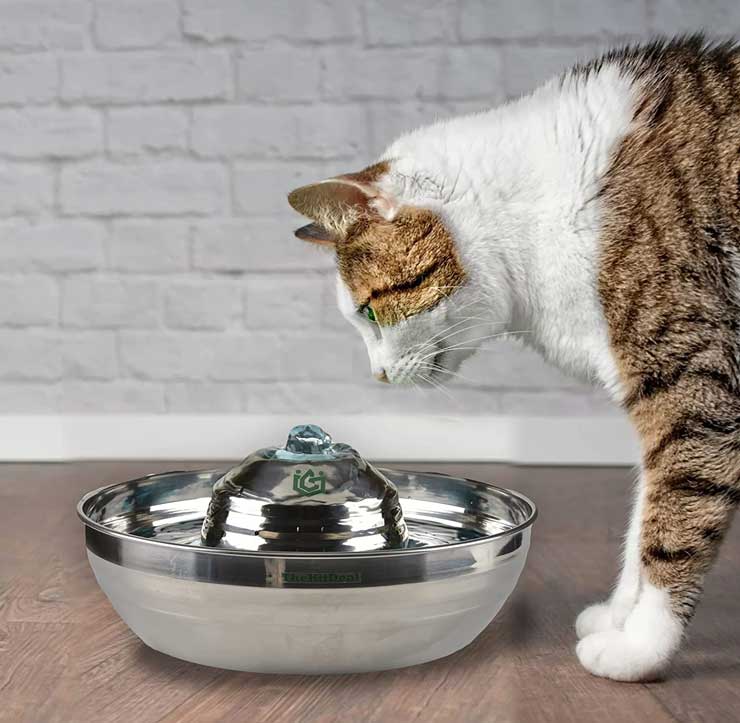 The HitDeal water fountain includes a 3-layer filtration system, a low-voltage pump, and an innovative design. This functional, original, and durable stainless steel pet fountain will help cat owners say goodbye to old-fashioned and boring cat bowls.
If you want to offer your fluffy friend a unique drinking experience, check out this super quiet fountain. An easy-to-assemble pet water fountain is perfect for indoor and outdoor usage, provides filtered fresh water and is easy to approach thanks to a 360o bowl.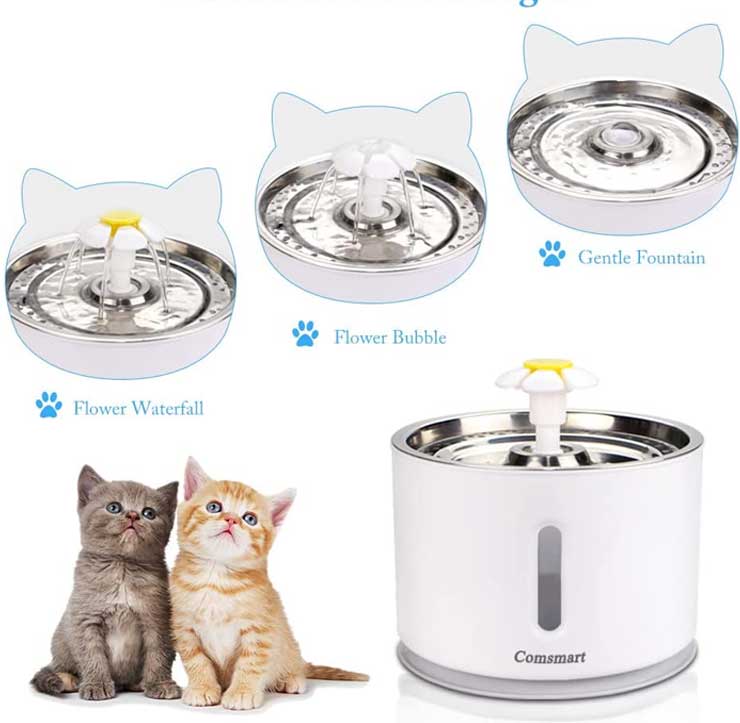 The Comsmart cat water fountain offers 3 modes of water flow, and with its capacity of 2.4 liters (0.62 gallons), it will fully satisfy your cat's needs. A water level window will help cat owners check the water level, particularly during the night. This water pet fountain is affordable, and it will also be a perfect solution for multi-pet households.
It's easy to use, durable, and BPA free.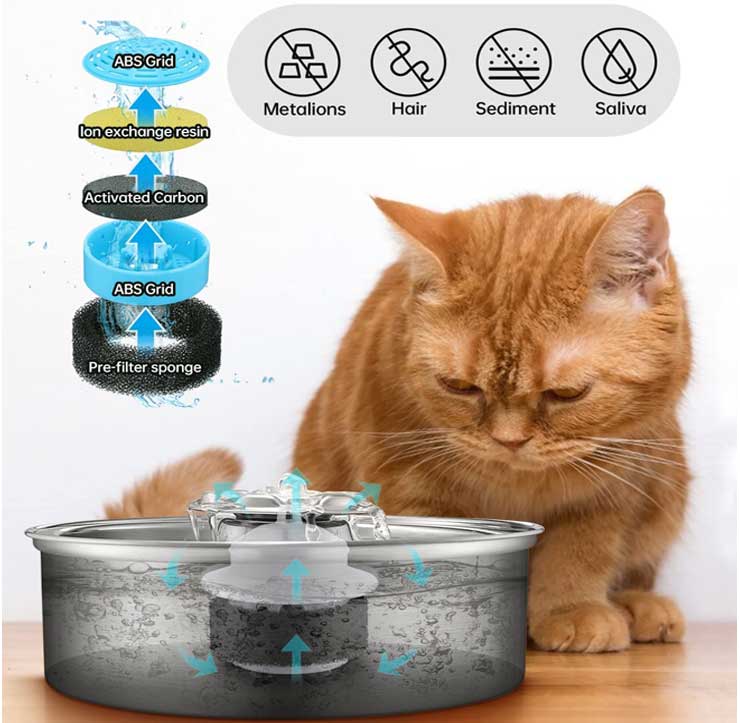 The cat water fountain by OYES has a capacity of 2 liters (0.52 gallons). It's made from 304 stainless steel, and its producer offers a 60-day money back and a 12-month guarantee. Thanks to the multilevel filter which removes heavy metals and impurities, your kitten will be drinking fresh water regularly.
A perfect option for cats and dogs who have to drink from various directions. It is easy to set up and very quiet. It's a must-have for pet owners who want to avoid high vet bills.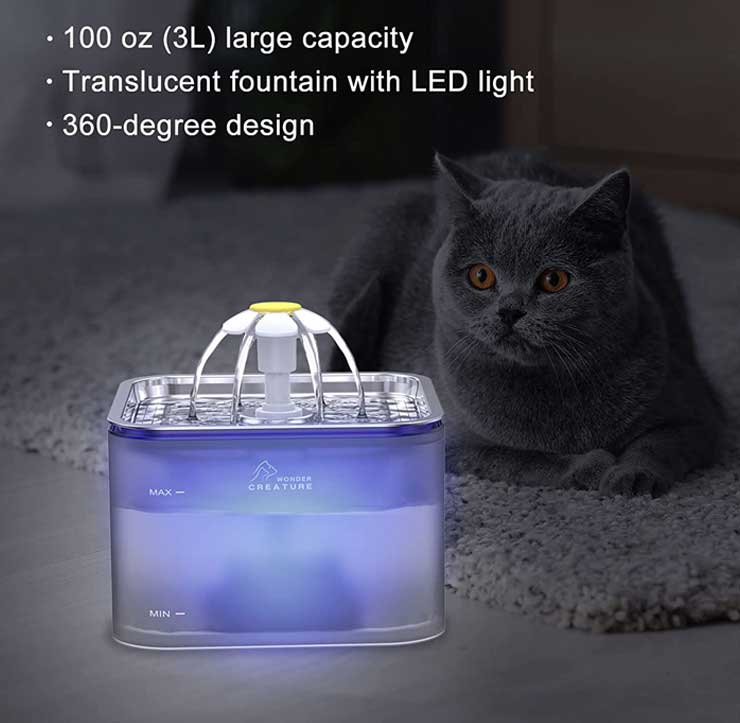 The stainless-steel pet water fountain with a cute flower worthy of aesthetic Instagram pictures, LED lights (I truly don't know which cat wants to be the king of the disco) with 3 different drinking modes and 360° multi-directional streams takes only a few minutes to assemble. The large capacity makes it perfect for multi-pet households, and thanks to its stylish design and quiet pump, it's a perfect way to encourage your kitty to drink more, while having a great product at home.

Stainless steel water fountains for pets —final thoughts
Stainless steel pet drinking fountain with their modern features are perfect way to solve many issues that might arise in your household, and most importantly, your kitty's health.
---

Why Doesn't My Kitten Drink Water?

Best Water for Cats to Drink

Perfect Ceramic Cat Fountains
---
*FTC Disclosure: This page contains Amazon Associate links. If you make a purchase after clicking on the links, Meowpassion will get a small commission at no extra cost to you. We are dedicated to finding the coolest products for cats, cat owners and lovers, and we never recommend anything that we don't love or trust.