Emergency or non-emergency surgeries are one of the most effective ways to help your kitty stay healthy and active. However, recovery time is also of great importance, allowing your cat to fully return to their daily activities (such as waking up their chef at 5 am and pushing every little thing off the counter). The best thing a cat owner can do is to prepare everything a pet will need at home.
In this article, we will feature the best cat recovery suits that cover irritated parts or help to prevent licking while your pet enjoys full mobility and routine activities. 
Surgery suits for cats by Coppthinktu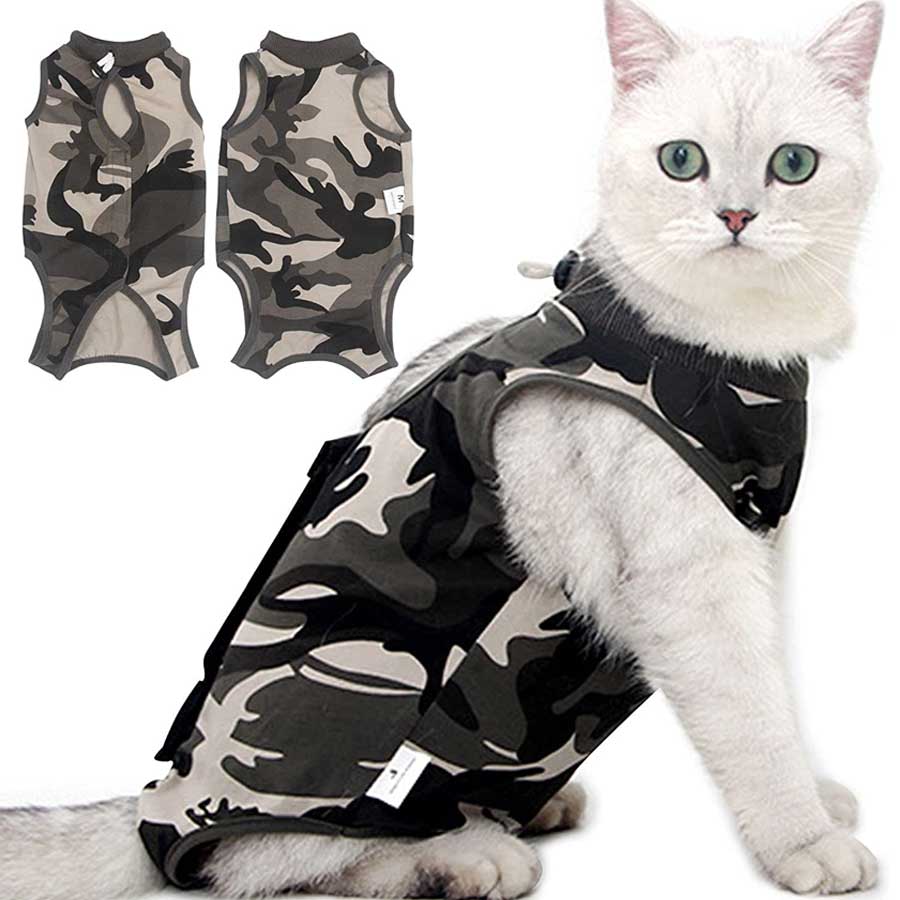 The recovery suit is one of the highest suits reviewed, having a button design for comfort and convenience. High after-surgery protection designed of high quality and durable materials heats and comforts your pet. Pet owners can put on and off the surgery suit easily, and your kitty can use a litter box and enjoy the freedom of moving their paws in every direction. Although getting used to wearing a recovery suit might take some time. 
The product is available in 3 sizes (small, medium, and large); pet owners can consult the size with the shop — and we recommend doing that, as some pet owners have complained about the wrong sizes. 
TorJoy surgery suit for cats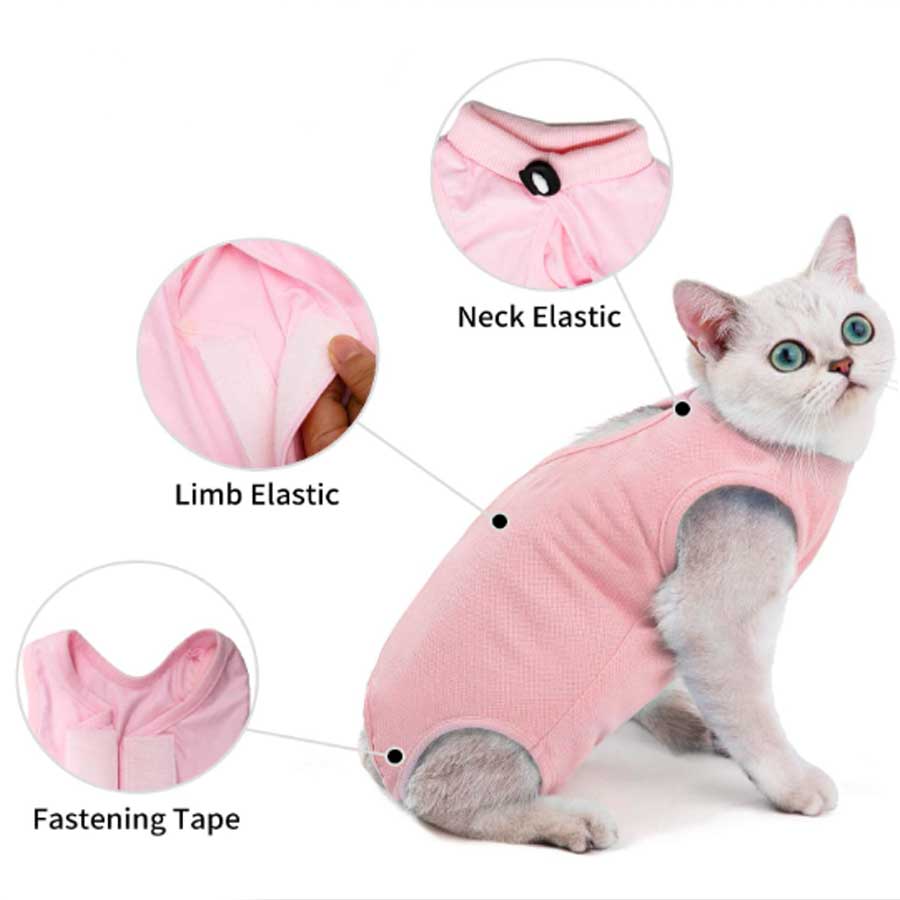 Available in 3 sizes —small, medium, and large – the recovery suit is made of 95% cotton. The easy-to-wear suit does not limit the pet's movements, keeps your fluffy friend relieved, and perfectly protects wounds and irritated areas. 
Pet owners have mentioned they appreciate its softness and easy-to-clean feature, and affordable price. However, some clients wish to have a more durable fabric. 
KZRFOJY cat recovery suit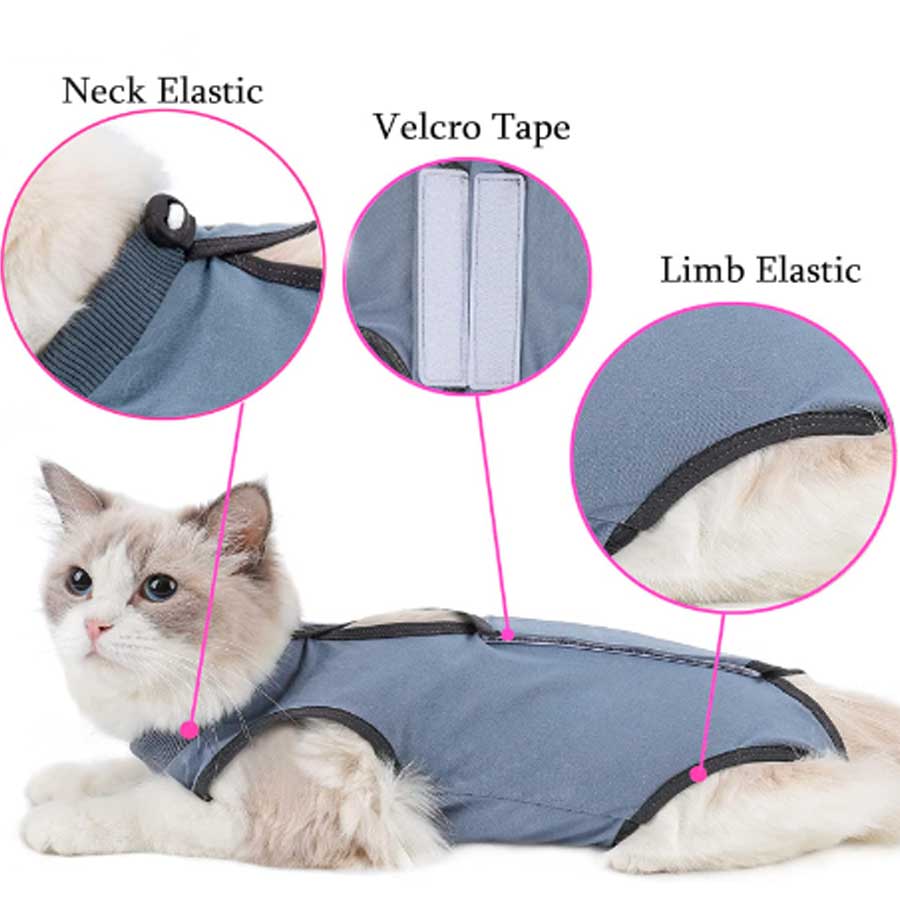 This easy-to-put-on suit with a neck and limb elastic band does not limit your pet's movements or activities. A comfortable, breathable, and light material will keep your cat calm during the recovery period. 
Available in 3 sizes and adjustable for even the chubbiest of furry companions. The soft suit will also help your kitty sleep comfortably and do their business with no issues. Pet owners need to remember to check size, as this suit might not be the best option for long skinny cats (aka the sausage cats).
DogLemi cat recovery suit for abdominal wounds and skin diseases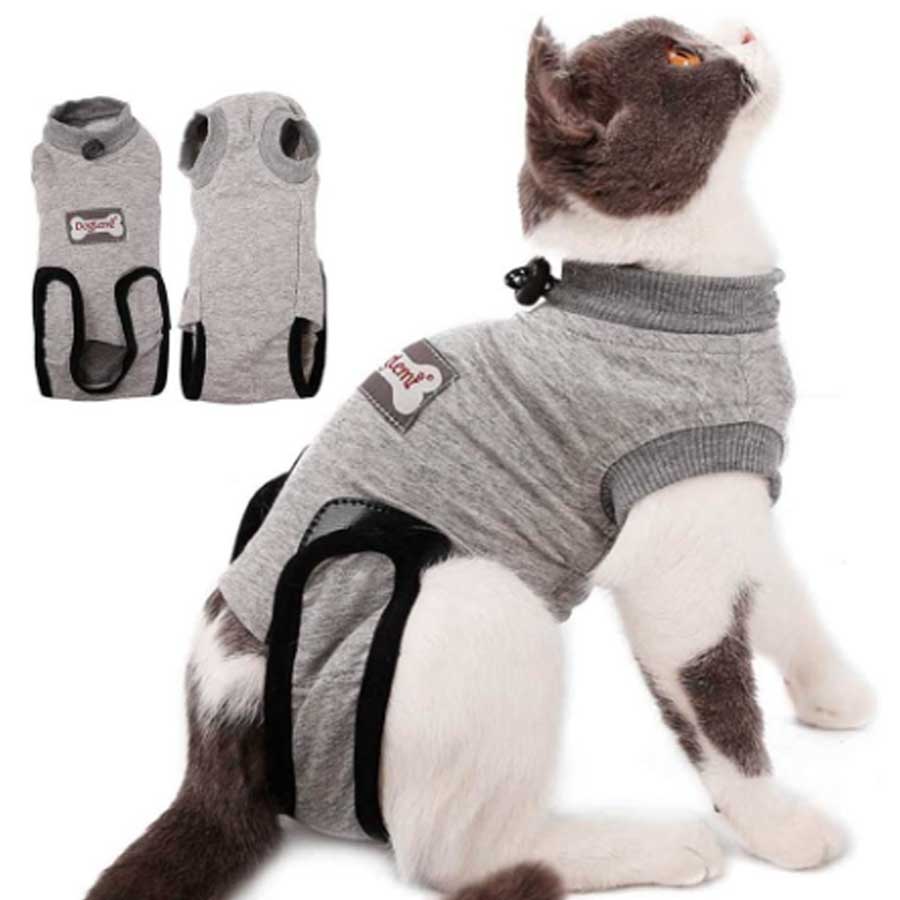 A comfortable-to-wear suit is made of breathable material and fits a cat perfectly. Pet owners can choose among 4 sizes, and the suit works fine for both male and female cats. Some cat owners report it took their kitty only one hour to like the suit and get used to wearing it.
Again, before your purchase check the size carefully (your cat's comfort is of the utmost importance) or contact the shop if you have any concerns. 
Cat recovery suit: FAQ
Are cat recovery suits safe?
Yes, suits are safe, provided they are designed and produced by reliable brands and not bought haphazardly.
Do cat recovery suits work?
Yes, recovery suits protect the irritated areas or prevent cats from licking areas they are not supposed to lick. Pets can also sleep comfortably and not experience a lot of stress during their recovery period.
Where to buy a cat recovery suit?
Pet owners can buy cat recovery suits in known marketplaces such as Amazon, Wallmart, or Etsy, or any other local pet store.
Are recovery suits good for cats?
Yes, suits allow cats to recover faster and live a happy, stress-free life as they get were previously used.
Do cats like recovery suits?
How your pet will react to the suit is a true mystery. Movies have us believe pets absolutely hate them, and stories told by our friends only seem to confirm these rumors. However, if chosen carefully, most pets will like their recovery suit, as it also relieves their stress and is comfortable for them.
A cat can't walk in recovery suit
If your kitty cannot properly move around the house, check the size and contact customer service for more details. We do not recommend purchasing the cat recovery suit from unknown brands or of low quality which might be one of the reasons why your kitty is not comfortable and cannot walk.
---
Cat Food for Sensitive Stomach
Feliway – Everything You Need For a Happy Kitty
Dr. Uri Burstyn – Pets Enrich Your Life Tremendously
---
Surgery suits for cats —final thoughts 😻
A cat recovery suit might help your kitty feel less stressed, relieve them of many worries and pain, and help them be more comfortable and happier during their recovery period. If you are interested in trying this method, our guide will help you in finding the best option. 

* Not a substitute for professional veterinary help.
**FTC Disclosure: This page contains Amazon Associate links. If you make a purchase after clicking on the links, Meowpassion will get a small commission at no extra cost to you. We are dedicated to finding the coolest products for cats, cat owners and lovers, and we never recommend anything that we don't love or trust.