Selkirk Rex is a breed that has their origin from an ordinary outdoor cat that lived in a shelter in the state of Montana, the USA. One of her kittens was born completely curly, and that caught the attention of a Persian cat breeder, who took the cat to her home and called her "Miss DePesto of Noface".
Afterwards the breeder crossed an already grown-up cat with a black Persian cat and as a result, 3 of 6 kittens were born with curly fur. Over time, it became known that the gene of curliness is dominant in this breed, and because of that the Selkirk Rex began to be crossed with exotic cats and the British from whom the Selkirk Rex inherited a good character and curiosity. The breed was officially recognised in TICA in 1994, and recently it has been announced that Selkirk Rex is not allowed to be crossed with other breeds.
Selkirk Rex are cats that have a soft and very affectionate character. Representatives of the breed love when their owners take care of them and enjoy physical contact with the owner. Cats quite often purr, particularly when their owners stroke them and carry them in their arms. At the same time, Selkirk Rex cats are not persistent and demanding, they understand when the owner cannot play with them. In such situations, the cat lies down at the owner's feet and falls asleep. The Selkirk Rex is a moderately active breed and quite playful, so the animal will feel very well in families with children. Selkirk Rex cats also get along well with other pets, show psychological stability, and they do not tend to dominate.  
Just as with other breeds, Selkirk Rex cats take separation from their family hard, as the cat is strongly attached to every family member. For this reason, the Selkirk Rex is not the proper breed for people who spend little time at home and cannot take their pet with them on trips.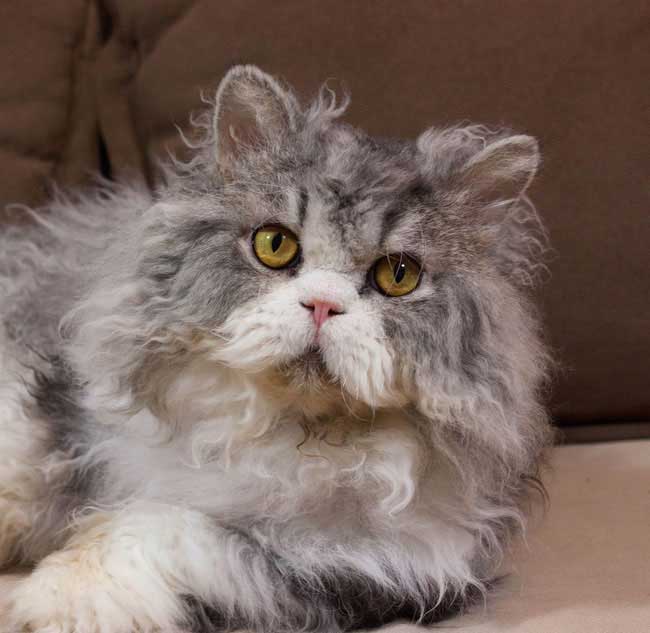 Photo:  selkirk.jimdo.com
Selkirk Rex cats – health problems and care
The Selkirk Rex differs from other breeds because of their unusual fur that is thick and with a soft structure, that requires special care. The cats need to be combed out every week, otherwise their curls may tangle under their paws, behind their ears and on their chest. Selkirk Rex can have a wavy and very curly coat, but both types require the same grooming. The owners should also regularly monitor the state of their teeth.
As we said above, Selkirk Rex curly kittens were born without human intervention, but afterwards the Selkirks were crossed with other breeds that have their own genetic diseases. For this reason, a Selkirk Rex that is a healthy cat by nature, may suffer from health problems such as hip dysplasia and diseases that are related to the cardiovascular system.
Selkirk Rex cats can live in large and small apartments. However, the owner should remember to provide their cats with a scratcher, a litter box, and a house.
Selkirk Rex – characteristics
Type of fur: short- and long-haired

Size : 23-28 cm

Lifespan: 12 to 15 years

A very gentle and calm cat

Sociable and playful

Does not tolerate being alone

Brave and fearless