Every cat parent knows that a kitty is not only an animal. They are our friends, companions, and special members of family. Why not then use high tech products to pumper our 4-legged friends?

Mokkie Pet Bowl
Announcing Mokkie Pet Bowl, an Italian producer Volta has satisfied both pets and their owners, particularly those who manage multi-cat or multi-pet household. Mokkie pet bowl recognizes the pet thanks to visual recognition system, and is connected to the Smartphone application that controls the amount of food and alerts the owner when resupply is needed. Mokkie logic is similar to "face-unlock" principle, and activates the door opening when a cat is identified as one for whom the food is intended. Yet another advantage of Mokkie pet bowl is simple Italian design, functionality and being super easy to use and clean. The producer has announced the launch in September 2019. Mokkie bowls with personalized colors and labels will be available.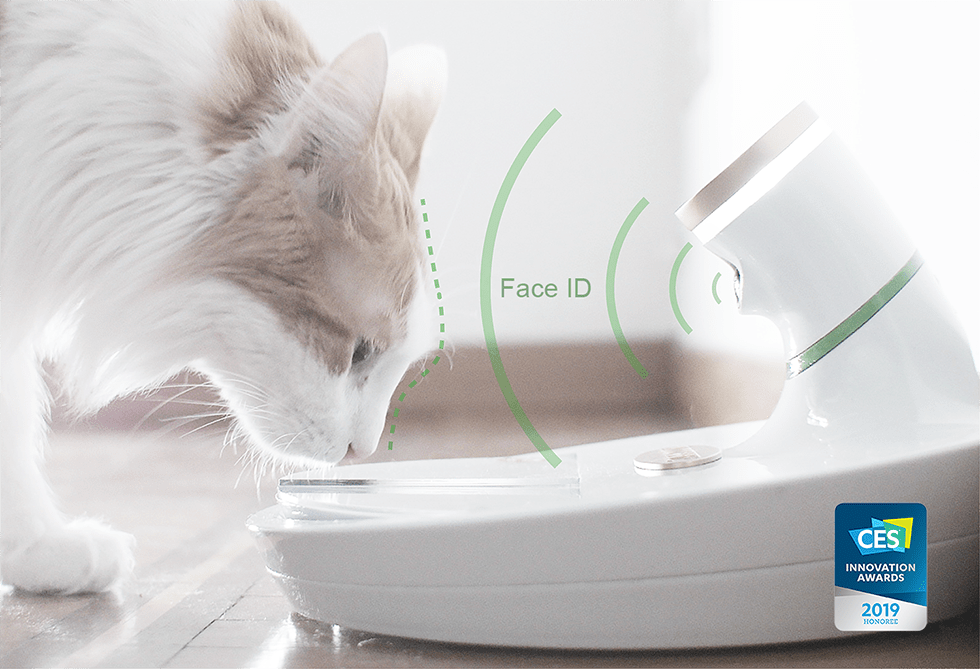 Website: Mokkie

DIY installation OSCILLOT®
Cat-friendly solution can turn effectively fence of every type into a cat proof one, and is installed to the top of existing fence. The main principle of Oscillot fence is to counteract cat "jump-grab-climb" behavior, that lets keep your kitty safe in a yard. When a cat tries to jump the fence, he or she cannot get the required traction of the top, and safely falls back to the ground in the own yard.
OSCILLOT®Installation is easy to install, keeps cats away from climbing, so cat parents can stop worrying what will happen if their kitty gets out.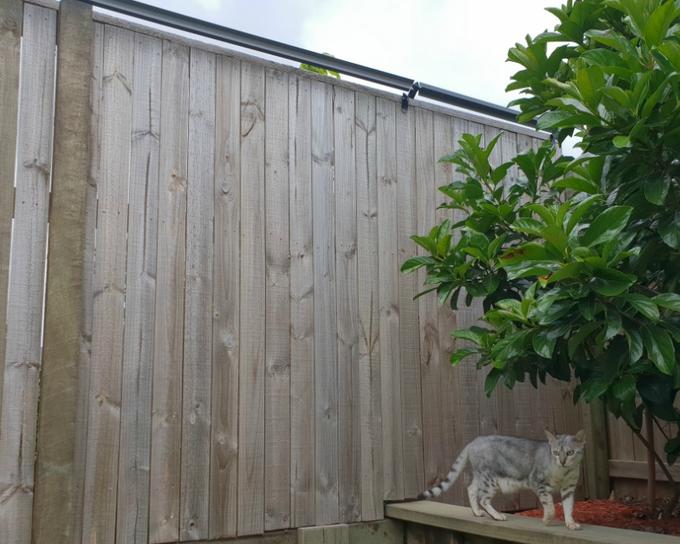 Website: Oscillot

A self cleaning litter box
In the majority cat owners dislike cleaning up a litter box and would like to enjoy their time with a kitty, and now they fully automate the process. An automatic cleaning litter box is an amazing gadget, that saves time and helps a cat owner stay away from potentially toxic fumes. However not all self cleaning litter boxes that are available on the market meet expectations of cat parents. In case you do not know how this kind of litter box works or you need a buying guide or performance /price comparison, these articles will be helpful:
8 Best self- cleaning litter boxex in 2019 and Buying guide
10 Best Self-Cleaning Litter Boxes 2019
PetSafe Simply Clean Self-Cleaning Litter Box
Reviews and Price on chewy.com
ScoopFree Original Automatic Cat Litter Box
Reviews and Price on chewy.com
Omega Paw Roll'N Clean Cat Litter Box
Reviews and Price on chewy.com


Interactive laser cat toy
Playing with a cat is pleasurable for both sides, a cat and their owner. By nature cats are hunters, so animals feel natural need of hunting and chasing. However, not always or not every cat parent is able to help with that. Interactive laser cat toy uses the automatic mode, keeps your cat entertained, and promotes healthy exercising. Depending on a manufacturer, a pet owner can transform any surface in their house into fun area, set unpredictable path and adjust the speed of this high tech cat toy.
PetSafe Bolt Interactive Laser Cat Toy
Reviews and Price on chewy.com


Cat's DNA test by Basepaws
Cat health that is shaped by nutrition, environment and genetics stays one of the main concerns of pet owners. It is crucial that each pet parents remembers about their responsibility for pets wellbeing and cares about proper diet and other sources for their cats. Understanding cat's genetics lets cat owners find more about their cats' ancestors and roots, and understand the risk and probability of certain health issues and disorders.
Basepaws gets DNA from hair and cheek cells of a cat, reads and compares the sequences. Basepaws generates the report for the cat owner, that is continuously updated, so that a cat owner gets new and updated facts about their cat. Also a cat parent gets tools thanks to that she or he can connect with parents of similar cats to discuss any issues of their concern.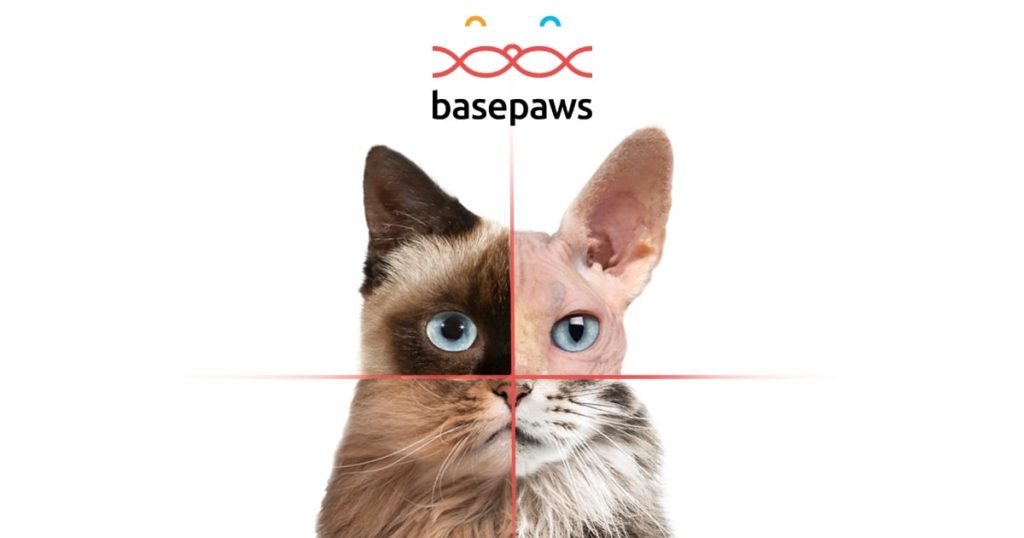 Website: Basepaws

Health monitoring and alerts by Talio
At the moment of writing this article, Talio website shows errors, but the idea and this high tech product for cats seems to be promising. So as to start monitoring your cat health and getting alerts, a cat owner should only download Talio application and place this high tech device under kitty liter box. Every cat owner knows that cat are champions at not revealing any health issues, and here Talio is very practical device, as the app sends health alerts when a kitty gains or losses weight, changes their activities in litter visits or when an owner .. forgets to clean their litter box. Talio device can also be used in multi-cat households to monitor behavior and health of each cat.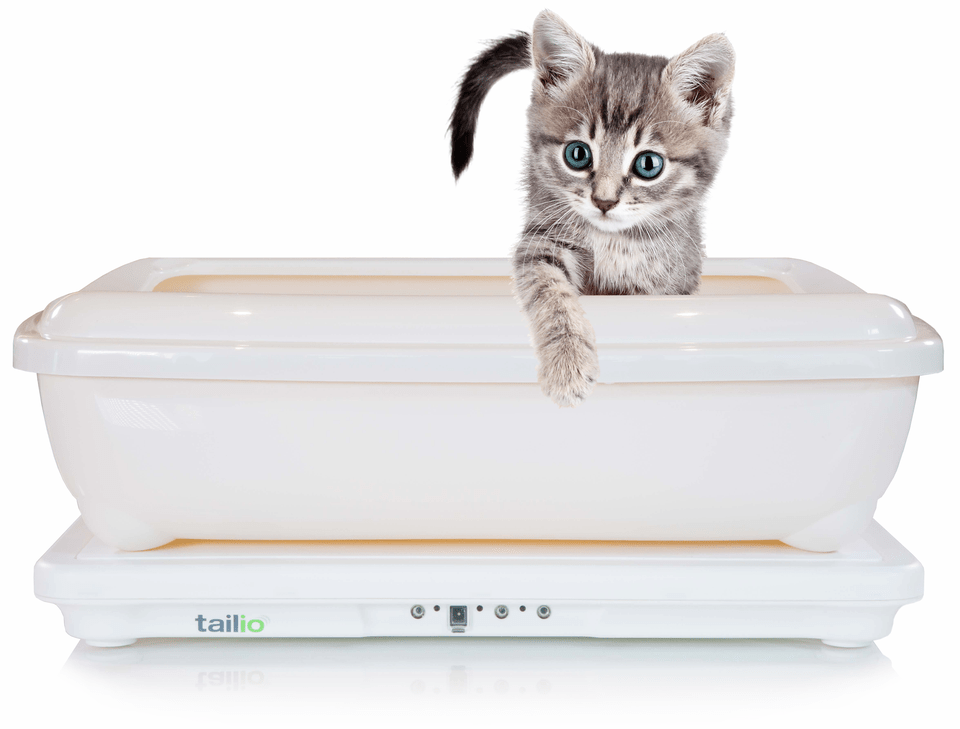 Website: Talio

Pet camera by Pet Cube
Well-known fact is that cats adore sleeping for long hours. But this does not mean at all, that a pet owner can leave their 4-legged friend alone for long hours without attention or interaction. HD pet camera is an amazing device that allows cat owners to talk and take care of a fur friend, when a pet owner cannot be near. Pet Cube, the manufacturer of Pet Cube camera, has already helped and satisfied over 100,000 pet owners, who can talk or see whether a kitty is safe, and even correct their cat destructive behavior or redirect their attention. Moreover, pet owners will fall in love with Pet Cube gorgeous industrial design that looks nicely outside and inside, is easy mounting and in various color options.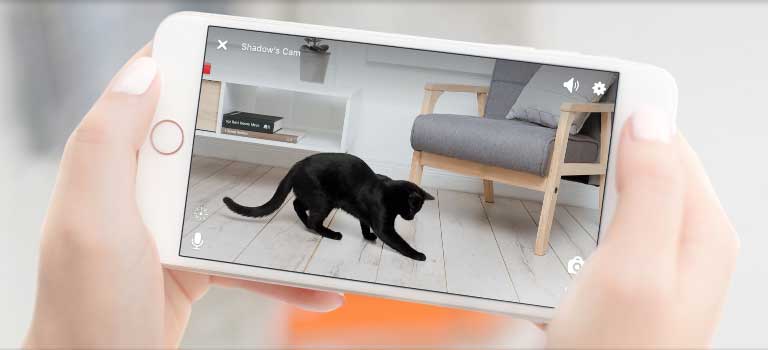 Website: PetCube
Petcube Bites Wi-Fi Pet Camera & Treat Dispenser
Reviews and Price on chewy.com
Petcube Play Wi-Fi Pet Camera
Reviews and Price on chewy.com


Microchip Cat Door
An advanced app that controls doors and stops intruders from visiting a house. Microchip Cat Door opens a door only for your cat's microchips. Simple programming, alerts when a cat leaving or entering a house, anytime remote lock or unlock and other features of this simple high tech device for cats have won hearts of many cat parents.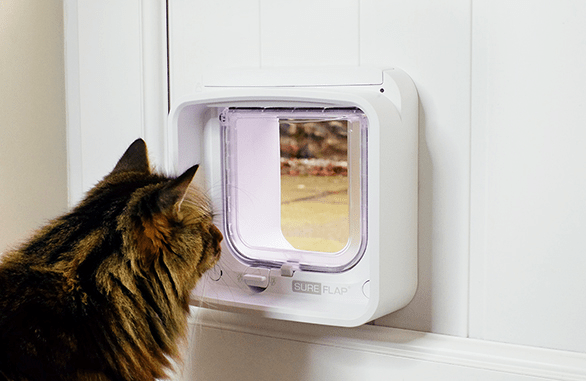 Website: Surepetcare