While we were preparing our article about cat hammocks, we did a lot of research. When we came across Cat Planter shop on Etsy, we fell in love with the astonishing, handmade hanging hammocks. We are so happy that Miisa was so kind to answer our questions.

We have visited your Etsy shop and we fell in love with the hanging hammock you have created for cats. How did you come up with this idea?
The main reason why I developed Cat Planter is my cat Ben. When he grew older he suddenly really big in size. He got very active, but also anxious and started behaving like a monster around the apartment. It became evident to me that the cat was not enjoyig his life to the fullest so something had to be done. I eventually built little ladders around the walls for him to climb, and a watchtower to my balcony. However, nothing would entertain him long enough. I started to reconsider what is it that he actually needs. I came to the conclusion that he desperately needed his own sanctuary. Something in which he could play, snooze, chew something, view outside and would complement his feline insticts. I put my designer skills to use and developed Cat Planter.

What materials do you use? How often do you create designs?
As a fashion and textile designer, sustainability is a huge issue for me. I make sure that the twine materials used are always from recycled fibres. So far the bed and the bed cover materials are not recycled, but I am working on changing that to better solutions. Cat Planter order comes in a handy patchwork gym bag which I have sewn from any leftover bed cover materials to reduce textile waste.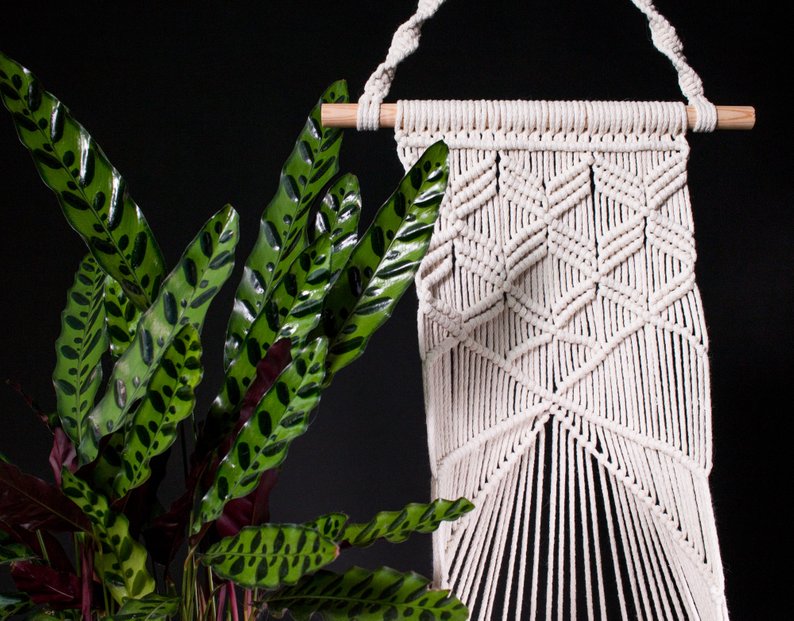 Is it difficult to make a hammock or come up with the design?
Cat Planter is actually a result of many fails and prototypes. Making a design is the easy part. Making sure it is safe took me weeks of development. However, the security of our beloved pets cannot be compromised so I was determined to make it work.

How long does it take to create one hammock?
Making a Cat Planter takes up to 5 hours including every component. Making a new design usually take a lot longer. I can be stuck with creating a new design for hours until it is perfected. Cat Planter has few hand-dyed designs as well. Those designs need more attention and patience in the development. Therefore they are significantly more time- consuming.

Can large cats such as Maine Coons rest in hammocks you make?
Absolutely! I even took a swing on it myself once. to prove that Cat Planter holds at least a 100lbs. I recommend paying attention to where it is attached. A screw hook and a screw anchor in the ceiling will usually do the job. Cat Planter can be slightly enlarged when placing a bigger pillow on top of the bed to stretch the twines wider.

Are your hammocks safe?
Cat Planters are safe. I have not witnessed or heard of any cat being tangled or getting hurt in a Cat Planter. It has very good chewing tolerance and has been designed as stable as possible.



Do you have any recommendations on how to take care of the hammocks you have created?
If Cat Planter gets stained, it can be gently washed by hand with a mild animal-friendly detergent, and only washing from where the stain occurs. I do not recommend soaking the whole hammock because the knots might dissolve. The bed cover is changeable like any pillow cover and can also be gently washed.

Is it difficult to mount a hammock you've made?
Mounting a hammock is not difficult if your cat is comfortable with jumping in the first place. Cat Planter can be adjusted to any height and mounted from any direction.

Do you make personalied orders?
I am very happy to make personalied orders. It is always a nice challenge to create something special for a specific need. For special order request; I can be contacted via Cat Planter Etsy shop!

Do you have a cat? Tell us more about your fluffy friend?
I have two cats; a 4-year-old sacred Birman named Ben and an 8-year-old Ragdoll named Pöpölöö. Ben is such a socialite and always keeping me company. He is very large and in charge. Ben can be a troublemaker sometimes, but he has a heart of gold. Pöpölöö, on the other hand, is like a fragile and terribly odd little lady. She doesn't like food, other cats, attention or toys. What she really enjoys is napping, listening to loud doom metal and giving judgemental looks to Ben. Pöpölöö is such a sweetheart. Together they make quite a couple.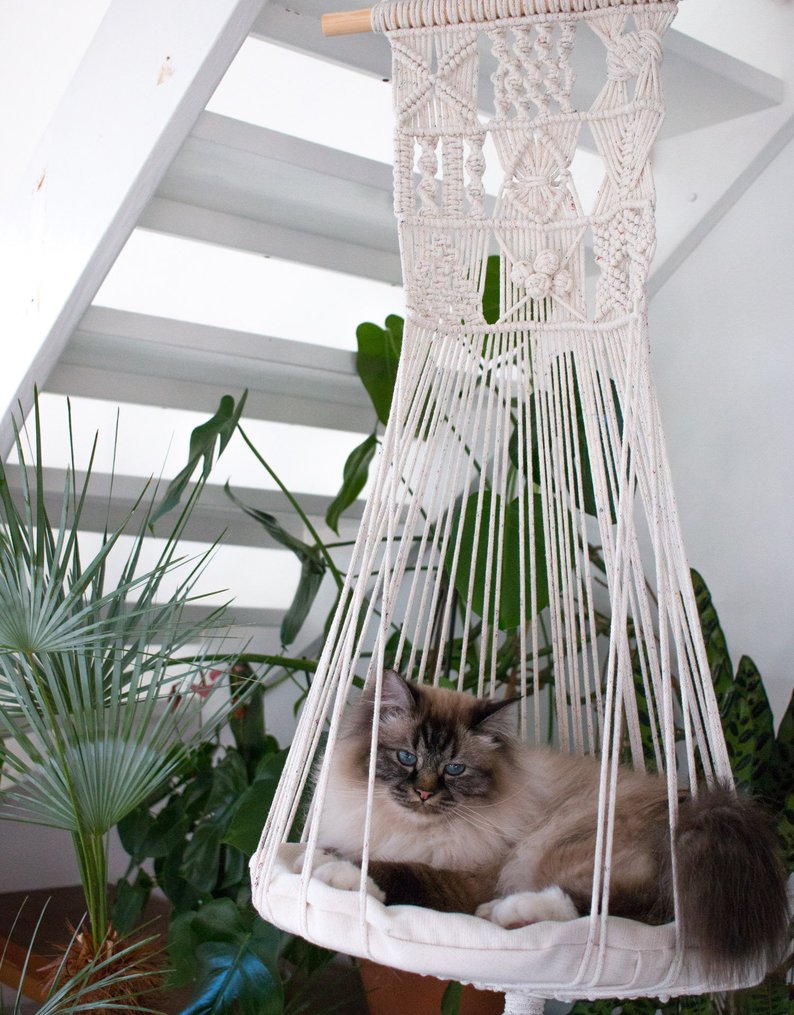 Does your cat like relaxing in the hammock? Or perhaps other places?
Ben really enjoys his Cat Planter. He sleeps and plays in it. He also has become a master at jumping to the hammock. He sometimes intentionally takes a huge jump to make it swing and knock over everything around him. Pöpölöö enjoys relaxing in a Cat Planter. I must say she is a little bit unconfident when it comes to jumping in it. But when you help her, it is much appreciated.

How do you take care of your pet?
My cats are very precious to me of course and I try to take care of them in the best possible way. I believe that the best thing a pet owner can do is to respect each pet's exclusive personality and appreciate it every day. They are such sensible companions after all.

Are you planning on creating more products for cats? If it is a secret, what are your plans?
Textile industries in Finland are doing an amazing job in sustainable material development. My plans for the future is to all Cat Planter components recycled. I also have some exciting "cat specific" material testings at hand and they might be hitting the shop quite soon. 5 Euros from every Cat Planter sold is donated to HESY The Hesinki Society for Animal Protection so my intention for the future is definitely to keep up with the donations. Lastly, I wish to see more cats all around hanging out and enjoying Cat Planter!