Q: Your story of creating the Door Buddy is truly amazing. Do you remember the funniest moments that happened while you were working on your brand?
A: We always thought that designing a product based around cat poop was pretty funny by itself. But, I think one of the moments that we will always remember is when we were testing the product on our own two girls. Nothing will beat their reaction when they couldn't figure out how to get through to the litter box! 😊

Q: While designing the product did you expect the product to become so popular and highly rated? I think many well-known brands envy your shop's rating on Amazon.
A: I would say yes and no. When we were creating Door Buddy, we spoke to plenty of parents who had the same experience as we did. Their little ones just couldn't stay away from the cat food and litter box! Then, as we started to build the product for baby proofing, we started speaking to furparents who knew the struggle of trying to keep their dogs from nibbling at the kitty Roca. We knew Door Buddy could be such a huge help to parents and pet owners!
At that time, we could not afford elaborate market testing. We figured we would just list it and let Amazon be our "live market testing" and we are so thankful it worked out for the better. We've been so lucky to have had our product been well received and we're just happy that we can provide people with an effective solution!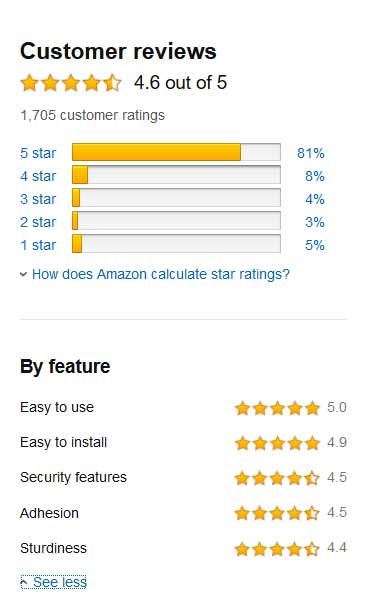 Q: What was your main idea or goal while you were designing the Door Buddy? Who came up with the name?
A: As parents ourselves, our main goal for Door Buddy was to provide parents (fur included) peace of mind. Whether you're juggling a busy toddler, a nosy dog, or both, it's hard to be in two places at once. With Door Buddy, people are now able to take back their sanity. Not to mention the fact that the cat will enjoy their solitude too!
I can't recall if it was me or Scott (husband and co-creator of Door Buddy) who came up with the name, but when we did, we thought it perfectly illustrates the intention behind the product. It is like a friend that has your back by keeping your kiddos and dogs out of trouble while making your cat happy at the same time. A true friend who just makes your life a little easier and worry-free!

Q: What do pet owners, who have bought the Door Buddy, like about your product most?
A: The simplicity of the product, for sure! We'll often see customers say that they struggled with a baby gate or they don't want to ruin their décor with a cat door. With Door Buddy, they can enjoy having a product that baby or dog proofs the home without any complications.


YOU MIGHT BE INTERESTED IN: How to Keep My Dog Out of the Litter Box with Door Buddy

Q: How much time does someone need to install the Door Buddy?
A: When we say that our product can be installed in seconds, we mean it! All you must do is remove the backing to the adhesives and place it onto your door and door frame.

Q: The Door Buddy is a universal product. You can use it to protect babies, cats, and dogs. In what particular situations is the Door Buddy helpful?
A: The most popular use of Door Buddy is for keeping dogs and babies out of rooms with the kitty litter in. Kitty litter can be extremely hazardous to babies and dogs, and it can cause a great deal of stress for the cat when they don't have their own privacy. Using our product ensures that the cat can enter the room easily while dogs and babies are kept out.

Q: If you can reveal some of your top secrets, could you please tell us what new products for pet owners are you working on right now?
A: Although we're not currently working on any new products, we've just finished enhancing our current one. It's been a super exciting process where we've taken our customer feedback and really put it to use to build the ultimate Door Buddy.

Q: What countries are your customers from?
A: Our customers are mainly from the US. But, we also ship to Canada and the UK.

Q: Do you remember how you found out the Door Buddy can also be used by pet owners?
A: Of course. For us, we were parents to both a toddler and a cat when we came up with the product. It was our little one's fascination with the cat food and litter box that sparked the process.

Q: Who was the first person to test your product for pets, and what was their feedback?
A: Our first tester and really the inspiration for marketing towards dog owners was from my sister-in-law. At the time we were developing the product, they had a dog, two cats, and a toddler so their household was the perfect mix to really give it a good test. They loved it. They were finally able to keep their Boston Terrier out of the litter box and it worked great for keeping my nephew out of the kitty food too.

Q: Are there any particular places in the house (for e.g. wooden, marble, or bamboo walls, etc.) where pet parents cannot use the Door Buddy?
A: Door Buddy works with standard and non-standard doors and doors with all handle types. It works great on pocket doors, double doors, and even bi-fold doors. We just recommend that it's not used on drywall.

Q: From reading your story, we learnt that you have a friendly face around the house – a cat. Could you please tell us more about your pet and children?
A: Ralphy (our cat) has been a great tester! Our two girls love to play with him but, it's like we always say, even cats need their space. When our girls get overly excited or they have friends over, Ralphy loves having the freedom to sulk off to the comfort of his own space.

Q: Do you have any dreams? Could you share them with us?
A: Our dream is to continue to grow Door Buddy and become a household name. We've always dreamed of becoming a viral sensation!

Q: The Door Buddy can be purchased from your website and on Amazon. Are there any other places where pet parents can purchase the Door Buddy?
A: Door Buddy is also available through Chewy.com, Walmart, Ebay, and on our Etsy page.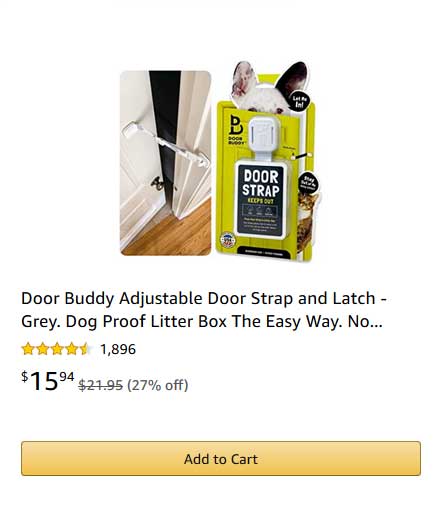 Q: Can you make unique, custom Door Buddies for customers who have larger dogs or cats?
A: At this stage, we haven't had a huge demand for custom products. Our 3m strap does tend to do the job. However, we'd always be open to seeing how we can best accommodate our customers!